Simple apple almond cake made in one bowl with gluten-free oats,  tart apples, and slivered almonds. Try it for fall dessert, breakfast, or snack.
Guys, apparently I missed the apples.
WHAT?!
At my farm photoshoot last week I was seriously excited to pick some apples but as it turns out the apple orchards were closed for the year.
So I played with pumpkins instead and later bought some gorgeous Granny Smiths for the sole purpose of baking with.
They were clearly destined for cake, although I didn't know it then.
If you're thinking, Lauren, the last thing I need right now is another dessert recipe with Halloween candy laying around in plain sight.
Well, this is the kind of cake you can enjoy all fall long once the candy is long gone.
Also, can I just add that this 1-Bowl Apple Oat Cake is so much more than dessert.
It's nutritious and filling with gluten-free oats, tart apples, and crunchy almonds.
Apple season is when we say it is and I say it's now and it's in our kitchens!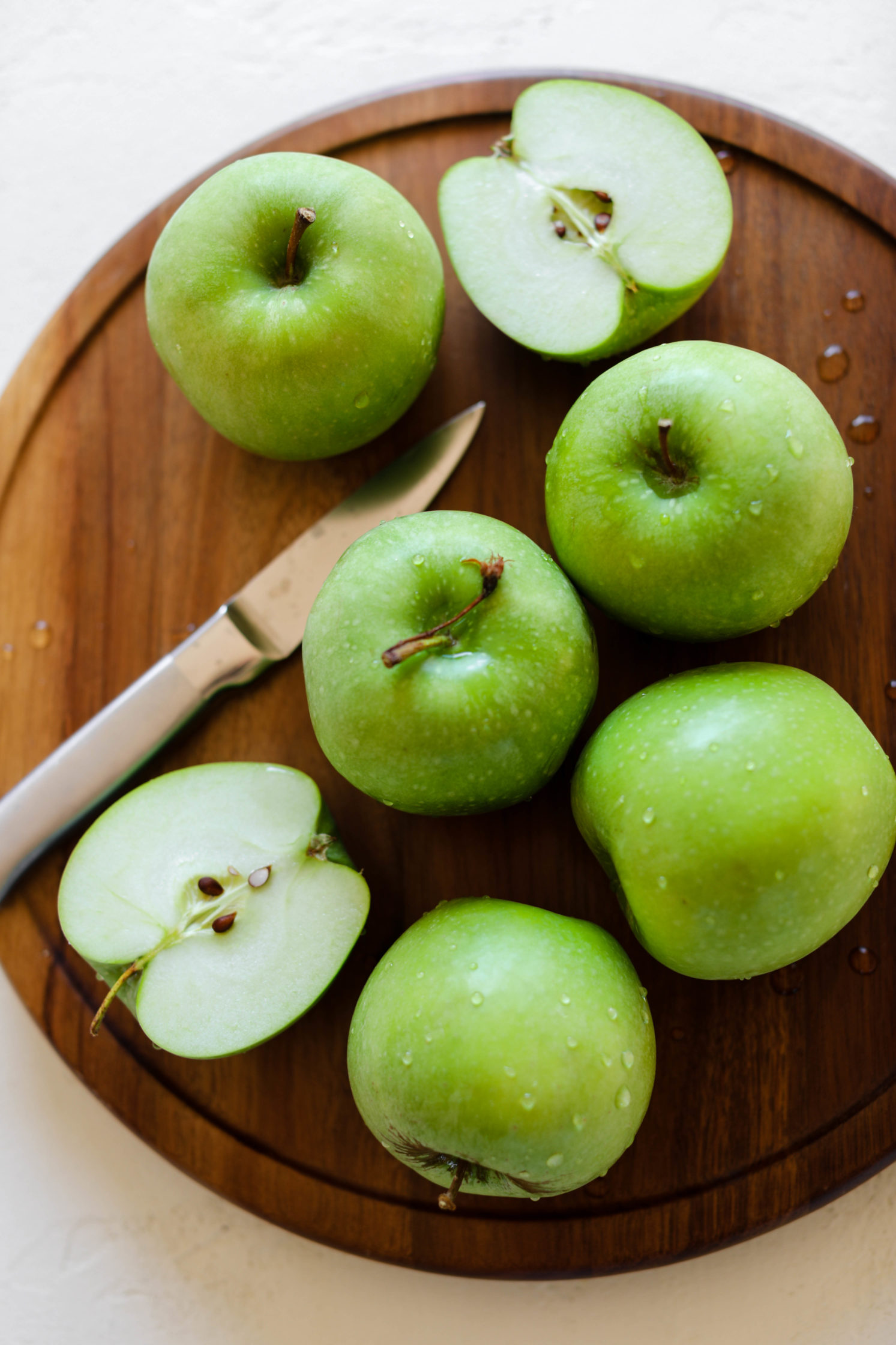 The inspiration for this 1-Bowl Apple Oat Cake comes from an old family recipe!
My mom used to make apple cake that we enjoyed after brisk fall walks around the neighborhood with the sun low in the sky.
The original recipe called for two cups of sugar, oil, and eggs, so I made some F&V swap outs to make the recipe vegan, gluten-free, refined sugar-free, and oil-free.
Here's what you need:
flax eggs
unrefined coconut sugar
unsweetened apple sauce
unsweetened almond milk
baking powder
cinnamon
slivered almonds
tart apples
The result is a perfectly sweet and spiced oat cake with big chunks of baked apples, crunchy almonds.
Yum.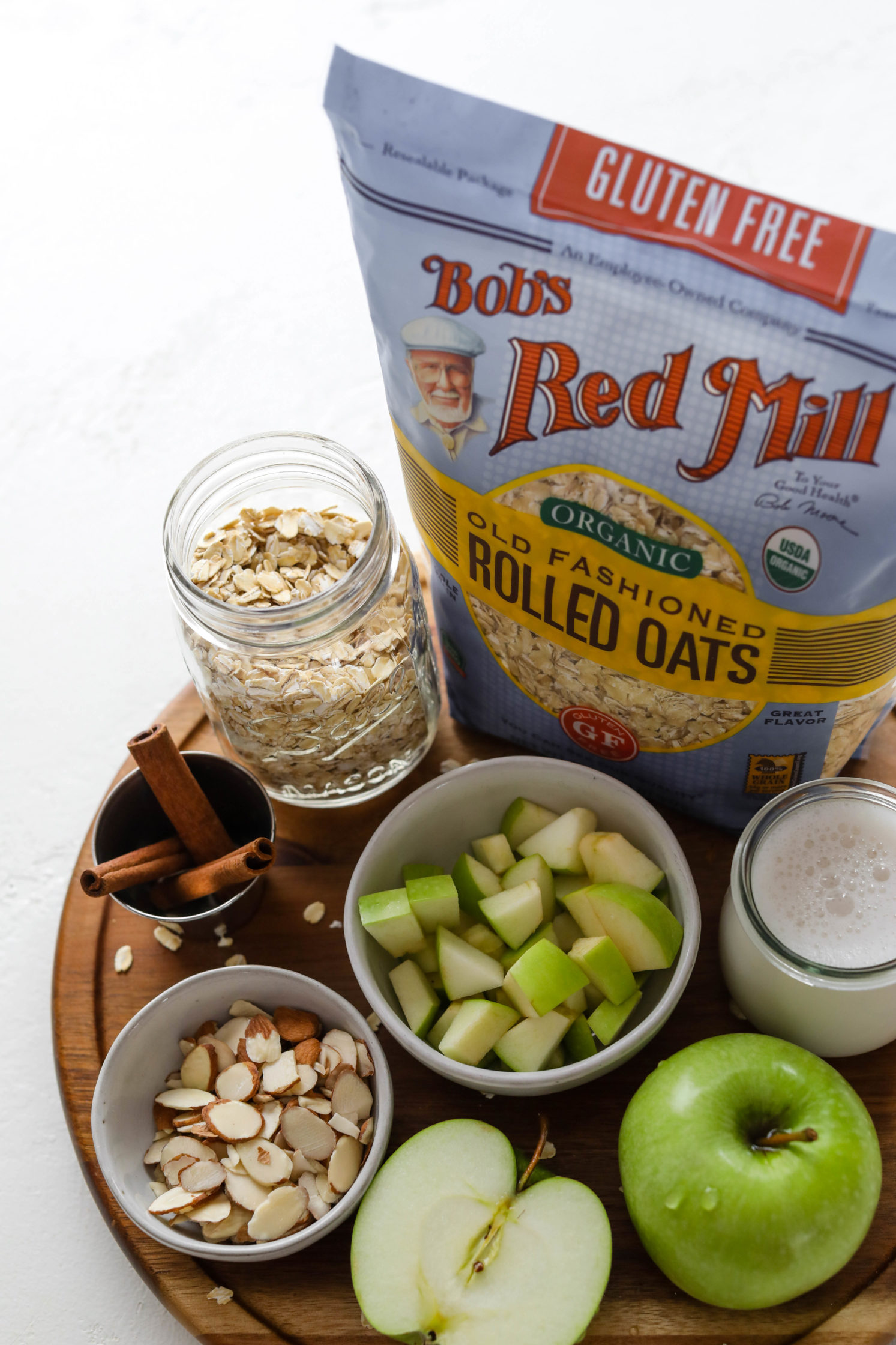 The recipe is sweetened with unrefined coconut sugar and cut in half from the original amount.
I used unsweetened almond milk and unsweetened apple sauce to add moisture instead of oil.
"Flax eggs" bind the ingredients instead of regular eggs.
Instead of using all-purpose flour, I used Bob's Red Mill Gluten-Free Oat Flour and Bob's Red Mill Gluten-Free Old-Fashioned Rolled Oats to create a hearty gluten-free cake-base!
These are my absolute favorite oats that are organic and certified gluten-free!
If you prefer heartier cake, add in more oats, and if you prefer less texture, use more oat flour.
You can also make your own oat flour by pulsing Bob's Red Mill Gluten-Free Old-Fashioned Rolled Oats in the blender until it's in a fine flour.
Let's talk apple cake aesthetics.
I love the presentation of making the cake in a circular pan, but if you don't have a round cake, try using a pie pan like I did or a rectangular dish of similar size.
This cake, while delicious, isn't the most attractive coming out of the oven.
Just being honest.
The baked apples, almonds, and oats all turn a toasty monochromatic brown that is delicious but not the most visually exciting.
I recommend you make a fun apple arrangement on top with sliced apples to give the cake some color and character!
You know me well enough by now to know that baking is my preferred therapy of choice, and food styling is my art.
But you do you!
You can throw the apples on top on in any way you see fit, however geometric or abstract you see fit, and it'll still taste amazing!
I love this 1-Bowl Apple Oat Cake because it's so much more than a dessert cake.
In fact, it isn't really a cake at all in the traditional sense, because it's dense, hearty, and packed with protein and fiber.
This is the kind of cake that you can eat for breakfast or a snack and feel good about it.
Try mixing things up by subbing walnuts or pecans instead of the slivered almonds.
I also think adding dried fruit like raisins or dried cranberries might be fun, too.
Leftovers keep in the fridge for up to one week and slices can be stored in the freezer for months.
Try slathering on a layer of nut butter for "icing" or drizzling with maple syrup for some extra sweetness.
If you make this 1-Bowl Apple Oat Cake, let me know!
Be sure to leave me a comment, rating, and review so I can use your feedback to create more yums. 
Give me a shout on Instagram and use #floraandvino to show me your creations.
Check out my Pinterest page to pin more recipe like this one to make later.
Want more oil-free, gluten-free, refined sugar-free baked goods?
Check out my Pumpkin Cacao Cranberry Muffins, Acorn Squash Apple Cinnamon Raisin Muffins, and Banana Chia Chocolate Chip Muffins, too!
If you love this post and want more? Go to my homepage and subscribe to get updates delivered right to your inbox!
XO Lauren
Print
1-Bowl Apple Oat Cake
---
Author:

Total Time:

1 hour 15 mins

Yield:

8-12 servings
Description
Simple apple almond cake made in one bowl with gluten-free oats,  tart apples, and slivered almonds. Try it for fall dessert, breakfast, or snack.
---
APPLE OAT CAKE
2

flax eggs (

2 TBSP

ground flaxseed +

5 TBSP

filtered water)

1 cup

unrefined coconut sugar

1/4 cup

unsweetened apple sauce

1/4 cup

unsweetened almond milk

2 tsp

baking powder

2 tsp

cinnamon

1 cup

slivered almonds

2 cup

diced tart apples (I used Granny Smith)
TOPPING:
~2 tart apples, thinly sliced with a mandoline
---
Instructions
Preheat oven to 350°F and line a cake pan with parchment paper or lightly grease with avocado or coconut oil.
In a large bowl, prepare your flax eggs by whisking together flaxseed and filtered water and allow to sit and gel for a few minutes.
Add coconut sugar, apple sauce, and almond milk and mix to combine.
Add in the oats, oat flour, baking soda, and cinnamon and mix well with a spatula to combine.
Fold in the diced apples and slivered almond and stir to combine.
Spread mixture into an even layer the cake pan then top with thinly sliced apples in desired pattern of choice.
Bake for 40-45 mins, until golden brown around the edges and a fork comes out clean.
Allow to cool slightly and serve. Store leftovers in the fridge for up to one week and freeze for long term storage.
Prep Time:

30 mins

Cook Time:

45 mins

Category:

Dessert

Method:

Oven-Bake

Cuisine:

Vegan, Gluten-Free, Oil-Free, Refined Sugar-Free
This post is brought to you by Bob's Red Mill, but all words and eats are my own. Thanks for supporting the sponsors that keep me hungry!