3-ingredient chocolate strawberry truffles made with canned coconut milk, dark chocolate, and freeze-dried strawberries. Try pairing with Rosso wine!
I recently re-watched Eternal Sunshine of the Spotless Mind for the first time in over a decade.
Have you seen it?
It's one of my all-time favorite films, even though it's not the kind of movie I can watch every day (or every decade, apparently).
Anyway, I had to chuckle when Jim Carrey's character says that V-day was "invented by greeting card companies to make people feel like crap."
I definitely wallowed a bit in the perceived truth in that quote, but then I dusted myself off and made some plans.
This year, I'm celebrating all of the love surrounding me.
Familial love, deep friendship, passion for my blog and business, and love for you, too, friend.
I'm also celebrating my love for all things wine and chocolate in this new plant-based wine pairing.
Get your heart right and make these 3-Ingredient Chocolate Strawberry Truffles enjoyed with a glass of Rosso!
Originally, I wanted to take myself to a big fancy dinner solo on Valentine's Day.
Something about the idea of sitting down at a restaurant BY MYSELF is totally terrifying.
Which is exactly why I want to do it.
But I think there might be a better day to tackle those fears rather than on the ONE day of the year restaurants pass out a special menu for TWO.
So, Galentine's Day it is.
I told my sister I was taking her out on a hot date and insisted she take off work. 🙂
I can only hope that our dinner reservation has a pairing as sweet and sultry as this one.
These truffles are a variation on my original Cacao Dusted Dark Chocolate Truffles with a serious strawberry twist.
To make 3-Ingredient Chocolate Strawberry Truffles are made with three simple ingredients you probably already have.
Here's what you need:
dark chocolate, chopped
full-fat canned coconut milk
freeze-dried strawberries
That's it!
To infuse these truffles with strawberry flavor, I used strawberry powder created from freeze-dried strawberries!
I love using freeze-dried fruit in recipes because it's one ingredients with zero added sugar and lots of vibrant flavor and color.
To create the powder, blend the freeze-dried strawberries in a high speed blender or food processor until you have a fine dust.
If you see some seeds and small chunks, that's OK.
Leave the top on the blender and let it sit for a few minutes to let the pink dust settle.
Now you're ready to incorporate it into your recipe!
Now it's time to get chocolate-y.
For this recipe, I recommend using a dark chocolate 70% or higher.
To get the smoothest melt, I like to pour steaming coconut milk over chopped chocolate.
Heat the coconut milk on the stovetop until it reaches a low simmer, then pour coconut milk over the chocolate until it's completely covered.
After 5 minutes, stir all that goodness up into a gooey chocolate pool.
Once it's smooth you can sift in your strawberry powder and stir well to combine.
You're basically done, but here comes the hard part.
Waiting.
Dun dun dun.
Cover the mixing bowl and transfer to the refrigerator for several hours to allow the mixture to harden.
If you're really pressed for time, you can add the bowl to the freezer to speed things up.
I usually like to make the batter the night before, refrigerate, and roll into balls the following day.
Once the batter is solid and scoopable, scoop the batter into balls using a cookie scoop.
Roll the truffles in your hands to form a uniform ball and place on a cookie sheet or plate.
If the dough starts to stick to your hands, try wetting them slightly with water before rolling.
At this point, you can enjoy the truffles immediately or decorate them.
Try dusting them with more strawberry powder, cacao powder, or shredded coconut.
I sprinkled strawberry powder onto mine for a pretty pink flourish.
If you made it this far and are currently chewing on a truffle, you probably need some wine to wash it down, yeah?
Try this 90+ Cellars Lot 90 Rosso Toscano that's made from a blend of 50% Cabernet Sauvignon and 50% Petit Verdot.
The grapes are grown in Grosseto, the coastal region of Tuscany!
This Rosso is full bodied and packed with ripe dark fruit flavors and big round tannins.
The wine has light dark chocolate and black currant aromas followed by notes of plum, vanilla and cedar.
This bold fruity wine is perfect to pair with the slightly bitter chocolate and strawberries in these truffles!
I think I'm finally getting the whole wine and chocolate pairing thing.
Dark chocolate on dark chocolate, anyone?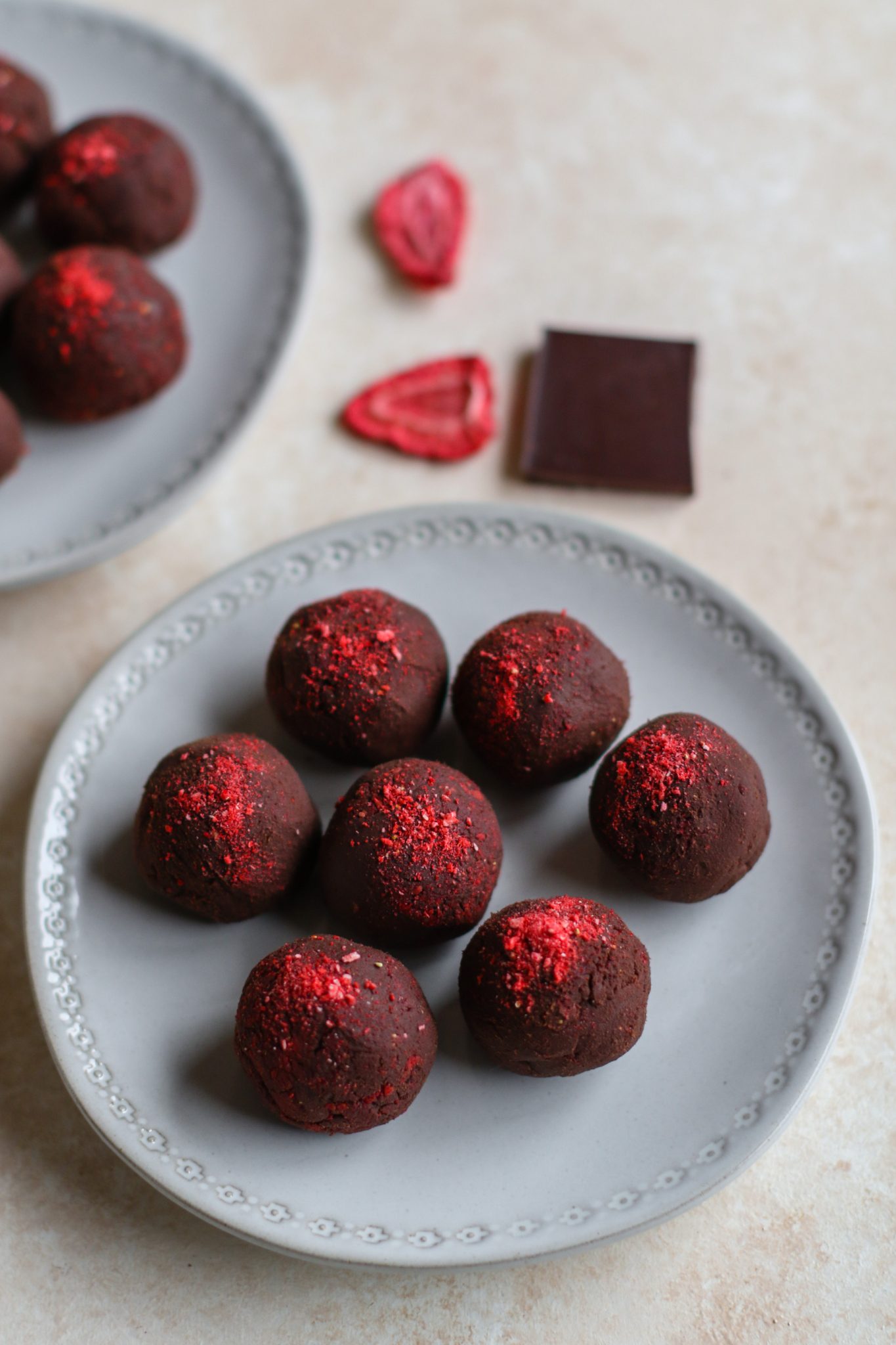 Enjoy these 3-Ingredient Chocolate Strawberry Truffles for an easy anytime dessert.
If you want to mix up the berry flavors, try using freeze-dried raspberries or blueberries instead for more fun flavors.
You could also coat these truffles in an additional layer or melted dark chocolate for a chocolate encased truffle.
They store well in the fridge for up to one week, so make a bunch for yourself plus all the loves on your list.
For the best texture and consistency, I like to let mine sit for 15 minutes outside the fridge before serving to let them soften up a bit.
Enjoy your truffle with a glass of Rosso for a Valentine's Day treat, date night, or anytime you need some sweet self care!
If you make these 3-Ingredient Chocolate Strawberry Truffles, I want to see!
Be sure to leave me a comment, rating, and review so I can use your feedback to create more yums.
Give me a shout on Instagram and use #floraandvino to show me your creations.
Check out my Pinterest page to pin more recipe like this one to make later.
For more easy chocolate trufflin', check out my Easy 4-Ingredient Chocolate Truffles and Cacao Dusted Dark Chocolate Truffles.
If you loved this post and want more, go to my homepage and subscribe to get deliciousness delivered right to your inbox!
XO Lauren
Print
3-Ingredient Chocolate Strawberry Truffles
---
Author:

Total Time:

0 hours

Yield:

12-16 truffles
Description
3-ingredient chocolate strawberry truffles made with canned coconut milk, dark chocolate, and freeze-dried strawberries. Try pairing with Rosso wine!
---
~5 dark chocolate bars (10 oz.), chopped

2/3 cup

full-fat canned coconut milk

1.2 oz

freeze-dried strawberries (+ more for rolling in)
90+ Cellars Lot 90 Rosso Toscano, for serving
---
Instructions
Add the freeze-dried strawberries to a high speed blender and process until you have a fine pink dust. Allow the strawberry dust to settle for a few moments before taking off the blender lid.
Place the strawberry powder into a medium-sized heat-safe mixing bowl with the finely chopped chocolate.
Heat the coconut milk in a small saucepan over medium heat until it starts to simmer.
Immediately add coconut milk to chocolate bowl and loosely cover with a lid to trap the heat inside. Allow to melt completely for the next 3-5 minutes. Lift the cover and use a mixing spoon to gently stir. Continue stirring until completely melted, creamy, and smooth.
NOTE: If, for some reason, you have unmelted pieces left, pop the mixture in the microwave for 10-15 seconds to encourage more melting.
Set the mixture in the refrigerator to chill uncovered for 2-3 hours, or until almost completely solid.
Use a cookie scoop, scoop out ~1 Tablespoon balls of the chilled mixture then use your hands to roll the chocolate into balls. If the truffle dough sticks to your hands, try wetting them with a splash of water before rolling out.
Toss in balls in strawberry powder to coat and shake off excess. There should be about 12- 16 truffles, depending on how large you make them.
Enjoy truffles immediately or refrigerate for 1-2 hours to continue to firm up. Try pairing with a glass of 90+ Cellars Lot 90 Rosso Toscano!
Store truffles covered in the refrigerator for up to one week and freeze for longterm storage.
For best serving, let the truffles sit outside of the fridge for 10-15 minutes before serving to soften.
Prep Time:

2-3 hrs

Cook Time:

5 mins

Category:

Dessert

Method:

Stovetop

Cuisine:

Vegan, Gluten-Free, Oil-Free, Refined Sugar-Free
This post is brought to you by 90+ Cellars, but all words and eats are my own. Thanks for supporting the sponsors that keep me hungry!