Chocolate truffles made with coconut flour, nut or seed butter, and pure maple syrup. Enjoy as a perfectly portioned dessert or treat.
Love is in the air.
And when I say in the air I actually mean in my kitchen.
There's a mound of freshly made chocolate truffles sitting neatly on a plate just within my reach.
They were a huge hit last weekend when I experimented with them for my dad's birthday, so I knew I had to make them again for Valentine's Day.
If life is like a box of chocolates, I really hope it's like these 4-Ingredient "Superseed" Chocolate Truffles!
Whether you love Valentine's Day or think it's a cheesy pink hearted marketing scheme, you're going to love these 4-Ingredient "Superseed" Chocolate Truffles.
They're oil-free, gluten-free, and refined sugar-free.
I wanted to make sure that they met all of the thing I usually demand of my desserts, and these truffles don't disappoint.
The crunchy chocolatey shell reveals a fluffy nut and seed buttery interior that is so addicting!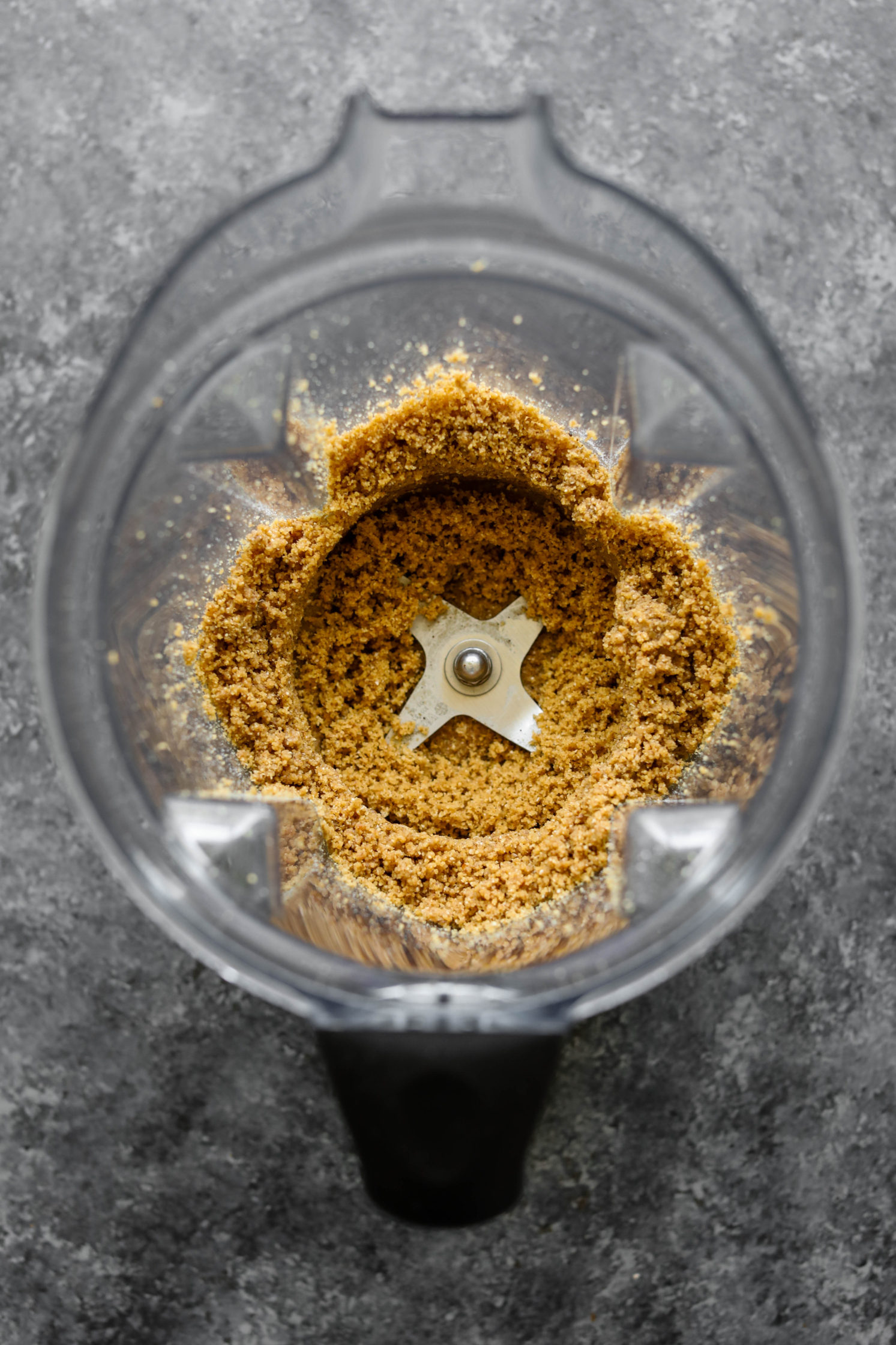 It's probably good thing that I didn't know that truffles were this easy to make, or I would have invented many more excuses outside of holidays to make them.
They require only four ingredients plus toppings, and the toppings are totally optional.
Also, they come together in under an hour, and most of that is spent pacing the floor while they set up in the freezer.
All you need is a blender, a freezer, and some real ingredients.
We usually look at Valentine's Day as an opportunity to get dressed up and go out to a nice dinner, which is what we plan to do this weekend.
This year we have reservations at one of my favorite restaurants, True Foods Kitchen.
It's definitely a challenge for Dan and I to find places to eat together, because he's a meat and potatoes kind of a guy and I'm more of a giant plate of roasted veggies with tahini drizzle kind of a girl.
At True Foods, we can both find something yummy that is made with real food.
Note: The wine there is also delicious!
And they serve Kombucha!
Inventing my own truffles gave me the opportunity to get the shell versus interior proportions just right.
You know the seasonal Easter Egg Reese's cups that are the best because the ratio of chocolate to peanut butter is PERFECT?
And by perfect I mean 75% peanut butter to 25% chocolate?
That's what I tried to achieve with these truffles.
There's a bit of sweet nut and seed butter with every bite.
For first time truffle makers, make sure you have everything set up before you start dipping in the melted chocolate!
They set up quickly while you're busy busy snapping photos (just me?),
But that's a good thing, because that means the wait for dessert is that much less.
I used this Nuttzo nut and seed butter blend to achieve my "Superseed" filling!
If you can't find Nuttzo near you, this recipe also works with peanut butter, sunflower seed butter, almond butter, or cashew butter.
For toppings, I went with shredded coconuts, cacao nibs, and crushed nuts.
Some other ideas are granola, dried fruit, or seeds.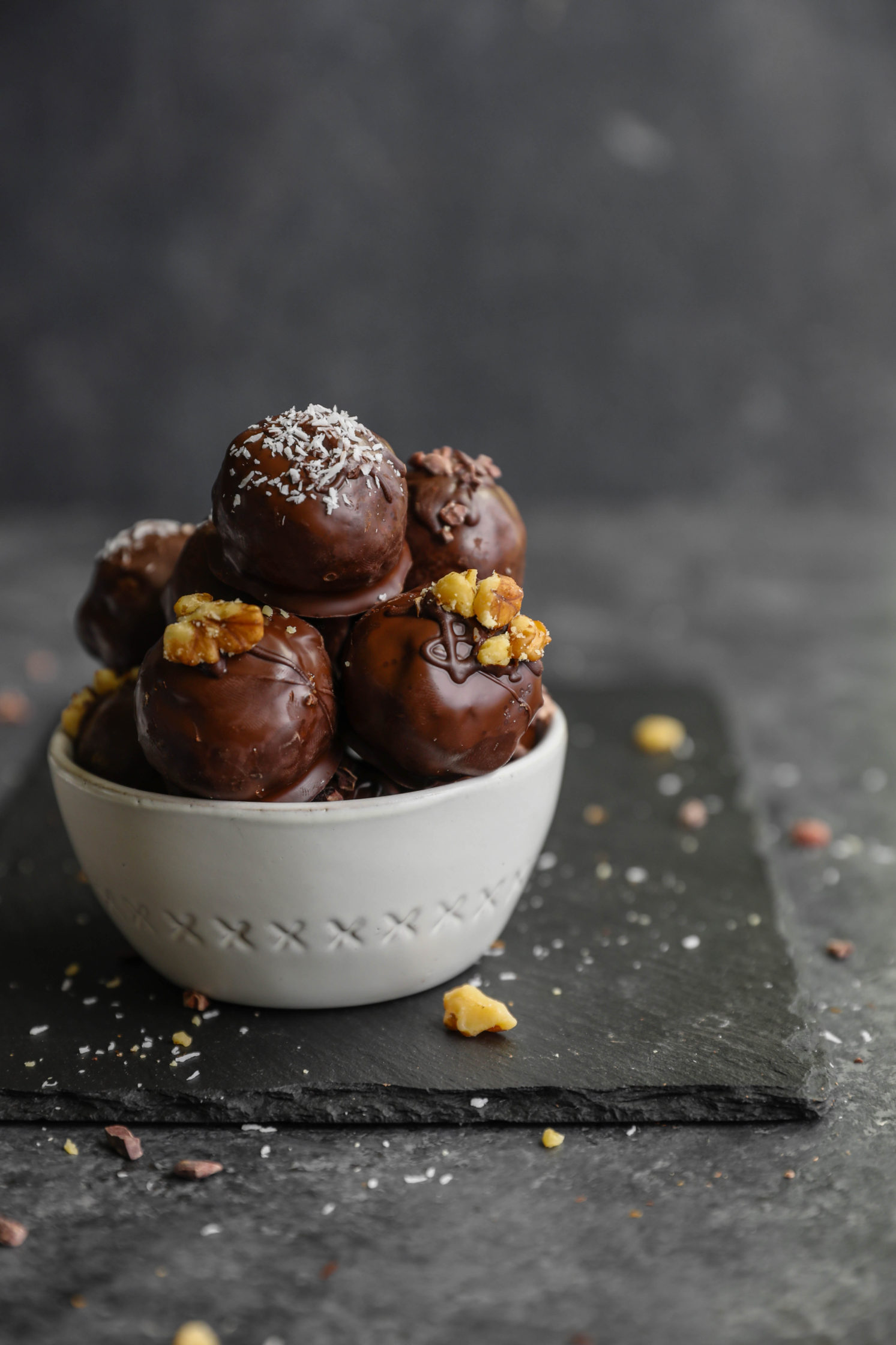 If you make these 4-Ingredient "Superseed" Chocolate Truffles for V-Day or any day, I want to see!
I'd love to see how yours turned out!
Be sure to leave me a comment, rating, and review so I can use your feedback to create more yums.
Give me a shout on Instagram and use #floraandvino to show me your creations.
Check out my Pinterest page to pin more recipe like this one to make later.
If you loved this post and want more, go to my homepage and subscribe to get deliciousness delivered right to your inbox!
XO Lauren
Print
4-Ingredient "Superseed" Chocolate Truffles
---
Author:

Total Time:

1 hour

Yield:

12-14 truffles

Diet:

Vegan
Description
Chocolate truffles made with coconut flour, nut or seed butter, and pure maple syrup. Enjoy as a perfectly portioned dessert or treat.
---
1 cup

nut or seed butter (I used Eat Nuttzo!)

1/4 cup

coconut flour

1/4 cup

pure maple syrup

1 cup

dark chocolate bar, roughly chopped
Optional toppings:
shredded coconut
cacao nibs
crushed nuts
---
Instructions
In a food processor or high speed blender, combine the nut or seed butter, coconut flour, and maple syrup.
Pulse everything until it's blended into a sticky dough.
Roll the dough into 2″ balls place onto a cookie sheet lined with parchment paper.
Place the tray in the freezer for 15-30 minutes. (If your freezer isn't large enough to accommodate a cookie tray like mine is, place balls into a freezer storage bag and freezer that way, then place back on cookie sheet afterwards.)
Before you take the balls out of the freezer, melt the dark chocolate over the stovetop in a pan over medium low, stirring until smooth.
Prep your toppings in individual bowls so they're ready to add.
Remove truffles from the fridge and dip into the melted chocolate with two spoons until well coated, then place back onto the lined cookie sheet. If your chocolate starts to stiffen and dry out, pop it in the microwave for about 30 seconds to reheat.
Top the truffles with your desired toppings immediately, before the chocolate hardens!
Allow the chocolate to harden at room temperature, then enjoy!
Store the truffles in the refrigerator or 3-5 days or freeze for long term storage.
Prep Time:

1 hour

Cook Time:

0 mins

Category:

Dessert

Method:

Stovetop

Cuisine:

Vegan, Oil-Free, Gluten-Free, Grain-Free, Refined Sugar-Free
Disclosure: This post contains affiliate links, meaning I earn a commission if you use these links. I only recommend brands I love, trust, and can't keep quiet about!