Hearty 5-ingredient breakfast cookies made with oatmeal, almond butter, and blueberries. Sugar-free and naturally sweetened with banana and applesauce.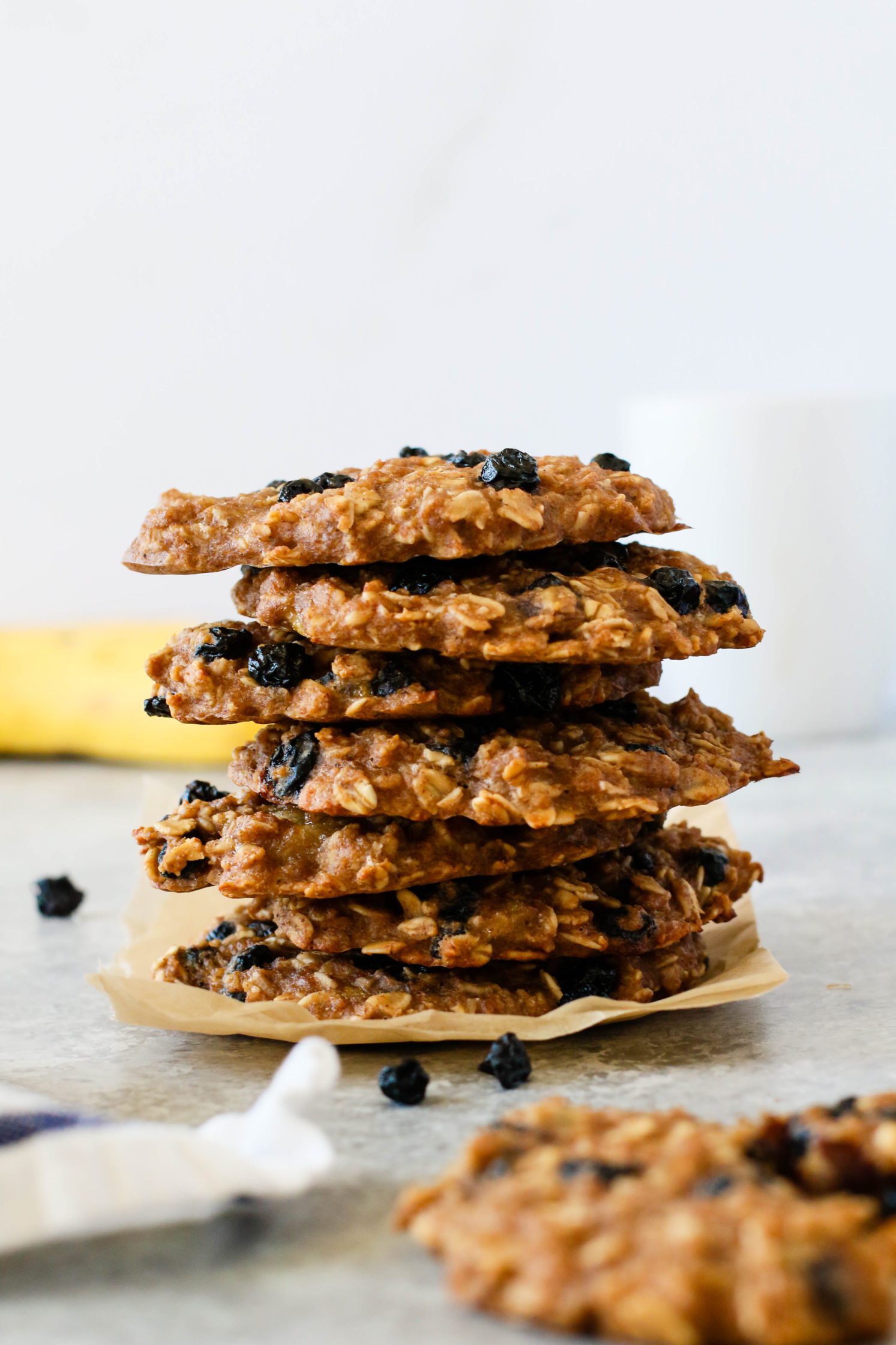 Happy Easter!
I hope you're celebrating with a big basket of your favorites.
Spring has always felt like one big celebration to me, mostly because my sister and I have week apart Aries birthdays, with Easter falling somewhere in between birthday bashes.
Can I tell you guys a secret?
Tomorrow is, in fact, my birthday, and it's a big one.
Yup, the big 3-0.
I know, I know, its no big deal in the macrocosm of time, but for me in my daily grind, it feels epic.
If age is just a number, then breakfast is just another meal, and for my first meal of the new decade, I want cookies.
These hearty Blueberry Banana Breakfast Cookies are the perfect way to start your day!
They're 5- ingredients, oil-free, gluten-free, sugar-free, and popping with blueberry banana flavor.
Thirty seemed like a way far out destiny that I was pretty certain I'd never actually fulfill.
It was a distant mental marker I'd think about from time to time in high school (while watching 13 Going on 30 with my then crush, obviously), in college (in art school covered in paint pondering career paths), and sitting at my first office job (lackadaisically dreaming of new ones).
Like most people tend to do, I attached a lot of goals (some attainable, some not so much) to have accomplished by my 30th year under the sun.
With thirty birthday candles around the corner tomorrow, I'm a little surprised I don't have "it" all figured out, you know?
There are definitely some adult things I still need to work on, like how to find the perfect shade of lipstick (or wear lipstick at all), how to small talk like you mean it, and how to stick to a reasonable grocery budget.
At least my cookie game is strong.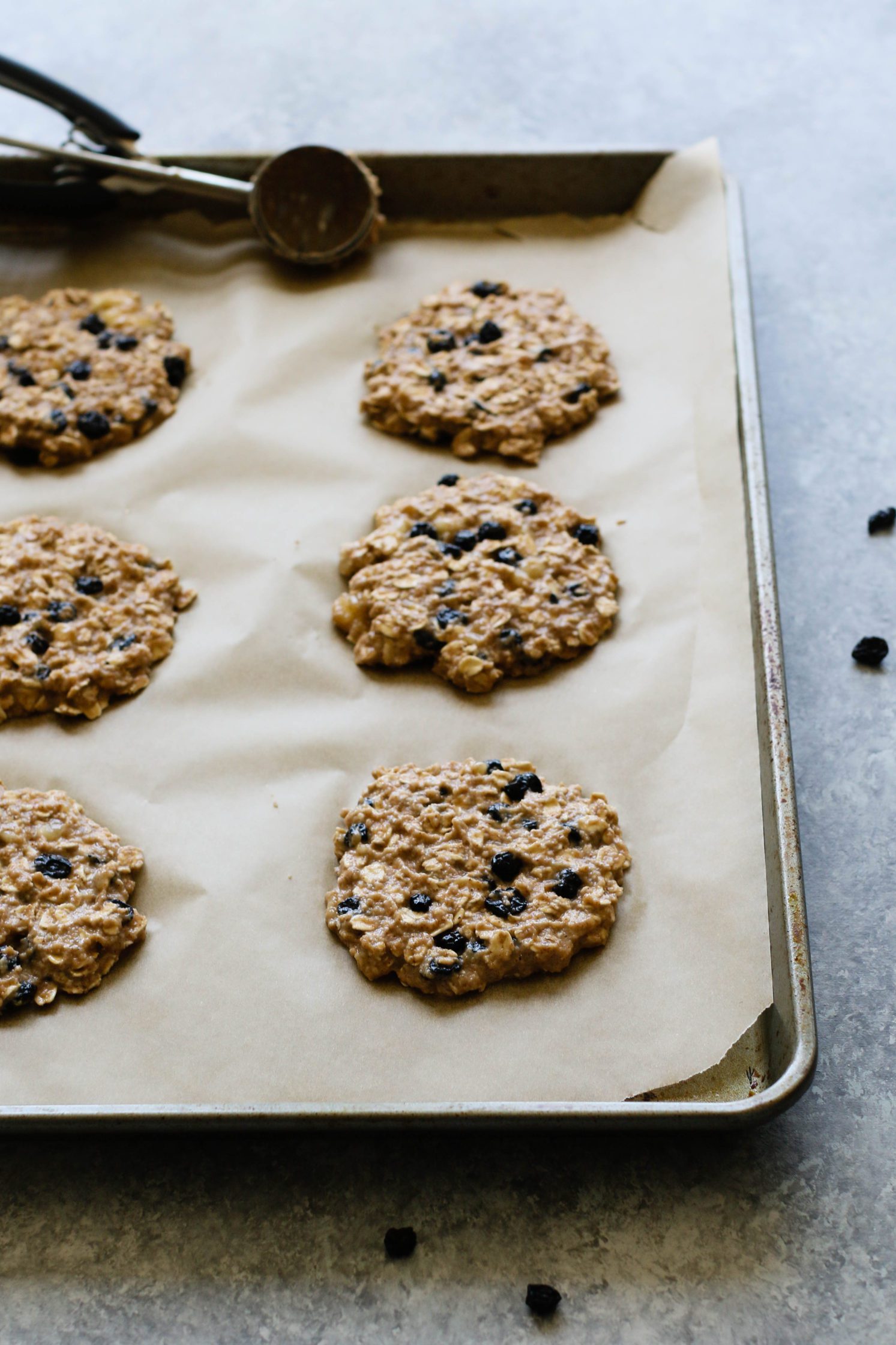 I'm going to say it– birthday breakfast cookies might be better than cake.
(I may or may not be planning to stick a candle in one tomorrow but the thought definitely crossed my mind…)
These Blueberry Banana Breakfast Cookies were originally going to be muffins, but the batter was a bit off so I scooped them into gigantic cookies instead!
If I've learned anything in my 30 years it's that sometimes you need to ditch the "perfect" plan and adopt a new one.
Abort muffin mission and make cookies!
Creamy almond butter keeps these cookies oil-free and a mix of ripe banana and unsweetened applesauce make them entirely added sugar-free, too!
The ingredients are simple and the taste is simply divine!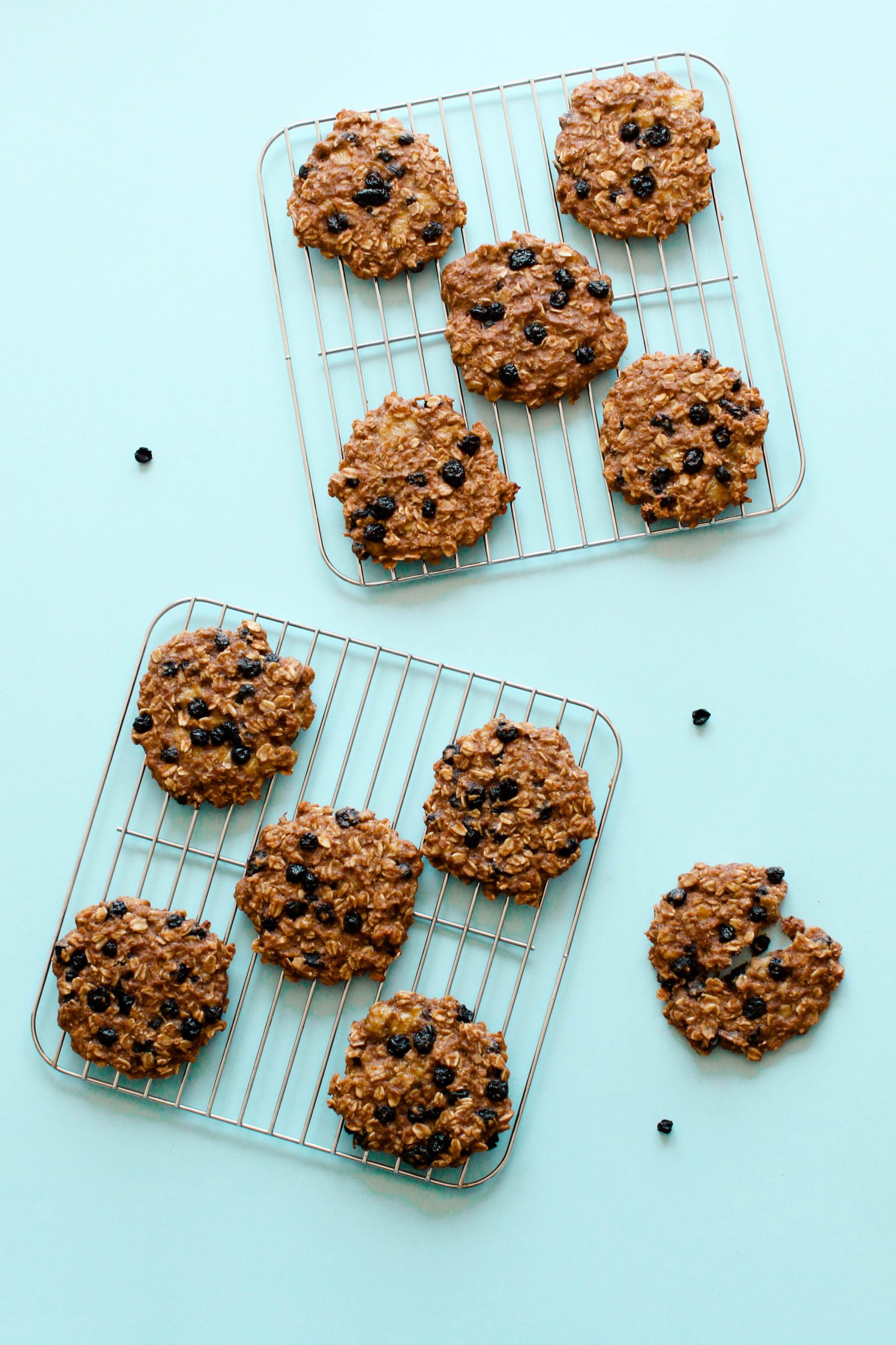 Enjoy these Blueberry Banana Breakfast Cookies plated with a warm beverage in the morning or pack them in a bag to go.
These breakfast cookies aren't just for breakfast; you can also grab them for snacking, dessert-ing, and everything in between.
They're portable and dense, so they hold up well wherever your day takes you.
I highly recommend baking a batch on Sunday for meal prep and enjoying them Monday through Friday.
My favorite way to enjoy them is smeared with almond butter with a side of fresh fruit.
Yum.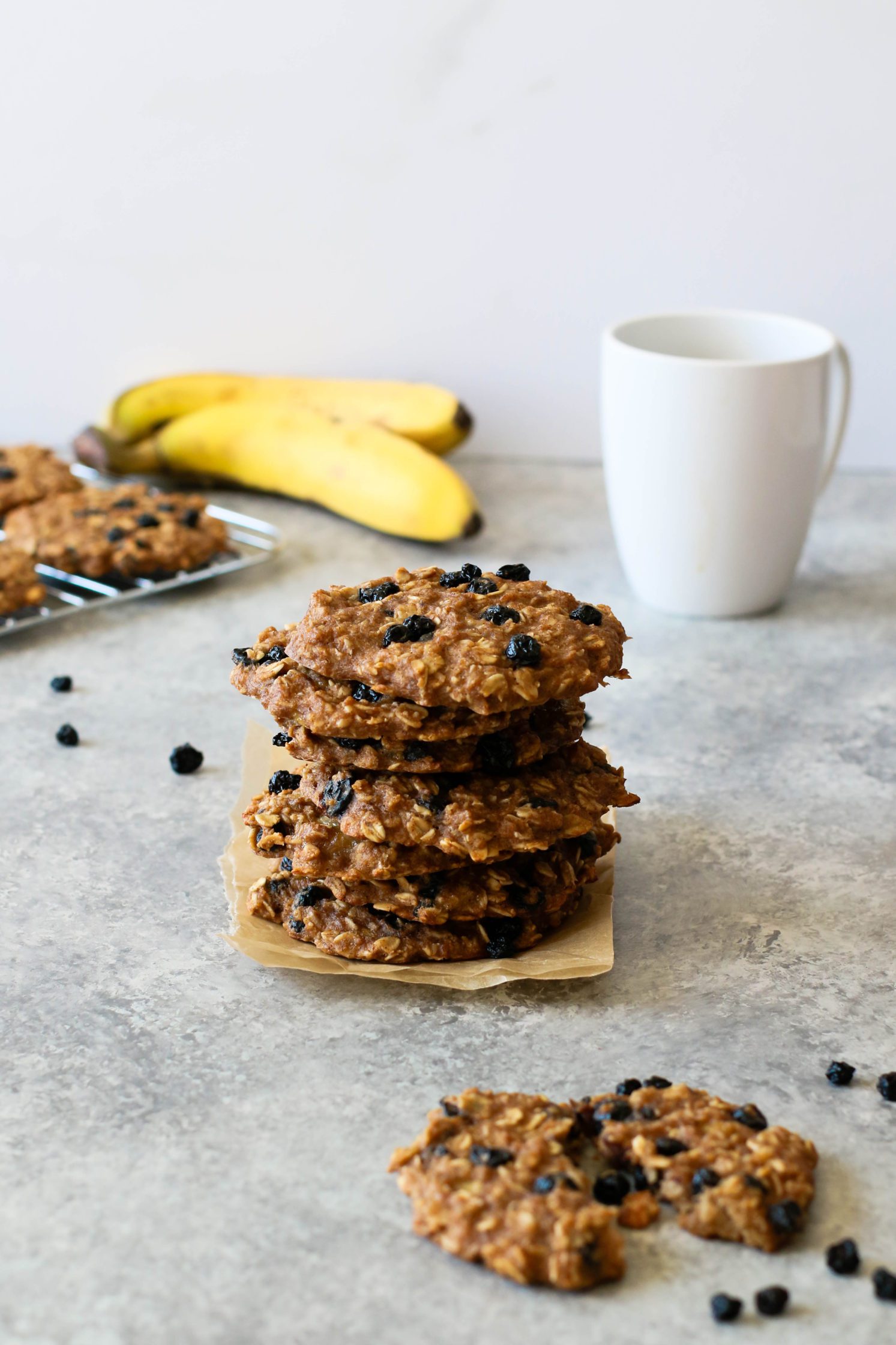 If you start your day off with these Blueberry Banana Breakfast Cookies, let me know! I'd love to hear what you think of them.
Be sure to leave me a comment, rating, and review so I can use your feedback to make more yums.
Give me a shout on Instagram and use #floraandvino to show me your creations!
Check out my Pinterest page to pin more recipes like this one to make later!
Love this post and want more? Go to my homepage and subscribe to get updates delivered right to your inbox!
Want more cookies for breakfast? Check out my Toasted Quinoa Carrot Cake Breakfast Cookies and Spiced Cashew Chickpea Snookies for more ways to start your day with a healthy dessert!
XO Lauren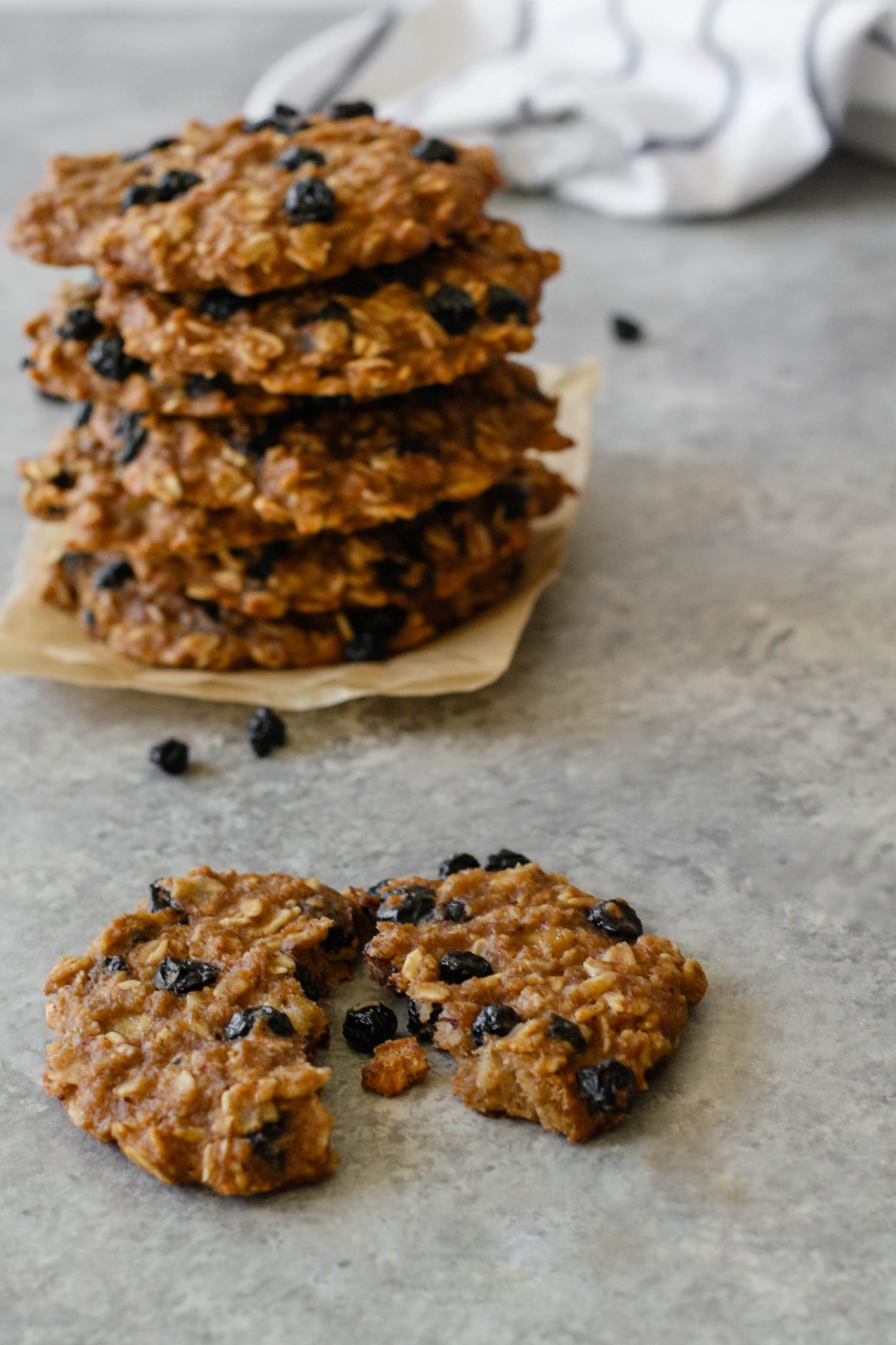 Print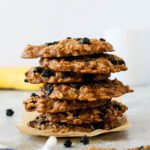 Blueberry Banana Breakfast Cookies (No-Sugar-Added)
---
Author:

Total Time:

32 mins

Yield:

12 cookies

Diet:

Vegan
Description
Hearty 5-ingredient breakfast cookies made with oatmeal, almond butter, and blueberries. Sugar-free and naturally sweetened with banana and applesauce.
---
---
Instructions
Preheat the oven to 350°F and line two large baking sheets with parchment paper.
In a large mixing bowl, add the smashed bananas, applesauce, and creamy almond butter and mix with a fork until well-combined.
Add in the oats and cinnamon and mix again.
Fold in the dried blueberries and stir everything until just combined.
Divide batter into ~2 TBSP scoops on the parchment paper lined cookie sheets, then flatten with your hands to form a large cookie. (About 6 cookies per cookie sheet for a total of 12 large breakfast cookies.)
Sprinkle with more dried blueberries if desired, then bake for 22-25 minutes, until golden brown underneath and around the edges.
Cool before serving. Store any leftover cookies in the fridge for up to one week and freeze for long term storage.
Prep Time:

10 mins

Cook Time:

22 mins

Category:

Breakfast, Snack

Method:

Oven-Bake

Cuisine:

Oil-Free, Gluten-Free, Sugar-Free, Vegan
Disclosure: This post contains affiliate links, meaning I earn a commission if you use these links. I only recommend brands I love, trust, and can't keep quiet about!