6-ingredient breakfast bars with hearty oats, plant-based protein and blueberries! Gluten-free, oil-free, and naturally sweetened with dates and maple syrup.
Breakfast is *usually* my favorite meal of the day.
Anyone else?
It's the meal I spend those last dreamy minutes before sleep and the first precious moments of the new day pondering.
That being said, it's also equally nice to know what's for breakfast when life gets hectic and your mornings fly by like commercials on fast forward.
Especially when breakfast is these Blueberry Maple Baked Breakfast Bars.
These time-saving, life-altering bars can be prepped in under an hour with only SIX ingredients that you probably already have on hand.
Ready to get preppin'?
If my breakfast is going to be pre-made, you bet it's going to be something pretty darn special.
This combination of berries, maple, and oats is something I crave when I first wake up on empty.
The last few days have been oddly chilly here in Virginia and it totally feels like a rewind to winter.
In fact, one of my friends said she saw snow flurries on Thursday!
Snow flurries, friends, in May!
Anyway, these bars are great no matter the weather outside- they feel cozy when it's cold and refreshing when it's warm.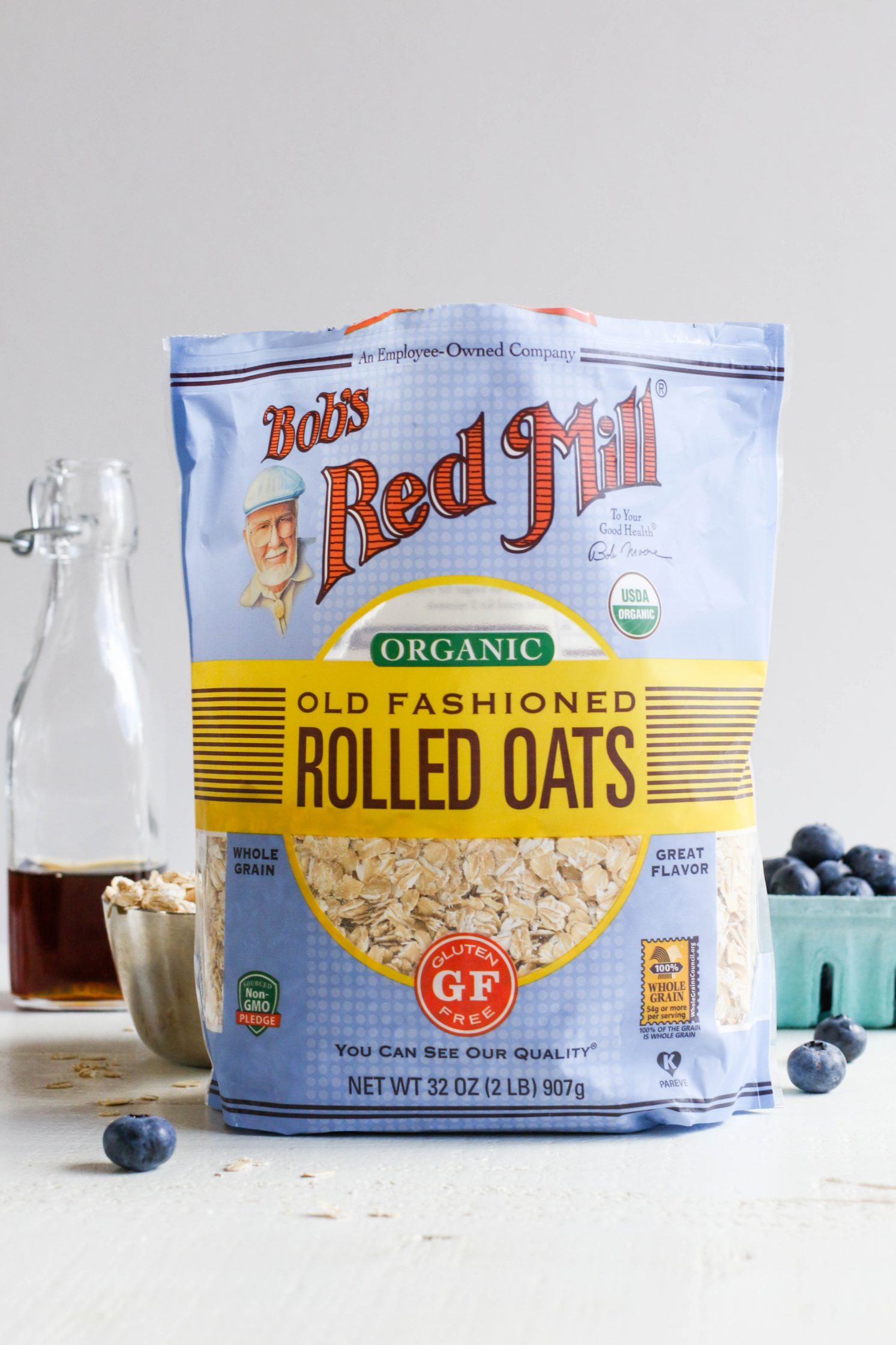 Did I tell you guys that I'm getting certified in plant based nutrition?
Yes, I'm currently enrolled in coursework and I'm so excited to steep what I already know about the power of plants in science and fact.
So I've been thinking more about nutrition and how it plays into my recipes and my diet.
For example, I packed these breakfast bars with protein, antioxidants, and fiber to keep you satisfied and full for hours.
In addition to being plant-based, these bars are gluten free, oil free, and naturally sweetened with a mixture of Medjool dates and maple syrup.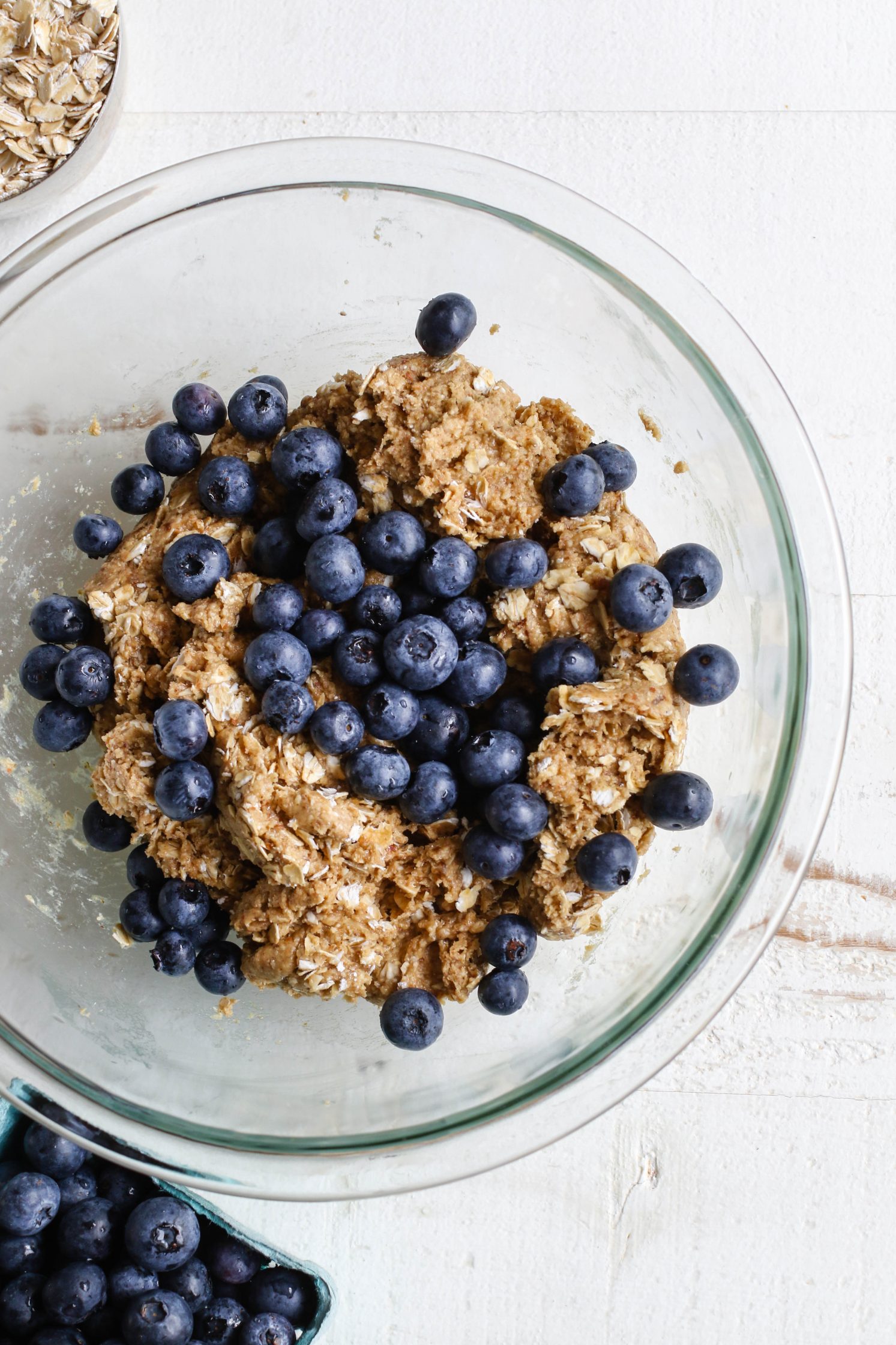 Here's what you need:
That's it!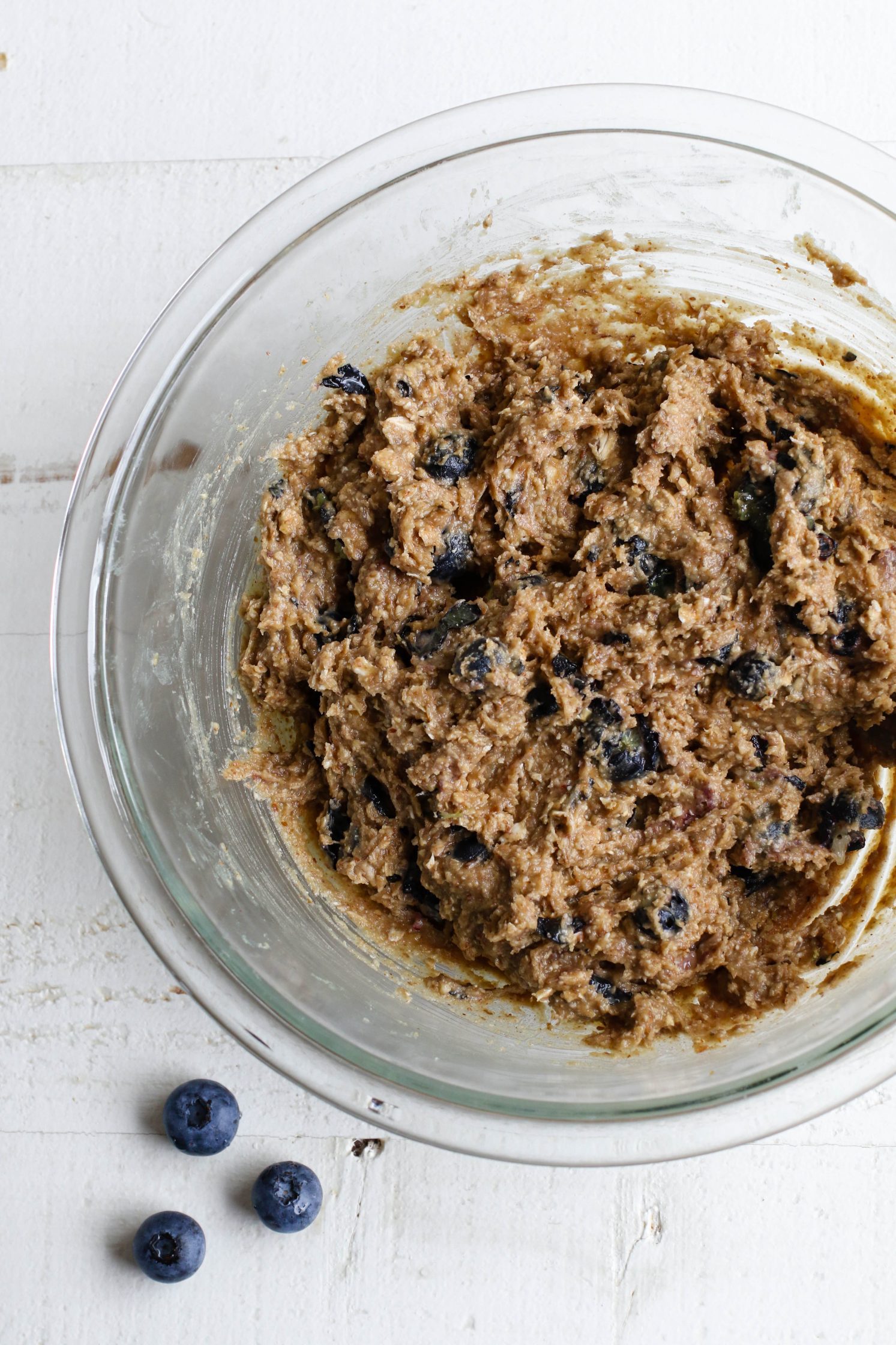 The instructions are easy to follow.
Add the half of the oats, protein powder, and almonds to a blender to form a fine flour.
Next, add in half the blueberries, dates, and pure maple syrup.
Finally, add in the remaining blueberries and rolled oats and process until just combined.
This ensures you have some preserved some hearty oatmeal texture and bursts of blueberries!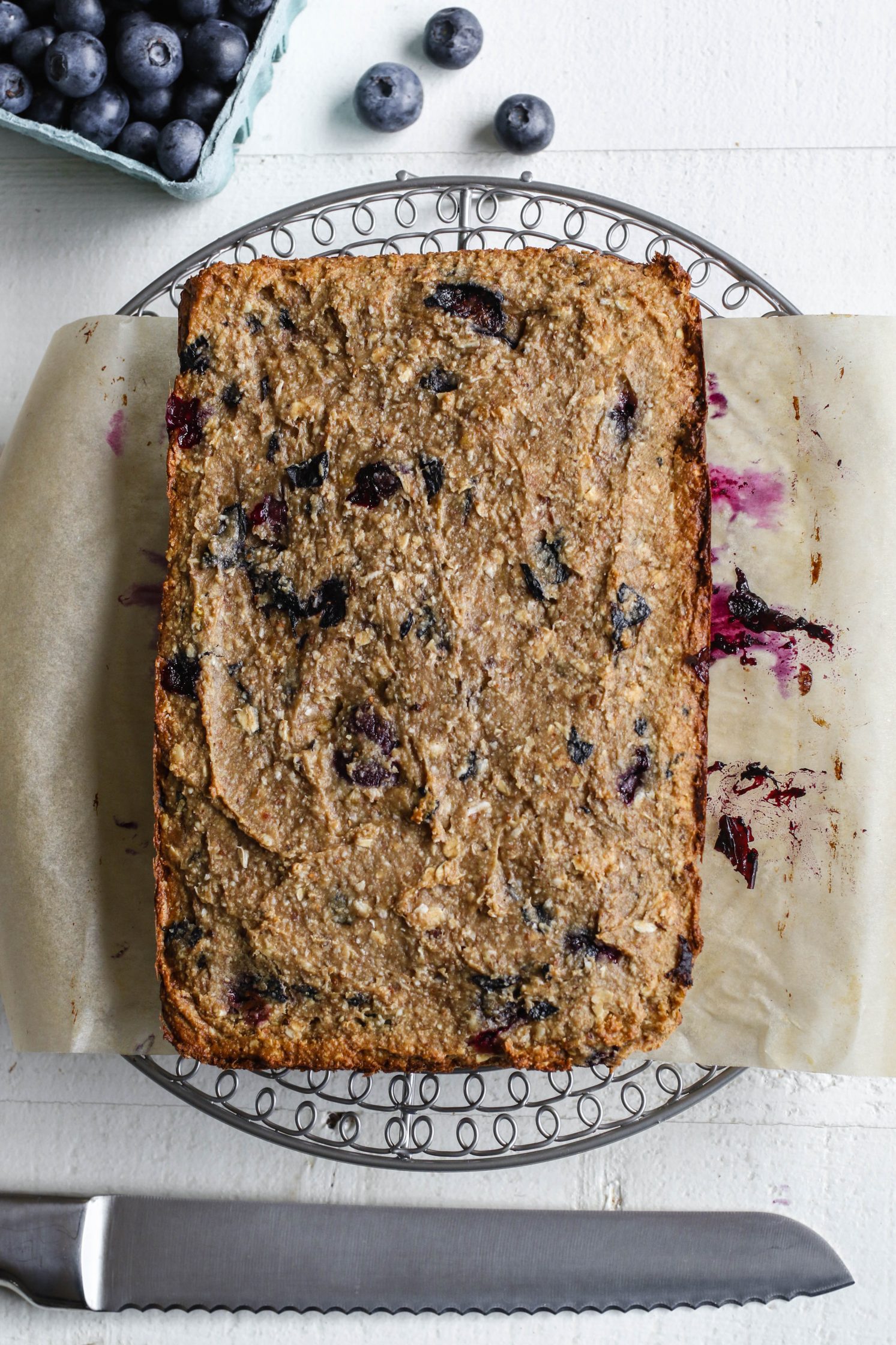 Next, spread everything into a parchment lined baking pan and bake for 20-25 minutes.
I used a 9″ x 6″ pan for mine, but an 8″ x 8″ pan or any pan of similar size will work here, instead.
Different sized pans will yield different thickness of bars so be sure to adjust the bake time accordingly!
The bars are done when the baked mixture is brown along the edges.
Allow them to cool slightly then slice into bars.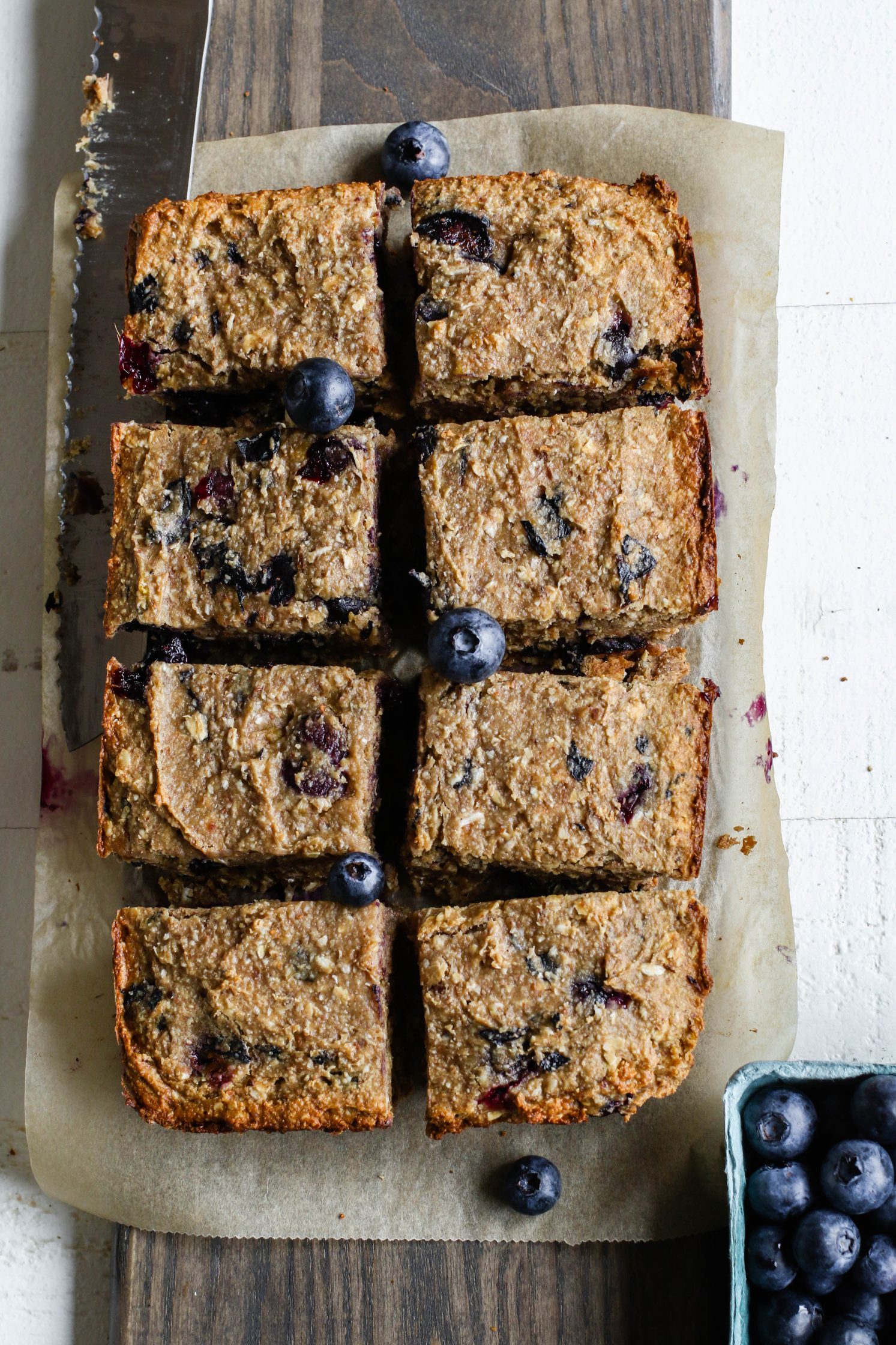 My favorite part about these Blueberry Maple Baked Breakfast Bars, aside from the amazing taste, is their incredible capacity for storage.
No stale dried out bars here, friends!
These bars keep well in the fridge all week long and freeze well for weeks to come.
I love to have them pre-sliced and ready to enjoy for easy workweek breakfasts and snacks.
Don't be surprised if they don't make it to the freezer, though.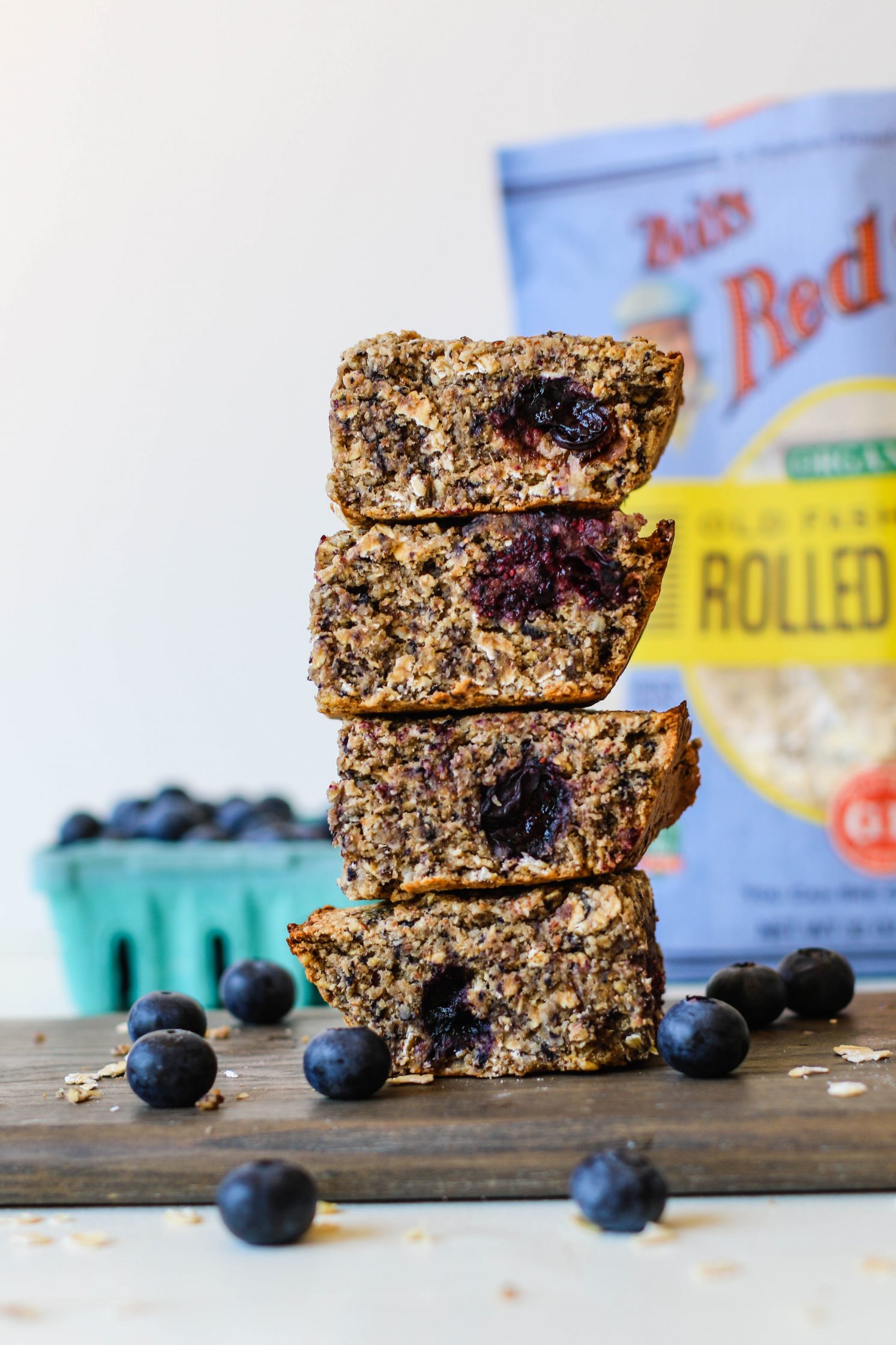 These Blueberry Maple Baked Breakfast Bars have got options!
For different variations, try swapping out blueberries for raspberries or blackberries.
If you don't use protein powder, you can try subbing almond meal or oat flour for varied results.
You can also play with the texture by processing more or less to achieve a finer or chunkier consistency.
I like mine with some whole blueberries and oats intact, but you can also throw them all in and blend!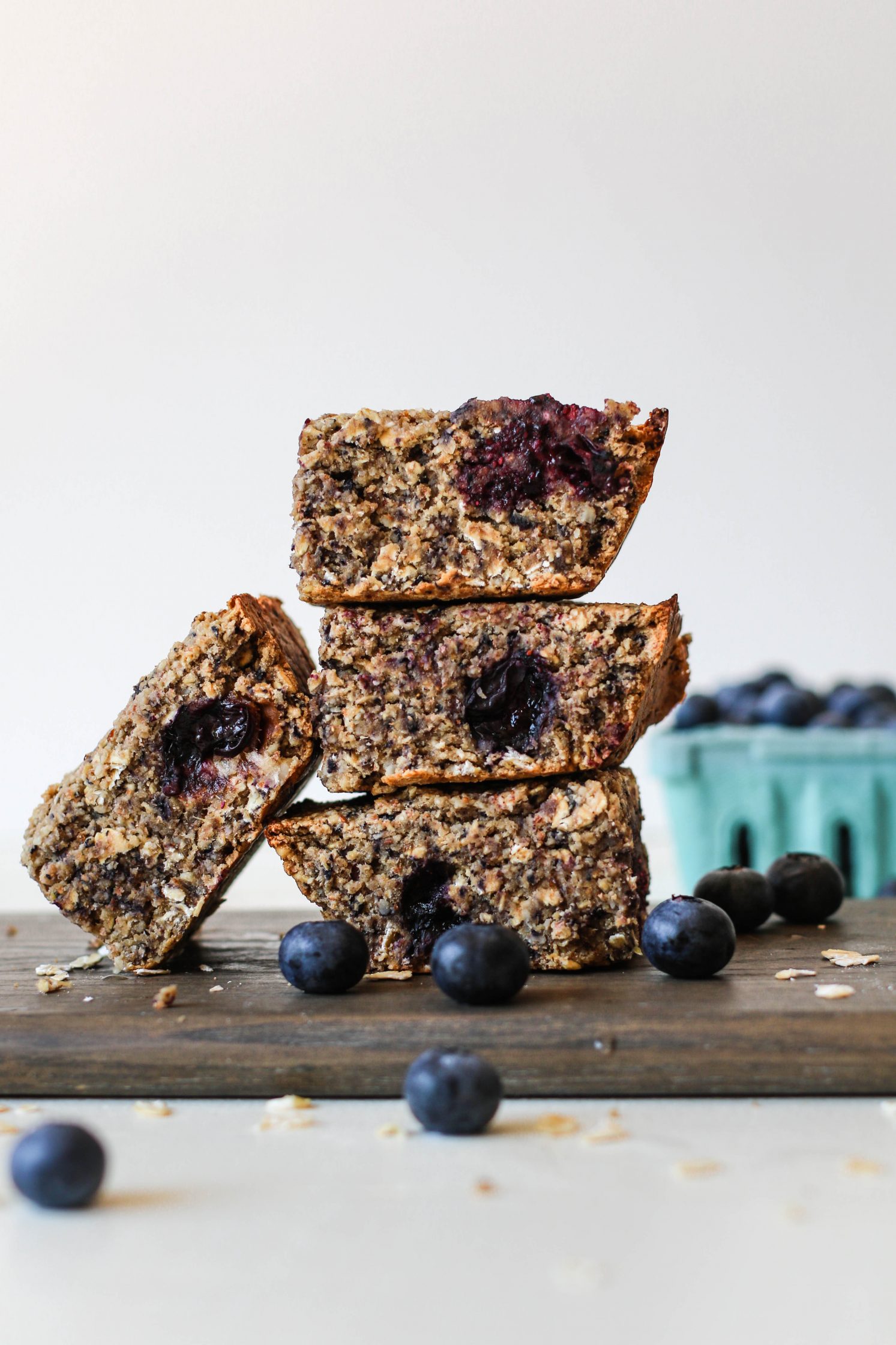 Enjoy one or two of these Blueberry Maple Baked Breakfast Bars for an easy grab-and-go breakfast or mid-morning snack.
I like to top mine with a little smear of nut butter and serve with a latte or a glass of unsweetened almond milk in the AM.
I usually eat mine right out of the fridge, but you can microwave it for ~30 seconds for more of a "baked oatmeal" feel.
Please note that this is basically like eating a giant oatmeal cookie for breakfast.
You're welcome.
Enjoy!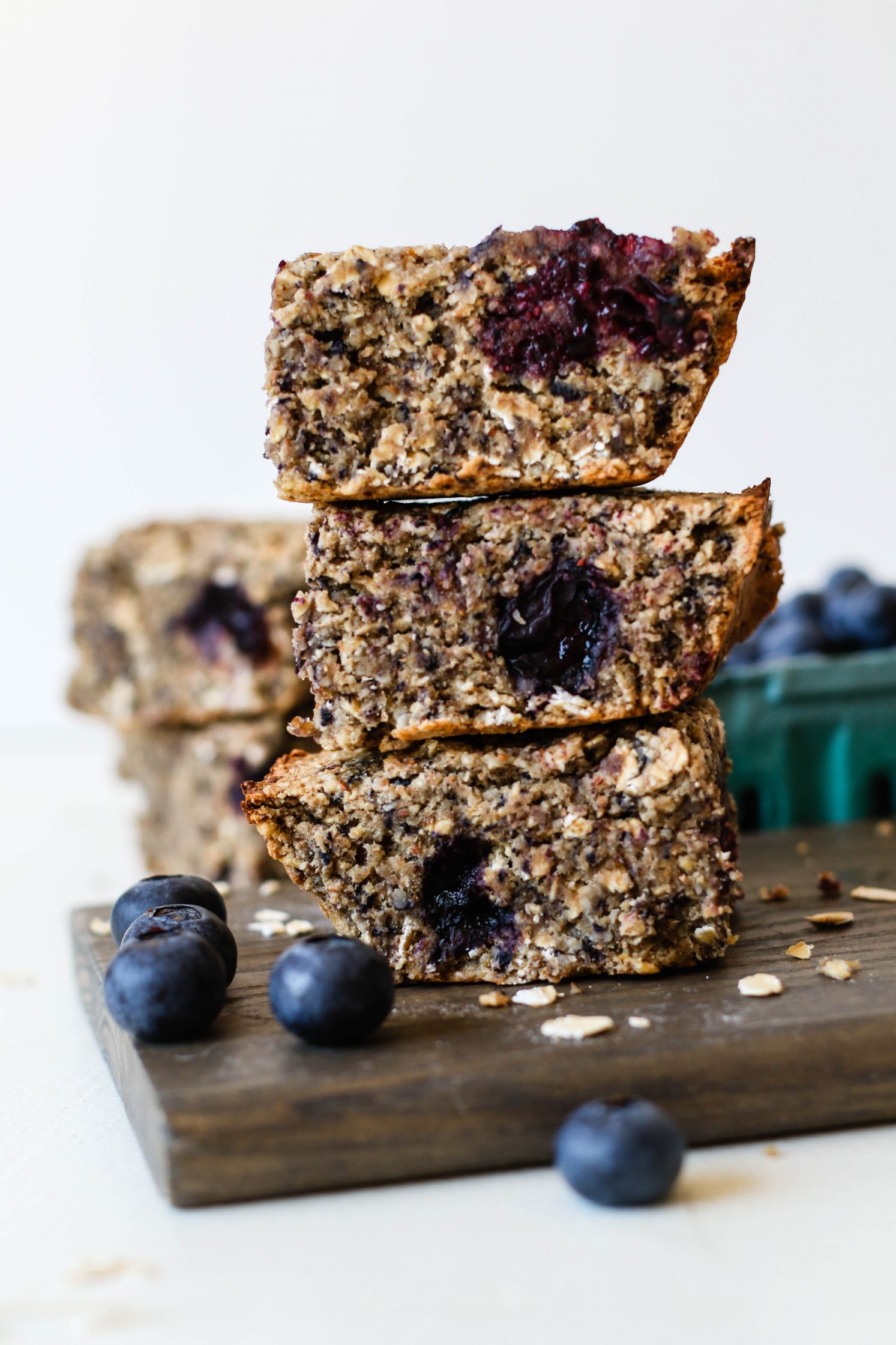 If you start your day off with these Blueberry Maple Baked Breakfast Bars, let me know! I'd love to hear what you think of them.
Be sure to leave me a comment, rating, and review so I can use your feedback to create more yums.
Give me a shout on Instagram and use #floraandvino to show me your creations.
Check out my Pinterest page to pin more recipe like this one to make later.
Love this post and want more? Go to my homepage and subscribe to get updates delivered right to your inbox!
Want more grab and go breakfasts? You'll love my Cashew Chickpea Snack Cookies and Toasted Quinoa Carrot Cake Breakfast Cookies!
XO Lauren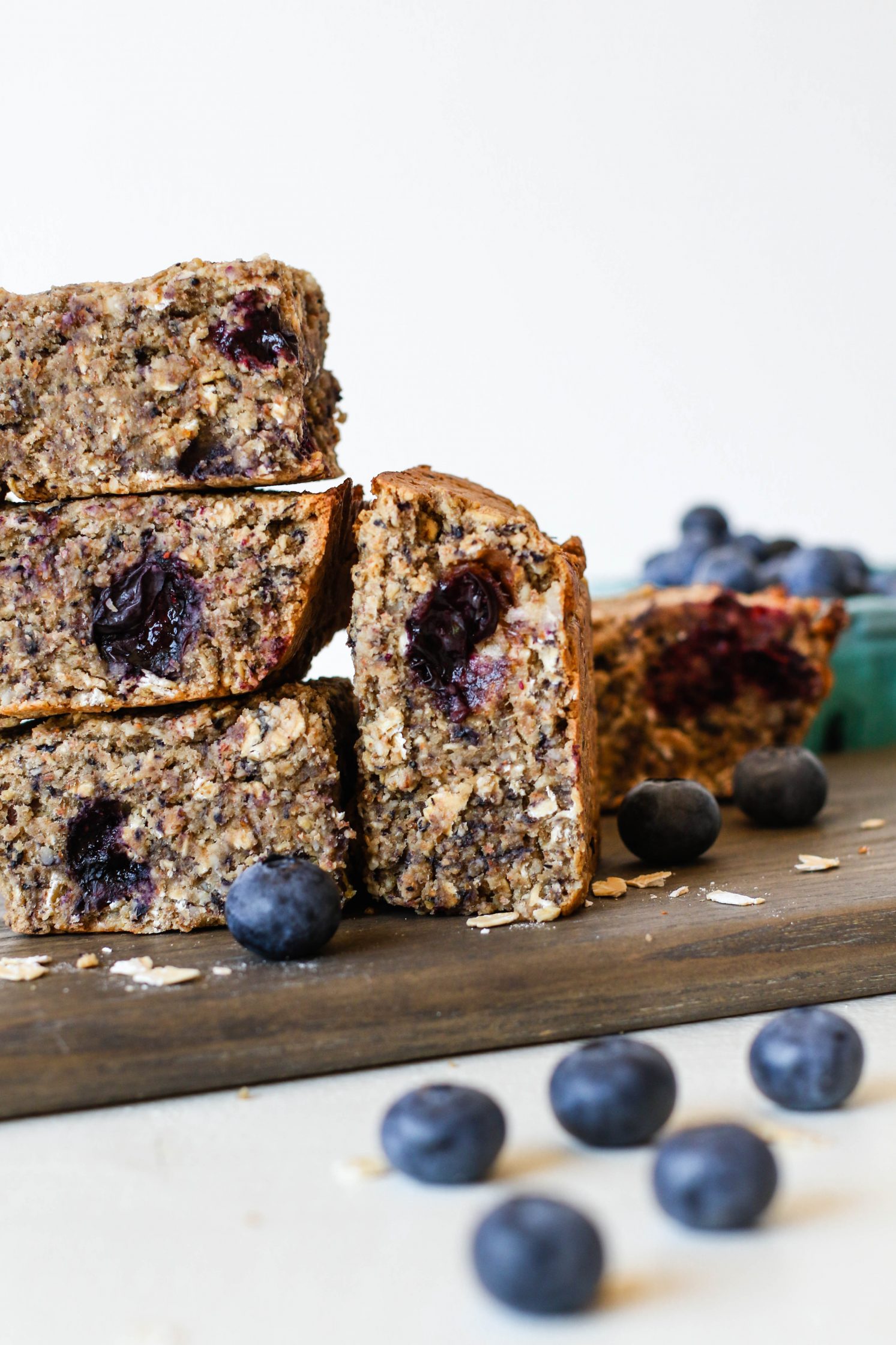 Print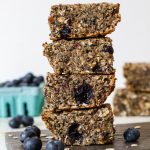 Blueberry Maple Baked Breakfast Bars
---
Author:

Total Time:

45 mins

Yield:

12 bars

Diet:

Vegan
Description
6-ingredient breakfast bars with hearty oats, plant-based protein and blueberries! Gluten-free, oil-free, and naturally sweetened with dates and maple syrup.
---
2 cups

Bob's Red Mill gluten-free old-fashioned rolled oats, divided

1 cup

raw almonds

1/2 cup

vanilla protein powder (or sub almond flour or oat flour for varying results)

1

heaping cup of blueberries, fresh or frozen, divided

1/2 cup

Medjool dates, pitted and chopped

1/3 cup

pure maple syrup
---
Instructions
Preheat oven 350°F and line an 9X6 baking dish or dish of similar size with parchment paper. Set aside.
In food processor or high speed blender, combine half of the oats, almonds, and protein powder and pulse until well combined.
Add half the blueberries, dates, and maple syrup process for another 30 seconds.
Add remaining blueberries and oats and blend again until just combined. If the mixture is too dry, add another date or two, a handful of fresh blueberries, or 1 TBSP maple syrup to get the mixture to stick. It should be thick but not dry and crumbly.
When you've reached your desired consistency, press mixture into the parchment baking dish and bake for 20-25 minutes, until golden brown around the edges and firm to the touch.
Cool completely before cutting into bars.
Store in the fridge for 5-7 days and freeze for long term storage.
Notes
*If your dates are dried out, try soaking them in hot water for ~10 minutes, then drain and add to recipe.
**Adapted from Tone It Up
Prep Time:

20 mins

Cook Time:

25 mins

Category:

Breakfast, Snack

Method:

Oven-Bake

Cuisine:

Vegan, Oil-Free, Gluten-Free, Refined Sugar-Free
This post is brought to you by Bob's Red Mill, but all words and eats are my own. Thanks for supporting the sponsors that keep me hungry!