Creamy chocolate fruit-free smoothie bowl packed with veggies and naturally sweetened with japanese yam. Perfect for an energizing breakfast or snack.
Time.
Have you got it?
I want to know– were we always this busy, or, as a collective did we suddenly take on more than we can do (and chew)?
Last night in yoga, my instructor talked about how our perceived lack of time is all a matter of mindset.
Basically, that we make time for the things that matter.
"You made time for yoga," she said, strolling through the parted sea of down dogs to the back of the studio room.
This is true, I thought, hanging out in down dog with the clarity and calm that always finds me at the studio.
And amidst all of the ceaseless tasks and torturous to-dos, guess what?!
I also made time to make a smoothie bowl.
This Chocolate Chia Chip Yam Smoothie Bowl only requires 10 minutes and a handful of ingredients, so no excuses, because you've got time too, boo.
I'm really loving yoga lately, you guys.
Like really loving it.
On the worst days, my 6 PM flow class beckons to me like a bright lighthouse in a storm.
The storm of my kitchen in complete and utter recipe testing disarray.
When I get home, the mess looks a little less messy, and the fail recipes taste a little less…failed.
(Sort of.)
I'm also really loving this Chocolate Chia Chip Yam Smoothie Bowl, inspired by my original fruit-free blend, my Fruit-Free "Fake-Out" Shakes!
On the day of its creation, I woke craving a chocolate shake, but didn't really want to muddle the rich cacoa flavors with any fruit, ya know?
As with most of my recipe obsession, the answer was YAM.
YUM.
This smoothie bowl is decadence meets nutrition.
It's thick and creamy, cool but not brain-freeze cold, and very chocolate-y.
The thickness comes from the combination of baked yam, frozen cauliflower, and chia seeds.
All veg and seeds?!
Yes, it sounds strange, I know, but give it a shot!
This fruit-free and refined sugar free recipe is great for anyone who is looking for lower sugar options without sacrificing the whole smoothie-bowl altogether.
It's also packed with protein, fiber, and antioxidants.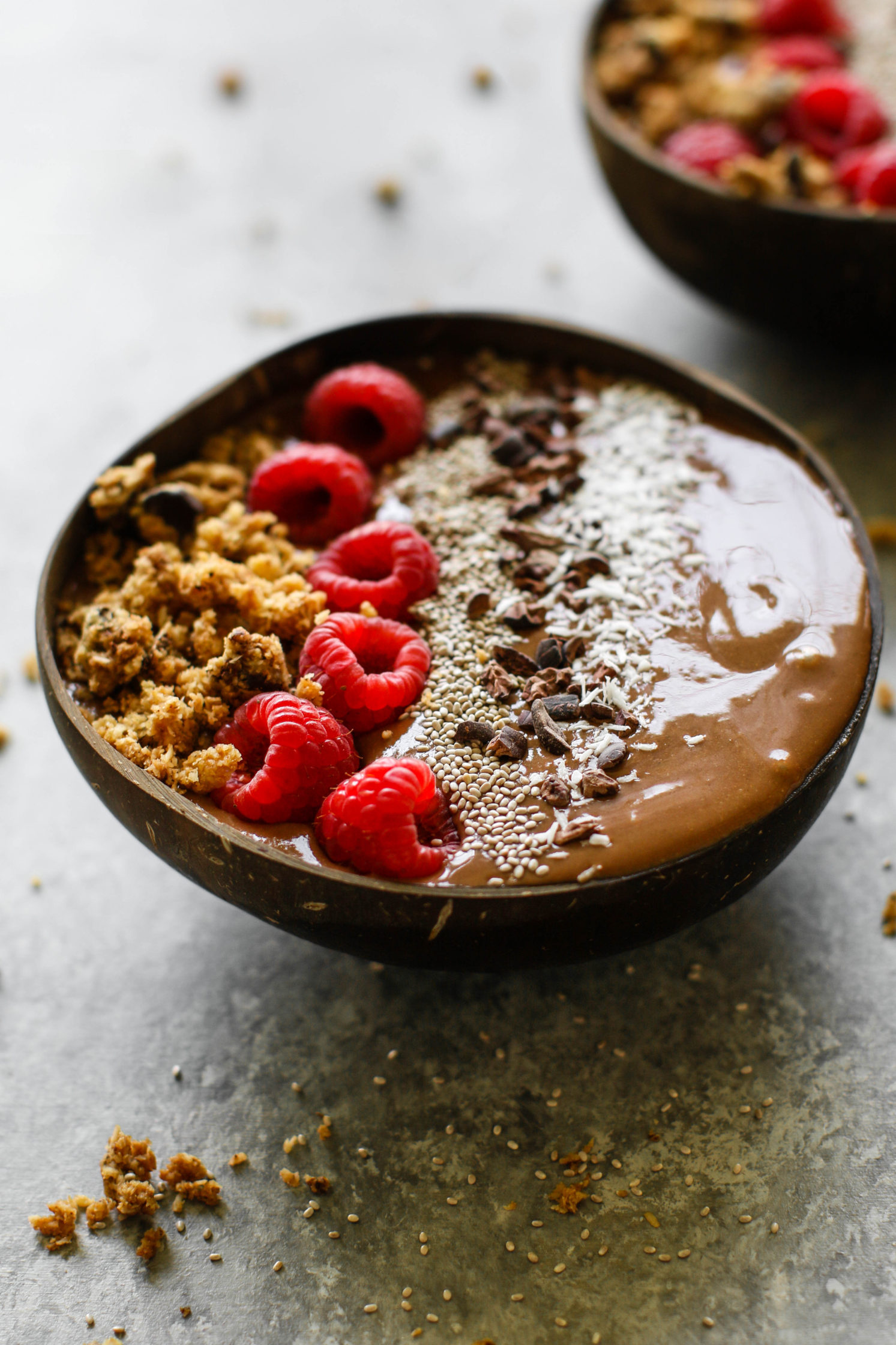 To keep the toppings fruit-free, refined-sugar-free, and FUN, I added my favorite Coco-Roon Chocolate Chip Cookie "Crumble".
I love these versatile little bites!
They're lightly sweetened with a mix of maple syrup and coconut sugar, making them the perfect snack or treat.
You've got to try them crumbled on top of your smoothie bowl.
The cookie breaks down into the fluffiest little clusters with soft chocolate chunks…
Do I really need to continue?
Enjoy this Chocolate Chia Chip Yam Smoothie Bowl as a protein-packed breakfast, snack, or even dessert.
To keep this bowl fruit- free, omit the fruit toppings.
If you can't find Japanese Yams near you, try subbing regular sweet potato instead for similar results.
Be sure to steam/bake/roast your yams in advance so you have them in the fridge ready to go when the Chocolate Chia Chip Yam Bowl cravings hit hard!
I learned the hard way– I may or may not have been up at 6 AM today baking yams before I even had my morning matcha!
If you try this Chocolate Chia Chip Yam Smoothie Bowl, let me know!
Be sure to leave me a comment, rating, and review so I can use your feedback to create more yums.
Give me a shout on Instagram and use #floraandvino to show me your creations.
Check out my Pinterest page to pin more recipes like this one to make later.
Want more fruit-free smoothie ideas? Check out my Fruit-Free "Fake-Out" Shakes, too!
Love this post and want more? Go to my homepage and subscribe to get updates delivered right to your inbox!
XO Lauren
Print
Chocolate Chia Chip Yam Smoothie Bowl (Fruit-Free)
---
Author:

Total Time:

5 mins

Yield:

1 serving

Diet:

Vegan
Description
Creamy chocolate fruit-free smoothie bowl packed with veggies and naturally sweetened with japanese yam. Perfect for an energizing breakfast or snack.
---
12 oz

. unsweetened almond milk

1

scoop chocolate protein powder

1 TBSP

raw cacao powder

3/4 cup

steamed and frozen cauliflower

1/2

small roasted, steamed, or baked Japanese yam, skins removed (~

1/2 cup

, smashed)

1 TBSP

chia seeds
Optional toppings
---
Instructions
Add all of the ingredients to a high-speed blender and blend until it's smooth and creamy.
Add a little more frozen cauliflower or steamed yam to thicken or more almond milk to thin.
Pour the mixture into a bowl it and top it with optional crumbled Chocolate Chip Coco-Roons, fresh berries, cacao nibs, shredded coconut, and chia seeds. Serve immediately!
Notes
Prep time does not include time to bake Japanese yam
Prep Time:

5 mins

Cook Time:

0 mins

Category:

Smoothie Bowl

Method:

Blender

Cuisine:

Vegan, Gluten-Free, Fruit-Free, Refined Sugar-Free
This post is brought to you by Sejoyia, but all words and eats are my own. Thanks for supporting the sponsors that keep me hungry!