Power bowl with roasted delicata squash, quinoa, spinach, basil, and toasted pine nuts. Oil-free, gluten-free, and packed with protein and leafy greens!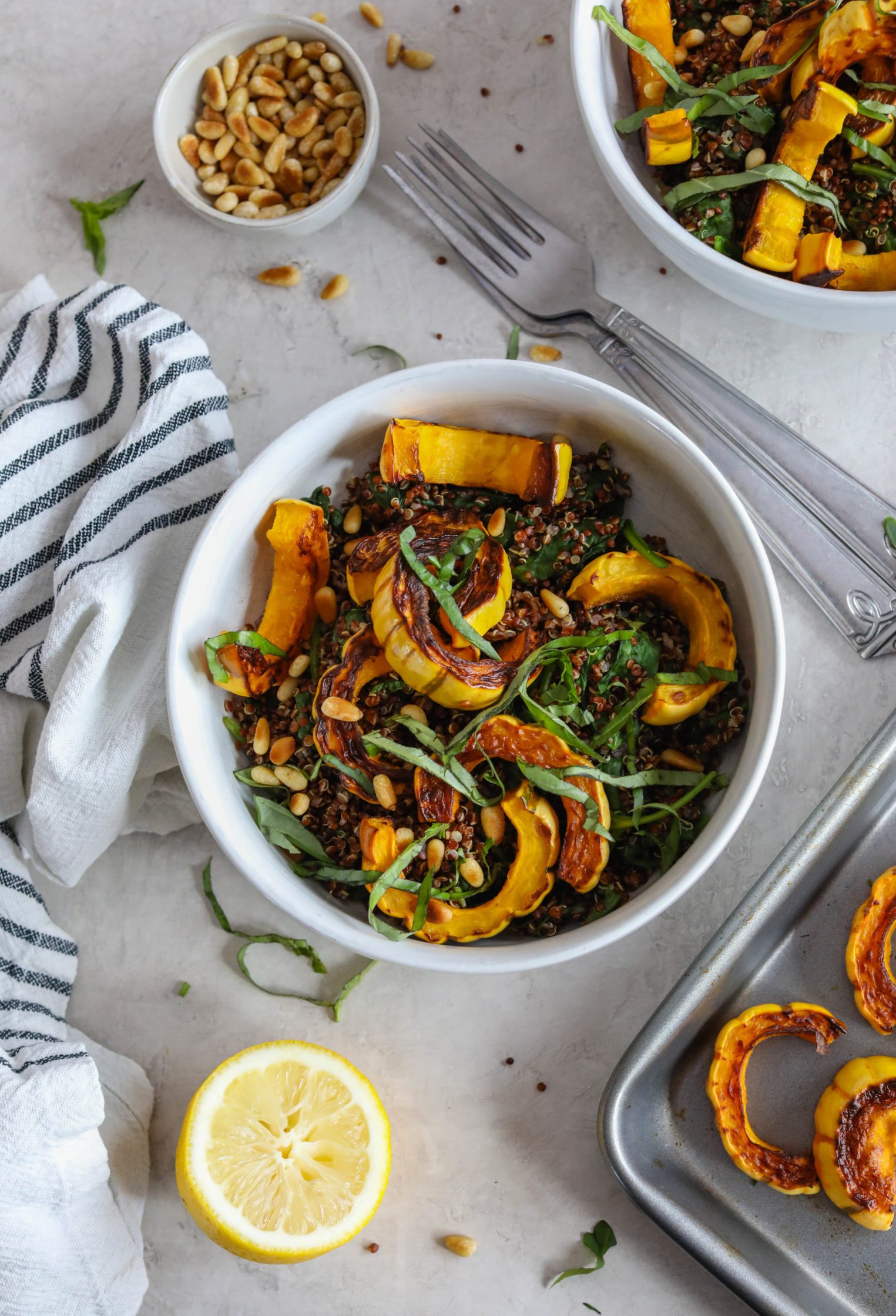 At yoga teacher training last weekend we wrote our fears (about beginning training) on scraps of paper and burned them standing in a circle in the parking lot.
When it was my turn, I read my fears aloud (public speaking, lack of time, judgement) and then added sheepishly, "One of my other fears is fire, so, uh, could someone else light this for me?"
One of my yoga teachers grabbed my paper, squatting towards the asphalt and lighting my folded fears with ease.
The truth is that all of my fears wouldn't fit on that scrap piece of paper even if I wrote SUPER small.
They've been a little out of control lately adjusting to living, cooking, and working in a new space.
Change. Is. Hard.
For example, I used an electric stovetop my *entire* life, and was more than apprehensive about the gas cooking range in my new townhome.
"You mean I have to cook over an open flame???"
Fear of fire, friends.
Well, and the very real fear of accidentally leaving the gas on, because I can be so haphazard in the kitchen.
This Delicata Pesto Quinoa Power Bowl is the first thing I've cooked in my new home and I'm pretty proud of it.
These power bowls are an excellent basic meal to make this fall for an easy protein-packed lunch or dinner.
Feel the fear (and the fire) and do it anyway!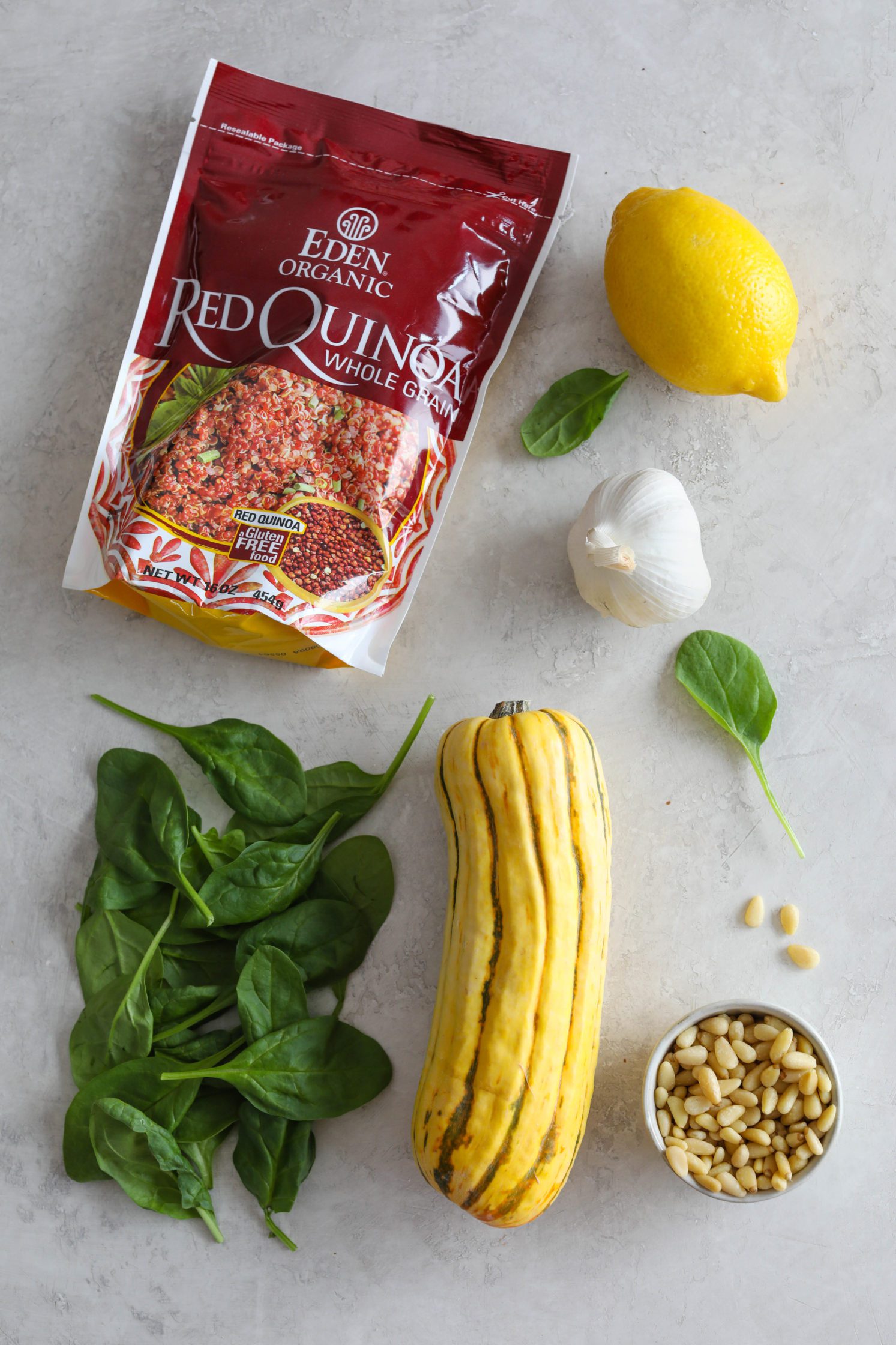 You're Going to Love Delicata Squash
Everyone on Instagram told me that despite my concerns I'd love cooking with gas because of how quickly and evenly it heats.
You guys weren't wrong.
I sliced up the delicata squash I found at the grocery store this past weekend and threw it in my new preheated oven, fingers crossed.
Thirty minutes later I had a sheet of sizzling squash half-moons and the smell made me the place feel more like home than any decoration.
Have you tried delicata squash yet?
It's so easy to prepare and tastes mildly sweet with a pillowy soft texture and edible skins.
I built this bowl around it because it's THAT GOOD.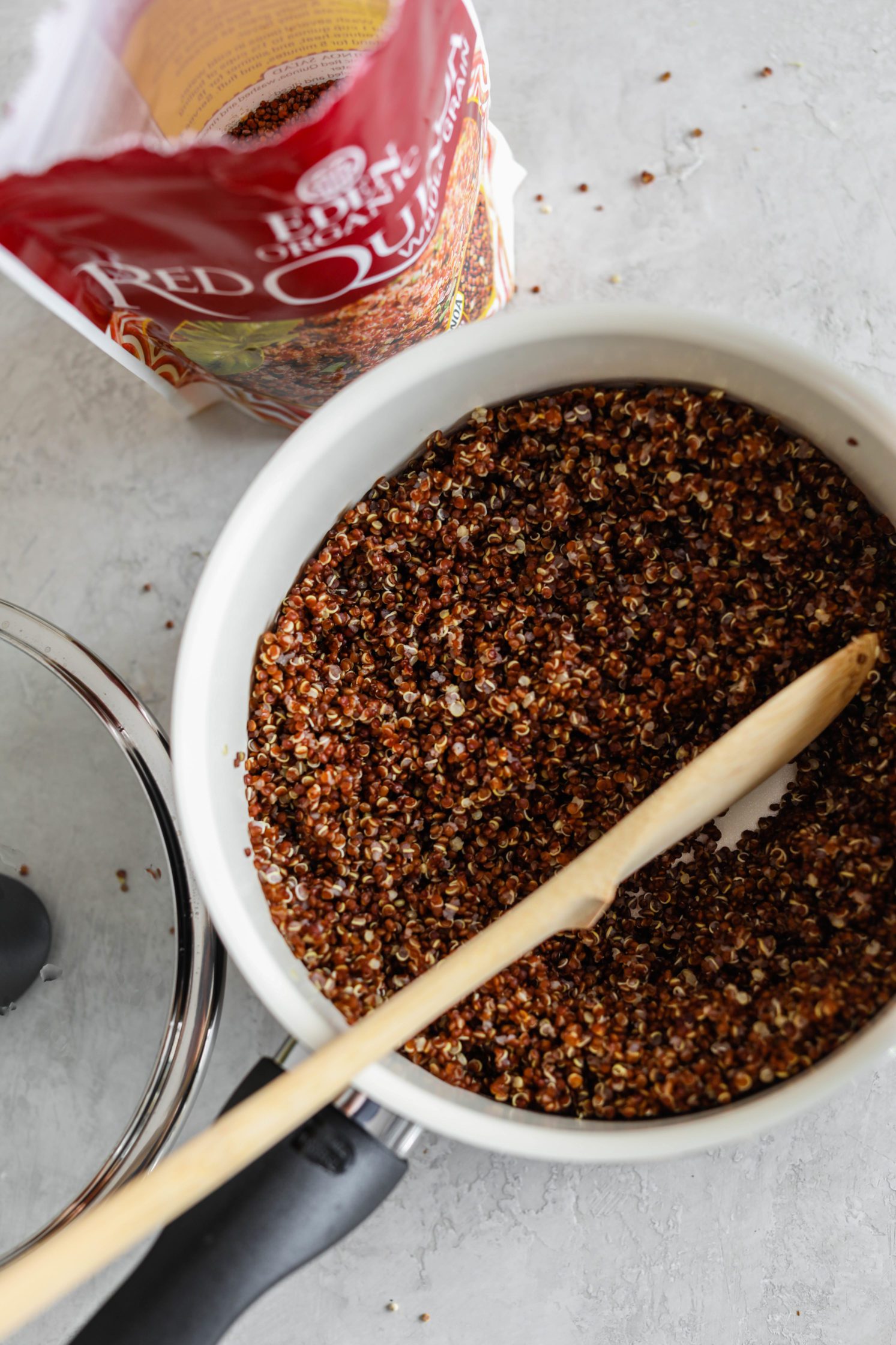 Quinoa: Our Power Bowl Base
If you've visited Flora & Vino a few times, you know I love using quinoa as the hearty base to my meals.
It's one of the first protein-sources that I recommend to people transitioning to the plant-based life.
Usually I'm rocking a white or tri-color quinoa as a bowl foundation, but lately I'm loving this Organic Red Quinoa.
Red quinoa is slightly sweeter than white with the same easy preparation, nutty taste, and fluffy texture.
This gluten-free grain is packed with protein, vitamins, iron, and minerals.
It works perfectly here with roasted squash for a play on sweet and savory!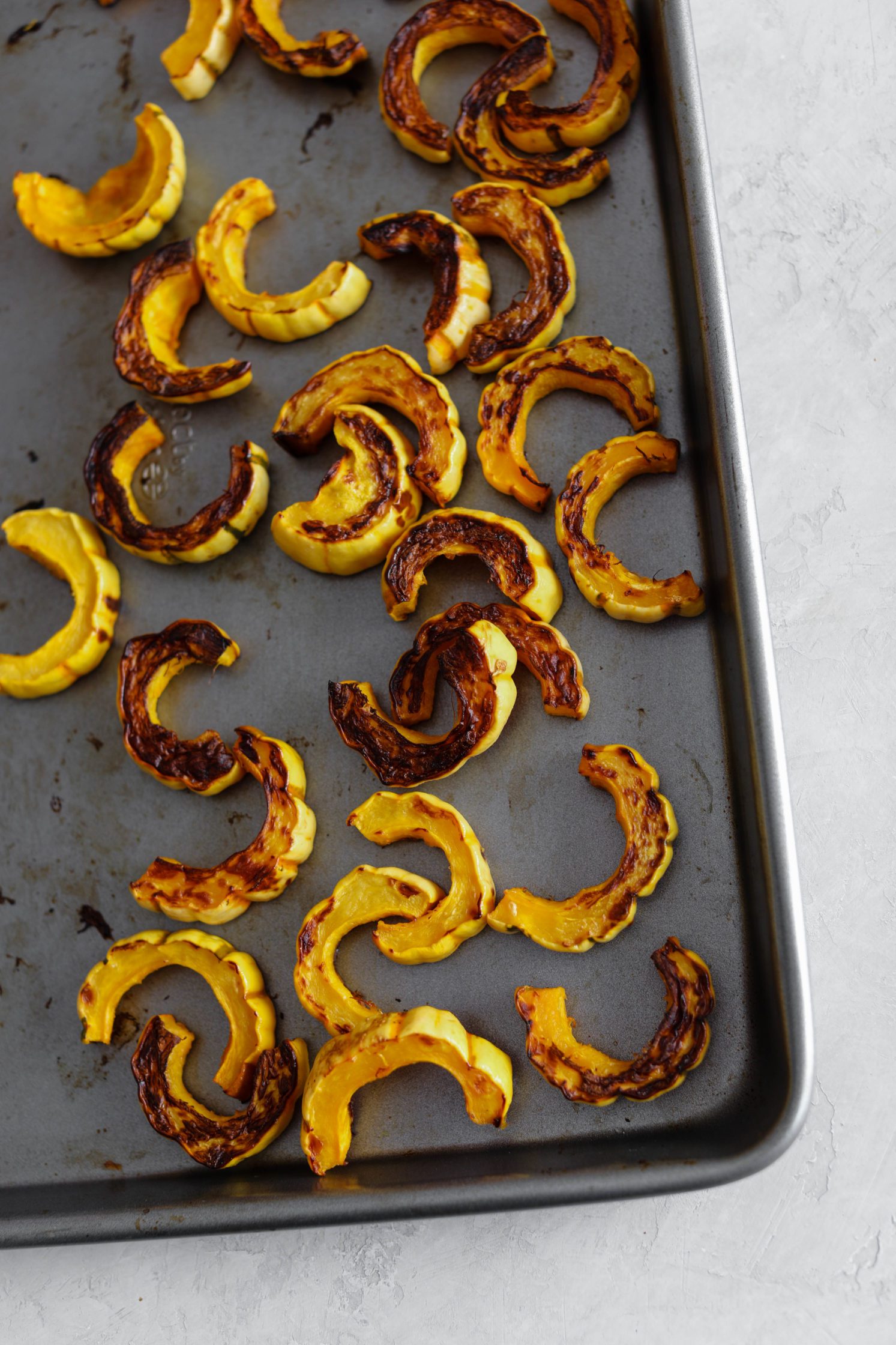 How to Make It
This power bowl pairs slightly sweet roasted squash with savory flavors of basil, lemon, and toasted pine nuts.
After you create the quinoa base and roasted squash top, make the rest of the filling in less than 5 minutes.
Add the cooked quinoa, several handfuls of fresh spinach, fresh basil, and garlic to a pan and heat until the spinach is slightly wilted.
Season with salt and pepper, fresh squeezed lemon, and add a big handful of toasted pine nuts.
The mix of basil and pine nuts give the bowls a pesto-flavor without the muss and fuss of making your own!
I usually eat my bowls as is, but if you'd like to dress them, try using a Lemon Tahini.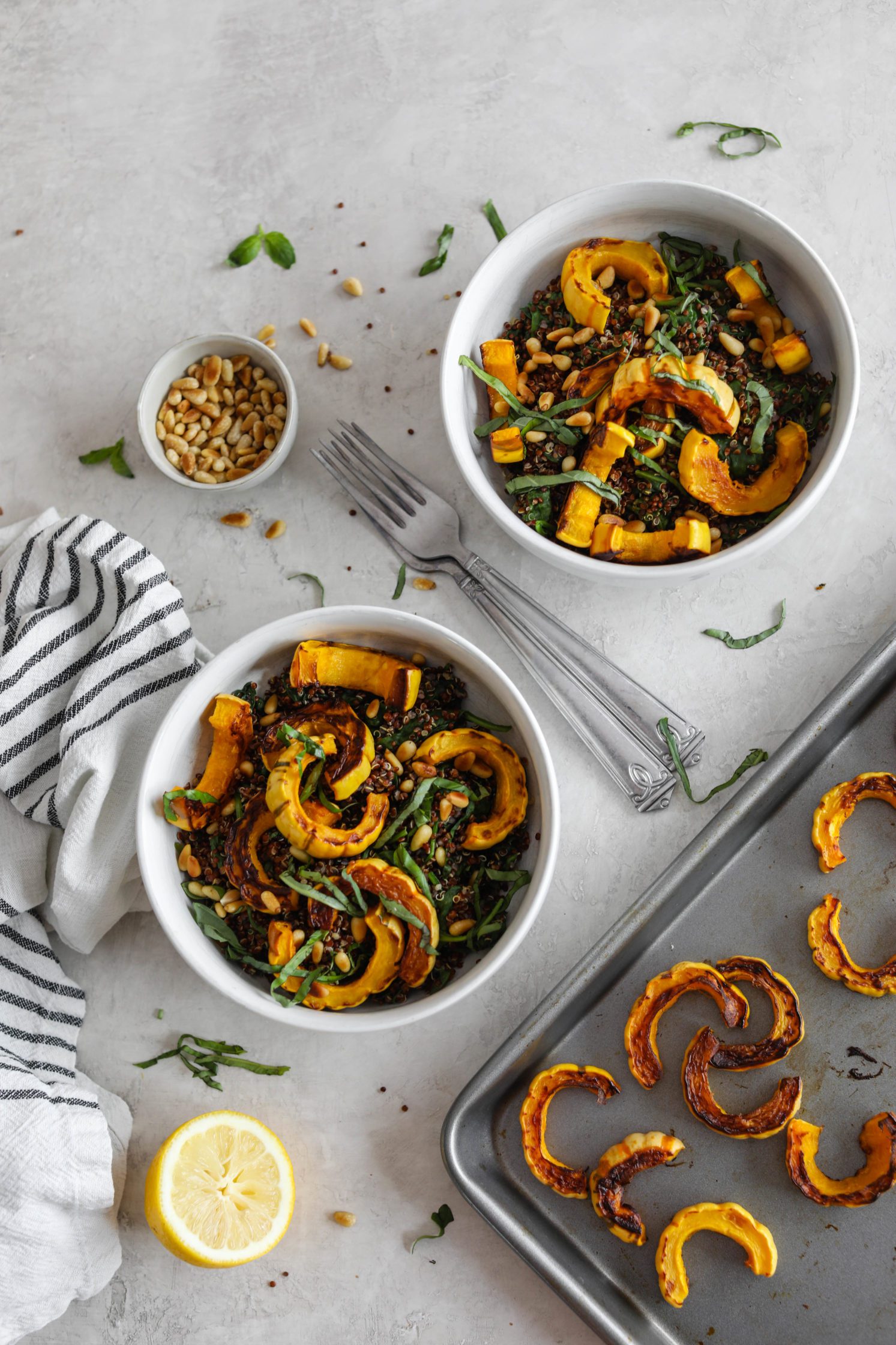 Add This Delicata Squash Quinoa Power Bowls to Your Fall Meal Plan!
It's the perfect lunch or light dinner and it also keeps well it the fridge long after you've made it.
If you can't find delicata squash anywhere and still want to make this bowl, try it with butternut squash or even sweet potato instead!
This bowl already has lots of protein from the mix of hearty quinoa and pine nuts, but if you want even more, try adding my Oven-Baked Tofu Fries.
I love my power bowls with extra squeezes of lemon and a dollop of hummus on the side for delicata-dunking.
It's a thing. 🙂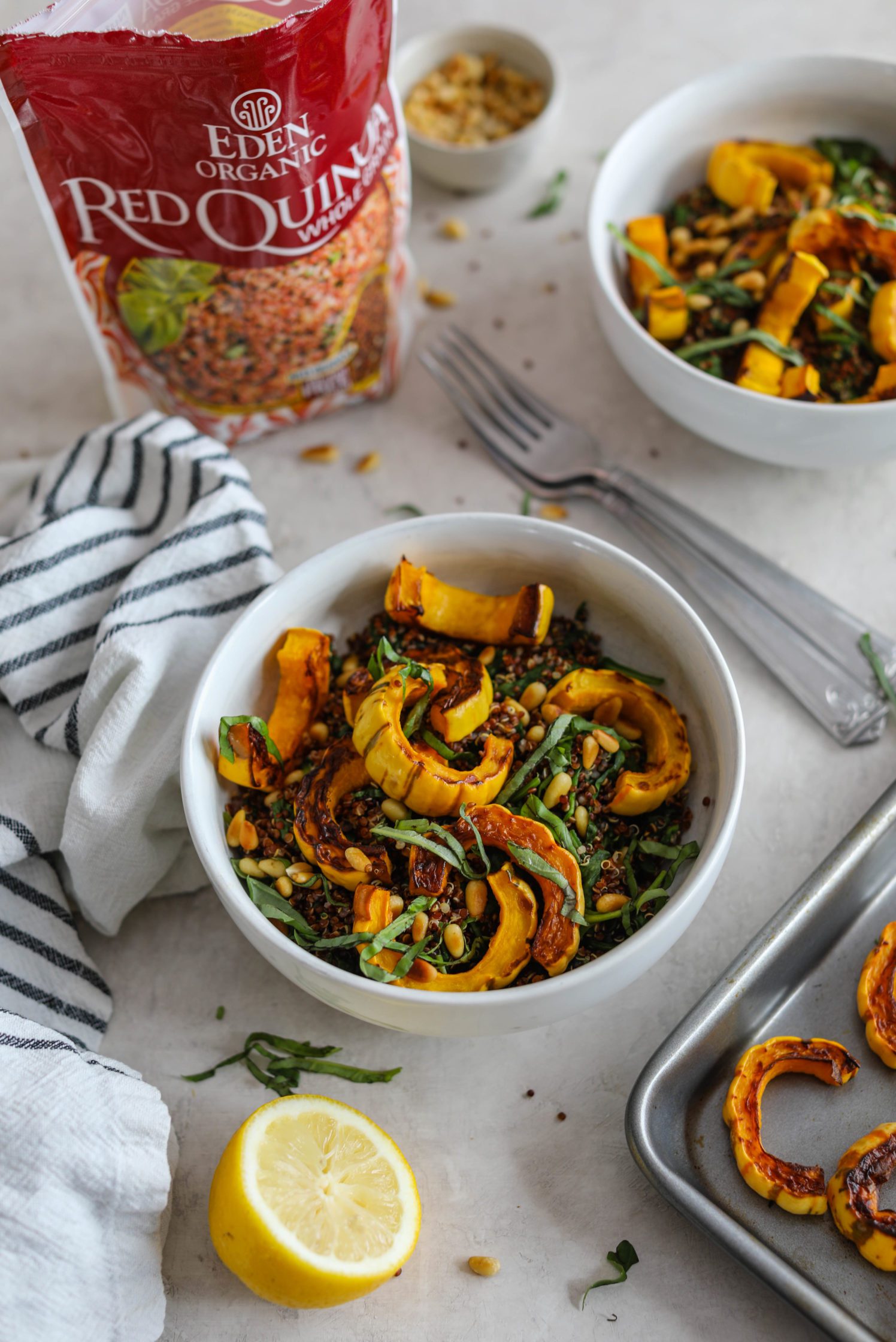 If You Make a Delicata Squash Quinoa Power Bowl, I Want to Hear About It.
Be sure to leave me a comment, rating, and review so I can use your feedback to create more yums.
Give me a shout on Instagram and use #floraandvino to show me your creations.
Check out my Pinterest page to pin more recipes like this one to make later.
For more power bowl recipes, check out Veggie Sushi Power Bowl, Greek Power Bowl, or Forbidden Rice Power Bowls.
Love this post and want more? Go to my homepage and subscribe to get updates delivered right to your inbox!
XO Lauren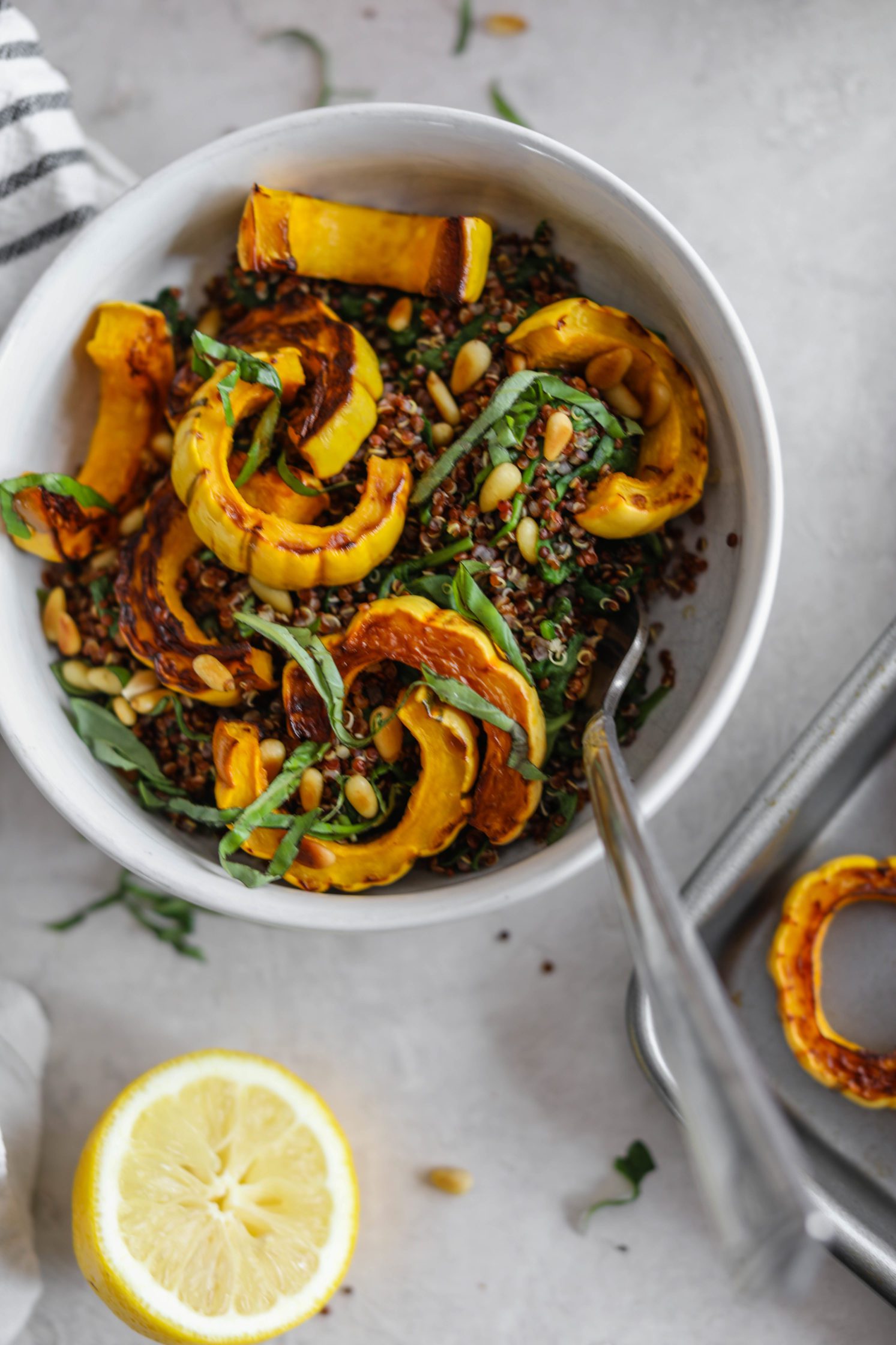 Print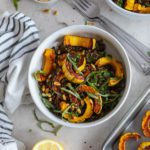 Delicata Squash Quinoa Power Bowl
---
Author:

Total Time:

45 mins

Yield:

2 bowls

Diet:

Vegan
Description
Power bowl with roasted delicata squash, quinoa, spinach, basil, and toasted pine nuts. Oil-free, gluten-free, and packed with protein and leafy greens!
---
1

delicata squash, wash, seeded, and sliced into

1

" half-moons
avocado oil (optional)

2 cups

Eden Foods Organic Red Quinoa, cooked

1/4 cup

pine nuts
fresh squeezed lemon

1/4 tsp

garlic powder, or

2 g

arlic cloves smashed
handful of fresh basil leaves, roughly chopped

2

giant handful of spinach, roughly chopped
Himalayan sea salt and black pepper, to taste
For serving
lemon tahini dressing
hummus
---
Instructions
Preheat the oven to 400°F and line a baking sheet with parchment paper.
Rinse your delicata squash under running water. Cut off the stem and the bottom end. Slice the squash vertically and scoop out the seeds from each halve with a spoon. Slice each halve into 1″ half-moons then arrange on the baking sheet. Drizzle with optional avocado oil, or skip if oil-free. Bake for 30 minutes, flipping halfway to ensure even browning.
Meanwhile, prepare the quinoa by following package instructions. Once cooked, scoop out 2 cups for use in this recipe and save the rest for another use.
Toast the pine nuts by adding them to a large shallow pan over medium heat, tossing frequently, for 5-10 minutes, or until golden brown on all sides and fragrant. Transfer the pine nuts to a plate or bowl and place the pan back on the burner.
Reduce the heat to medium low and add the measured cooked quinoa to the pan. Next, add the spinach, garlic powder, Himalayan sea salt, black pepper, and chopped basil to the pan and toss to combine. Warm 3-5 minutes, or just until the spinach and basil start to soften and wilt.
To serve, spoon quinoa mixture into two bowls and top with roasted delicata squash, toasted pine nuts, and fresh squeezed lemon. Enjoy!
Prep Time:

15 mins

Cook Time:

30 mins

Category:

Salad, Entree, Bowl

Method:

Oven, Stovetop

Cuisine:

Vegan, Oil-Free, Gluten-Free
This post is brought to you by Eden Foods, but all words and eats are my own. Thanks for supporting the sponsors that keep me hungry!