Easy 1-bowl lemon poppy seed muffins with a 2-ingredient coconut butter glaze. Vegan, gluten-free, oil-free, and naturally sweet.
It's March!
Let's make all things bright, citrus, and sweet.
That means lovin' on lemons.
Lemon.
One of the regulars that carries over from grocery list to grocery list in my sprawling cursive, a staple in my kitchen.
I love them bowled on the granite counter, bright smiley face yellow, as if ready to be captured in a still life painting.
I love muddling a wedge into water when water is the last thing you want to drink.
I love to big squeeze 1/2 of one all over my vegetables with runny tahini for the quickest (and best) DIY dressing.
I also really love them in these Lemon Poppyseed Muffins with Coconut Butter Glaze.
These 1-bowl muffins are perfect to ring in spring with refreshing citrus and creamy coconut butter.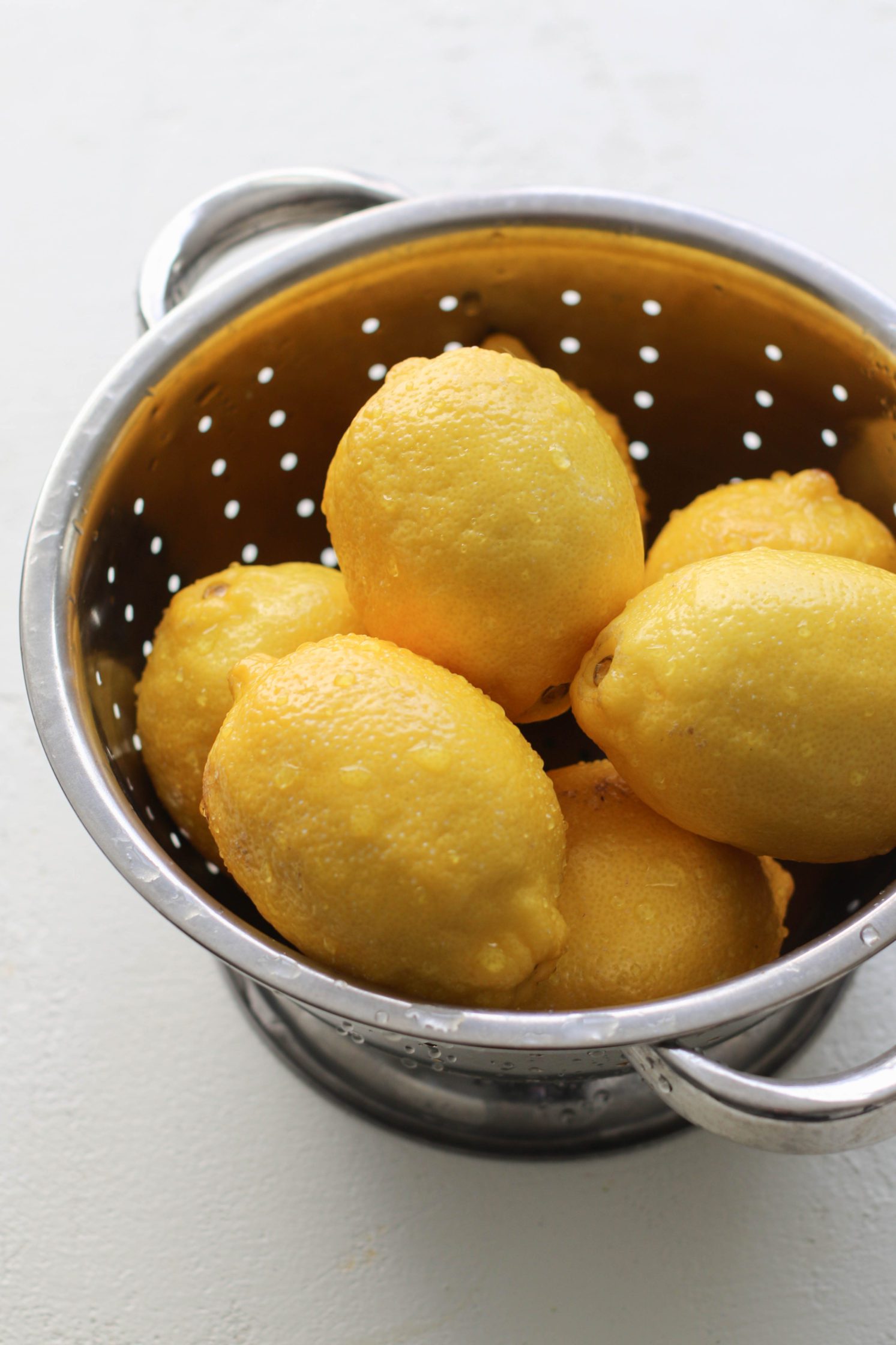 These muffins are tender and moist, sweet and citrusy, with pops of poppyseed and a creamy 2-ingredient coconut butter glaze.
They kind of look like cupcakes, don't they?
Yes, but the batter is surprisingly nutritious, packed with protein and fiber and good for your carbs.
It starts with a gluten-free oat-almond flour base lightly sweetened with maple syrup and applesauce.
Add in fresh squeezed lemon and lots of lemon zest to satisfy your citrus cravings.
Creamy almond milk and applesauce replace oil for an entirely oil-free batter.
The mixing bowl will smell like lemon pound cake while you're stirring.
Mmm.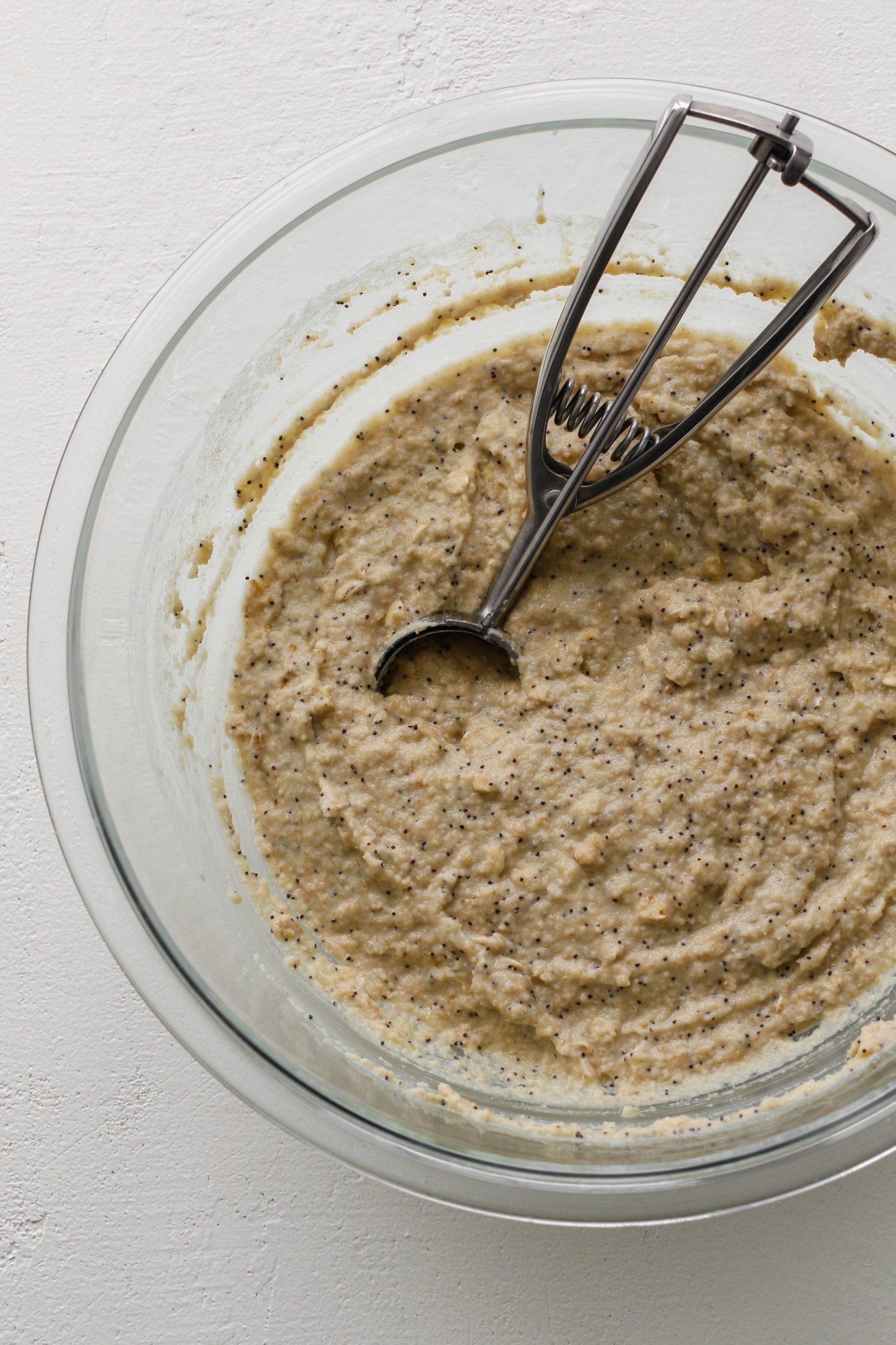 This recipe was originally going to be a "Lemon Loaf".
You know me and my alliterative brain– I just couldn't help myself.
But after a quick poll on Instagram, you friends told me that you preferred muffins to bread.
I can't blame you– there's something so comforting and concise about a single serving muffin, and these in particular do singularity so well.
If you're team lemon loaf, no worries!
You can also use this recipe for bread, by baking the batter in a loaf pan with an increased bake time of 50-60 minutes.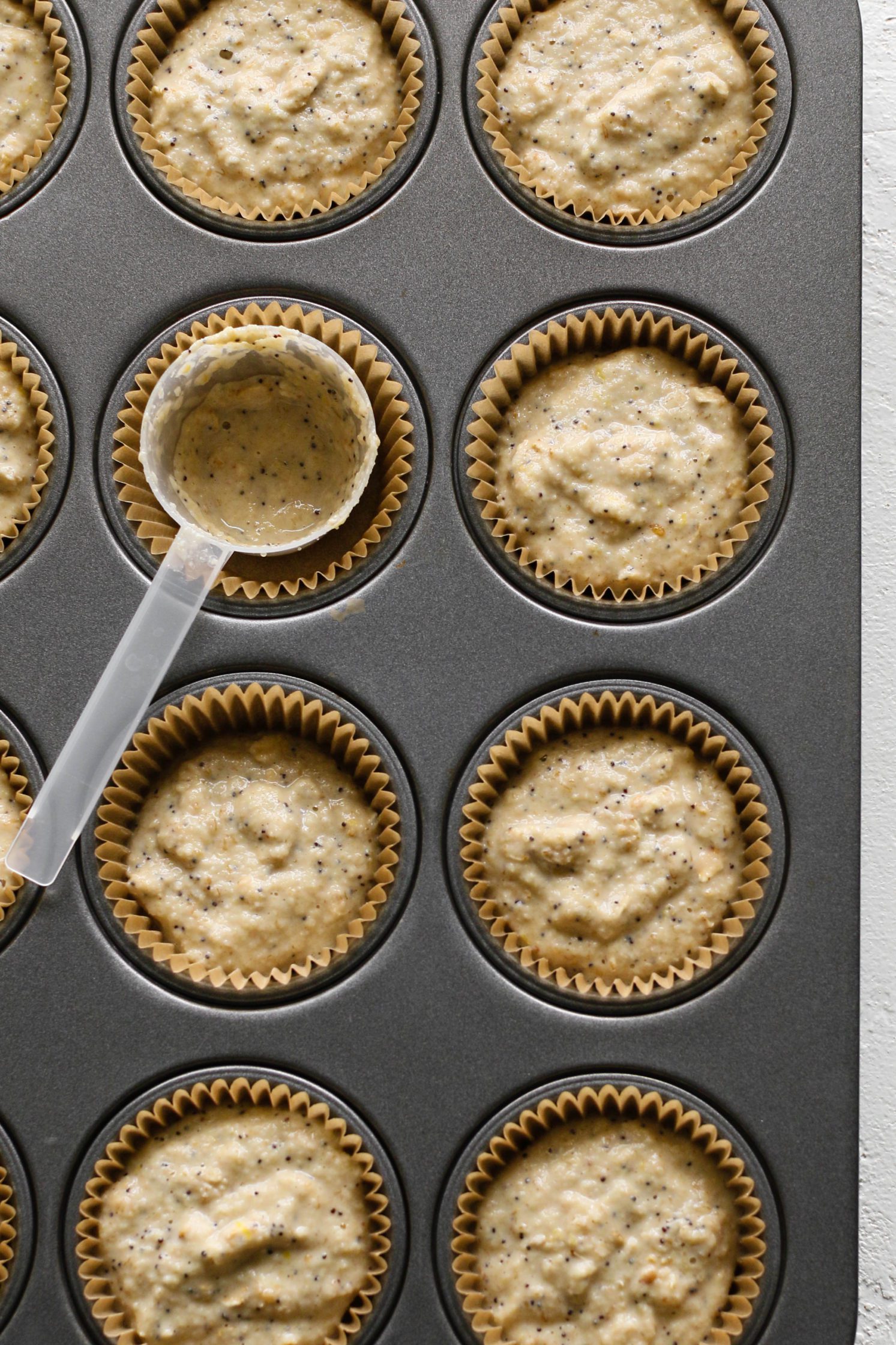 I'm going o ask the question we've all been wondering…
What do people use poppyseeds for if not to make a lemon poppyseed combination?
The only two places I can remember encountering them is in lemon poppyseed recipes and on bagels.
Both are my favorites so I'm a fan.
If you're not a fan or don't have poppyseeds or are looking for a fun swap, try using chia seeds instead!
I stared at the muffins, watching them cool, wondering what was missing.
A glaze, I finally realized.
Something creamy and gooey and drool-worthy to accent the lemon poppy peppered muffins underneath.
My mom used to make one for her famous lemon pound cake, a simple combination of lemon and powdered sugar that was startling sweet and wildly addictive.
I didn't want to use powdered sugar here, so I whipped up this sweet coconut butter "glaze" with coconut butter, warm filtered water, and maple syrup.
It's thick, creamy, and gooey, the perfect oil-free and refined sugar free topper to these nutritious muffins.
The glaze will naturally harden as it cools, making the muffins easier for storage.
Reheat before serving for a creamier consistency.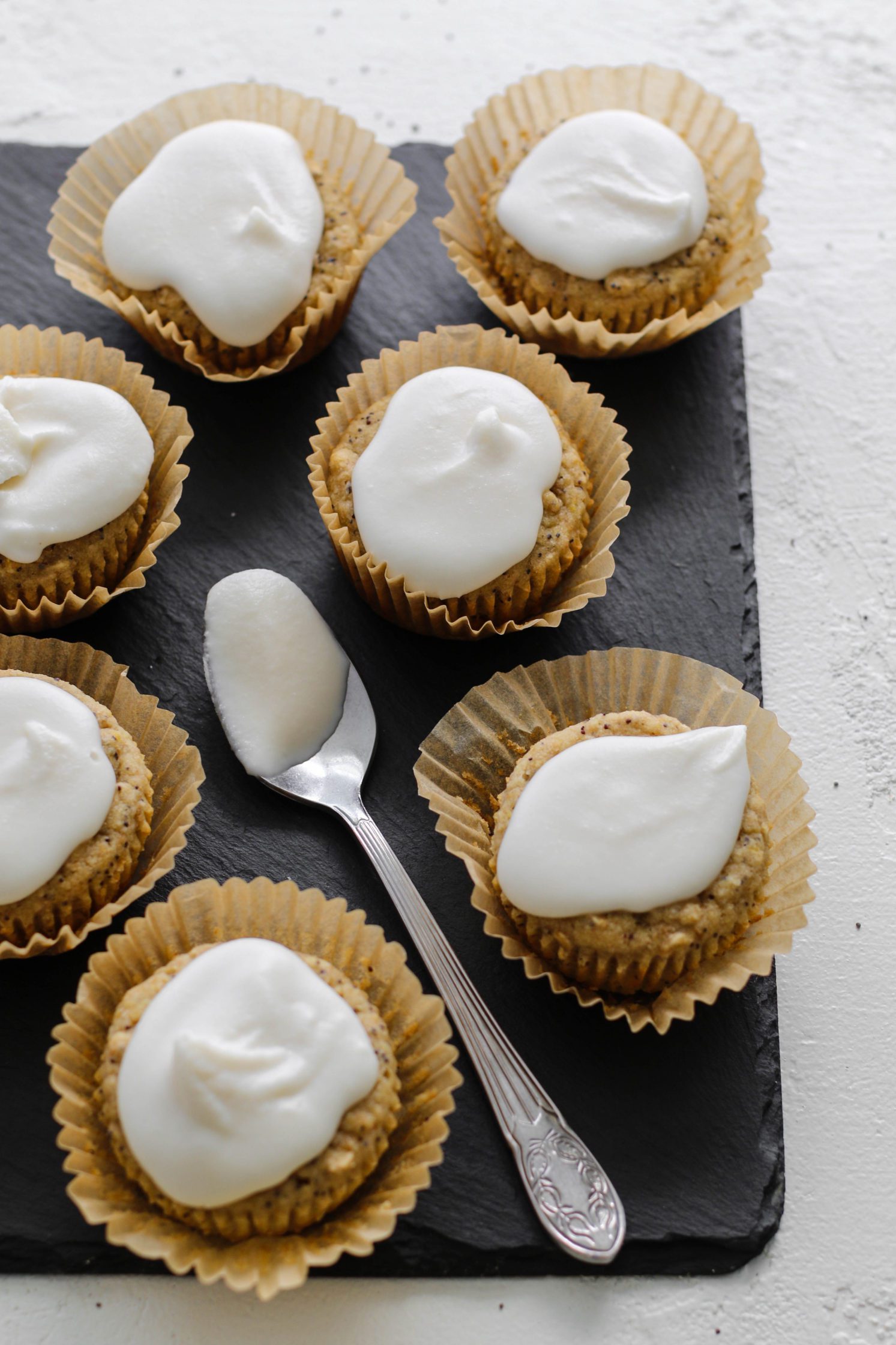 These Lemon Poppyseed Muffins with Coconut Butter Glaze are perfect for a spring breakfast, snack, or dessert.
Skip the coconut butter glaze for a more basic muffin recipe, or spoon it on if your day calls for extra decadence.
Try them with a glass of almond milk or latte whenever the muffin mood strikes.
They're ideal for meal prep, weekend baking, and lovers of lemon.
Their pretty aesthetic also lends them to baby showers, family reunions, brunch, birthday parties, and more!
If you make these Lemon Poppyseed Muffins with Coconut Butter Glaze let me know!
I'd love to hear what you think.
Be sure to leave me a comment, rating, and review so I can use your feedback to create more yums.
Give me a shout on Instagram and use #floraandvino to show me your creations.
Check out my Pinterest page to pin more recipe like this one to make later.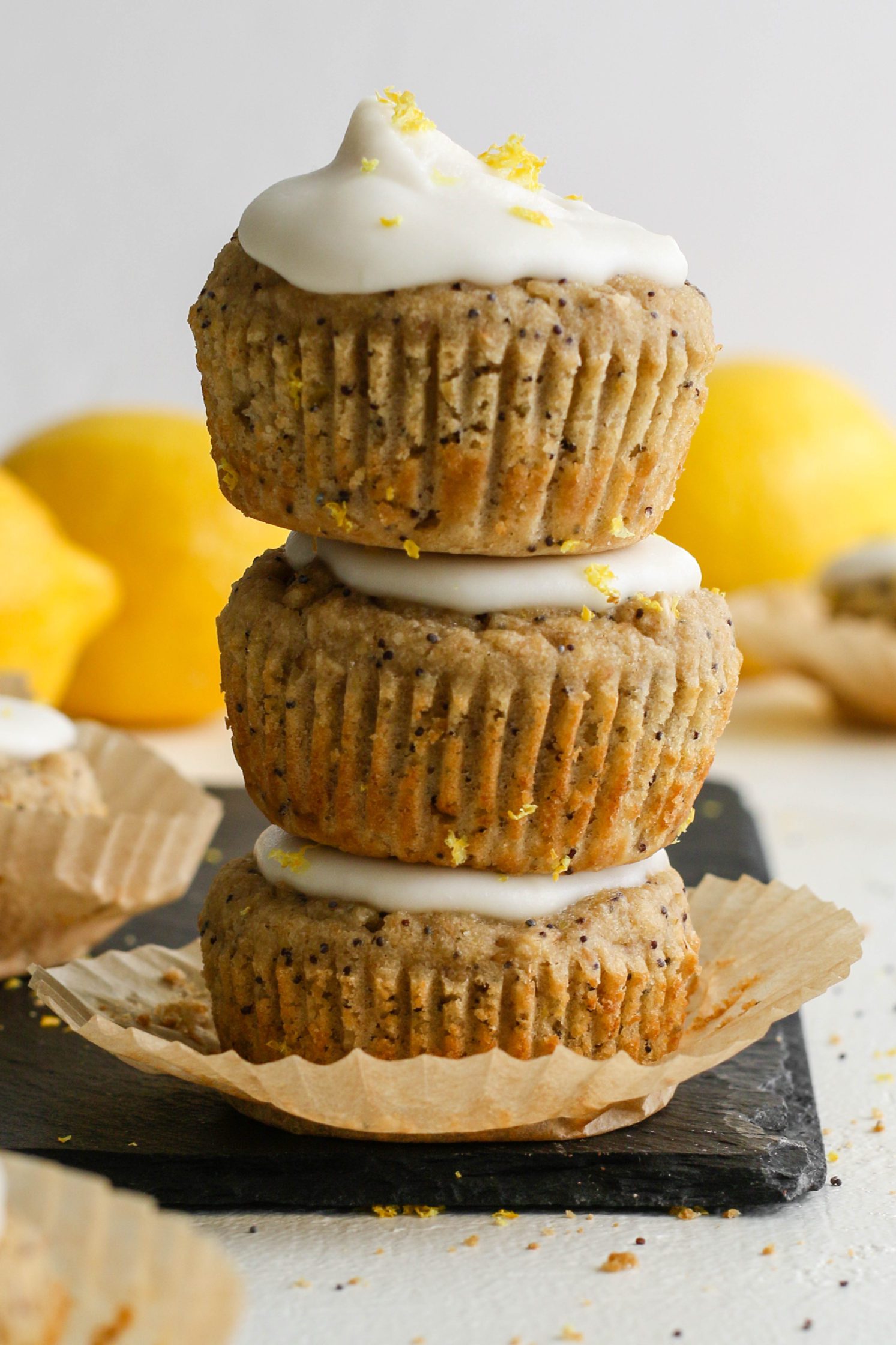 Print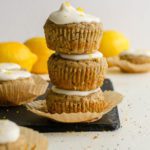 Lemon Poppyseed Muffins with Coconut Butter Glaze
---
Author:

Total Time:

45 mins

Yield:

12-16 servings

Diet:

Vegan
Description
Easy 1-bowl lemon poppy seed muffins with 2-ingredient coconut butter glaze. Vegan, gluten-free, oil-free, and naturally sweet.
---
Lemon Poppyseed Muffins
2

"flax eggs" (

2 TBSP

flaxseed meal +

6 TBSP

filtered water)

3/4 cup

unsweetened applesauce

1/4 cup

fresh squeezed lemon juice

1 TBSP

lemon zest

1/2 cup

unsweetened almond milk

1/2 cup

maple syrup

1/2 tsp

baking powder

1 TBSP

poppy seeds (or sub chia seeds)

1 cup

GF oat flour

1/2 cup

GF old-fashioned rolled oats

1 cup

almond flour
Coconut Butter Glaze
½ cup

coconut butter, melted

2 TBSP

pure maple syrup

¼

–

½

cup warm filtered water
lemon zest, for topping
---
Instructions
Preheat oven to 350°F and line a muffin tin with 12 paper liners, or lightly grease with coconut oil.
Prepare the flax eggs in a large mixing bowl and let rest for a few minutes.
Add the applesauce, lemon juice and zest, almond milk, maple syrup, and baking powder to the same bowl and whisk to combine.
Sift in the oat flour, oats, and almond flour and stir with a spoon or spatula until well combined. If the batter appears too thin, add a little more almond meal. The batter should be thick and scoopable, not runny.
Fold in the poppy seeds and stir again to combine.
Divide the batter evenly between muffin tins (makes anywhere from 12-16).
Bake the muffins for 25-30 minutes or until a toothpick inserted into the center comes out clean.
Allow the muffins to cool completely on a cooling rack before glazing.
If glazing, whisk the glaze ingredients together until you have a thick spoonable glaze. Spoon a dollop onto each muffin and swirl slightly to cover the top. Garnish with fresh lemon zest, if desired. The coconut butter glaze will firm up as it cools.
Store muffins in the refrigerator for 3-5 days and freeze for longterm storage.
Prep Time:

15 mins

Cook Time:

30 mins

Category:

Breakfast, Snack, Dessert

Method:

Oven-Bake

Cuisine:

Vegan, Oil-Free, Gluten-Free
Disclosure: This post contains affiliate links, meaning I earn a commission if you use these links. I only recommend brands I love, trust, and can't keep quiet about!