Lemon-y smashed pea toasts with herb-y smashed peas on toasted bread paired with fresh garnishes. Perfect for a fun snack, appetizer, or light meal.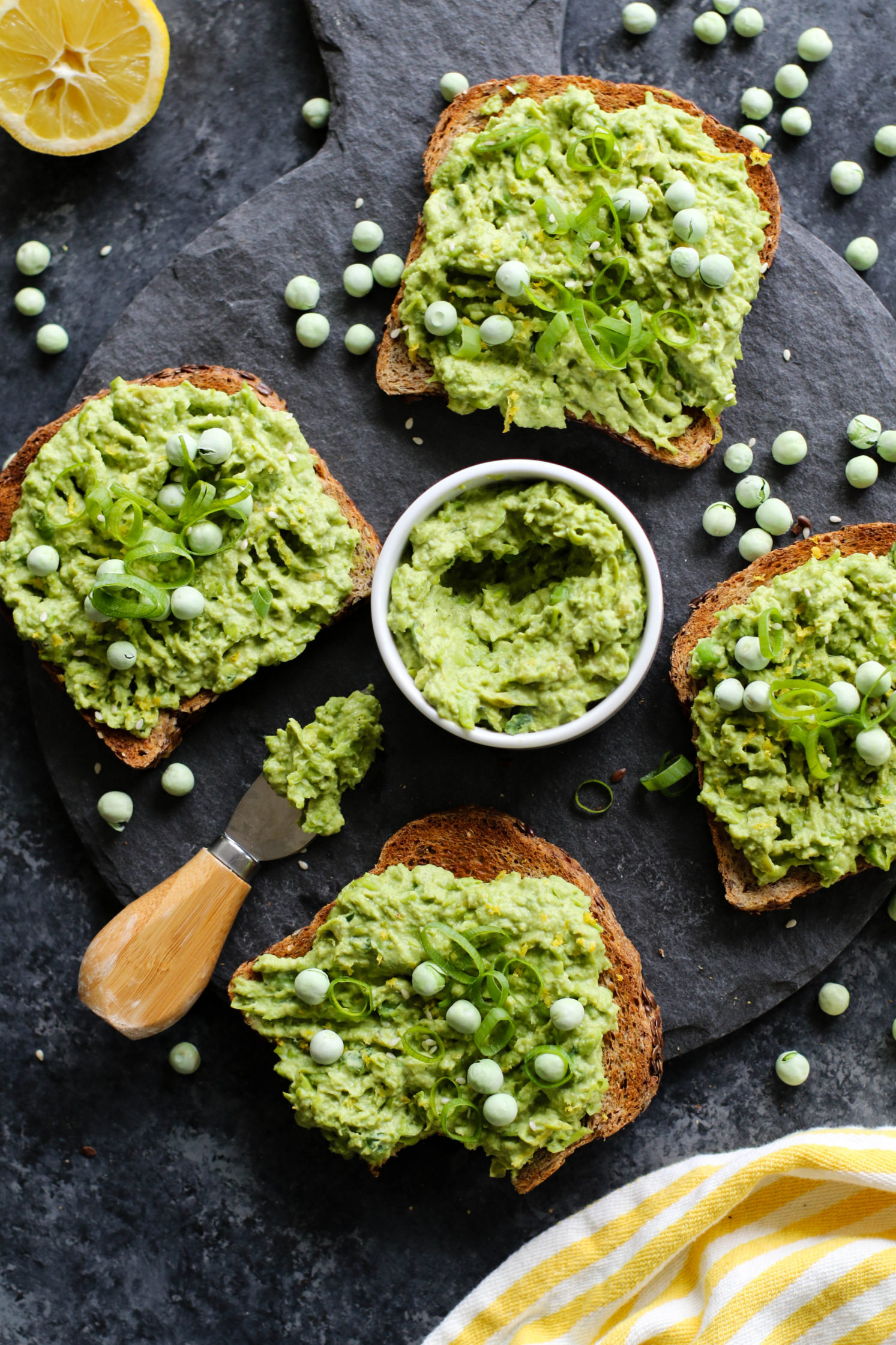 Dan had the TV on the other night watching something.
Our "TV room" is connected to the kitchen area to create one giant space in our condo, so it's usually a constant sound competition of clanging dishes, running water, and shouting newscasters!
I'm not much of a TV watcher (I'm more of a binge watcher of Netflix shows, ya know?) so when Dan has it on I usually tune out the different vibrations of mumbling from channel to channel.
"Hey. Have you heard that smashed pea toast is the new avocado toast?" he asked, smirking.
"What?!" I shrieked, suddenly totally engaged with the screen.
It's like this kid talking on the camera KNEW that I was planning on sharing these Lemon-y Smashed Pea Toasts with you this week!
Spoiler alert.
These Lemon-y Smashed Pea Toasts are the perfect toast combo to take you into Spring and brighter lighter days!
Peas on toast?!
YES, peas.
You're going to love this new quirky toast combination that packs unexpected protein and nourishment into the simple classic.
Just to be clear, I was smashing peas on toast way before what's his name on the tube was, mmk?
In case you, too, see something in the media about the new craze of pea toast…don't forget you saw it here first, friends!
This is an F&V exclusive.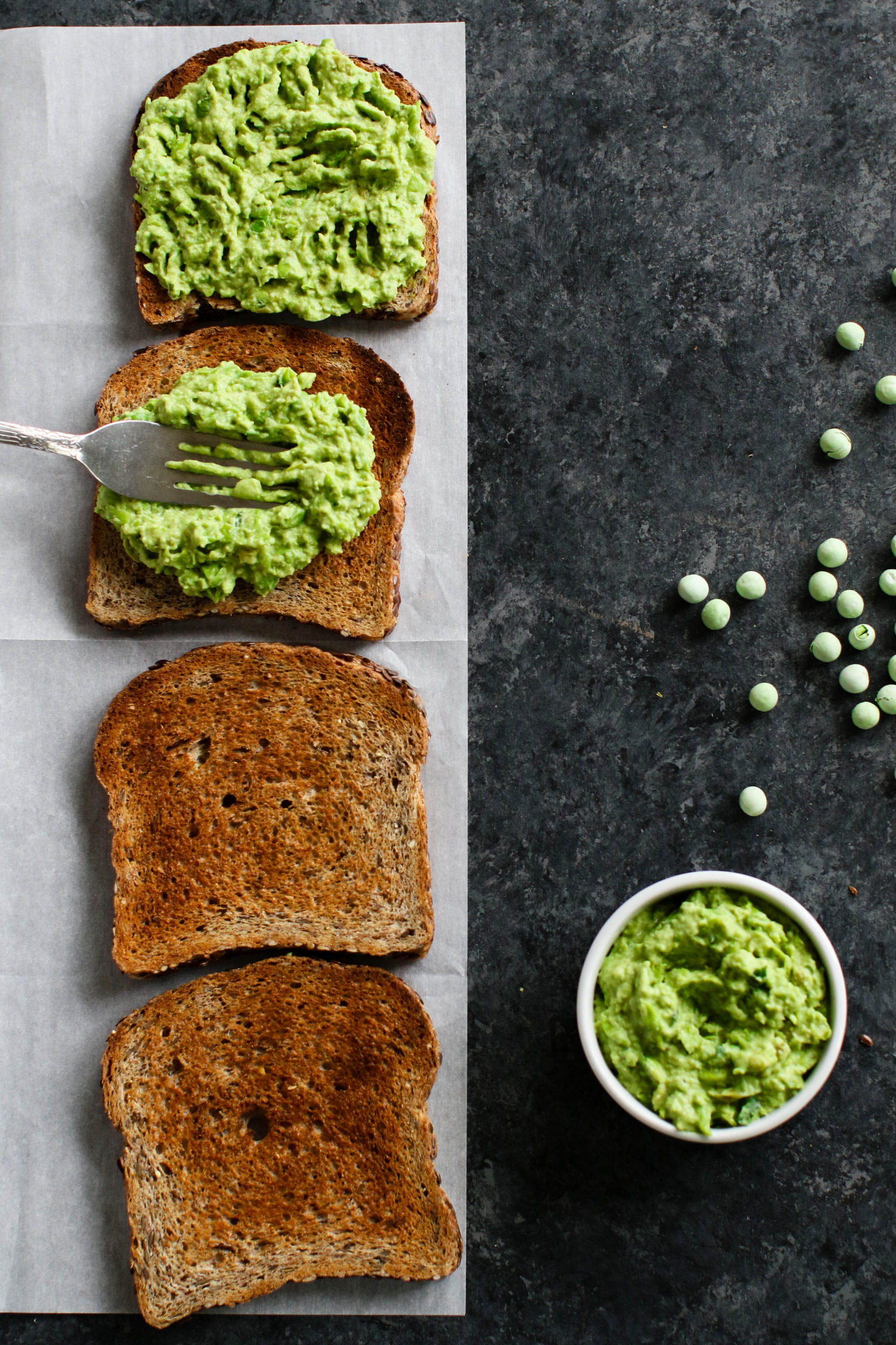 I don't give peas enough love, guys.
They're the veggie that no one wants to eat as a kid, although I remember gobbling up my Birds Eye peas & carrot blend with a voracity that might have been a bit strange for a child.
Clearly I was never asked to finish my peas, please, before being excused from the table.
They're actually a great source of protein and vital vitamins and minerals!
OK, even if you can't relate to my pea-loving inner child, I think you're still going to love this spread.
This lemon-y pea smash is so simple and it's made with a bunch of green things you probably already have in your fridge!
You just need a bag of frozen peas (I know you've got one in the outliers of your freezer), a bit of tahini, fresh lemon, your favorite herbs, and green onion.
Blend it all up and you have a deliciously creamy spread that gives avocado toast a git of dreamy green competition, don't you think?
The peas have a natural mild sweetness that pairs perfectly with bright lemon, tangy tahini, garlic, and herbs.
You might have tried freeze-dried fruit…but have you tried freeze-dried veggies?!
These Karen's Naturals Just Peas are just one ingredient…peas!
They're picked fresh and dried at low temperatures to preserve they're flavor and essential nutrients.
They're a great crunchy snack straight from the bag, sprinkled on salads or bowls, or as the topper to TOAST!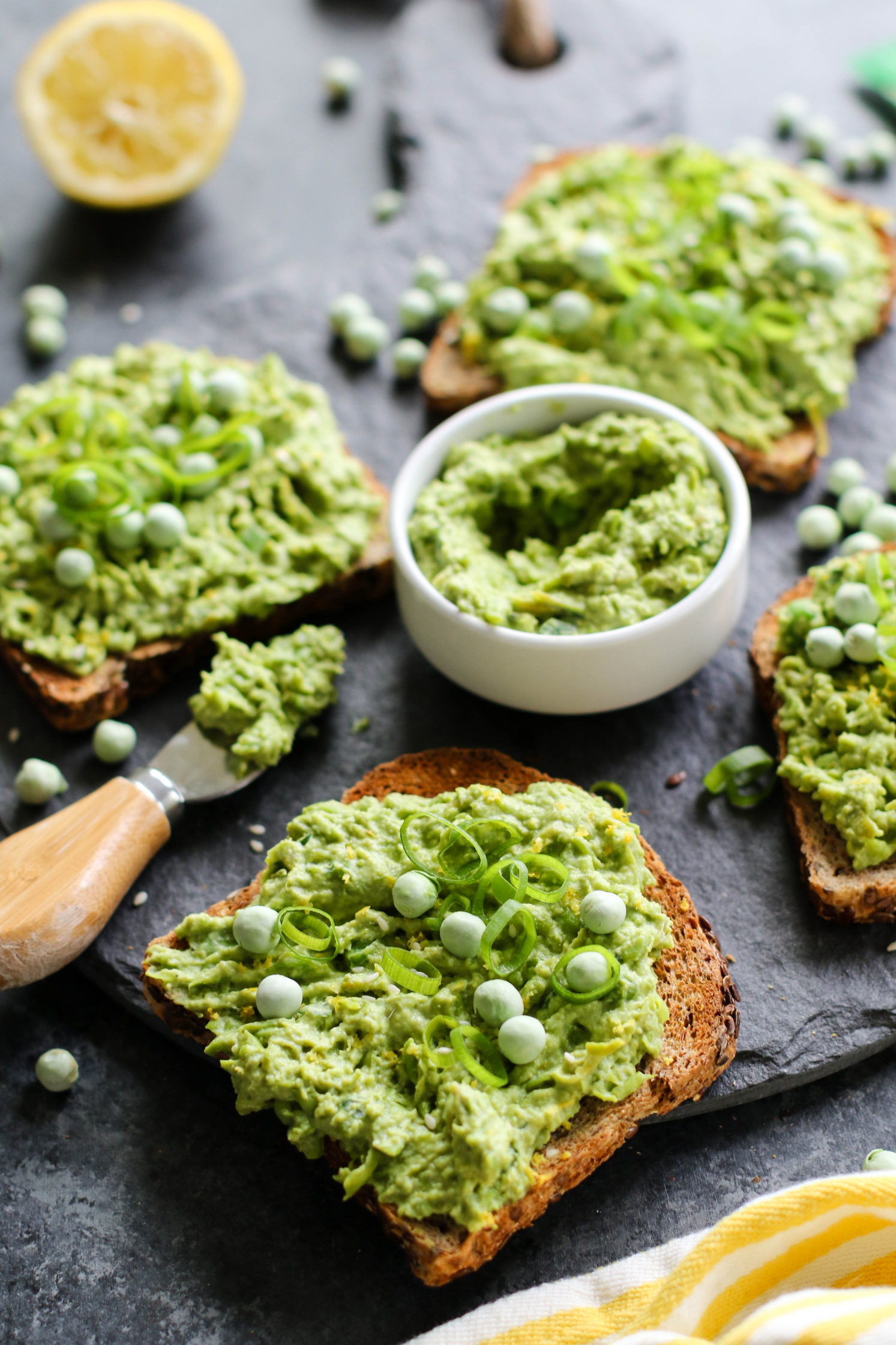 Next time you're reaching for the toaster, spread some Lemon-y Smash on your usual go-to toasted canvas.
They're perfect for a savory breakfast, nutritious snack, or a pretty side dish.
I love to load mine up as the main meal with lots of green onion and "Just Peas" for crunch!
And this Lemon-y Pea Smash isn't just for toasting!
Try spreading it on crackers, veggies, salads, and sandwiches to name a few options to use this versatile green goodness.
If you make these Lemon-y Smashed Pea Toasts, let me know!
Be sure to leave me a comment, rating, and review so I can use your feedback to create more yums.
Give me a shout on Instagram and use #floraandvino to show me your creations.
Check out my Pinterest page to pin more recipes like this one to make later.
For more totally awesome TOAST! recipes, check out my Purple Sweet Potato Hummus Toasts, Apple Pie Avocado Toasts with Easy Date Caramel, and Romesco Roasted Cauliflower Toasts.
Love this post and want more? Go to my homepage and subscribe to get updates delivered right to your inbox!
XO Lauren
Print
Lemon-y Smashed Pea Toasts
---
Author:

Total Time:

18 mins

Yield:

2 cups

Diet:

Vegan
Description
Lemon-y smashed pea toasts with herb-y smashed peas on toasted bread paired with fresh garnishes. Perfect for a fun snack, appetizer, or light meal.
---
2 cups

frozen green peas

1 TBSP

runny tahini

2 TBSP

fresh squeezed lemon juice, or more to taste

1/4 tsp

garlic powder

1/4 cup

parsley or fresh herbs (optional)

1 tsp

lemon zest
Himalayan sea salt
black pepper, to taste
toasted bread (gluten-free if desired)

1/4 cup

Karen's Naturals Just Peas
green onion, sliced
white sesame seeds
---
Instructions
Steam the frozen green peas on the stovetop by adding them to boiling water in a covered pot for 2-3 minutes, until they're vibrant green and tender. Be careful not to overcook them!
Drain the peas and add them to a high-speed blender or food processor along with the tahini, lemon juice, garlic powder, lemon zest, Himalayan sea salt, and black pepper.
Taste the mixture and add more lemon for brightness, tahini for creaminess, and sea salt and black pepper to reach desired combo.
Pulse the mixture until it's combined but not

puréed

. Some pea chunks are welcome here!
Smash the pea spread onto the toasted bread and top them with green onion, white sesame seeds, and freeze-dried peas.
Store leftover pea smash in the fridge for up to one week and reassemble with fresh toasted bread before serving!
Prep Time:

15 mins

Cook Time:

3 mins

Category:

Toast, Snack

Method:

Stovetop

Cuisine:

Vegan, Oil-Free, Gluten-Free Option
This post is brought to you by Karen's Naturals, but all words and eats are my own. Thanks for supporting the sponsors that keep me hungry!