Easy raspberry oat crumble bars made with just 6 whole food ingredients. Perfect for a quick breakfast, snack, or healthy dessert.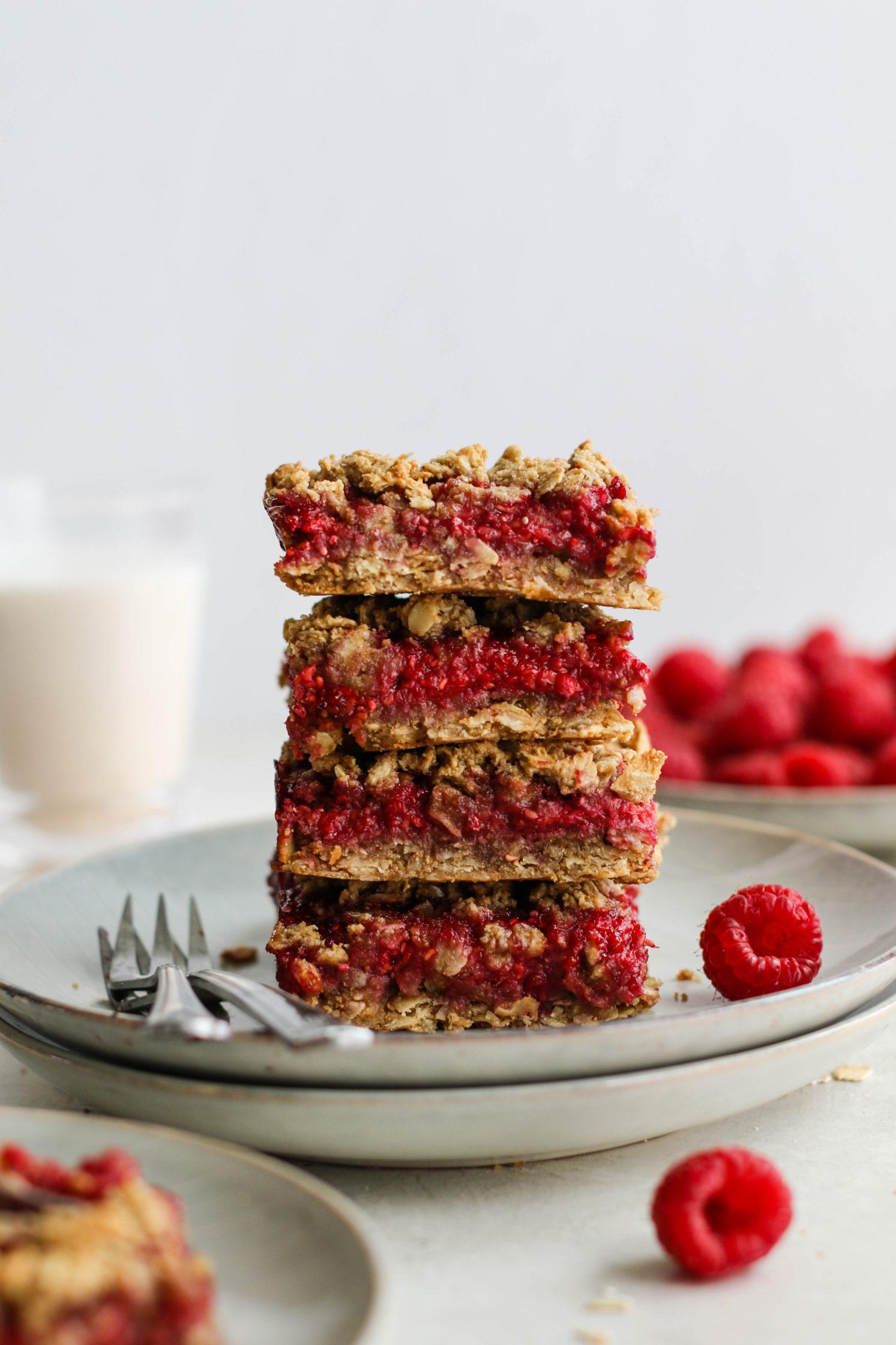 Relationship status: My taste buds and I are kind of broken up.
It's definitely them and not me– it's like they've gone on sensory strike after being overworked and exhausted.
I've just felt a little off lately, the usual *go to* foods sounding less than appealing.
Last night I pushed the mound of asparagus aside and couldn't fathom forking the spears and eating them.
Which is I why I practically force-fed this recipe to Dan, asking for his most critical feedback.
He reported back that they were "good", and "like a real breakfast bar", so I'm going to take that as a compliment.
So…if you don't like these Raspberry Oat Crumble Bars, you know who to blame.
But what's not to love about these nutritious breakfast bars that are made with just 7 ingredients for a convenient snack or meal?!
Trust the buds and let's get baking.
Who else used to eat Nutrigrain bars growing up?
Running out the door in a flash, I could always count on the box of Nutrigrain bars in the cabinet for the grabbing.
The apple was my favorite– it tasted to me like a mini apple pie.
With a baked cereal exterior and a sweet fruity interior, they're essentially marketed as a "healthier" Pop-Tart.
Well, these Raspberry Oat Crumble Bars are kind of like that, except better, because they're got just 7 all-natural whole foods ingredients.
Healthy and easy, check, check.
These bars are chewy, fruity, and satisfying all while being oil-free, gluten-free, refined sugar-free, and vegan.
They're also packed with protein, healthy fats, and complex carbs to keep you feeling fueled and well-fed throughout the day.
Sturdy enough to pick up and go but worth the plating to slow the experience down, when you have the chance.
Can I get a box, pretty please?
Raspberries have been my favorite berry for a while now.
I love their tart, sweet taste and delicate thimble shape.
They're just perfect in this recipe to create a bright jammy filling.
If raspberries aren't in season, you can use frozen raspberries in this recipe instead, following the notes below!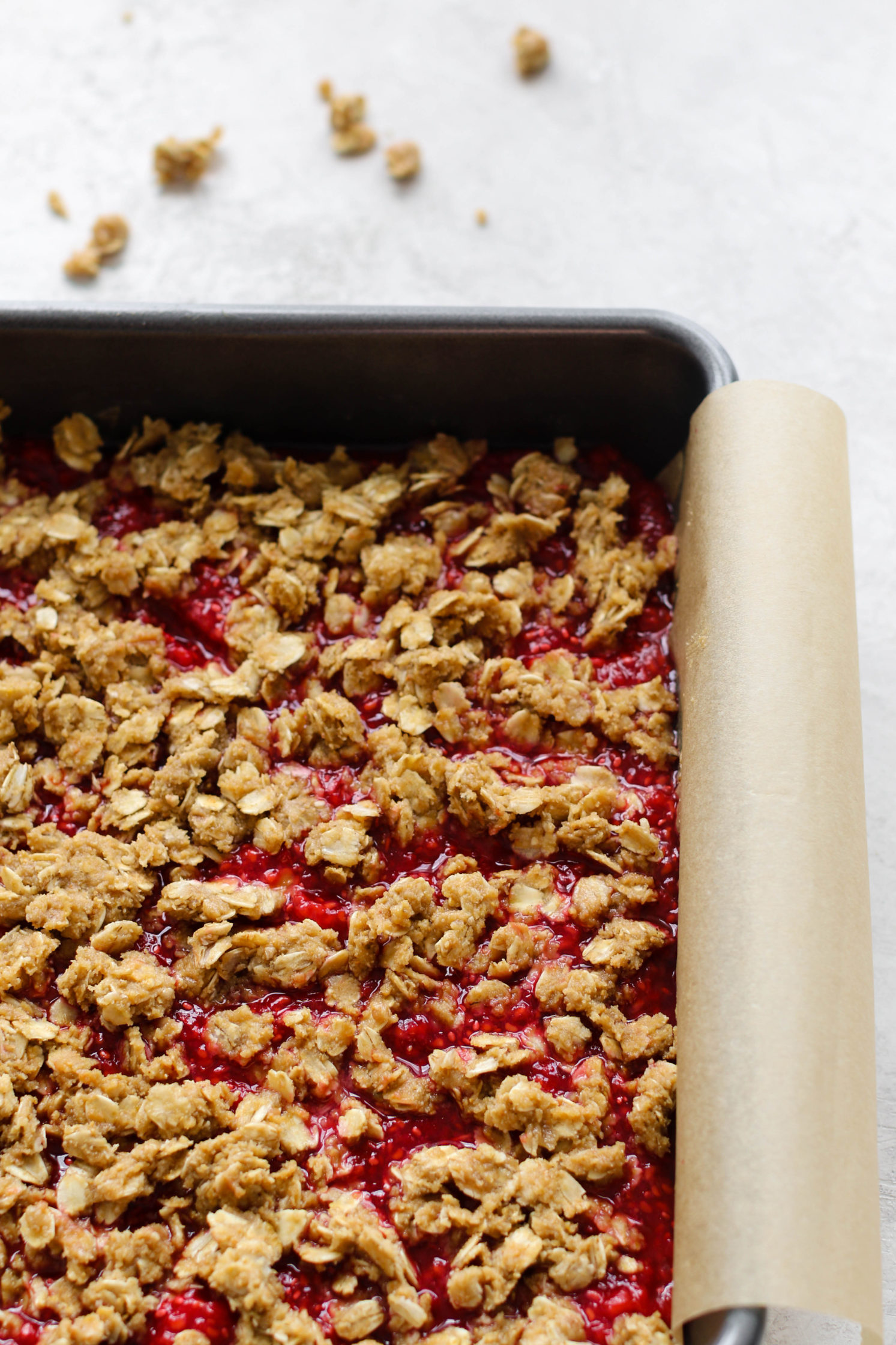 The crust is an easy blend of
hearty old-fashioned rolled oats
almond flour
almond butter,
and maple syrup sweetener.
The mixture of oat and almond creates that "cereal" flavor while almond butter functions as a deliciously creamy oil-alternative.
If you don't have almond flour on hand, try making your own by pulsing almonds in a high speed blender or food processor until you have a fine meal, the incorporate into the recipe.
The filling is reminiscent of my Easy Sugar-Free Raspberry Chia Seed Jam, with simple ingredients and a jammy taste.
All you need is:
raspberries
lemon juice
maple syrup,
and chia seeds.
The addition of chia seeds help the compote stick together and adds fiber and protein to an otherwise sweet center.
If you're looking for a sugar-free option, try substituting a sugar-free jam/fruit-preserves for the maple syrup, instead.
Substitutions
If you're looking for an entirely nut-free recipe, swap out the almond flour for oat flour and the almond butter for sunflower seed butter.
To make the recipe grain free, swap out the oats for 2 cups mixed nuts, roughly blended, for varied results.
For other liquid sweetener options, try using silan (date syrup) instead to keep your baking refined sugar free.
Swap out raspberries for any other berry of choice to make your own variations.
I think blueberries, blackberries, or strawberries would be great here, too!
These Raspberry Oat Crumble Bars are perfect to make ahead for easy workweek breakfasts.
They're also great for a quick concise snack or nutritious dessert that tastes like pie.
Serve them cooled or reheat before serving for a gooey decadent experience.
I've been dying to try them served warm under a scoop of icecream…*swoon*, so I'm just going to leave you with that thought…
Enjoy!
If you start your day off with these Raspberry Oat Crumble Bars, let me know! I'd love to hear what you think of them.
Be sure to leave me a comment, rating, and review so I can use your feedback to create more yums.
Give me a shout on Instagram and use #floraandvino to show me your creations.
Check out my Pinterest page to pin more recipe like this one to make later.
Want more grab and go bars? You'll love my Blueberry Maple Baked Breakfast Bars, PB&J Baked Breakfast Bars, and Almond Butter Superfood Bars
Love this post and want more? Go to my homepage and subscribe to get updates delivered right to your inbox!
XO Lauren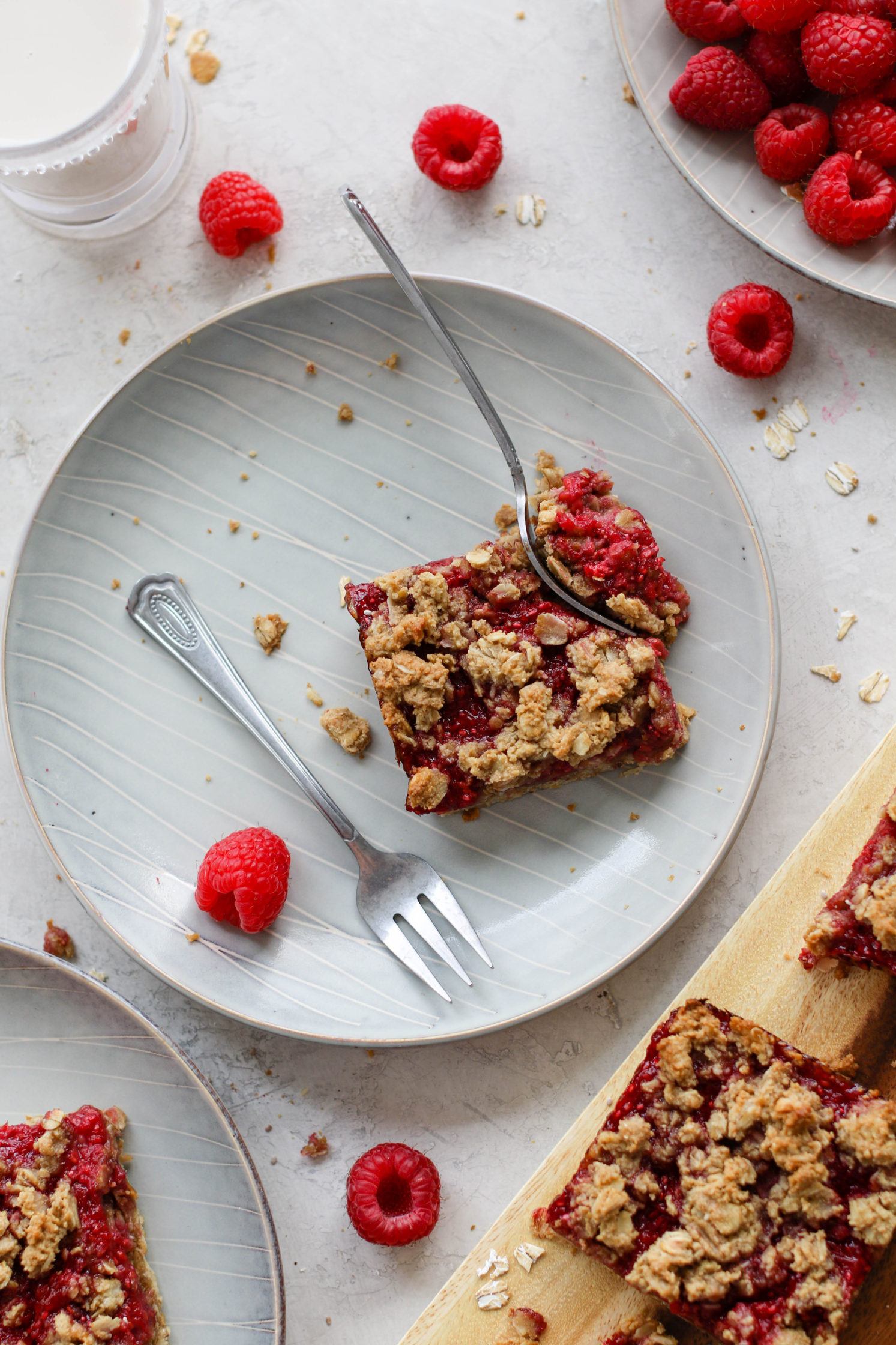 Print
Raspberry Oat Crumble Bars
---
Author:

Total Time:

45 mins

Yield:

9-12 servings

Diet:

Vegan
Description
Easy raspberry oat crumble bars made with just 6 whole food ingredients. Perfect for a quick breakfast, snack, or healthy dessert.
---
Raspberry Filling
2

heaping cups fresh raspberries*

1/4 cup

pure maple syrup

1 TBSP

lemon juice

1 TBSP

chia seeds
Crust & Crumble
1 cup

almond flour

2 cups

gluten-free old-fashioned rolled oats

3/4 cup

natural almond butter

1/2 cup

pure maple syrup
---
Instructions
First, prepare the raspberry filling. Add the raspberries, maple syrup, and lemon juice to a medium saucepan and bring to a low boil boil over medium high heat. Reduce heat to medium and simmer for 3-5 minutes, stirring frequently. The mixture should thicken slightly as the moisture cook off of the berries. Remove from the heat and stir in the chia seeds. Set aside for 5 minutes to allow the chia seeds to plump up and gel with the berry compote.
Preheat the oven to 350 degrees F and line an 8×8 pan with parchment paper or lightly grease with coconut oil.
Add the almond flour, oats, almond butter, and maple syrup to a bowl and stir until thick and well incorporated. The mixture will be thick and sticky.
Press 2/3 of the mixed "dough" into the bottom of the prepared pan. Pour the gelled raspberry sauce over the base layer. Finally, use your hands to crumble the remaining dough and sprinkle it over the top.
Bake for 28-30 minutes, until the crumb topping is crisp and lightly browned on top.
Allow the pan to cool completely before slicing into bars.
Store leftover Raspberry Oat Crumble Bars at room temp for a few days, in the fridge for up to one week and in the freezer for several months.
Notes
If using frozen raspberries you may need to simmer the filling a bit longer to thicken up
Recipe adapted from From My Bowl
Prep Time:

15 mins

Cook Time:

30 mins

Category:

Breakfast, Snack, Desser

Method:

Oven-bake

Cuisine:

Vegan, Gluten-Free, Oil-Free, Refined Sugar Free