Stuffed peppers packed with black beans and your favorite veggie burger! Perfect for an easy flavorful plant-based weeknight meal.
I was starving to begin with, as one usually is when foodie tragedy strikes.
I remember pulling a single stuffed pepper out of the oven piping hot.
Anxious to eat but not anxious to burn my tastebuds off, I started quickly cutting into the pepper to allow it to cool.
In slicing into it, something went wrong, silverware fumble, and the pepper slid, seal- like, onto the floor, a hundred specks of salsa peppering the carpeted circumference around me.
I did what any fierce famished foodie would do– I sank to my knees and bawled my eyes out.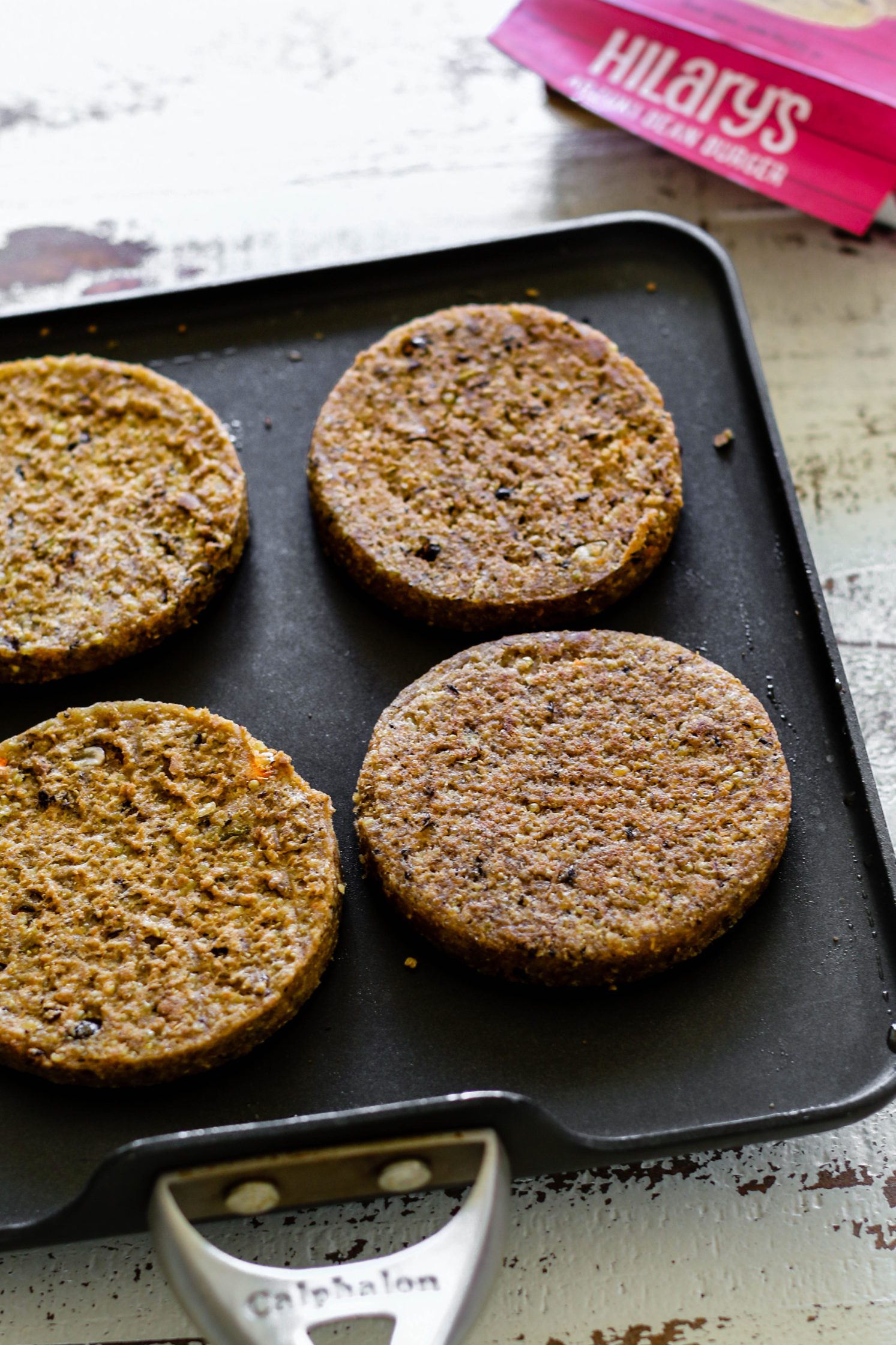 …
Aren't you glad that isn't your dinner story?
Luckily, it isn't the story of these particular peppers either.
I managed to eat them unscathed.
I used to make these Southwestern Black Bean & Veggie Burger Stuffed Peppers all of the time a few summers back, and they always remind me of that ONE TIME.
That time when I lost it over spilled peppers.
I'm pretty sure I dried my tears and threw another one in the oven, because when you've got stuffed peppers on the brain, nothing else will really do, you know?
They're quick, compact, and packed with tons of protein, veg, and spice!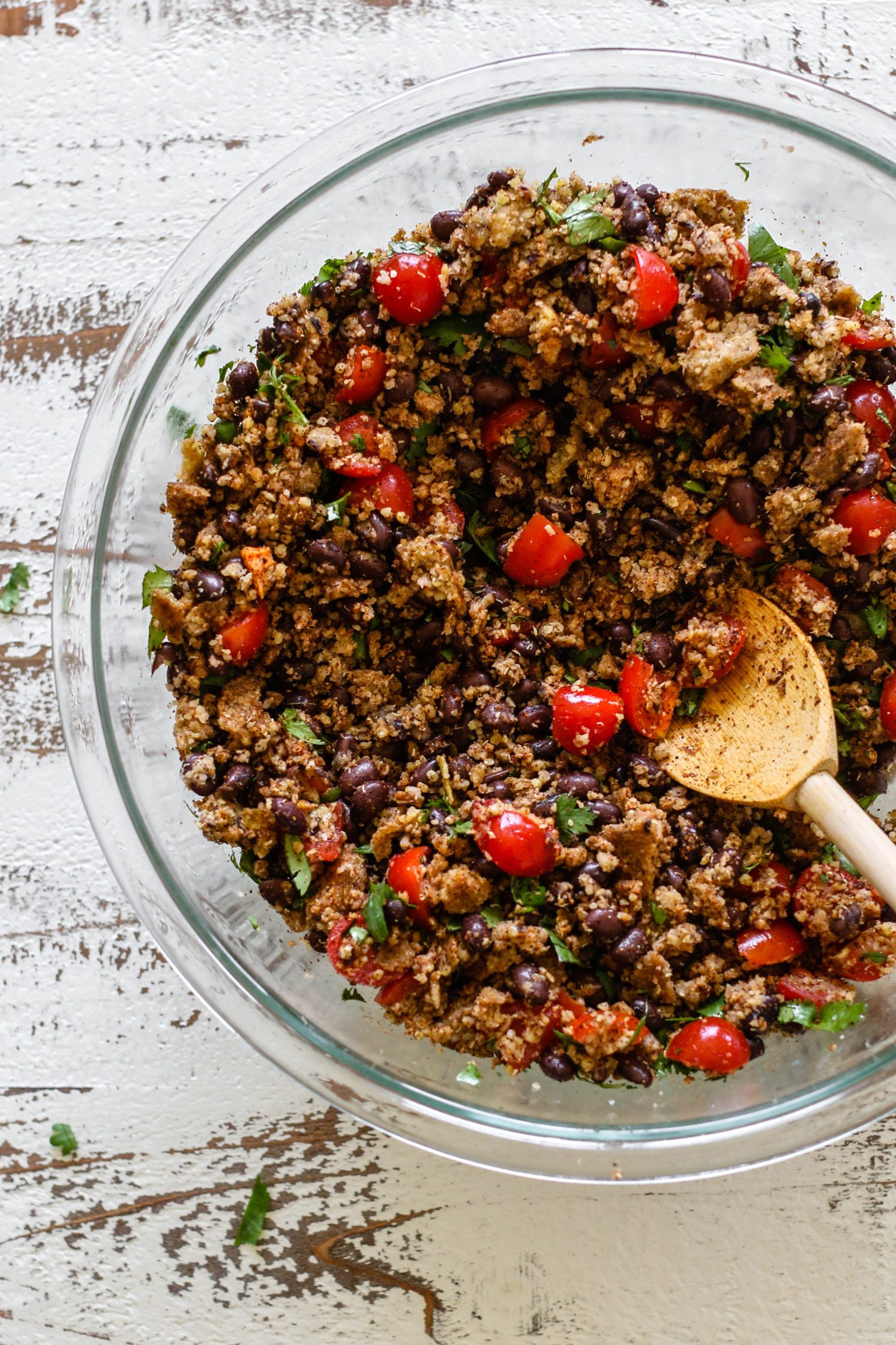 If peppers weren't made for stuffing, why are they the most delicious edible bowls?!
I share a method below of boiling the peppers whole to soften them for serious stuffing.
This makes them a bit more pliable and reduces bake time.
Alternatively, you can slice your peppers in half and stuff them that way, but I love filling them up to the brim here in one concise serving.
The recipe below serves four, but most of the time I halve or fourth the recipe to serve 1 or 2.
Simply divide everything in half and use 2 peppers and patties instead of 4.
The filling on these beauties comes together quickly with black beans and my favorite gluten free, plant-based patties.
I love crumbling up a Hilary's Eat Well veggie burger into my stuffed peppers for extra flavor and protein!
These allergen free burgers are the veggie burgers of my freakin' dreams.
I chose the Adzuki Bean Burger, but any flavor will work.
Heat the burger quickly on the stovetop, then crumble them into the filling with legumes, sautéed onions, tomato, cilantro, and tomato.
If you're craving leafy greens (like I always am, overachiever that I am!) throw in a big handful of kale or spinach to cook with the onions.
Don't be afraid to realllllly pack the filling into the peppers here to cover every inside square inch– they can handle the heat.
Enjoy these Southwestern Black Bean & Veggie Burger Stuffed Peppers whenever you're craving an easy yet hearty plant-based dinner.
They manage to be fun and festive with minimal prep time and clean up!
They're perfect for an easy weeknight dinner, Taco Tuesday, Fiesta Friday, or any other day you choose to celebrate with Mexican inspired food (which is every day for me!).
I like mine mine served with lots of chunky salsa, cilantro, and unlimited nutritional yeast.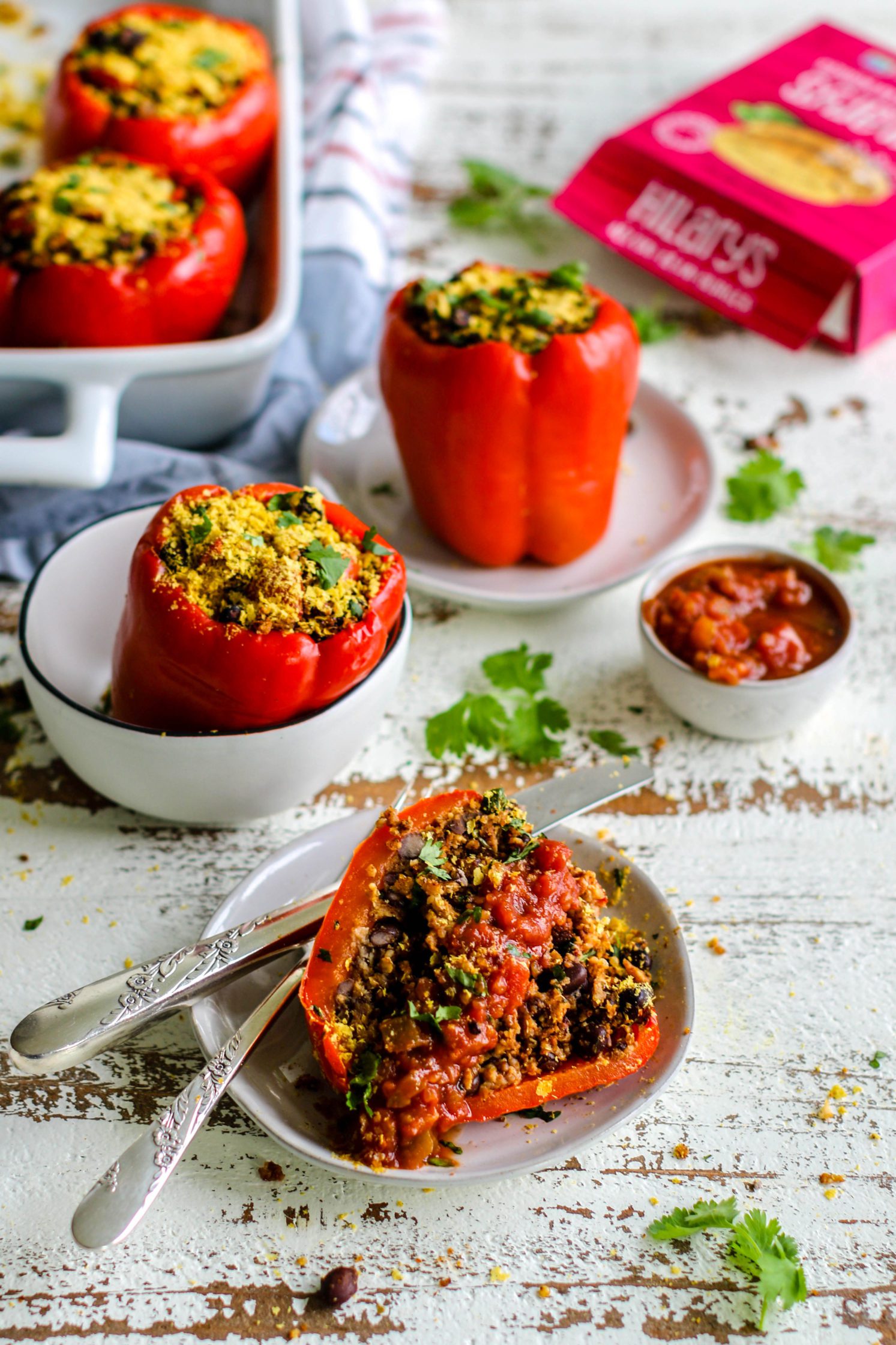 If you make these Southwestern Black Bean & Veggie Burger Stuffed Peppers, let me know!
Be sure to leave a comment below and rating below so I can use your feedback to make more yums.
Give me a shout on Instagram and use #floraandvino!
Check out my Pinterest page to pin more recipes like this one to make later.
For more stuffed veggies, check out my Quinoa Stuffed Eggplant, Sweet Potato Boats With Baby Broccoli & Ginger Turmeric Sweet Potato Cream, Spinach, Artichoke, & Quinoa Stuffed Portobello Mushrooms.
Love this post and want more? Go to my homepage and subscribe to get updates delivered right to your inbox!
XO Lauren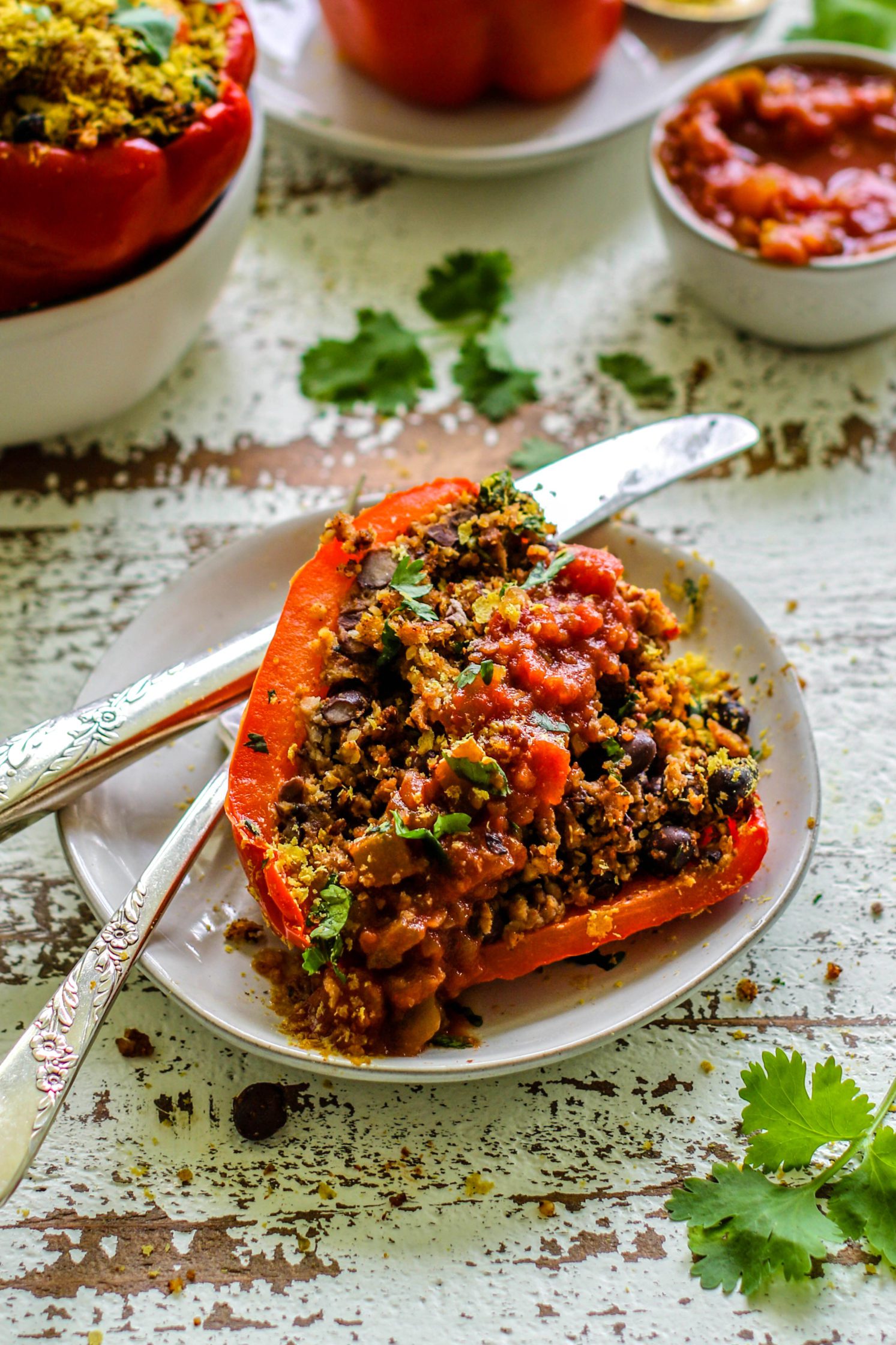 Print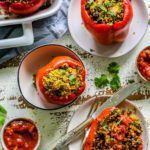 Southwestern Black Bean & Veggie Burger Stuffed Peppers
---
Author:

Total Time:

45 mins

Yield:

4 peppers

Diet:

Vegan
Description
Stuffed peppers packed with black beans and your favorite veggie burger! Perfect for an easy flavorful plant-based weeknight meal.
---
4

Hilary's Eat Well Adzuki Bean Burger (or sub your favorite homemade or store-bought veggie burger of choice)
avocado oil spray

4

large red bell peppers

1

15-oz can black beans, drained and rinsed

1 cup

tomatoes, diced

1 cup

white onion, diced

1/2 tsp

garlic powder
pinch of black pepper
pinch of Himalayan sea salt

1/4 cup

fresh cilantro, finely chopped

4 cups

baby spinach or leafy greens (optional)

1 TBSP

chili powder

2 TBSP

nutritional yeast
salsa, for serving
---
Instructions
Preheat the oven to 350 °F and prepare a baking pan.
Cut the tops of the peppers off and rinse the insides to remove the seeds.
Add the cleaned peppers to a pot of boiling water and boil them for 3-5 minutes. Drain the peppers and set them aside.
Spray a skillet with avocado oil spray and heat it over medium heat on the stovetop. Once it's warm, add the onion and garlic (and leafy greens, if using) and cook until the onions are clear; about 3-5 minutes. Transfer the mixture to a large mixing bowl.
Add the veggie patty to the pan with a little more avocado oil spray if needed and cook for a total of 10 minutes, flipping once half way. Remove the patty from the heat and roughly crumble with your hands or a fork into the mixing bowl.
Next, add the diced tomato, Himalayan sea salt, black pepper, cilantro, chili powder, and black beans and stir again to combine.
Spoon the mixture into peppers, filling them to the top. Don't be afraid to pack them very full! Spoon any extra filling into the pan to bake alongside the peppers.
Top each stuffed pepper with a sprinkling of nutritional yeast and place pan in the oven. Bake the pepper for 25-30 minutes or until they're heated throughout. The peppers should start to brown around the edges and on top.
To serve, plate the stuffed peppers. Slice them in half and top them with fresh salsa and cilantro.
Store leftover peppers in the refrigerator for 2-3 days and reheat before serving.
Prep Time:

15 mins

Cook Time:

30 mins

Category:

Entree

Method:

Stovetop

Cuisine:

Vegan, Gluten-Free
This post is brought to you by Hilary's Eat Well, but all words and eats are my own. Thanks for supporting the sponsors that keep me hungry!