This post is brought to you by Safeway, but all words and eats are my own. Thanks for supporting the sponsors that keep me hungry!
Sweet potato spice granola made oil-free with creamy almond butter and lightly sweetened with maple syrup. Gluten-free with a grain-free option!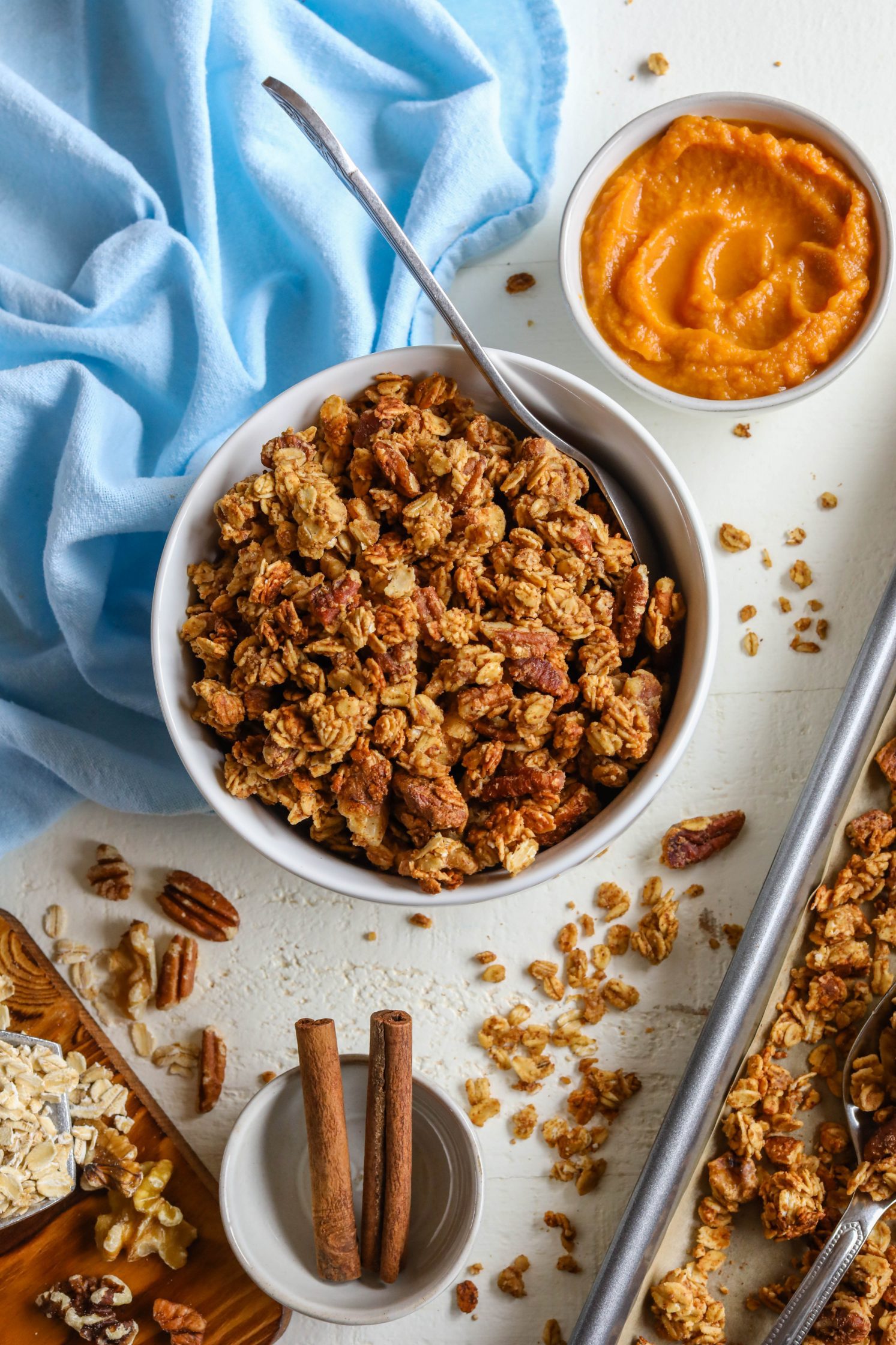 Last weekend I embarked on an epic bike ride to the store on the purple bike I've had since I was 16.
Without many pandemic plans, we decided it would be quite an adventure to bike to pick up our essentials instead of driving.
It sounded easy enough; bike there and back with purchased items in tow.
So naturally, I shrugged off the idea of bringing water or snacks or anything sensible like that.
And then what started out as what Google maps projected to be a 29 minutes bike ride turned into a 2+ hour workout there and back.
I didn't really realize this, guys, but there are virtually no bike paths on the route I took.
Instead, we were forced to navigate through neighborhoods, sidewalks, and the dreaded main road, where aggressive drivers honked and sped around us like our two wheels had personally offended them.
"This is the most action my bike has seen in over a decade," I huffed and puffed, pedaling in the rear.
We rode over hard over grass, gravel, asphalt, and cement.
And then there was that lovely muddy patch that back-splashed all over my bare calves.
Sexy.
When we finally made it to the store for item pick up, I ended up dashing inside for a bottle of water and a power bar.
I wish I'd had a bag of homemade granola with me.
Like this Sweet Potato Spice Granola that's simple and sweet, made gluten-free with hearty oats and nuts and naturally sweetened with maple syrup and sweet potato!
When I first mentioned the idea of Sweet Potato granola to M, he seemed rather perplexed.
I guess it is a bit mind boggling.
Root veggies…in breakfast cereal?
Why, yes.
After seeing the final baked result, he admitted that he had assumed that there would be chunks of sweet potato baked into the 'nola.
I mean, that could be delicious too, but not quite what we're going for in this recipe.
This granola is infused with sweet potato and spice via a smooth sweet potato purée and plenty of cinnamon and spice!
Here's what you need:
gluten-free old-fashioned rolled oats
pumpkin pie spice
cinnamon
sweet potato purée
almond butter
That's it!
We start with the dry ingredients in a big mixing bowl.
Add the oats, nuts, and spices and toss until they're well combined.
Plenty of texture, crunch, complex carbs, and healthy fats.
The Open Nature® Pecan Halves and Open Nature® Shelled Walnuts I used in this recipe are all from my local Safeway store Open Nature® product line!
Open Nature® means no artificial colors, flavors, sweeteners or preservatives — no nitrates or nitrites, no antibiotics, no unrecognizable ingredients.
I love that their nuts are free of over 110 food additives, minimally processed, and delicious.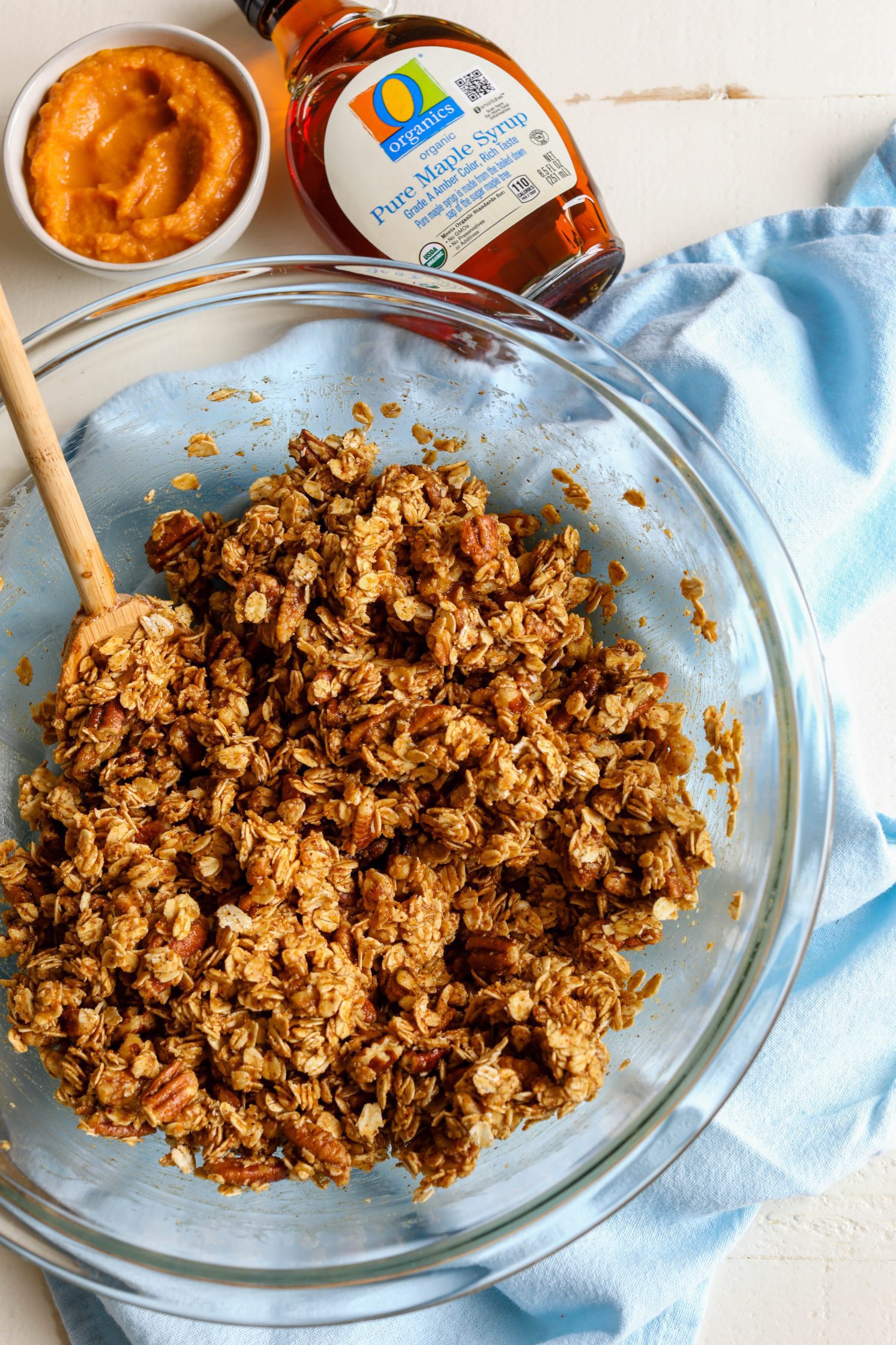 Next, add the wet ingredients to a small saucepan over medium-low heat and whisk them to combine.
Heat the sweet potato purée, almond butter, and maple syrup until well combined and warm.
I used canned sweet potato purée for this recipe, but you can also bake your own sweet potato and smash it before incorporating.
Almond butter adds creaminess and healthy fats without any added oils.
O Organics® Organic Pure Maple Syrup lightly sweetens this granola with pure maple syrup that's organic!
The O Organics® brand is special because it's entirely USDA certified organic.
They offer new on-trend products at value prices compared to leading organic brands, making eating healthily more accessible and affordable than ever.
O Organics® and Open Nature® has a wide assortment of organic, minimally processed and protein-rich products for every occasion throughout the store. 
I buy my O Organics® and Open Nature® products at my local Safeway store, and you can also find them exclusively at the Albertsons Companies family of stores, including Albertsons, ACME Markets, Jewel-Osco, Vons, Pavilions, Randalls, Tom Thumb, Shaw's, Star Market, United Supermarkets and Carrs/Safeway.
Visit  to find a store near you and discover more pantry staples!
Pour the wet mixture over the dry and mix well to combine.
You want to ensure that all of the oats and nuts are well coated by the liquid mixture.
Next, transfer the mixture to a parchment lined baking sheet and press down with your hands to form a firm compact layer.
It doesn't have to be perfect, but just enough to make sure the granola sticks together while baking.
Place the baking sheet in the oven and bake for 20-25 minutes, or until the edges of the granola start to brown.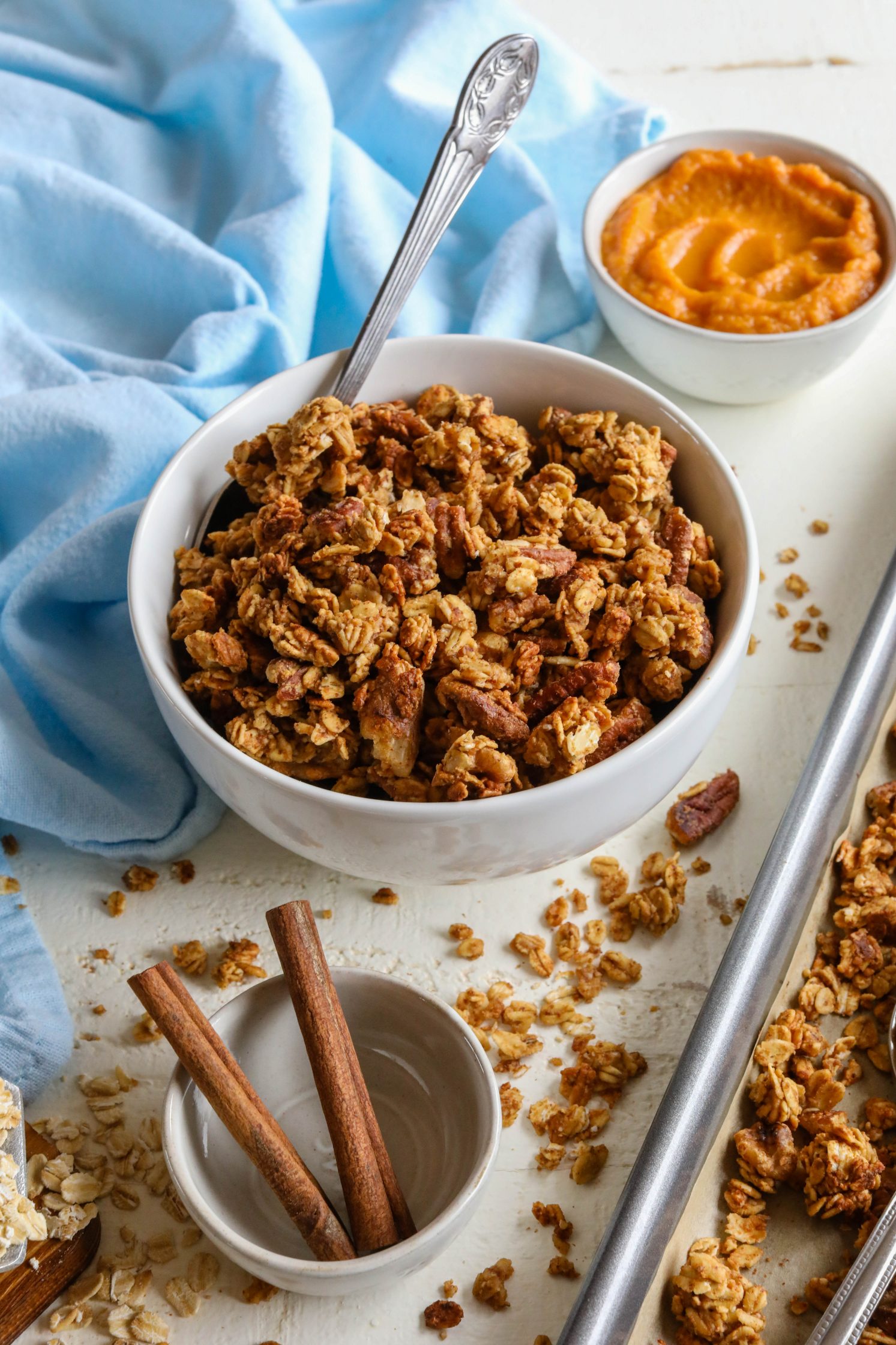 Remove the granola from the oven and and– this is IMPORTANT!–  allow the granola to sit for 15-30 minutes before breaking it into large chunks.
I personally love my granola with larger chunks, but if you prefer a finer consistency in your granola,  you can skip packing the baking sheet.
Instead, stir the granola while baking to achieve smaller granola pieces.
Allow the granola to cool completely before transferring to an airtight container.
I recommend storing the granola in the fridge to extend the life and the crispiness!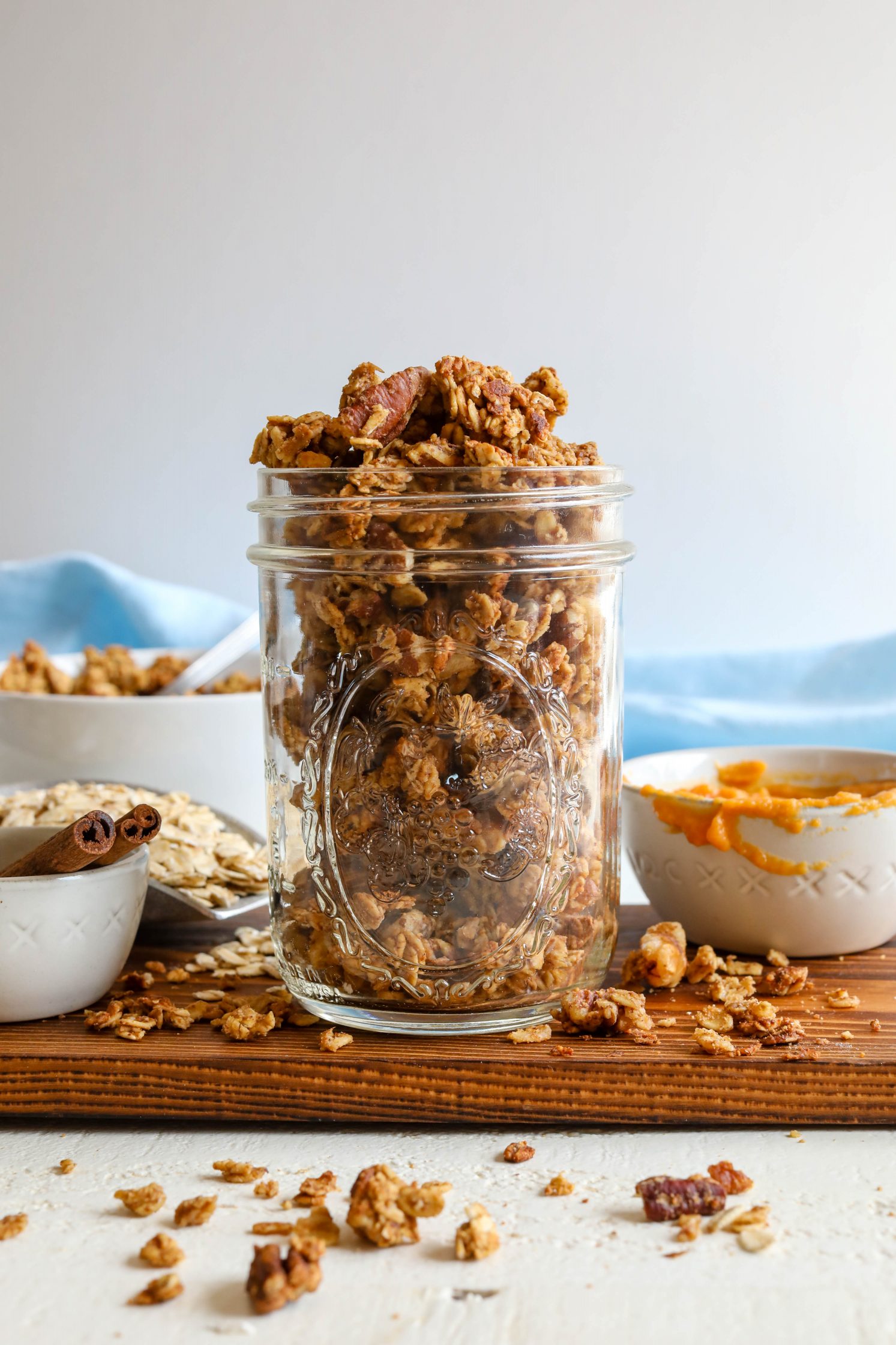 Enjoy this Sweet Potato Spice Granola anytime you want to prepare you own healthy granola with a fall finish.
I love that it's entirely gluten-free, oil-free, and refined-sugar-free!
It's kind of amazing to use as topping smoothie bowls, yogurt bowls, or oatmeal, or mixed in trail-mix.
Try grabbing a handful as a quick snack, too.
Lately, my favorite way to enjoy it is in yogurt bowls.
To mix up the recipe, try adding in dried fruit or chocolate chunks or changing the nuts.
If you want to make the recipe grain-free, swap out the oats for extra nuts.
Enjoy!
If you make this Sweet Potato Spice Granola, let me know!
Be sure to leave me a comment, rating, and review so I can use your feedback to create more yums.
Give me a shout on Instagram and use #floraandvino to show me your creations.
Check out my Pinterest page to pin more recipe like this one to make later.
For more oil-free granola inspiration, check out my Apple Cranberry Pecan Granola and Pumpkin Spice Pecan Granola.
Love this post and want more? Go to my homepage and subscribe to get updates delivered right to your inbox!
XO Lauren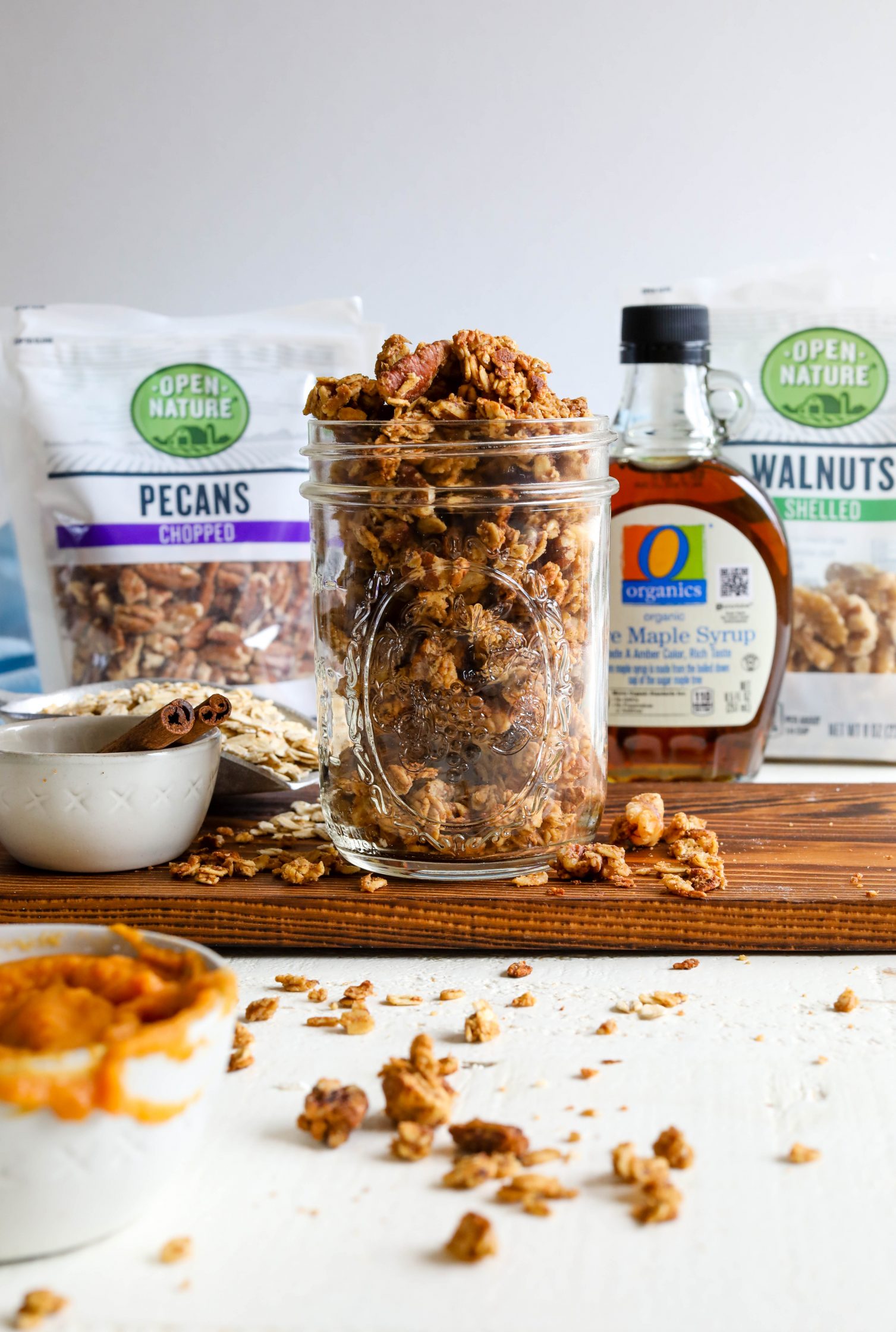 Print
Sweet Potato Spice Granola
---
Author:

Total Time:

40 minutes

Yield:

~6 cups

Diet:

Vegan
Description
Sweet potato spice granola made oil-free with creamy almond butter and lightly sweetened with maple syrup. Gluten-free with a grain-free option!
---
---
Instructions
Preheat oven to 350°F and line a baking sheet with parchment paper.
Mix the oats, pecans, walnuts, and spices together in a large bowl.
In a small saucepan over medium-low heat, warm the almond butter, maple syrup, and sweet potato purée and whisk. Pour over the dry ingredients and mix well with a wooden spoon. The mixture should be well coated but crumbly.
Spread the mixture evenly onto the parchment covered baking sheet and press into an even layer with a spatula or your hands. Bake for 20-25 minutes, rotating the pan once halfway but not stirring anything.
Once the granola is golden brown on top and the edges, remove from the oven and allow to cool for at least 15 minutes. Don't touch the granola during this time! This will yield chunkier granola.
After 15 minutes minutes, break the granola into desired sized chunks.
Transfer granola to an airtight container and keep for several weeks.
Prep Time:

15 mins

Cook Time:

25 mins

Category:

Breakfast, Snack

Method:

Oven-Bake

Cuisine:

Vegan, Oil-Free, Gluten-Free, Refined-Sugar-Free