1-Bowl Tahini Date Nut Bread that's perfect for breakfast, dessert, or anything in between. Refined sugar-free, gluten-free, and oil-free with a tahini twist!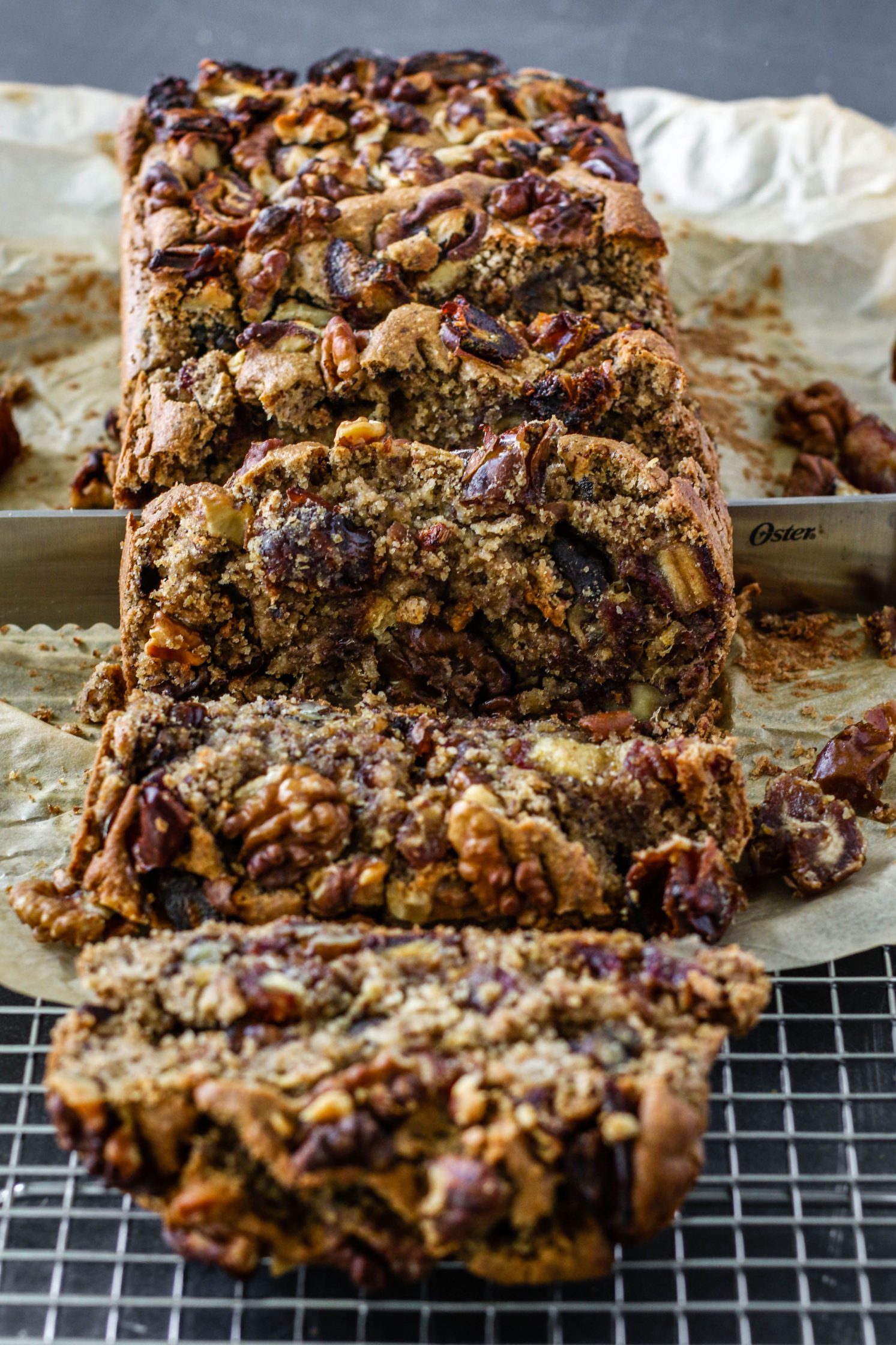 Well hello!
It dawned on me this morning that this time next week we'll be at my parents rockin' around the Christmas tree.
I'm listening to Christmas music a little obsessively at this point ("It's Beginning to Look Like Christmas" is currently on as I type this post…) so I can feel like I got the most out of the season.
Keeping the oven in a constant rotation of sweets and treats makes the holiday feel deliciously imminent.
Homemade breads are so fun to give and receive for the holidays.
Tell me, is there anything more endearing than unwrapping that lumpy bundle from a friend to behold a slightly smushed but oh so thoughtful loaf of bread?
I think my heart just grew two sizes too big.
My favorite lately is this easy Date-Nut Bread that's moist, hearty, and packed with dates, walnuts, and a tahini twist!
Forget the fruitcake and make this 1-Bowl Tahini Date Nut Bread for the holiday season!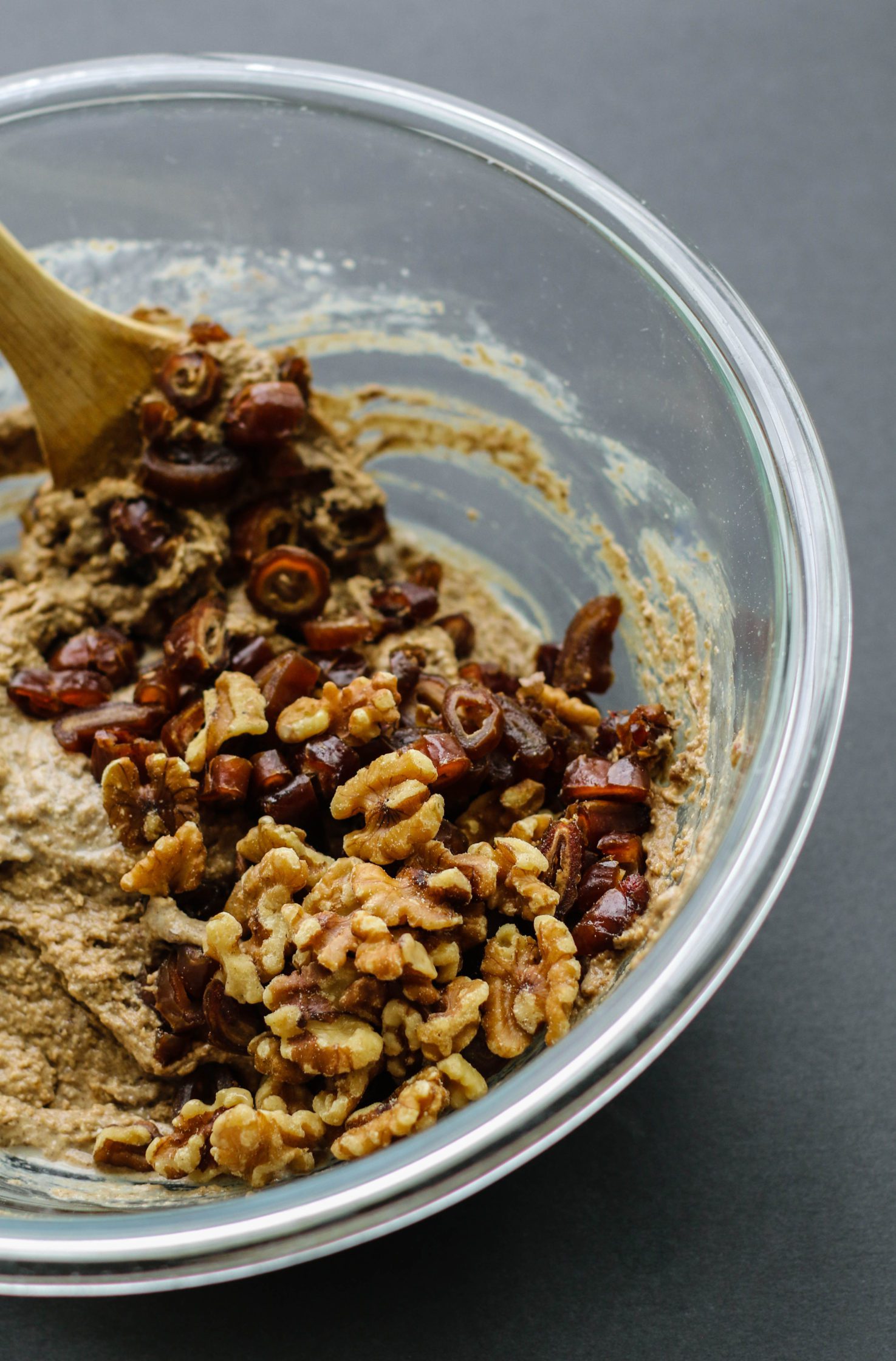 1-Bowl Tahini Date Nut Bread
This 1-Bowl Tahini Date Nut Bread was inspired by one of those "Food Holidays".
You know, National Oatmeal Day, National Maple Syrup Day, National Chocolate Covered Anything Day…you get the idea.
For the most part, I smirk at the idea of an entire day dedicated to food but then secretly try to fit a little into my day to celebrate.
Shhh.
On this occasion, though, I saw it was National Date-Nut Bread and I had no idea what Date-Nut Bread was.
Just like it sounds, Date-Nut Bread is a sweet dense bread packed with chopped date and walnuts.
If you're scratching your head at the idea of Date-Nut Bread, too, you've got to try it!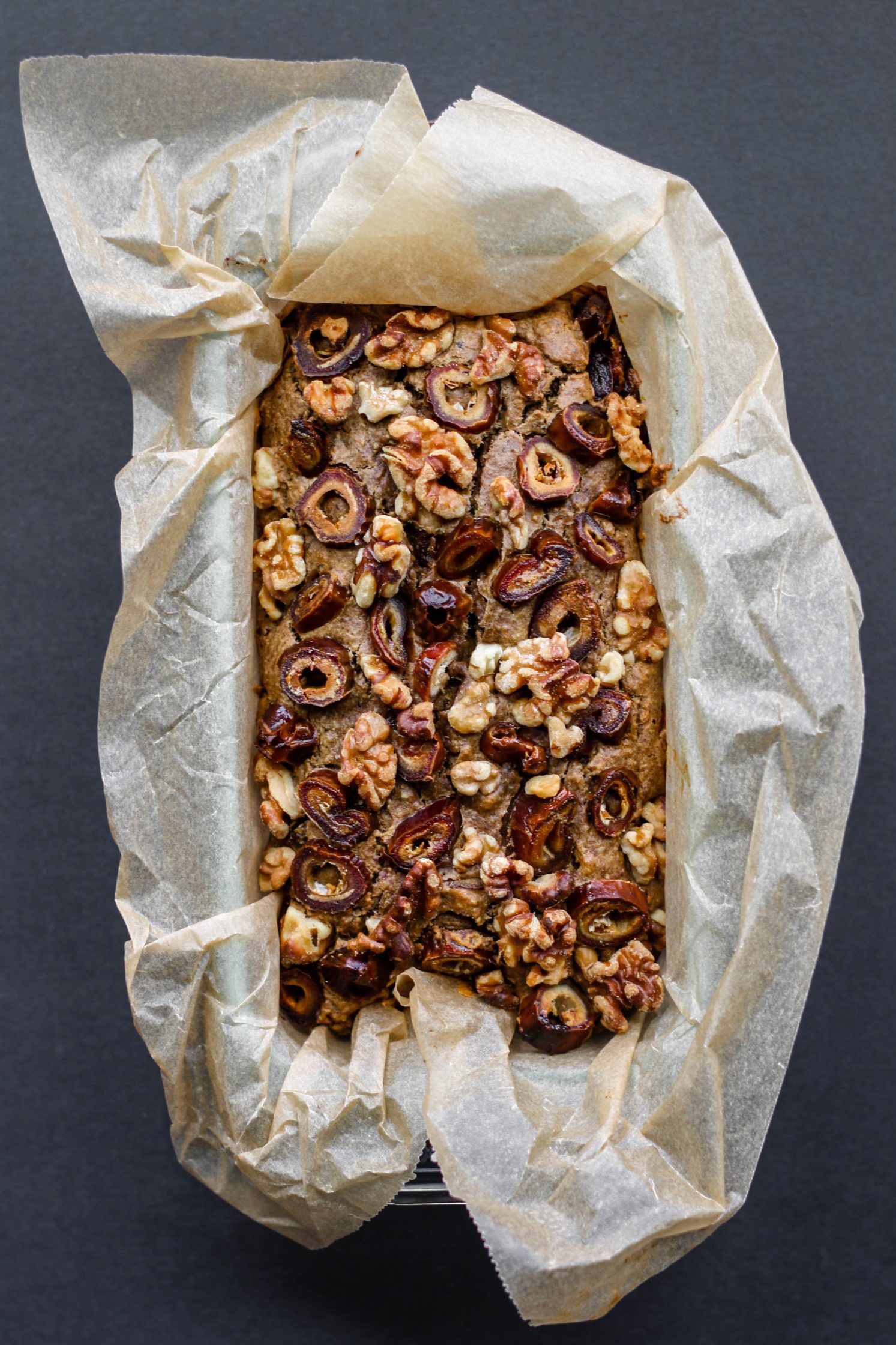 Why Tahini Date-Nut Bread?
Why Tahini Date-Nut Bread, you ask?
Well, aside from the fact that I find ways to sneak sesame seed butter into everything, all of the Date-Nut Bread recipes I looked at all called for quite a bit of coconut oil.
I wanted my Date-Nut Bread to be oil-free, so I asked myself…what would taste good with sweet dates and chopped walnuts?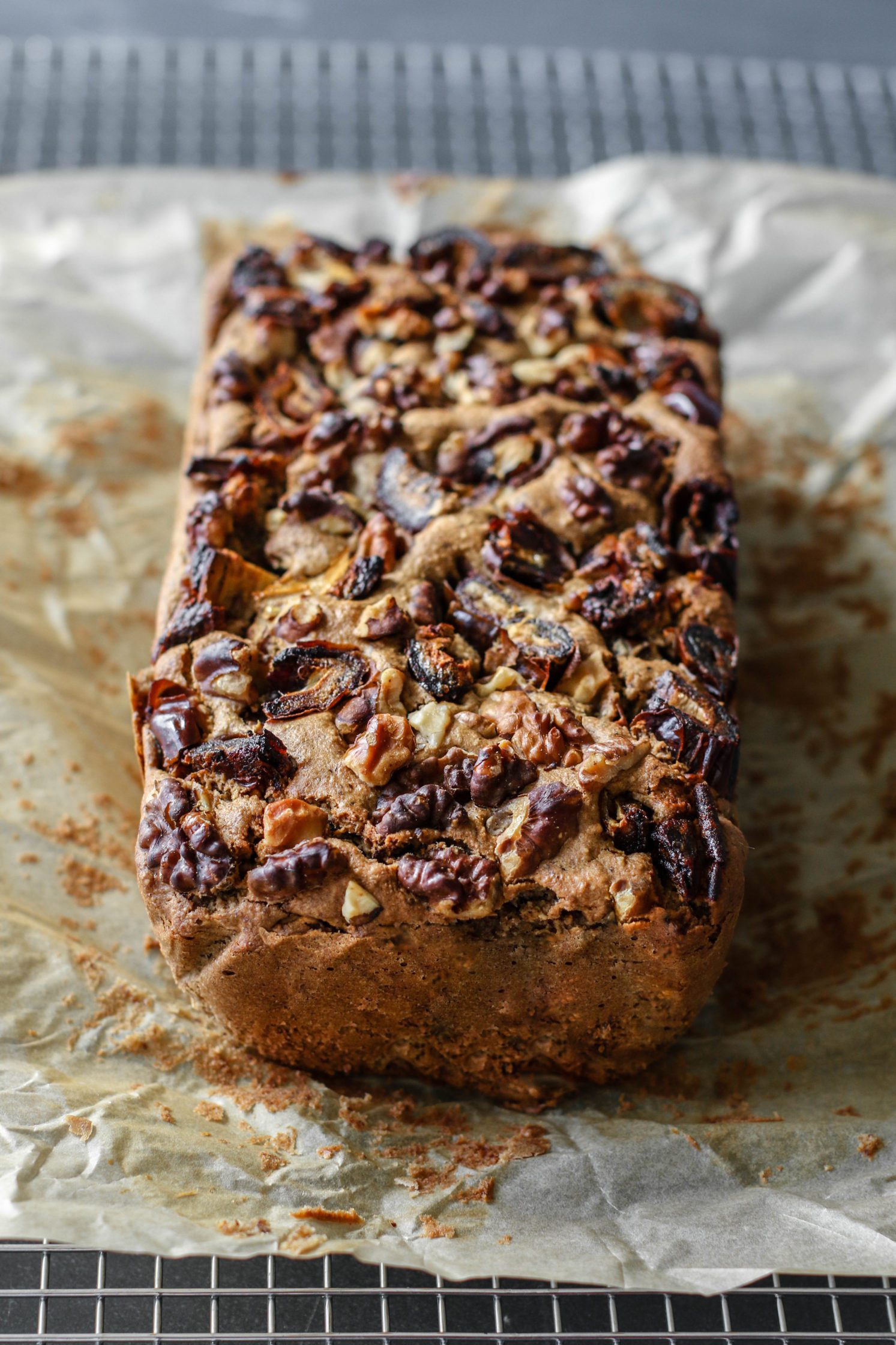 The answer is always tahini.
I didn't have to think very long and hard at all.
Tahini.
The answer to so many of my foodie questions.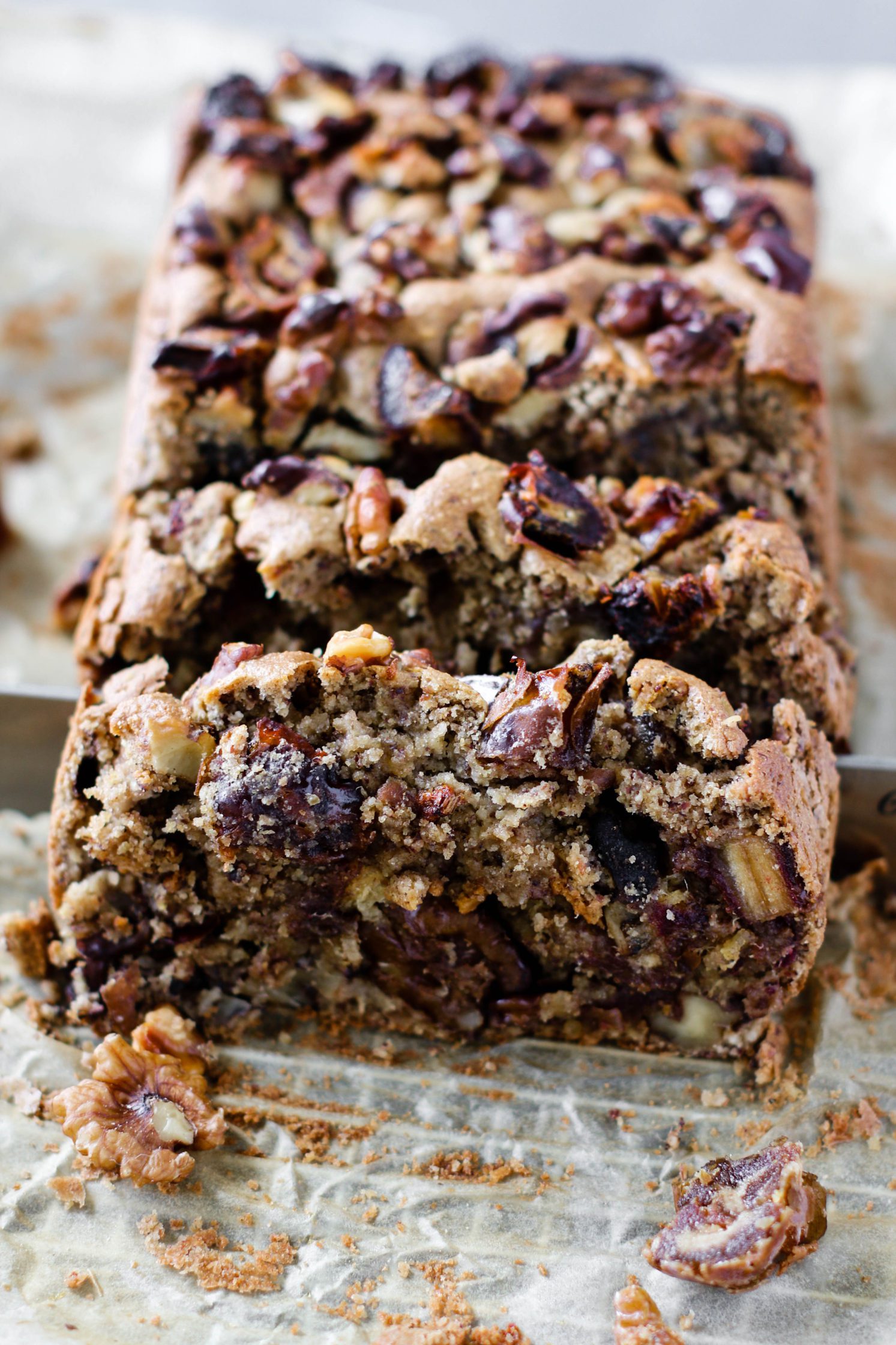 Enjoy this 1-Bowl Tahini Date Nut Bread as a hearty breakfast, snack, or dessert.
The breakdown: Super chunky, perfectly spiced, and slightly sweet with bursts of caramelized dates and crunchy toasted walnuts.
I haven't quite mastered the art of waiting for my bread to cool, so I end up spooning steaming chunks out in eager anticipation.
For a little extra decadence, try drizzling some nut butter on your slice and enjoy forkfuls of bliss.
It also pairs perfectly with a warm beverage on a chilly day– try hot cocoa, an almond milk latte, coffee, or tea!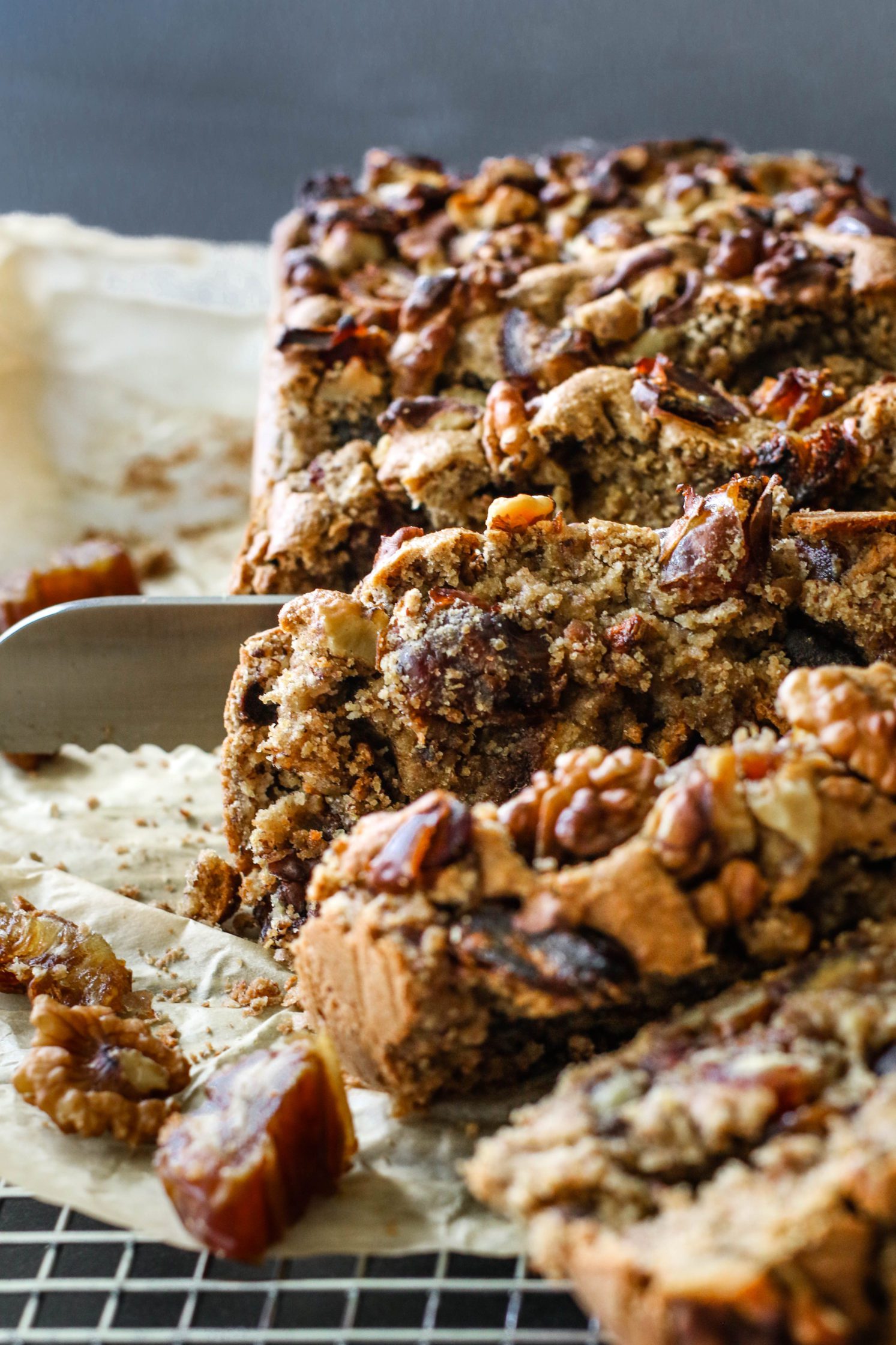 If you make this 1-Bowl Tahini Date Nut Bread, let me know!
Be sure to leave me a comment, rating, and review so I can use your feedback to create more yums.
Give me a shout on Instagram and use #floraandvino to show me your creations.
Check out my Pinterest to pin more recipes like this one to make later.
Want more oil-free, gluten-free, and refined sugar-free baking?
Check out my Kabocha Squash Cranberry Muffins, Pumpkin Cacao Cranberry Muffins, Acorn Squash Apple Cinnamon Raisin Muffins, Banana Chia Chocolate Chip Muffins, too, or Double Chocolate Double Green Zucchini Muffins for more healthy snacking!
Do you love this post and want more? Go to my homepage and subscribe to get updates delivered right to your inbox!
XO Lauren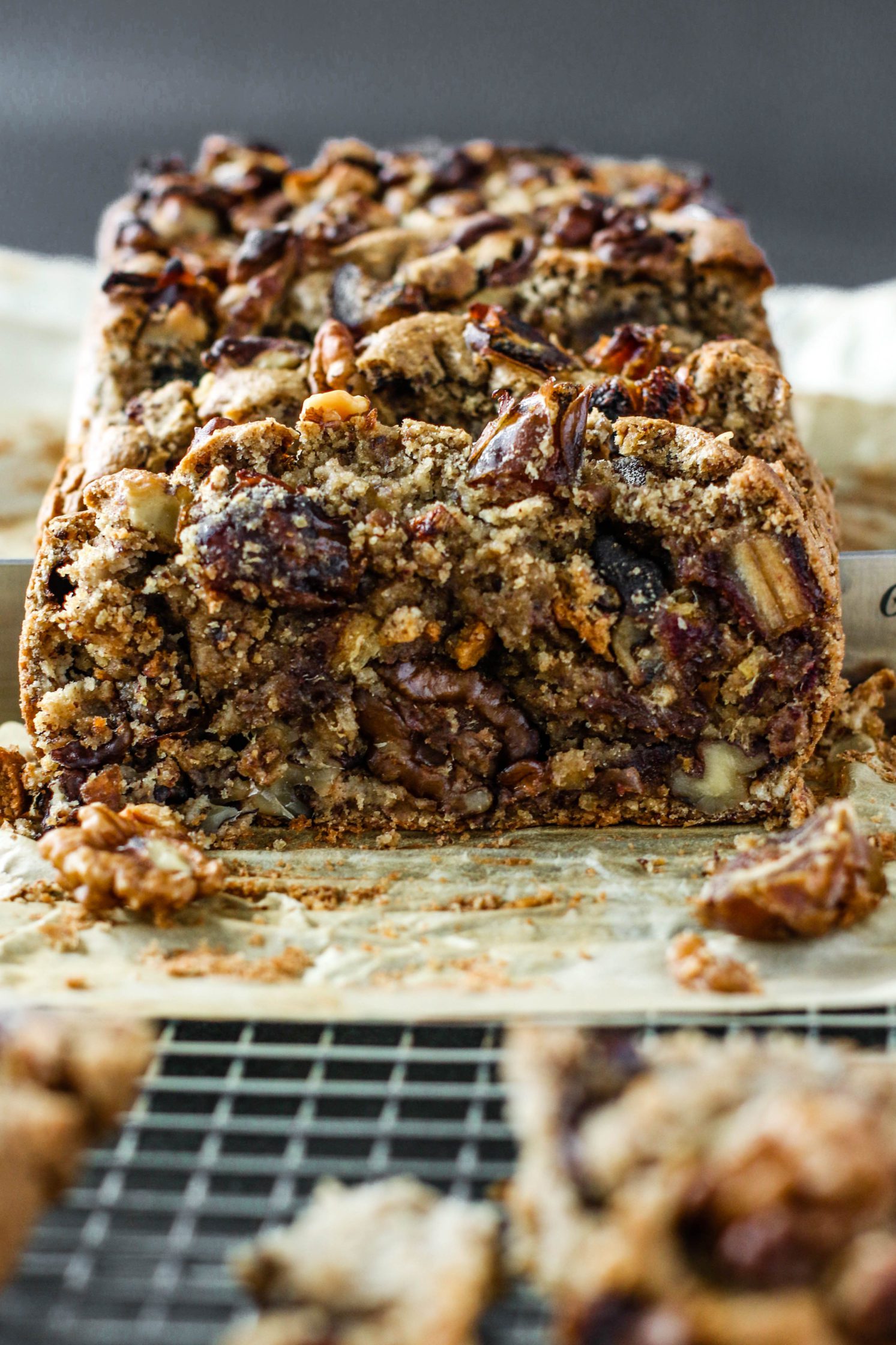 Print
1-Bowl Tahini Date Nut Bread
---
Author:

Total Time:

1 hour

Yield:

8-12 slices

Diet:

Vegan
Description
1-Bowl Tahini Date Nut Bread that's perfect for breakfast, dessert, or anything in between. Refined sugar-free, gluten-free, and oil-free with a tahini twist!
---
1

flax egg (

1 TBSP

ground flaxseed +

3 TBSP

filtered water)

1 1/2 cups

chopped pitted dates + more for topping

1/2 cup

runny tahini

1/3 cup

unrefined coconut sugar

3/4 cup

unsweetened almond milk

2 cups

gluten-free oat flour

2 tsp

baking soda

1 tsp

cinnamon

1/2 cup

chopped walnuts + more for topping
---
Instructions
Preheat the oven to 350° F and line a 9×5 bread pan with parchment paper (or lightly grease with coconut oil).
In a large bowl, whisk together your flax egg by combining flaxseed and filtered water and allowing to gel for 5 minutes. Next, add the tahini, coconut sugar, and unsweetened almond milk and mix to combine. Sift in the oat flour, baking soda, and cinnamon.
Fold in the dates and walnuts and mix to combine. Add a splash of almond milk if the mixture is too dry.
Pour the batter into the bread pan and sprinkle with more chopped dates and walnuts.
Bake the bread for 35 to 40 minutes, or until the top is golden brown and the sides start to pull from the pan edges.
Allow the bread to cool completely before slicing. Once the bread is cool, slice it and serve either warm or chilled.
Store leftover Tahini Date Nut Bread in an airtight container in the refrigerator for up to one week and freeze for longterm storage.
Prep Time:

20 mins

Cook Time:

40 mins

Category:

Dessert, Snack, Breakfast

Method:

Oven-Bake

Cuisine:

Vegan, Gluten-Free, Oil-Free, Refined Sugar-Free
Disclosure: This post contains affiliate links, meaning I earn a commission if you use these links. I only recommend brands I love, trust, and can't keep quiet about!