Vegan 7-layer dip with refried beans, guacamole, salsa, cauliflower cashew queso, tomatoes, black olives, and green onion. Serve with grain-free crackers!
Serious question– do you wash your avocados?
Usually I rinse mine (*so* important so bacteria from outside of the avo isn't transferred inside when slicing), then cut them open with a blade.
Until recently.
The other day my friend taught me an epic way to open avocados.
He grabbed an avocado, and, applying pressure with both hands, split it open like two halves of a coconut.
The creamy green flesh protruded out between two crudely but efficiently torn halves he presented in his hands like an offering.
I stared, dumbfounded.
If you could open avocados without using a knife, what other shortcuts have I missed in the kitchen?
This Vegan 7-Layer Mexican Dip might leave your mouth hanging open, too.
It's easily assembled for a quick appetizer with seven plant-based layers that are prime for dipping and snacking!
Honestly, I can't remember the last time I had a good layered dip.
Maybe during my trip to Texas when I mostly lived on cheese quesadillas and refried beans.
I stopped ordering them at restaurants after going plant-based, because, all that cheese and oil!
So what if we tried layering up a vegan version with seven layers that are perfectly plant-based and oil-free?
This Vegan 7-Layer Mexican Dip is packed with bean protein, healthy fats from avocado and olives, and a seriously delicious cauliflower cashew queso.
Let's start layering!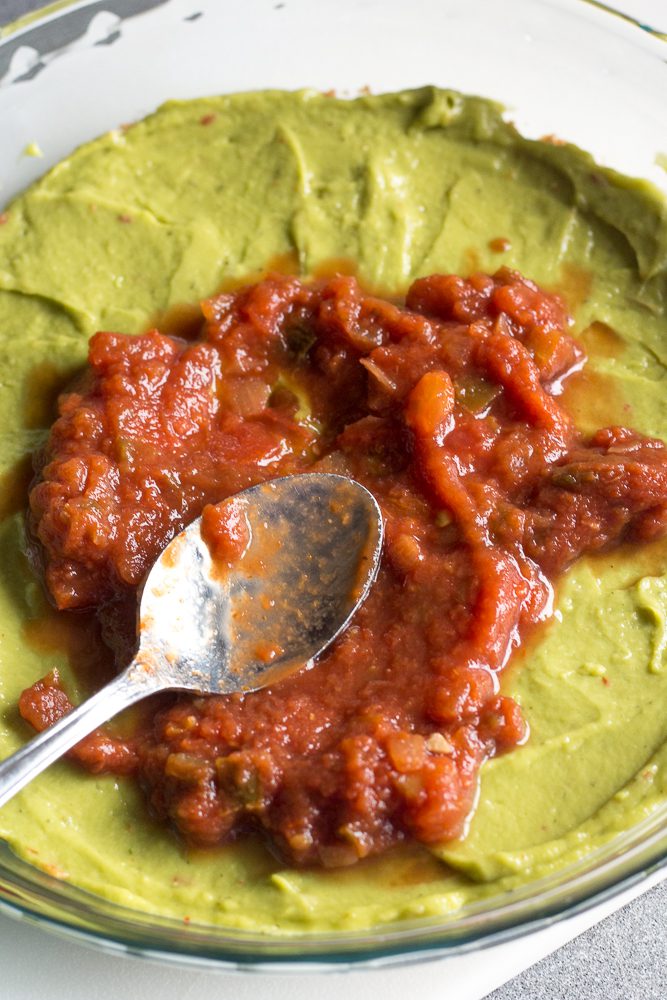 So what seven layers do you need to make the best Vegan 7-Layer Mexican Dip?
Here are the seven layers in heaven:
refried beans

guacamole

salsa

tomatoes

black olives

green onions
That's it!
The method here is simple.
Prepare all of the ingredients separately and then layer them in the order listed in the recipe for dipping.
I recommend using a dish with a wide circumference so have more surface area for spreading.
A clear dish is nice for serving presentation so you can clearly see the layers!
You can get as creative or simple as you'd like with this recipe.
Try making your own guacamole, salsa, and queso for layering or add in your favorite store-bought options for a shortcut.
Dish out the dip into smaller bowls or on plates for serving so the main dish holds its form and layers.
So now you've got seven sexy layers– what do we dip it into?
How about my new favorite Hu Kitchen Grain-Free Everything Crackers?!
I'm obsessed with these grain-free crackers made with almond flour, cassava flour, and coconut flour.
They also have two other great flavors– Hu Kitchen Pizza Grain-Free Crackers and Hu Kitchen Sea Salt Grain-Free Crackers!
These crackers are special because while being totally vegan, gluten-free, and grain-free, they're also free of any added oils and gums.
The recipe is also made without the use of tapioca, soy, maltodextrin, and refined starches.
If you're a cracker connoisseur like I am, you know that in the cracker world, this is quite an accomplishment.
They're crispy, crave-able, and perfectly seasoned for any snacking situation.
I love dipping them into this Vegan 7-Layer Mexican Dip for a healthy snack-time not compromised of flavor!
Enjoy this Vegan 7-Layer Mexican Dip as an anytime healthier dip with some serious layers.
It would be perfect to blend up for game-time, dinner parties, bookclub hosting, or part of your meal-prep for the week.
The recipe below serves plenty of guests, but you can double or triple the recipe to serve even more!
I used my favorite 7 Mexican inspired layers here, but feel free to add in your own layers for even more depth to dip into.
The lime juice will prevent the guacamole from browning for a few days, but the dip will start to oxidize and brown over time.
For this reason, I recommend enjoying it as soon as possible for the best taste and appearance!
Try serving it with crackers, raw vegetables, or chips.
If you have leftover dip, it's great to add as intrigue to bowls, plates, or sandwiches.
Enjoy!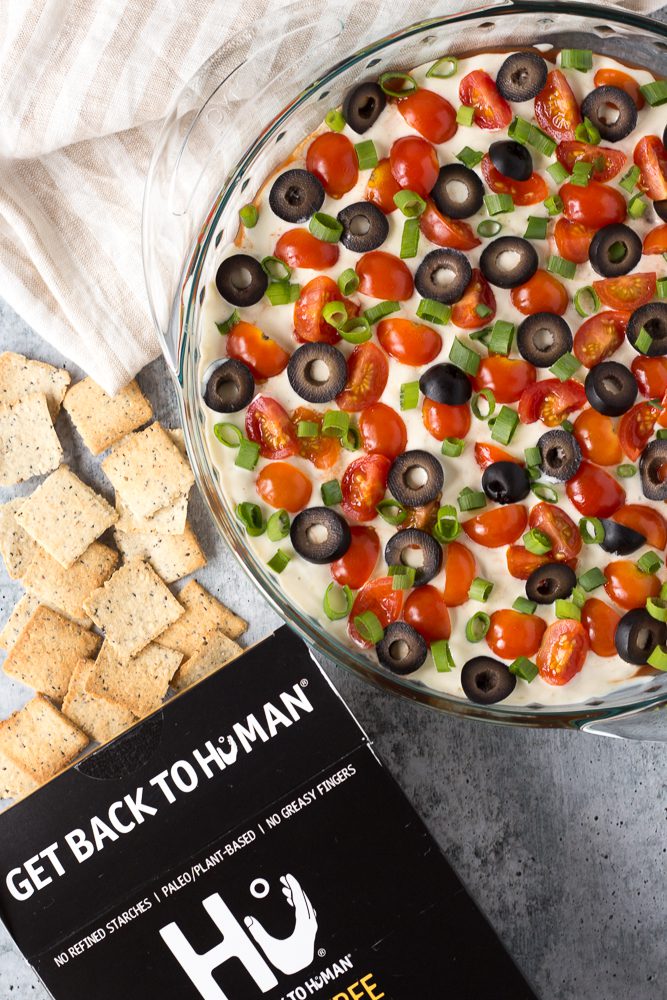 If you make this Vegan 7-Layer Mexican Dip, let me know!
Be sure to leave me a comment, rating, and review so I can use your feedback to create more yums.
Give me a shout on Instagram and use #floraandvino to show me your creations.
Check out my Pinterest page to pin more recipe like this one to make later.
For more fun dips and spreads, check out my Creamy Cauliflower Dip, Perfect 5-Ingredient Guacamole, and Creamy Lime Cilantro Avocado Dip.
Love this post and want more? Go to my homepage and subscribe to get updates delivered right to your inbox!
XO Lauren
Print
Vegan 7-Layer Mexican Dip
---
Author:

Total Time:

10 minutes

Yield:

8-12 servings

Diet:

Vegetarian
Description
Vegan 7-layer dip with refried beans, guacamole, salsa, cauliflower cashew queso, tomatoes, black olives, and green onion. Serve with grain-free crackers!
---
1 cup

refried beans

1 cup

guacamole (homemade or store-bought)

1 cup

salsa of choice

1 cup

cauliflower cashew queso (or sub any store bought queso)

1 cup

tomatoes, diced

¼ cup

black olives, sliced

¼ cup

green onions, thinly sliced
---
Prep Time:

10 mins

Cook Time:

0 mins

Category:

Snack, Appetizer, Side

Method:

Hand-Mix

Cuisine:

Vegan, Gluten-Free, Oil-Free
This post is brought to you by Hu Kitchen, but all words and eats are my own. Thanks for supporting the sponsors that keep me hungry!
Photography by Hot Pan Kitchen