Vegan lentil oat loaf with cooked lentils, gluten-free oats, diced vegetables, spice, and plenty of ketchup. Serve with sides for plant-based dinner!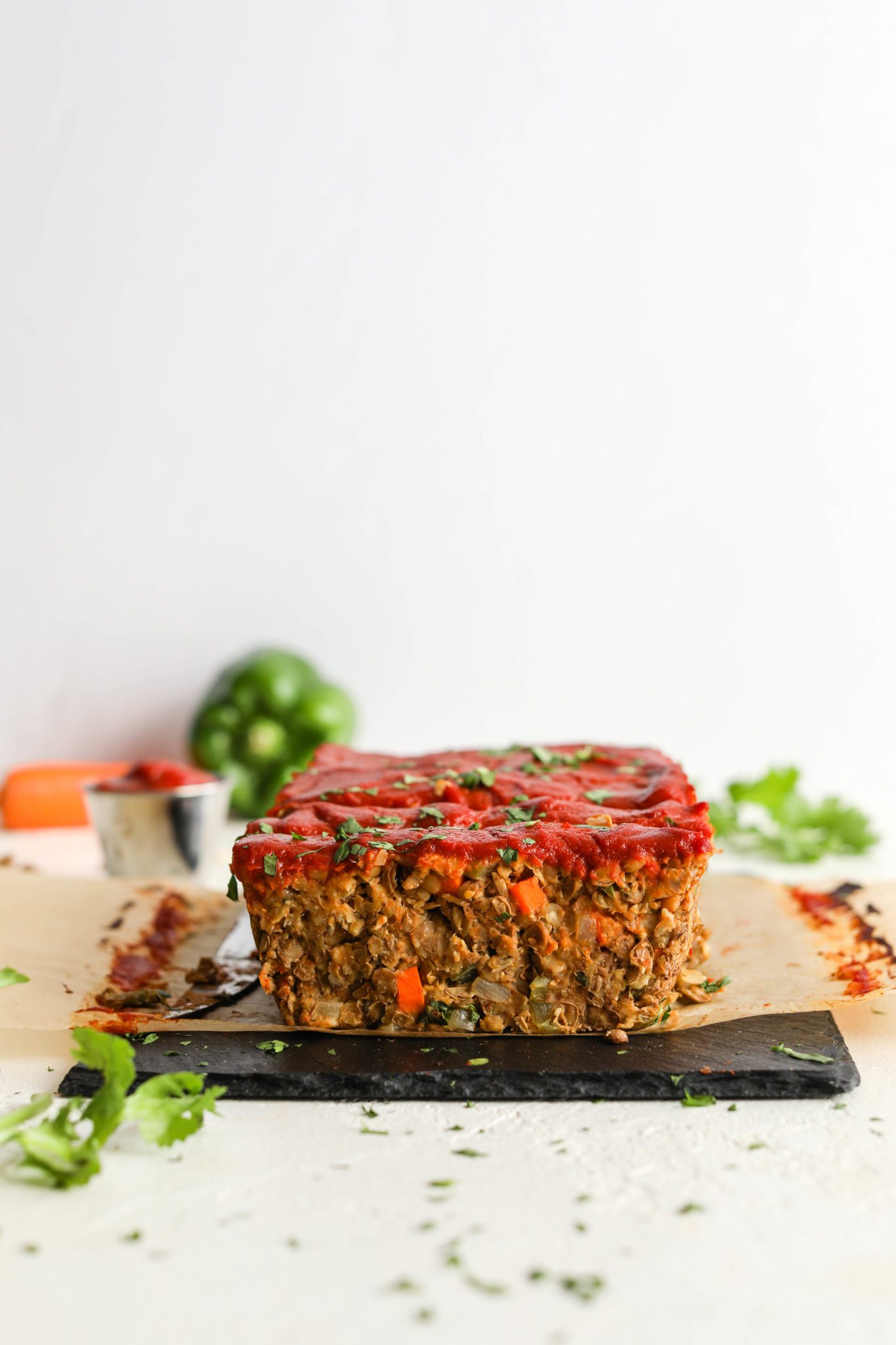 Back when Dan and I first started dating we thought it was a good idea to have his parents over for dinner at his apartment.
Instead of ordering pizza or takeout, I offered to cook, hoping the perfect meal would make me an instant hit with his parents.
Dan's dad requested meatloaf, so, naturally, I made the fanciest version I could find on the web.
The dinner was a blur of wine and laughter and dirty dishes in good company.
Despite its success, that meatloaf was the first and last of its kind that came out of my kitchen.
The whole plant-based thing coupled with my limiting belief that 'meatloaf is hard to make' held me back.
Until now.
This Vegan Lentil Oat Loaf is packed with protein, fiber, and veggies to keep you satisfied.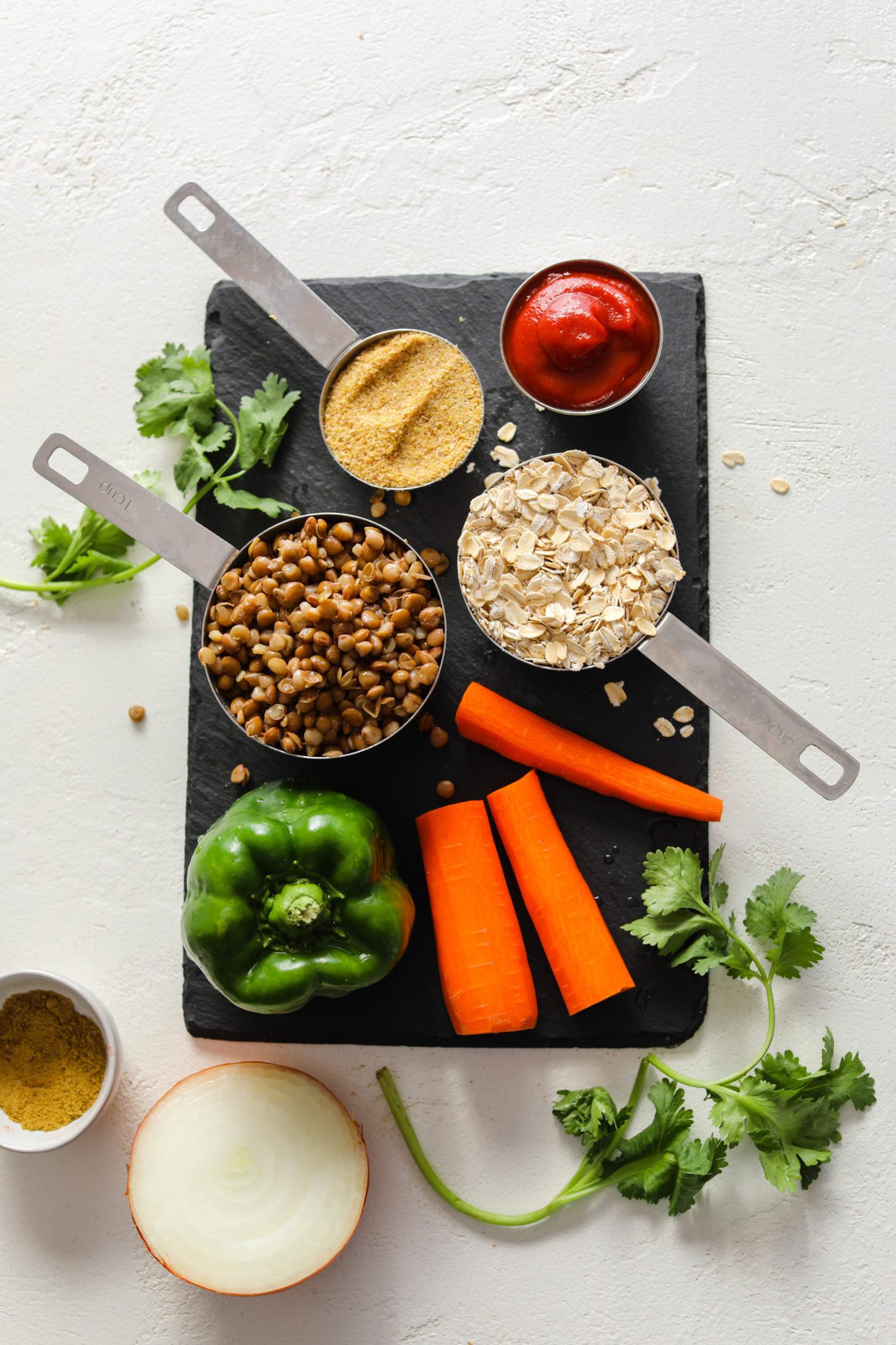 Vegan and Gluten-Free Meat Loaf!
When I asked everyone on Instagram what recipes you need for the holiday season, most of the requests were for a plant-based main.
I know, it's easy to load up on sides this season and forget the centerpiece.
If you've been following me for a while, you know I didn't grow up eating much meat.
Every now and then, though, my mom made a mean meatloaf.
The recipe was simple; adapted from the back of a Quaker Oats container lid.
But it was warm, filling, and always felt like a treat.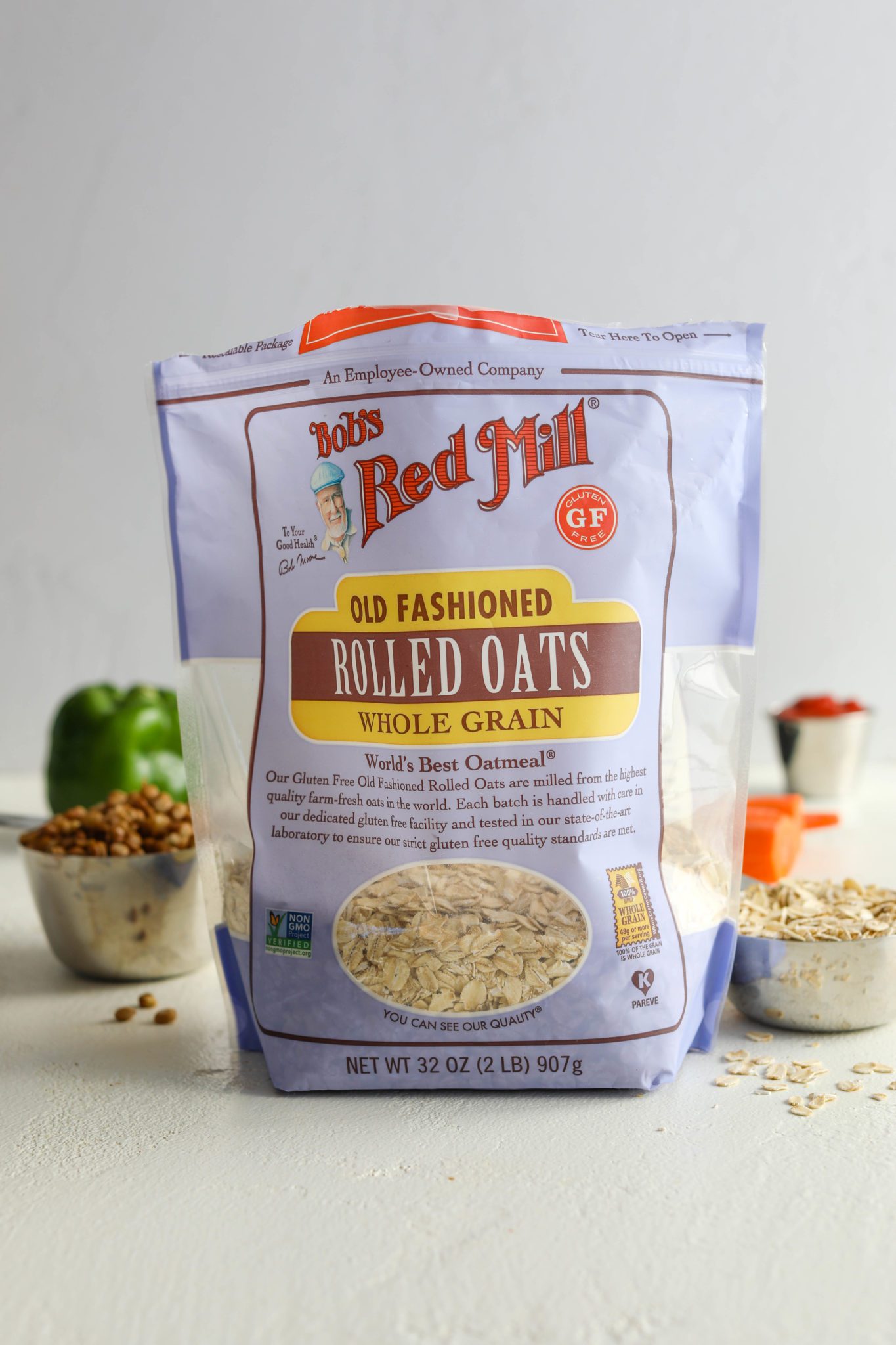 What You Need to Make It
This lentil oat loaf begins with cooked lentils and gluten-free old-fashioned rolled oats.
I recommend using well-cooked lentils for this recipe so they mash well.
The secret to the best texture is a mix of smashed and whole lentils.
If you don't feel like cooking the lentils yourself you can also buy canned lentils instead for a shortcut!
For the oats, I used Bob's Red Mill Old-Fashioned Rolled Oats to add hearty texture and bulk to this loaf.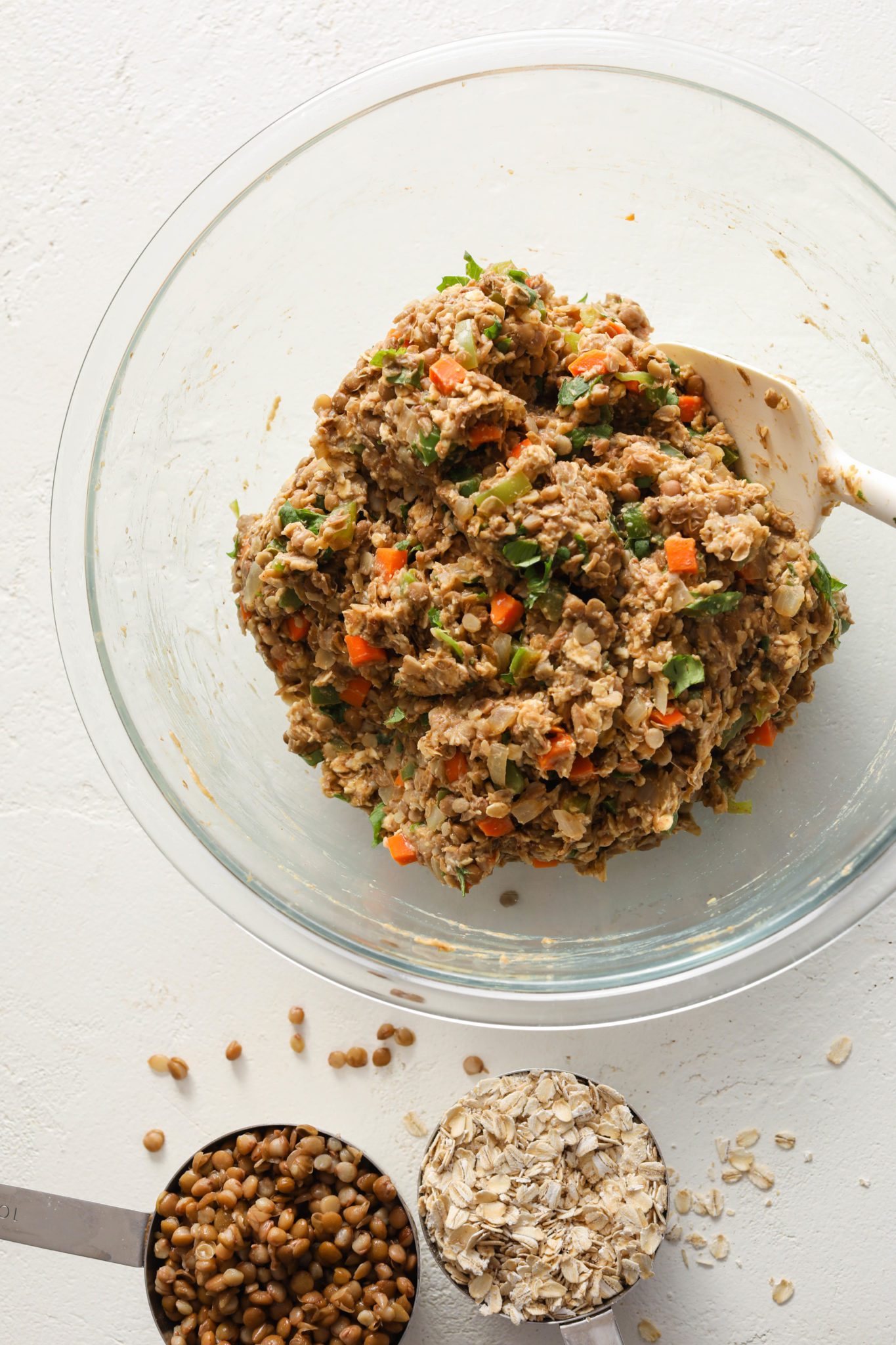 What Veggies to Add to Vegan Lentil Oat Loaf
My mom always added green pepper to our meatloaf growing up, so I had to sneak them in here.
For veggies, I used diced green pepper, onion, and carrot to add color and flavor to this loaf.
If you don't like the taste of bell pepper, you can also sub a sweeter bell pepper in its place.
I found sautéing the vegetables first helped to soften them and infuse flavor before adding to the rest of the mix.
Use a drizzle of oil or cook the vegetables with vegetable broth for an entirely oil-free lentil oat loaf!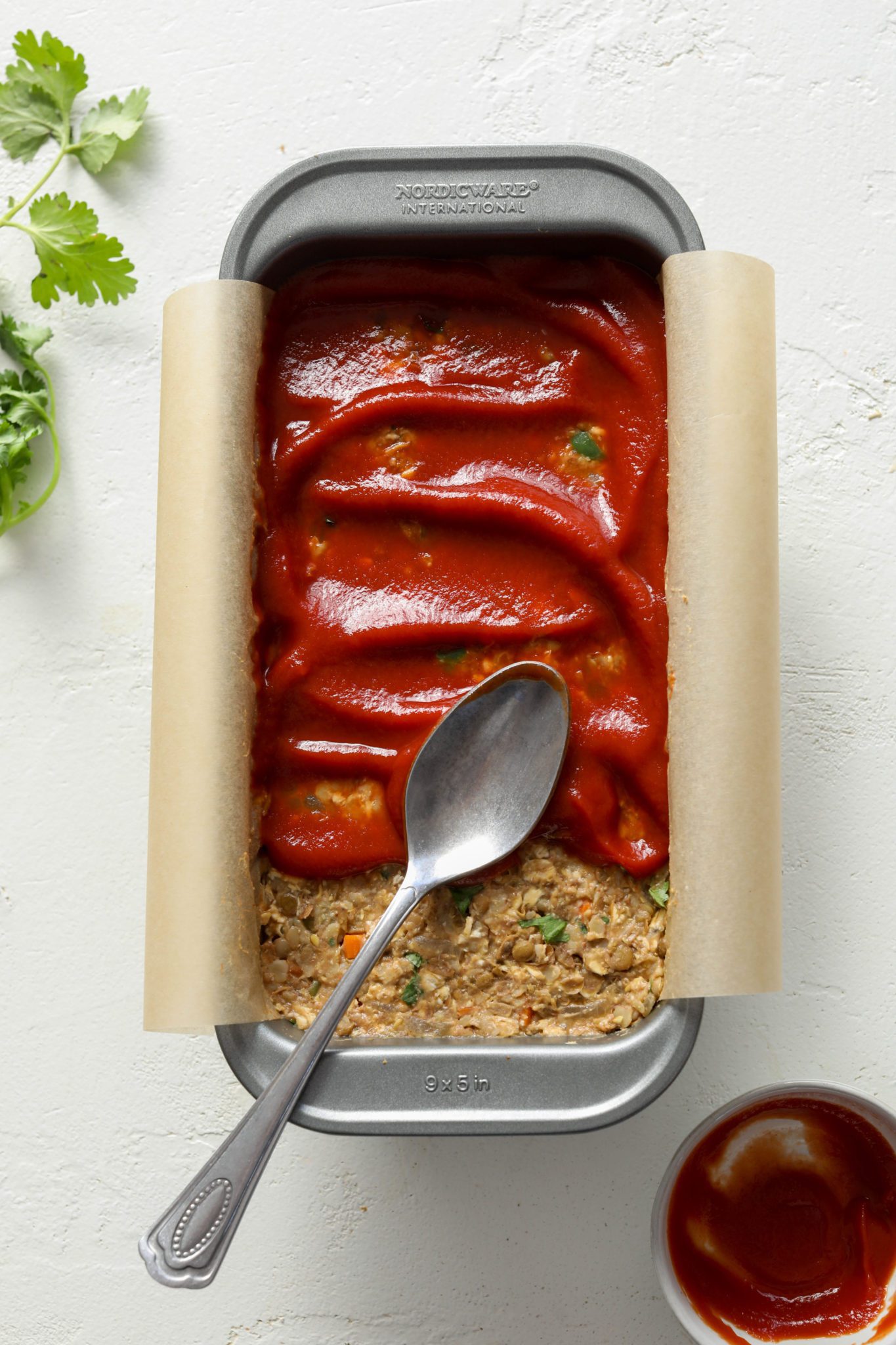 How to Pack the Pan
Next, we pack the mixture into a loaf pan.
And I mean really pack it in, guys.
You want the mixture to be sticky and well-packed before spreading lots of ketchup on top to seal the deal.
Pro tip: I like to use a refined sugar- free ketchup if you can find it!
Loaf is done when the ketchup starts to look a little burnt around the edges.
I recommend allowing the loaf to cool for 10-15 minutes or more before serving to ensure it holds shape!
If your lentil oat loaf crumbles slightly when slicing, this is OK and totally normal.
It's veg and grains you're cutting, after all, not meat!
How to Enjoy Vegan Lentil Oat Loaf
This Vegan Lentil Oat Loaf isn't just for the holidays, although I happen to think it would be perfect for Thanksgiving or Christmas dinner.
Enjoy it anytime you need a cozy winter meal.
Eat your slices solo or make a plant-based platter with sides like Grain-Free Sweet Potato Casserole, Stovetop Cauliflower Rice Stuffing, Low-Sugar Orange Cranberry Sauce, and Dijon Tahini Green Beans.
I also think it would be fantastic served with a mushroom or almond butter gravy!
As you can probably gather, I love mine with lots of ketchup.
Enjoy!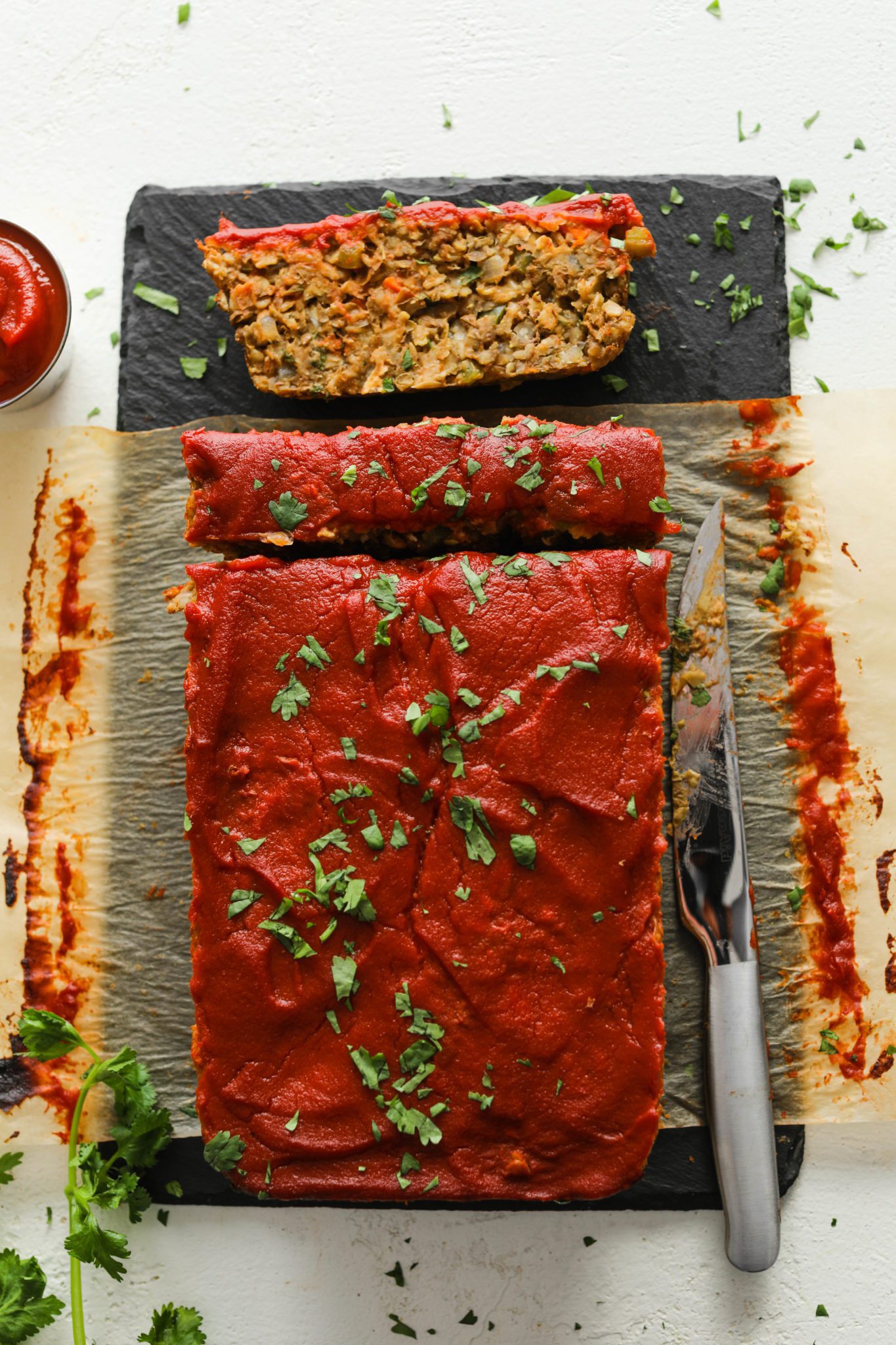 If You Make This Vegan Lentil Oat Loaf, I Want to See!
Come say hi on Instagram and use #floraandvino!
Check out my Pinterest page to pin more recipes like this one to make later!
For more plant-based mains, check out my Baked Almond Flour Falafel and Chickpea Patties with Cashew Mayonnaise.
Love this post and want more? Go to my homepage and subscribe to get updates delivered right to your inbox!
XO Lauren
Print
Vegan Lentil Oat Loaf
---
Author:

Total Time:

1 hour

Yield:

6-8 servings
Description
Vegan lentil oat loaf with cooked lentils, gluten-free oats, diced vegetables, spice, and plenty of ketchup. Serve with sides for plant-based dinner!
---
3 cups

cooked lentils

3

  flax eggs (3 TBSP ground flaxseed meal +

1/3 cup

filtered water)
drizzle of avocado oil or vegetable broth

1

 

small yellow onion, diced

1

 

green bell pepper, finely diced

1

small

carrot, finely diced

2

 

tsp ground

 

cumin

1

 

tsp

 

chili powder

1

 

tsp

smoked

paprika

1/2

 

tsp

 

garlic powder

1/2

 

cup

 

chopped fresh cilantro

pinch of Himalayan sea

salt

pinch fresh ground black pepper

1/2

 

cup

refined sugar-free

ketchup
---
Instructions
Cook lentils for this recipe if you haven't already done so, following package instructions.

Preheat oven to 350°F and line a loaf pan with parchment paper or, alternatively, grease with nonstick cooking spray.
While the lentils cook, mix your your flax eggs by adding the ground flaxseed meal and filtered water to a large bowl. Allow to sit for ~5 mins to gel.
Heat a saucepan over medium heat with a splash of avocado oil or vegetable broth if oil-free. Add in the diced bell pepper, carrot, and onion and toss. Add in the garlic powder, cumin, chili powder, and smoked paprika. Heat for 7-9 minutes, until the veggies are softened and lightly browned.

Add half of the cooked lentils to the flax "egg" bowl and smash well with a potato smasher or fork.

Add the rest of the lentils along with the old-fashioned rolled oats, cooked vegetables, and cilantro and mix well to combine. Season with Himalayan sea salt and black pepper.

Add lentil-oat mixture to prepared loaf pan, pressing and smoothing to the sides to ensure you have an even layer. Spread half of ketchup the ketchup on top. Bake lentil oat loaf for 45 minutes, then top with remaining ketchup before serving.

Remove from heat and cool for 10-15 minutes before removing it from pan. Slice and serve warm with additional sauces or extra ketchup, if desired.

Store leftovers in the fridge for up to one week and reheat before serving.
Prep Time:

15 mins

Cook Time:

45 mins

Category:

Main Dish, Entree

Method:

Oven-Bake

Cuisine:

Vegan, Gluten-Free, Oil-Free
This post is brought to you by Bob's Red Mill, but all words and eats are my own. Thanks for supporting the sponsors that keep me hungry!