Vegan "cheez-its" made with nutritional yeast and a gluten-free almond oat base. Use tahini to keep these crackers oil-free with a sesame twist!
After Dan goes to bed he sometimes leaves a savory snack behind, a half empty bowl of pretzels or a cheez-its to commemorate the night.
My snacking, on the other hand, rarely leaves behind any crumbs, especially where these Vegan Tahini "Cheez-Its" are concerned.
These are salty buttery yellow squares baked to crispy perfection are my new plant-based, oil-free, and gluten-free obsession.
They're totally "cheezy" without any added cheese– intrigued?
Ah, cheesy snacking crackers.
My parents never bought Cheetos, even though I devoured them greedily with orange stained fingers at friends' houses.
We did have Cheez-Its on hand occasionally, though, for some seriously savory snacking.
I never liked chips (really!), but I could go for a good Cheez-It every now and then.
So…how about now?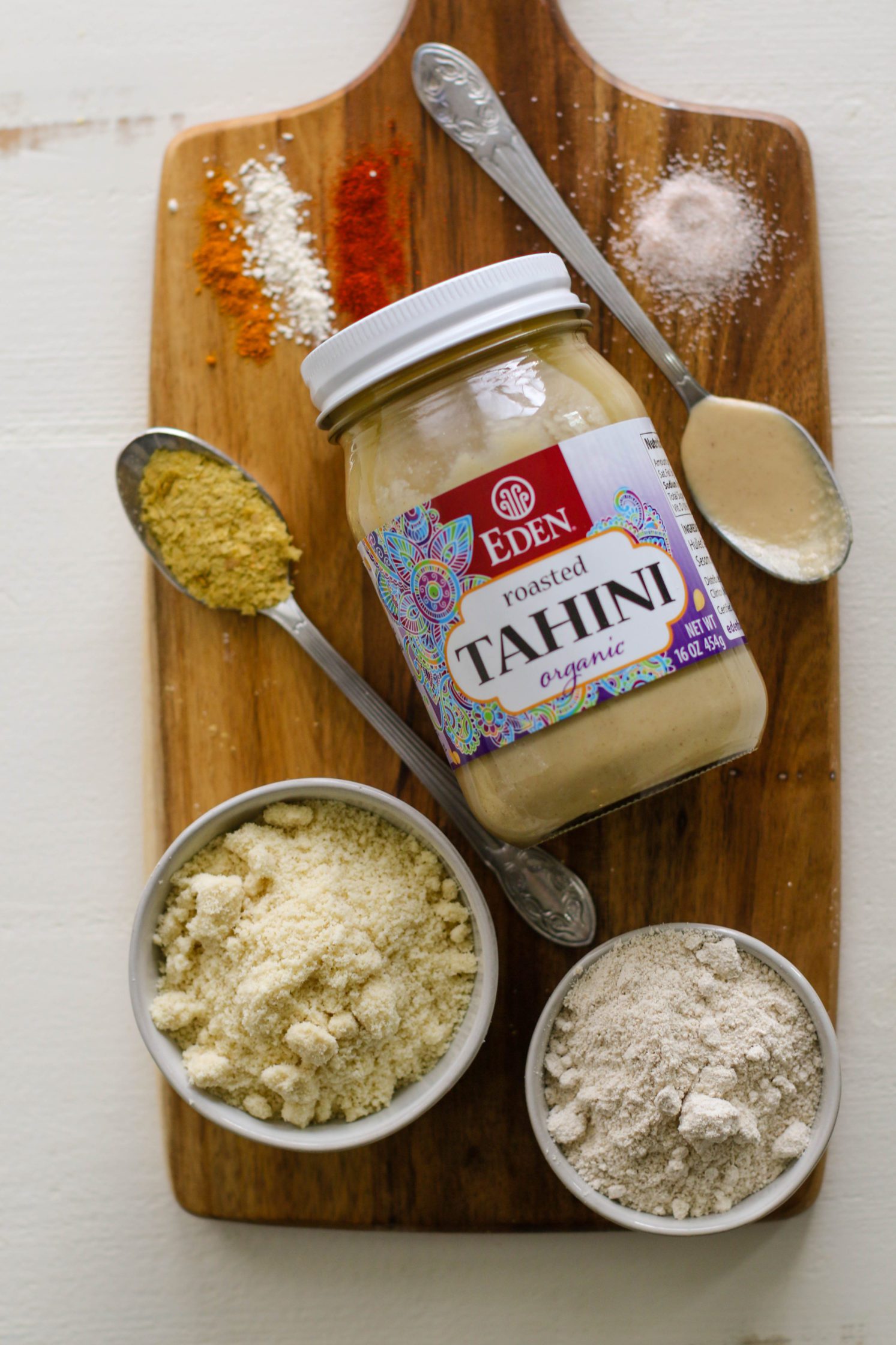 Ever since making my Vegan & Gluten-Free Graham Crackers, I haven't been able to get crackers off of my mind.
The whole cracker-making process was just a lot easier than I'd ever anticipated.
Sometimes, in life and in food, we tend to build the unknown up to be big and magical just because we've never been there and done that.
So today, let's bring the magical to light; you're going to get crack(er)in'.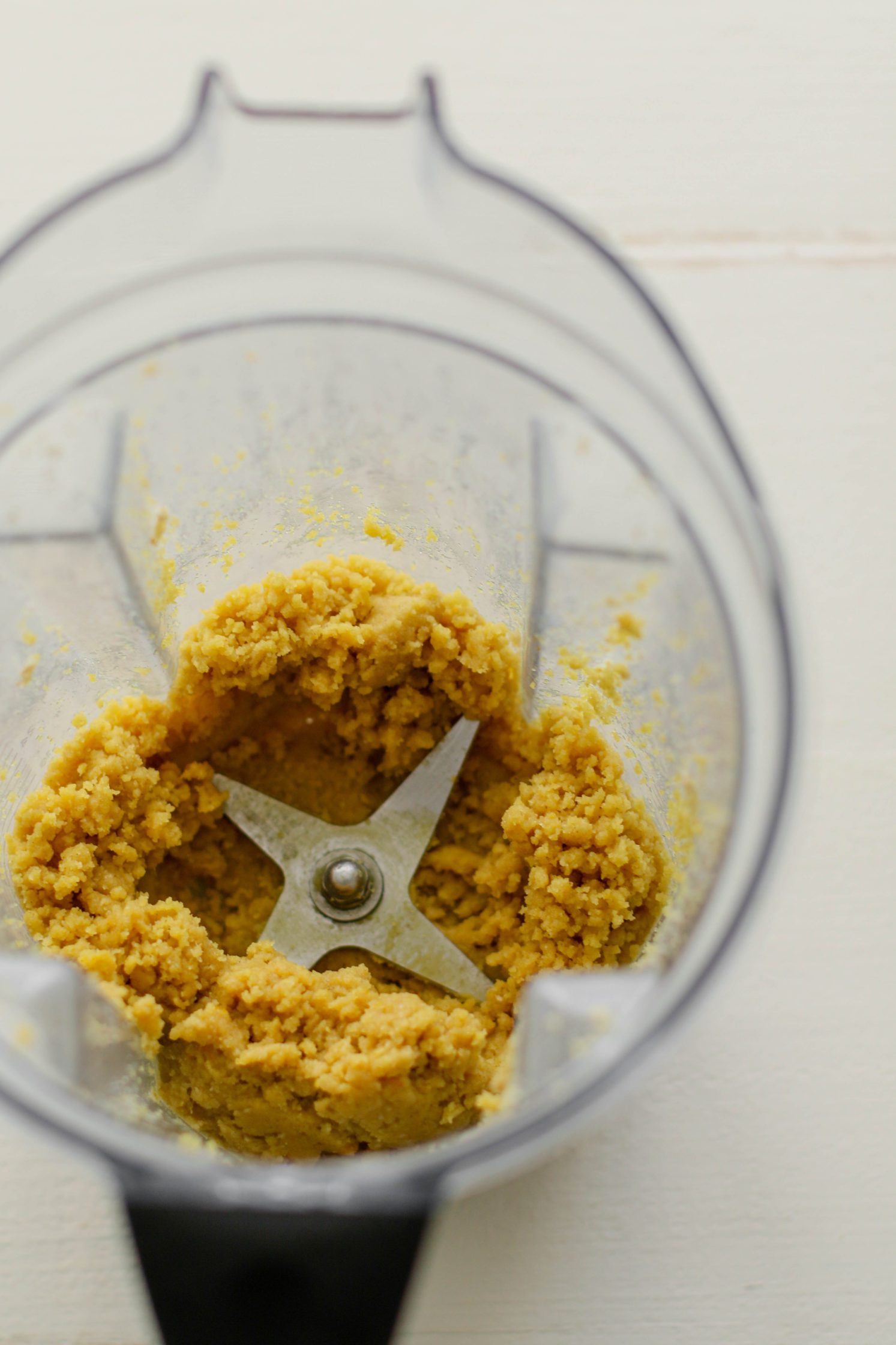 These Vegan Tahini "Cheez-Its" bring all of the cracker flair, complete with a dotted design courtesy of the single chopstick I fished out of our silverware drawer.
Despite looking like a regular old Cheez-It, they also taste like one too, no, actually, they taste better.
They're cheezy, salty, with the crunch that was heard around the room.
A few spoonfuls of nutritional yeast plus garlic and spices like paprika and turmeric make the cheesy flavor come to life without any dairy.
If you're new to nooch, you can keep the flavor at a minimum, but if you love big bold "cheeziness" like, me, try a few big Tablespoons.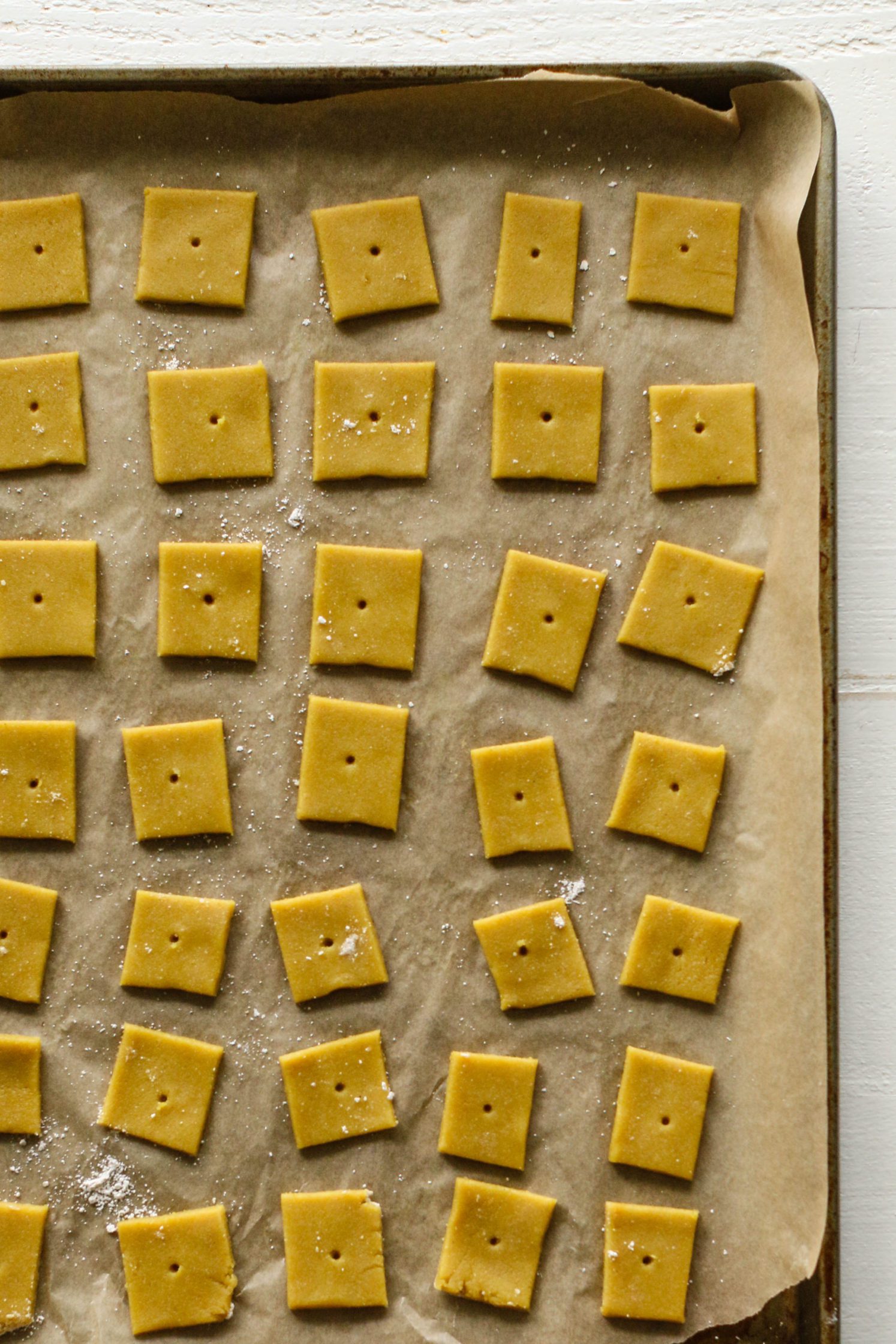 If you're an F&V oldie, you might be shaking your head right now, wondering how I managed to use sesame yet again.
Because it's delicious, friends, and so versatile!
This recipe is made entirely oil-free with the use Eden Foods Organic Roasted Tahini.
Eden sesame seeds are organically grown, hulled, lightly roasted, and ground to a smooth dreamy paste.
It has a rich, mildly nutty flavor and an extremely creamy texture.
Because, it's goodness in a glass jar.
Tahini adds healthy fats and creaminess to this recipe, complimenting the "cheezy" flavor with richness and tang.
If you like crispier crackers, try baking them for longer than the time below– watching closely to ensure they don't burn.
I found the 16-17-ish minute mark was the perfect doneness for my squares, but this will also depend on the shapes you use and the size of your crackers.
To mimic Cheez-It aesthetics, I kept mine squared, but you could do any size and shape you like.
Crackers will get crispier as they cool, so make sure to allow your Vegan Tahini "Cheez-Its" to cool completely before chowing down and serving.
Enjoy these Vegan Tahini "Cheez-Its" whenever you're craving a crispy savory snack.
I like mine with a shake of turmeric for extra color and a hint of "mustard".
They're perfect for a nutritious alternative cracker.
These bites are great in their own right, or try pairing them with any of my dips and spreads.
Store them at room temp in a sealed container for up to one week– but I'd be surprised if they make it to day 7!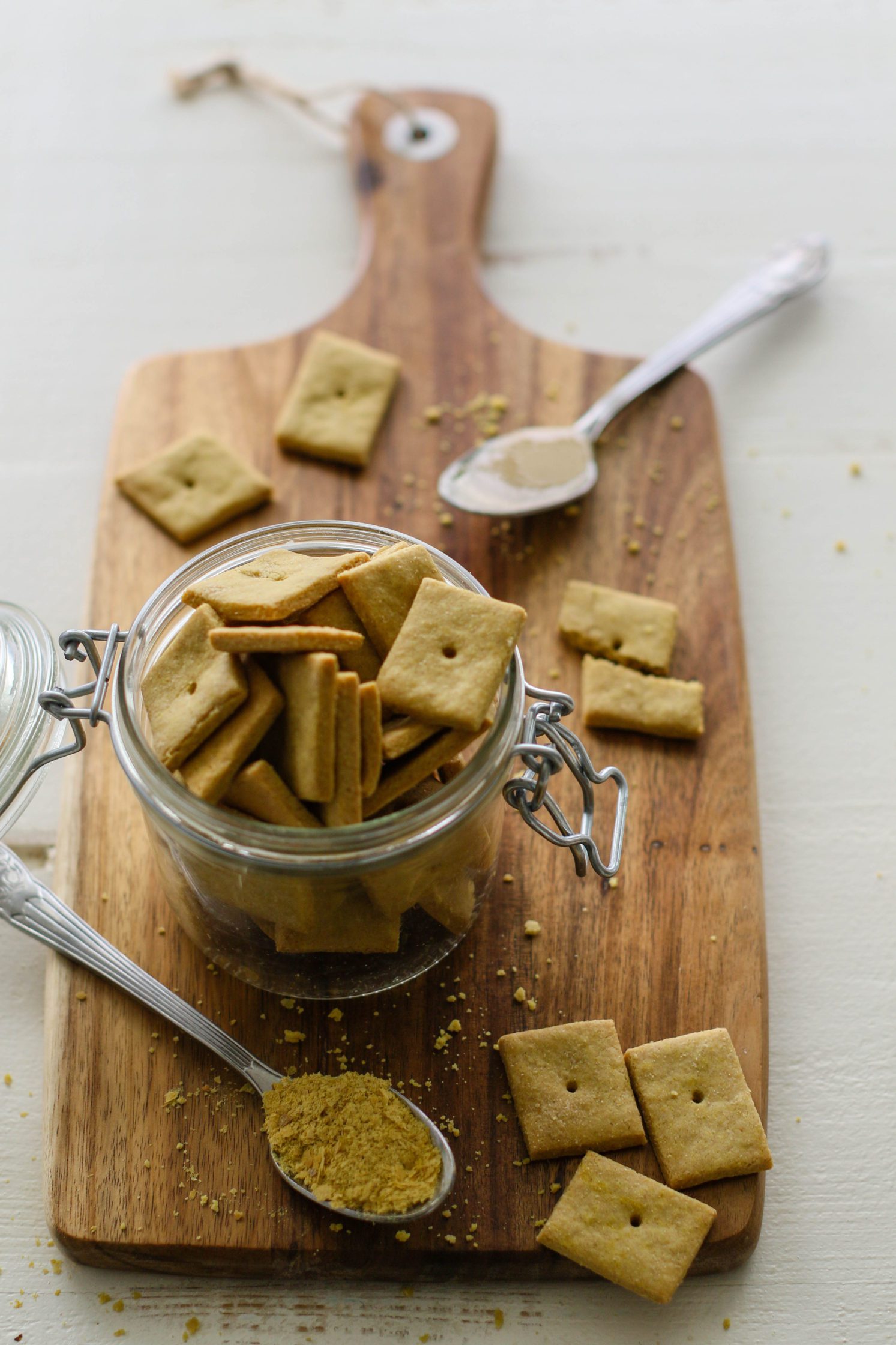 If you make these Vegan Tahini "Cheez-Its", let me know!
Be sure to leave me a comment, rating, and review so I can use your feedback to create more yums.
Give me a shout on Instagram and use #floraandvino to show me your creations.
Check out my Pinterest page to pin more recipes like this one to make later.
For more crispy snacking inspiration, check out my Oil-Free Chunky Tahini Granola and Vegan & GF Graham Crackers.
Love this post and want more? Go to my homepage and subscribe to get updates delivered right to your inbox!
XO Lauren
Print
Vegan Tahini "Cheez-Its"
---
Author:

Total Time:

40 mins

Yield:

~50 crackers

Diet:

Vegan
Description
Vegan "cheez-its" made with nutritional yeast and a gluten-free almond oat base. Use tahini to keep these crackers oil-free with a sesame twist!
---
1 1/2 TBSP

nutritional yeast (+more as desired for "cheezy" flavor)

1/2 tsp

garlic powder

1/2 tsp

sea salt

2/3 cup

super fine almond flour

1/3 cup

gluten-free oat flour

1/2 tsp

baking powder (optional)

1/8 tsp

paprika
pinch of turmeric (optional for color)

4

–

5

TBSP filtered cold water
---
Instructions
Preheat the oven to 350°F and line a baking sheet with parchment paper.
Next, add the dry ingredients to a food processor and process everything to thoroughly combine.
Add the tahini and pulse everything again until it's crumbly.
Add cold water 1 TBSP at a time until it forms a loose dough. I used 4 TBSP, but use the least amount possible so you don't have watered down dough!
Remove the dough from processor and form it into a loose ball with your hands.
Lay the ball on a lightly floured surface – I found parchment worked great as my flat surface – dust the top with flour, and roll the dough to 1/8th inch thick with a lightly floured rolling pin.
Using a knife or pizza cutter, cut cookie cutter shape to cut the dough into square crackers.
Using a toothpick or chopstick, dot the centers to mimic the appearance of Cheez-Its.
Bake the crackers for 15-18 minutes or until they're puffy and golden brown. For a crispier cracker, bake until a deeper golden brown.
Store leftover crackers in an airtight container for up to one week.
Prep Time:

20 mins

Cook Time:

20 mins

Category:

Snack, Side

Method:

Oven-Bake

Cuisine:

Vegan, Gluten-Free, Oil-Free
This post is brought to you by Eden Foods, but all words and eats are my own. Thanks for supporting the sponsors that keep me hungry!