Vegan Toasted Coconut Samoas made with 7 ingredients and no bake time. Vegan, gluten and grain free, and naturally sweetened with dates.
I was a proud Girl Scout in Elementary School.
Okay, okay, I was actually a Brownie.
But I was a part of the tribe long enough to do my fair share of girl scout cookie rounds and cookie eating.
I went door to door in my chocolate-colored brownie uniform, selling cookies to good natured neighbors.
I'm pretty sure my current neighbors would love me if I went door to door with my latest creation.
These Vegan Toasted Coconut Samoas are made with just 7 ingredients with toasted coconut and chocolate drizzle.
Girl scout cookie season is almost over, but my copy-cat cookie variation is just heating up.
Girl, let's get scouting.
Whether you represented the troop with a vest full of badges, I bet you had a favorite girl scout cookie.
Mine was absolutely Samoas.
Ok, well, I also really liked Tagalongs, Thin Mints, Peanut Butter Patties, and Do-si-dos, to name a few.
But whenever I tallied up my box numbers on the colorful brochure grid, Samoas always tallied the highest.
Because not only did I love them, but my family loved them too.
Chocolate, coconut, and nougat, HELLO, what's not to love.
As I got older and more health conscious I ate less girl scout cookies.
Apparently there are vegan Girl Scout cookies now, the moms would remind me, but….I have a sneaking feeling it's not the kind of vegan I really subscribe to.
These Vegan Toasted Coconut Samoas though…they're the kind of vegan I'm all about.
These mounds are made with real food and naturally sweetened with dates.
They also happen to be gluten and grain free with an oil free option, if that's your thing.
And, no matter what diet you adhere to, these babies are no bake, which I think everyone can agree is fantastic.
These cookies start with freshly toasted coconut.
The best start to any recipe, because it made the kitchen smell sweet, toasty, and summery in less than 10 minutes.
I toasted the coconut myself for inclusion in this recipe, but you can add store bought toasted coconut if it's easier.
Ensure that it's unsweetened for the best results and flavor in this recipe!
You later use the toasted shredded coconut in both the nougat layer and the caramel later!
Coconut all around.
The coconut nougat layer forms the base of the cookie, made with almond flour, dates, coconut oil, and toasted coconut.
The trickiest part of these cookies is making the donut shaped base.
To achieve this shape, I rolled my dough into an even layer and cut out circular shapes using the top of my jelly jars.
You can also achieve this shape with a circular cookie cutter, or, alternatively, you can roll the dough into balls and flatten with your palm for a less perfect but no less tasty cookies.
I used a glass straw to punch the center hole out of each cookie.
You can also choose the leave the center hole-less, if desired.
These cookies are your version!
The next layer uses is a classic date caramel with a coconut twist.
We blend Medjool dates and neutral nut butter until you have a sticky gooey paste.
Add a splash of almond milk or filtered water to get the blades moving.
I mixed 1/3 of the toasted coconut into the caramel layer for even more texture, before topping it off with the remainder of the shredded coconut.
You want to really pack it in to ensure the layers hold.
The base and top layer of this recipe is 1-ingredient– melted dark chocolate!
I used my favorite Hu Kitchen Simple Dark Chocolate bar in this recipe to keep things simple and clean.
This clean chocolate is my favorite for both bake and no bake recipes because it melts down beautifully and easily.
It's also refined sugar free, with just the perfect balance of sweetness and cacao to make each bite intriguing.
For these cookies, I dipped the base layer in melted chocolate and then finished off the layers with an additional drizzle of chocolate to seal the deal.
Enjoy these Vegan Toasted Coconut Samoas as a fun dessert for the whole family.
They're very easy to make; the only "trick" to the recipe is to freeze each layer well before continuing to the next step!
This ensures the layers are set and sturdy.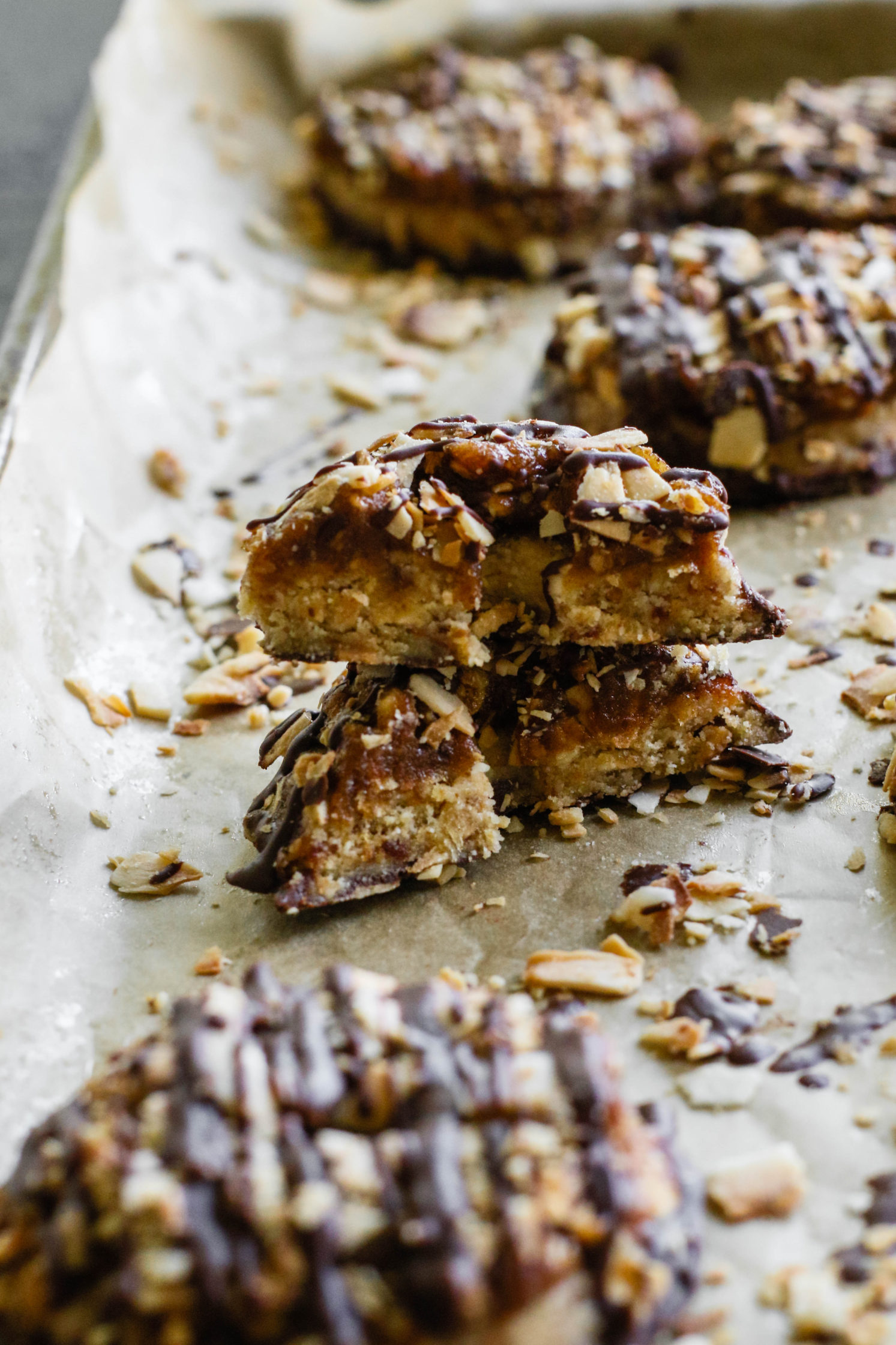 Depending on the size of your cookies, you may have extra toasted coconut and date caramel after making this recipe.
If you do, I highly recommend saving it for use in another use!
Toasted coconut is wonderful on smoothie bowl, ice cream, oatmeal, and in trail mix.
The date caramel is fantastic on apples, toast, and desserts.
Also, these cookies keep well!
I like to store them in the freezer for a quick chilled treat.
If you make these Vegan Toasted Coconut Samoas, let me know!
Be sure to leave a comment and review so I can use your feedback to make more yums.
Give me a shout on Instagram and use #floraandvino to show me your sweets.
Visit my Pinterest page to pin more recipes like this one to make later!
Want more simple clean homemade candy?
Check out my 4-Ingredient Coconut Mounds, 2-Ingredient Dark Chocolate Coconut Butter Cups, and Raw Vegan Twix Bars.
Do you love this post and want more? Go to my homepage and subscribe to get recipe updates sent right to your inbox!
XO Lauren
Print
Vegan Toasted Coconut Samoas
---
Author:

Total Time:

1 hour 45 mins

Yield:

12-15 cookies

Diet:

Vegan
Description
Vegan Toasted Coconut Samoas made with 7 ingredients and no bake time. Vegan, gluten and grain free, and naturally sweetened with dates.
---
Base Layer
1 cup

almond flour

1/2 cup

toasted unsweetened shredded coconut

1/4 cup

coconut oil or softened coconut butter (if OF)

¼ cup

(~5) Medjool dates
Caramel Layer
1¼ cup

Medjool dates

¼ cup

nut butter (I used almond butter!)

1

–

2

TBSP unsweetened almond milk or filtered water
Coconut Layer
1 1/2 cups

toasted unsweetened shredded coconut
Chocolate Layer
---
Instructions
Preheat the oven to 350°F and line a baking sheet with parchment paper.
Spread the entire 2 cups of coconut in an even layer on the parchment paper and bake for 10 minutes, watching closely towards the end to ensure it doesn't burn. Coconut is done when golden brown and fragrant.
Add the almond flour, unrefined coconut oil, and dates to a food processor or high-speed blender and pulse everything until it's well-combined. This is your base layer for the cookies.
Prepare a cookie sheet with parchment paper.
Roll the mixture into a ball, then roll out in a flat 1/4″ oval. Using the mouth of a small glass or a cookie cutter, press the dough into circular cut out shapes. Alternatively, you can form the dough into less perfect discs with your hands. Place rounds on the parchment lined baking sheet. Using a straw, punch out the center for each cookie. You may need to reshape the cookie slightly after punching the center out. Place baking sheet in the freezer for ~15 minutes.
Melt the chocolate bars in a pan over medium low, stirring often to prevent burning. Add a little coconut oil if needed for creamier chocolate. Remove the pan from the freezer and carefully dip each cookie into the melted chocolate, coated the bottom and sides only. Place each cookie disc back on the baking sheet. Repeat until all cookies are coated. Place pan back in the freezer for ~15 minutes until the chocolate sets.
Rinse out the food processor or blender and add in the dates, nut butter, and almond milk. Blend everything until it's thick and creamy, scraping down the sides as needed to recombine. Transfer the mixture to a bowl and mix in a heaping 1/2 cup toasted coconut flakes and mix will with a spoon.
Remove the pan from the freezer and spread the date caramel and coconut mixture in a thick layer on each disc, leaving the center open. Top with additional toasted coconut, pressing the shreds into the caramel layer of each disc. Place the pan back in the freezer for ~15 minutes until the caramel and coconut layer sets.
Reheat the remaining chocolate. Remove pan from the freezer and drizzle chocolate over the top later to finish the cookies. Place the cookies back in the freezer for ~15 minutes to set.
When the cookies are firm, serve them immediately. Store leftover cookies in an airtight container in the refrigerator for up to one week and freeze for longterm storage.
Prep Time:

1 hour 45 mins

Cook Time:

10 mins

Category:

Dessert

Method:

Oven-Bake

Cuisine:

Vegan, Gluten-Free, Oil-Free, Refined Sugar-Free
This post is brought to you by Hu Kitchen, but all words and eats are my own. Thanks for supporting the sponsors that keep me hungry!