Vegan yellow cake with Chocolate SunButter frosting made yellow with raw golden beets. Made gluten-free with almond and oat flour!
Happy first day of spring!
The season greeted us here in Virginia with a crisp 28-degree morning.
Typical.
I'm so ready for spring, guys.
I was imagining we'd bring it in with flowers and greens and also this Vegan Yellow Cake with Chocolate SunButter Frosting.
This fresh take on the classic cake is vegan, gluten-free, and refined sugar free with a creamy 3-ingredient frosting.
Spring means a lot of things, but to me, in mostly means my birthday (April 2!).
But first, my little sister's birthday.
I remember her birthday being tortuous as I watched my mini-me opening all of the gifts I hadn't even known I'd wanted until she was hurriedly unwrapping them.
Because my birthday was oh so far away– 7 whole days to be exact, and I was green with envy.
The other big thing was the cake.
We usually tried to alternate cake selection so we wouldn't have the same dessert on back-to-back celebration weeks.
I always tried to beat her to it by making the first request to my mom for a yellow cake with chocolate frosting.
Simple. Classic. Delicious.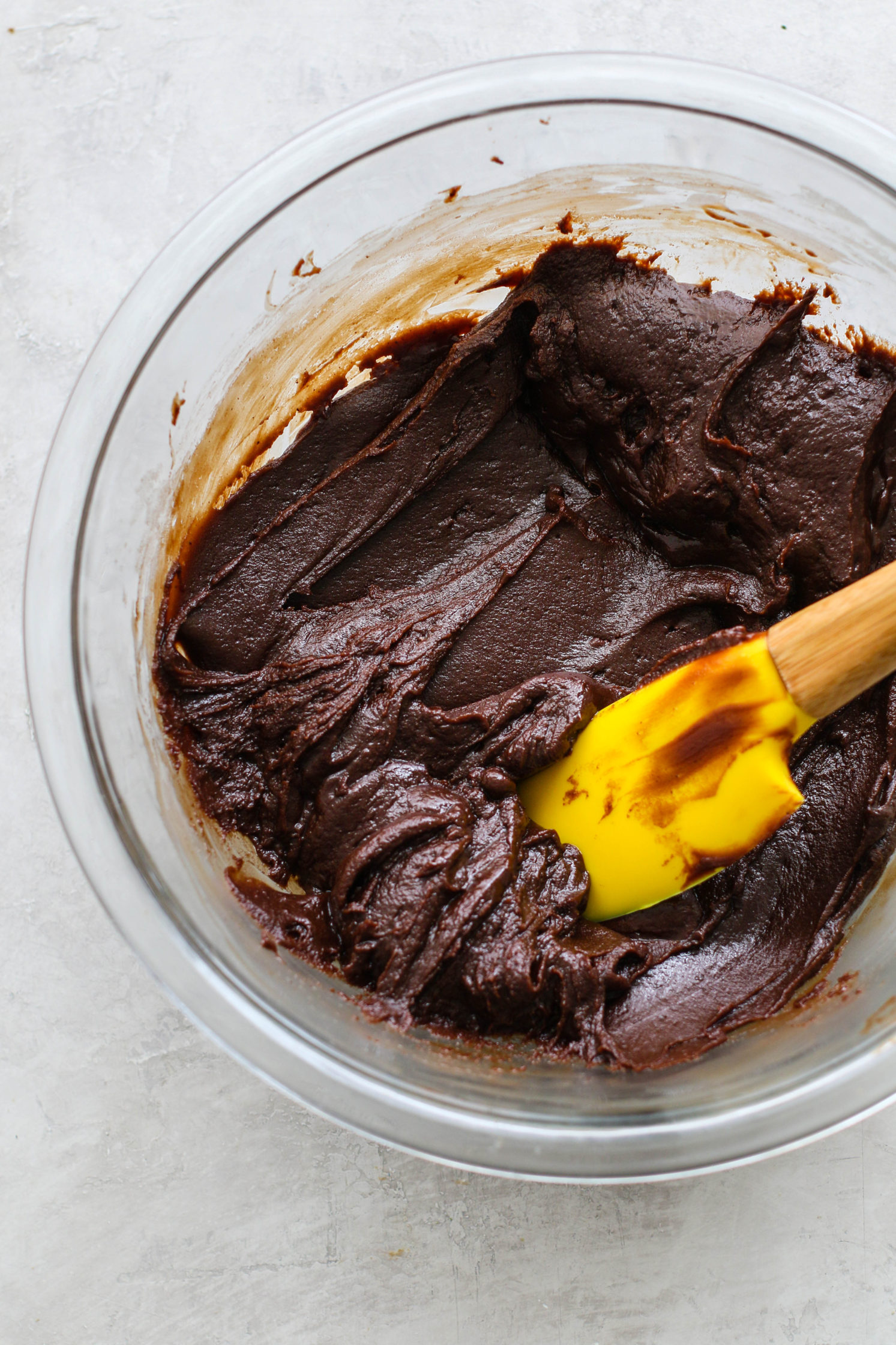 Birthdays are weird, aren't they?
Without realizing it, I often use them as lofty mile-marker for all of my audacious goals and dreams.
Can we just use them as cake-markers instead?
Like, just because I was born on this day 31 years ago, doesn't mean I should have all of my ish figuerd out by now.
Not at all.
It, does, though, require epic desserts.
This cake is based on my Vegan & Gluten-Free Red Velvet Cake with a golden twist.
The secret to the intense golden color of this cake is golden beets.
I hadn't started out the recipe intending to use them, but my cake trials kept coming out brown and lackluster– not at all like the cheery yellow cake of my childhood.
When I happened to have a bunch of golden beets in the produce drawer that seemed a bit like fate to me so I threw them in.
Forty-five minutes later and we had yellow cake!
If you don't have golden beets on hand, try using butternut squash or pumpkin instead for varied results.
The base is a mix of almond and oat flour– my usual flour duo to achieve a fluffy gluten-free batter.
Coconut milk makes the consistency creamy, and coconut oil adds richness and smoothness.
If you're oil-free, try subbing applesauce or yogurt for varied results.
The batter should be thick, scoopable, and bright yellow.
Then we glaze this golden square with a delicious 3-ingredient chocolate SunButter frosting,
This frosting was inspired by my Almond Butter Cacao Frosting, except this time I decided to go nut-free and use No Sugar Added Sunbutter.
All you need for this frosting is:
That's it!
You can add a splash of almond milk to make the "frosting" more spreadable if it's too stiff.
I love it because it's easy to mix up without any additional steps or kitchen equipment.
If you have extra, try using it on my graham crackers.
This Vegan Yellow Cake with Chocolate SunButter Frosting is perfect for a birthday celebration, or anytime you're celebrating and it feels appropriate to have cake on the table (which is always?).
My mom usually made us a big sheet pan cake, so that's what I emulated here with this yellow cake!
Dress it up with sprinkles and candles for the birthday human, or leave it plain for an equally delicious dessert.
You can also bake multiple cakes in circular pans and stack them for an impressive layer cake variation.
I like mine with a glass of almond milk– similar to how I drowned my birthday cakes growing up.
If you make this Vegan Yellow Cake with Chocolate SunButter Frosting, let me know what you think!
Be sure to leave me a comment, rating, and review so I can use your feedback to create more yums.
Give me a shout on Instagram and use #floraandvino to show me your creations.
Check out my Pinterest page to pin more recipes like this one to make later.
Want more vegan and gluten-free cake?
Check out my Vegan & Gluten-Free Red Velvet Cake and Easy Apple Almond Cake.
Do you love this post and want more? Go to my homepage and subscribe to get updates delivered right to your inbox!
XO Lauren
Print
Vegan Yellow Cake with Chocolate SunButter Frosting
---
Author:

Total Time:

1 hour 10 mins

Yield:

8-12 servings

Diet:

Vegan
Description
Vegan yellow cake with chocolate SunButter frosting made yellow with raw golden beets. Made gluten-free with almond and oat flour!
---
Vegan and Gluten-Free Yellow Cake
2

flax eggs (

2 TBSP

ground flaxseed meal +

6 TBSP

filtered water)

¾ cup

unsweetened almond milk

3 TBSP

lemon juice

1¼ cups

RAW golden beets, puréed*

¼ cup

coconut oil, melted

1 ¼ cup

unrefined coconut sugar

1½ cups

gluten-free oat flour

1 cup

almond flour

2 tsp

baking powder
Chocolate SunButter Frosting
---
Instructions
Preheat oven to 350°F and line a large rectangular pan with nonstick spray or parchment paper.
(If you haven't made your beet purée* yet, see notes). To a blender, add the beet purée, almond milk, lemon juice, and flax eggs. Pulse everything until it's well-combined and bright yellow.
Pour the mixture into a large mixing bowl and set aside.
Heat the coconut oil in a small saucepan over medium heat. Once it's totally melted, add it to the mixing bowl with the coconut sugar. Mix everything well with a spatula to combine.
Next, sift in the oat flour, almond flour, and baking powder and stir everything well until there are no flour clumps. If you don't have a sifter, simply mix the dry ingredients in another bowl and add them to the wet mixture while it's beating. The batter should be thick but pourable.
Add the batter to your cake pans and spread it into an even layer. Tap the pan several times on the counter to remove any air bubbles.
Bake the cake for 40-45 minutes, or until a toothpick inserted into the center comes out clean. Let the cake cool completely before frosting.
While the cake is cooling, prepare your chocolate frosting. Add the SunButter, cacao powder, and maple syrup to a bowl and whisk with a fork until smooth and creamy. Add a splash or two of almond milk to get a creamier consistency, if needed.
Once the cake is cooled, frost it generously with a knife or spatula.
Serve the cake immediately. Store any leftovers in the refrigerator for 3-4 days.
Notes
To make beet purée, rinse and peel raw beets and add to a food processor or high speed blender and pulse until you have a very fine beet paste– almost liquid. Measure out 1¼ cups for use in this recipe and reserve leftovers for another use.
Recipe adapted from my Vegan & Gluten-Free Red Velvet Cake
Prep Time:

30 mins

Cook Time:

40 mins

Category:

Dessert

Method:

Oven-Bake

Cuisine:

Vegan, Gluten-Free, Refined Sugar-Free
This post is brought to you by SunButter, but all words and eats are my own. Thanks for supporting the sponsors that keep me hungry!