"Cheezy" chickpea, broccoli, and cauliflower casserole packed with protein, veggies, and a killer vegan cheese sauce. Perfect for winter and holiday dining.
Well, hello there, first casserole recipe on Flora & Vino.
Don't you look coy and cozy.
I love the concept of casseroles, especially for this time of year.
They're like the food equivalent of an oversized ugly sweater than that you can slip into and never take off.
Foodie minimalism at its finest, right?
Dish out the finished product in steaming rectangles, no fancy sides required, and dig in, excavating surprises from underneath a golden top.
If you don't have a Christmas casserole lined up (or even if you do), you're going to love this "Cheezy" Chickpea, Broccoli, & Cauliflower Rice Casserole!
It's gluten free, grain free, dairy free, almost oil free, and always comforting and delicious.
My mom used to make a very not vegan but very delicious casserole for us every Christmas morning growing up.
She mixed up the ingredients on Christmas Eve, somewhere between watching The Muppet Christmas Carol with the family and helping Santa finish all the milk and cookies.
My mom is a ninja.
(She may have recruited dad for help.)
The the next morning, she popped it in the oven while we started the gift-giving.
An hour later, the house was filled with that smoky cheesy smell I came to equate with Christmas morning.
This casserole is definitely less meaty and cheesy, but still elicits those same cozy vibes while it's baking.
You can rock around the Christmas tree, make those last minute Amazon purchases, and maybe wrap them, too, all while it's doing it's thing making the house smell like a home.
I used broccoli and cauliflower rice as a simple base for mine, but if you've got some extra veggies hanging out in the fridge, feel free to steam them and throw them in the mix.
I have a feeling green zucchini or carrots would be great here, too. I'd love to hear what variations you tried!
For extra protein, try adding in quinoa instead of (or in addition to) the cauliflower rice, or serve it over quinoa after baking.
The "cheese" coating for this dish comes from my favorite vegan cheese sauce from my Mac N Peas Bowls with Cheesy Tahini Sauce post.
I haven't found a better cheese sauce yet that's oil-free and packed with veggies.
If you haven't tried it yet, you're going to LOVE the way it brings the dish together.
Quit literally, I was pleasantly surprised that the casserole "stuck" together, being cheese-less!
Horray!
It's still a bit delicate and homely, but aren't the best casserole?
Enjoy this "Cheezy" Chickpea, Broccoli, & Cauliflower Rice Casserole as the coziest cold weather comfort food.
Make a pan to share for a holiday entrée or side, or prep the pan and enjoy it for yourself all week long.
I highly recommend drizzling hot sauce all over it and eating it that way.
Pro tip: similar to pizza, it's just as good cold as it is warm!
If you make this "Cheezy" Chickpea, Broccoli, & Cauliflower Rice Casserole, let me know! I'd love to see how yours turned out!
Be sure to leave me a comment, rating, and review so I can use your feedback to make more yums.
Give me a shout on Instagram and use #floraandvino to show me your spread.
Check out my Pinterest page to pin more recipes like this one to make later!
For more "cheezy" meals like this, check out my Mac N Peas Bowls with Cheezy Tahini Sauce.
Love this post and want more? Go to my homepage and subscribe to get updates delivered right to your inbox!
XO Lauren
Print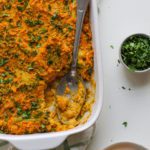 "Cheezy" Chickpea, Broccoli, & Cauliflower Rice Casserole
---
Author:

Total Time:

1 hour 10 mins

Yield:

3-4 servings

Diet:

Vegan
Description
"Cheezy" chickpea, broccoli, and cauliflower casserole packed with protein, veggies, and a killer vegan cheese sauce. Perfect for winter and holiday dining.
---
Casserole
coconut or avocado oil, for greasing

1

15 oz can chickpea, drained and rinsed

1

medium-large head cauliflower, shredded or grated into "rice"

3

+ cups roughly chopped broccoli (

2

small to medium heads– or more, this recipe is forgiving!)

1/4 cup

vegan parmesan cheese (I like this kind!)
Himalayan sea salt and black pepper to taste
Sauce
1 cup

carrots, peeled and roughly chopped

2 cups

peeled and diced sweet potatoes

½

–

¾

cup nutritional yeast

¼ cup

runny tahini

½ cup

almond milk (+more as needed for thinner consistency)

2 tsp

. lemon juice

½ tsp

. garlic powder

½ tsp

. paprika

1 tsp

yellow mustard
dash of Himalayan sea salt
For serving
more vegan parmesan
chopped parsley
---
Instructions
Preheat the oven to 375°F and lightly grease a 9×13 inch baking dish with coconut or avocado oil.
Prepare your cauliflower rice by pulsing in a food processor or high speed blender until it resembles "rice".
Steam the broccoli florets for 3-5 mins on the stovetop using a steamer basket in a saucepan with 1-2 inch of water until tender crisp.
Heat a separate skillet over medium heat. Once it's hot, add a drizzle of avocado oil and cauliflower rice. Season with Himalayan sea salt and black pepper and stir to coat. Cover and allow to rice to "steam" for 4-5 minutes, until tender. Set aside.
Next, prepare your sauce. Add the baby carrots and peeled potatoes to a pot and cover with filtered water. Bring the water to a boil and simmer for 10-15 minutes, or until fork tender. Once the carrots and potatoes are soft enough, drain them add them to a high speed blender with remaining sauce ingredients. Blend until all ingredients are well mixed and the consistency is velvety and smooth with no lumps. Add more almond milk, if needed, for a thinner consistency, but you want this cheese sauce to be thicker to coat the casserole. frequently.
Transfer the cauliflower rice, steamed broccoli, and chickpeas to a large mixing bowl and season with vegan parmesan cheese. Stir to coat.
Add about 3/4 "cheezy"" sauce to the mixture in and stir well to coat. I only used about 3/4 of my sauce and saved the reserve for dipping, but you can make it as cheesy as you want.
Spoon the mixture into to your greased baking dish and use a spatula to spread it to an even thickness. Top with another sprinkle of vegan parmesan cheese, if desired.
Cover with foil and bake for 20 minutes. Remove foil, increase oven temp to 400°F, and bake for 10-20 minutes more or until bubbly and slightly golden brown.
Remove from oven and cool slightly. Spoon casserole out and serve as is or with more vegan parmesan and chopped parsley.
Store leftover casserole in the fridge for 5-7 days and reheat before serving.
Notes
Prep Time:

30 mins

Cook Time:

40 mins

Category:

Entree, Main Dish

Method:

Oven-Bake

Cuisine:

Vegan, Gluten-Free, Grain-Free, Oil-Free