Easy vegan and gluten-free tacos made with a hearty cauliflower and chickpea filling in baked corn tortillas. Perfect for a plant-based taco night!
Oh my goodness I start my move in exactly ONE week.
Throughout this season of life, I've been eating out a *lot* more than normal.
Normal for me used to be a week or twice a month special (it helps that they're aren't ALL that many plant-friendly restaurants near me, haha), but lately it's been an almost daily occurrence to eat out on plants.
At first I was upset by this and angry that I couldn't seem to keep up with my stellar stacked Tupperware meal prep days.
"I mean, how hard is it to wash and chop some vegetables and fruit and cook some quinoa?" my inner mean girl scoffed.
Well, pretty darn hard if the knives are boxed up and the cutting board is in the dishwasher and the home inspector will be here in FIVE.
So, I eventually reasoned that while meal-prepping adds value to my life, it's OK to temporarily let go of tasks where I can for the greater good of my sanity.
I also decided to frame my time dining out as "recipe research", which automatically makes it sound relevant, valid, and biz-worthy.
It was on a dinner run at Naked Lunch that I first discovered their cauliflower tacos and was inspired to recreate them for the blog.
These Cauliflower Chickpea Tacos have a hearty hearty cauliflower and chickpea filling in baked corn tortillas for a healthier taco night.
Let's taco through it.
The mixture of cauliflower and chickpeas for a taco filling is one I can safely say I never would have though of it I hasn't seen it on a menu.
But it works!
The florets and chickpeas create the perfect textured base for these plant-based tacos finished with leafy green slaw and toppings.
The tacos start with an easy cauliflower chickpea filling that's made on the stove top with taco seasoning and a little algae oil.
If you've been following Flora & Vino for a while, you know I'm very particular about the oils I use when cooking.
For this recipe I was excited to work with culinary algae oil for the first time.
Thrive® Algae Oil is an everyday cooking oil made from algae!
I love using because it contains the highest level of monounsaturated fat (a good, heat-stable fat) and lowest level of saturated fat compared to any other cooking oils out there.
The oil can also withstand the high temperatures (up to 485°!), so you can use it whenever you sauté, sear, fry, bake, and more..
It's also light and super neutral in taste.
Try it in this recipe to allow the natural flavors of cauliflower chickpea tacos to shine through – You can find on Amazon or in grocery stores nationwide!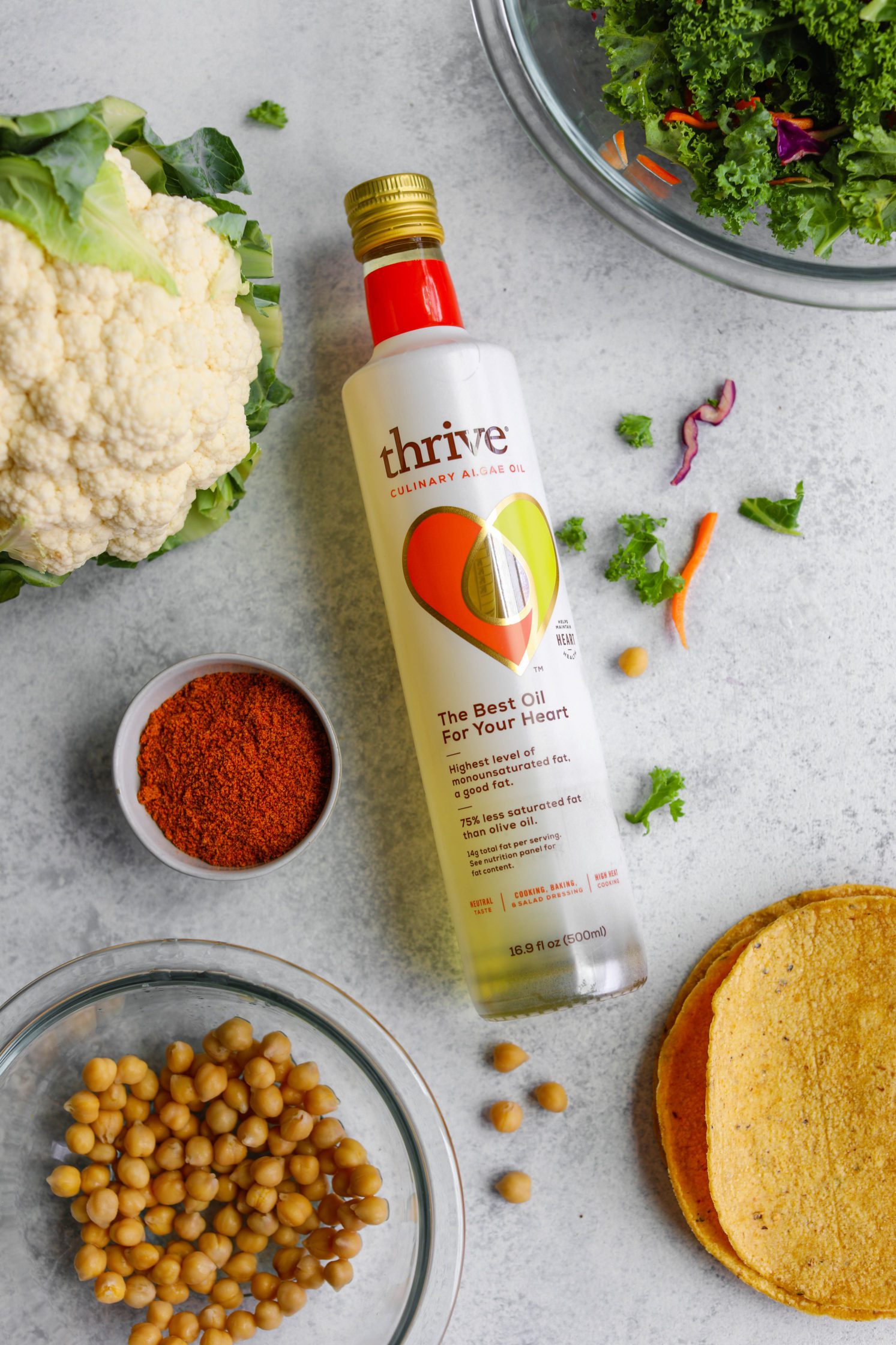 These Cauliflower Chickpea Tacos are great for a #tacotuesday, #fiestafriday, or any other food holidays you celebrate every day of the week.
I love mine topped an easy green kale slaw, cooling cashew cream and spicy salsa verde.
This recipe uses corn tortillas to hug your cauliflower chickpea in a hearty gluten-free shell.
You can also sub almond flour tortillas here, instead, and heat on the stovetop for more of a soft taco feel.
If you have leftover cauliflower chickpea filling, store it in the fridge for several days and reheat before serving.
If you make these Cauliflower Chickpea Tacos with Salsa Verde, let me know!
Be sure to leave me a comment, rating, and review so I can use your feedback to create more yums.
Give me a shout on Instagram and use #floraandvino to show me your creations.
Check out my Pinterest page to pin more recipes like this one to make later.
For more Mexican inspiration, check out my Romaine Tempeh Tacos and Black Bean Collard Burritos.
Love this post and want more? Go to my homepage and subscribe to get updates delivered right to your inbox!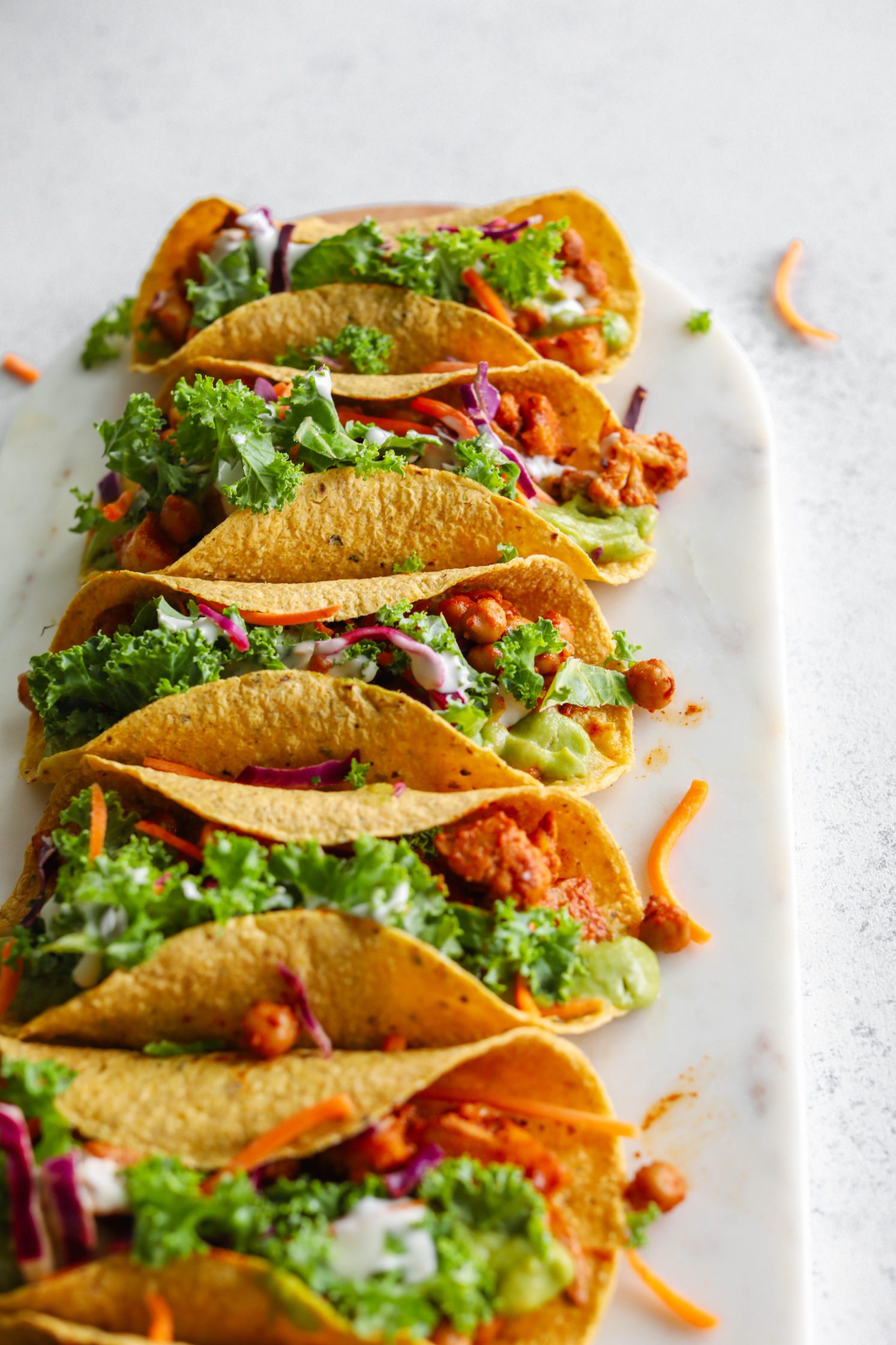 Print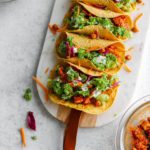 Cauliflower Chickpea Tacos
---
Author:

Total Time:

20 minutes

Yield:

6-8 tacos

Diet:

Vegan
Description
Easy vegan and gluten-free tacos made with a hearty cauliflower and chickpea filling in baked corn tortillas. Perfect for a plant-based taco night!
---
Cauliflower Chickpea Taco "Meat"
1 TBSP

Thrive Algae Oil 

1

small head cauliflower, roughly chopped

1/2 cup

chickpeas, drained and rinsed

1

packet taco seasoning (or make your own DIY blend)

1/2 cup

filtered water
Kale Slaw
2 cups

shredded kale

1/2 cup

shredded carrots

1/2 cup

shredded cabbage

1/2

lime, squeezed
Cashew Cream
1 1/2 cup

s raw cashews, soaked 4-6 hours, then drained and rinsed

3/4 cup

 filtered water

2 TBSP

 fresh lemon juice

1 TBSP

 apple cider vinegar
Toppings
---
Instructions
To make the cashew sour cream, add cashews to a bowl and cover with water. Soak them for 4- 6 hours, then drain and rise. Place the soaked cashews in a high-speed blender with the filtered water, lemon, and apple cider vinegar. Blend everything on high until it's smooth and creamy, stopping to scrape down the sides as needed. Add more water for a thinner consistency and a pinch of salt, if desired. Transfer the sour cream to an air-tight container and chill in the fridge until ready for use.
Preheat the oven to 350 and line a baking sheet with parchment paper. Add 6-8 corn tortillas to the pan in an upright "U" shape from one side of the baking sheet to the other, touching each other to remain upright. While the oven preheats, make your cauliflower chickpea filling.
Heat a pan over medium heat an add a Tablespoon of Thrive® Culinary Algae Oil to the pan. Once it's warm, add the chopped cauliflower and chickpeas to the pan. Cook over medium for 5-8 minutes, until lightly browned and tender. Add the taco seasoning and filtered water and stir well to combine. Cover the mixture, reduce heat, simmer for 8-10 minutes, until the liquid is absorbed and the cauliflower florets and chickpeas are tender. Remove from heat and set aside.
To make the kale slaw, add kale, cabbage, and shredded carrots to a large mixing bowl and toss to combine with a bit of lime juice. Set aside.
Once oven has preheated, add the corn tortillas to the oven and bake for ~3-5 minutes, until lightly toasted but not crisp. Remove from the oven and add to a plate for assemble.
To assemble Cauliflower Chickpea Tacos, add a heaping spoonful of cauliflower chickpea taco "meat" to each baked corn tortilla and top with a handful of kale slaw. Garnish with optional cashew cream and salsa verde. Serve immediately!
Store leftover cauliflower chickpea filling in the an airtight container in the refrigerator for 3-5 days and reheat before serving.
Prep Time:

10 mins

Cook Time:

10 mins

Category:

Mexican, Entree

Method:

Oven & Stovetop

Cuisine:

Vegan, Gluten-Free, Grain-Free
This post is brought to you by Thrive Algae, but all words and eats are my own. Thanks for supporting the sponsors that keep me hungry!