Easy power bowl with black soy beans, beets, and bok choy served over a bed of quinoa and drizzled with a creamy garlic ginger tahini.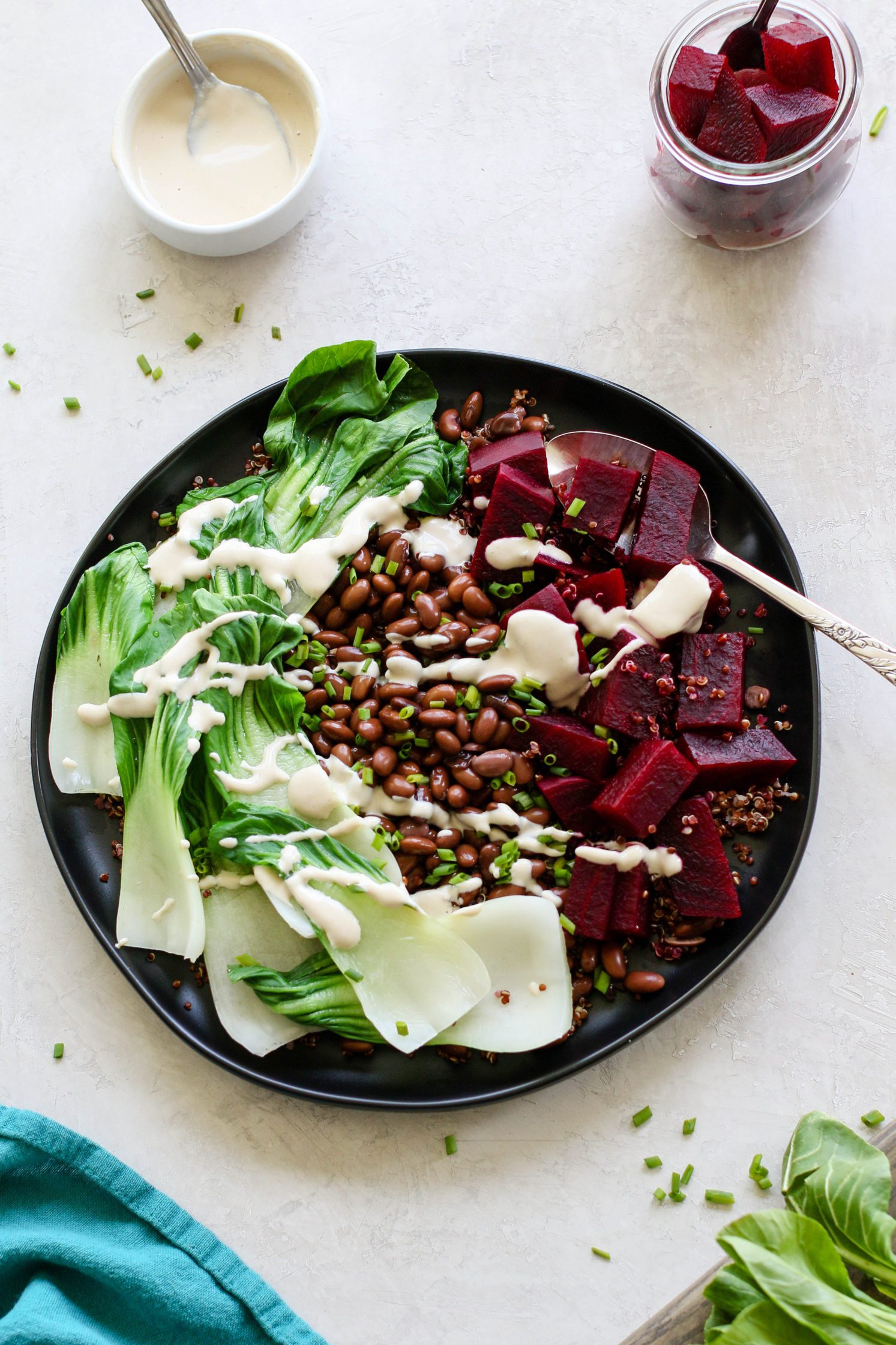 I've been thinking a lot about this tight-rope that we all walk on, friends.
Balance is hard, isn't it?
We're constantly pulled in dual directions in an epic never-ending tug-of-war of different virtues.
Self-love and Self-improvement. Action and Inaction. Simplicity and Complexity.
One thing that I think we can all agree on is that the best eats are the ones that start simple and taste complex, though, don't you think?
A bit of yin and yang.
This Black Soy Bean, Beet, & Bok Choy Bowl with Garlic Ginger Tahini Dressing comes together in under 30 minutes with bright whole foods and a creamy tahini dressing.
You can save the "To be or not to be…?" and focus on the real cruz of the matter….
To bowl or not to bowl?
(And why the heck not?!)
While balance might be an elusive idea that is more about the journey than the outcome (ugh, but what if I don't want to journey!?)…
…this bowl is totally tangible and here for the taking and making.
It always feels a bit like art every time I make it.
The life and vibrance of the raw ingredients always reminds me of how beautiful nature is, no filter necessary.
The red quinoa is the canvas, and then you paint (pile) on ruby red beets, velvety green baby bok choy, and tender black soy beans.
Finish with a splash of creamy white ginger garlic tahini Jackson Polluck style and…voila.
Your dinner is served.
Framing is optional.
OK, human beans. I've got a new bean to introduce to you.
Say hello to the Black Soy Bean.
To be honest, I didn't know that soy beans came in black until I found these organic Eden Foods Black Soy Beans!
Black soy beans, like green soybeans, are rich in healthy fiber and plant-based protein.
These are lean mean beans, guys.
They're also super delicious and versatile, with a slightly sweet flavor and fluffy texture similar to a regular black bean.
You can use them where you'd use any other bean, so I decided to throw them into a power bowl to showcase these beauts front and center.
In a perfect world, I'd love to make make all of my beans from scratch, but perfect never really did much for me, and…balance.
I love using Eden Foods beans in my recipes as a convenient option that I trust to have high quality taste and texture, without any added preservatives or refined salt!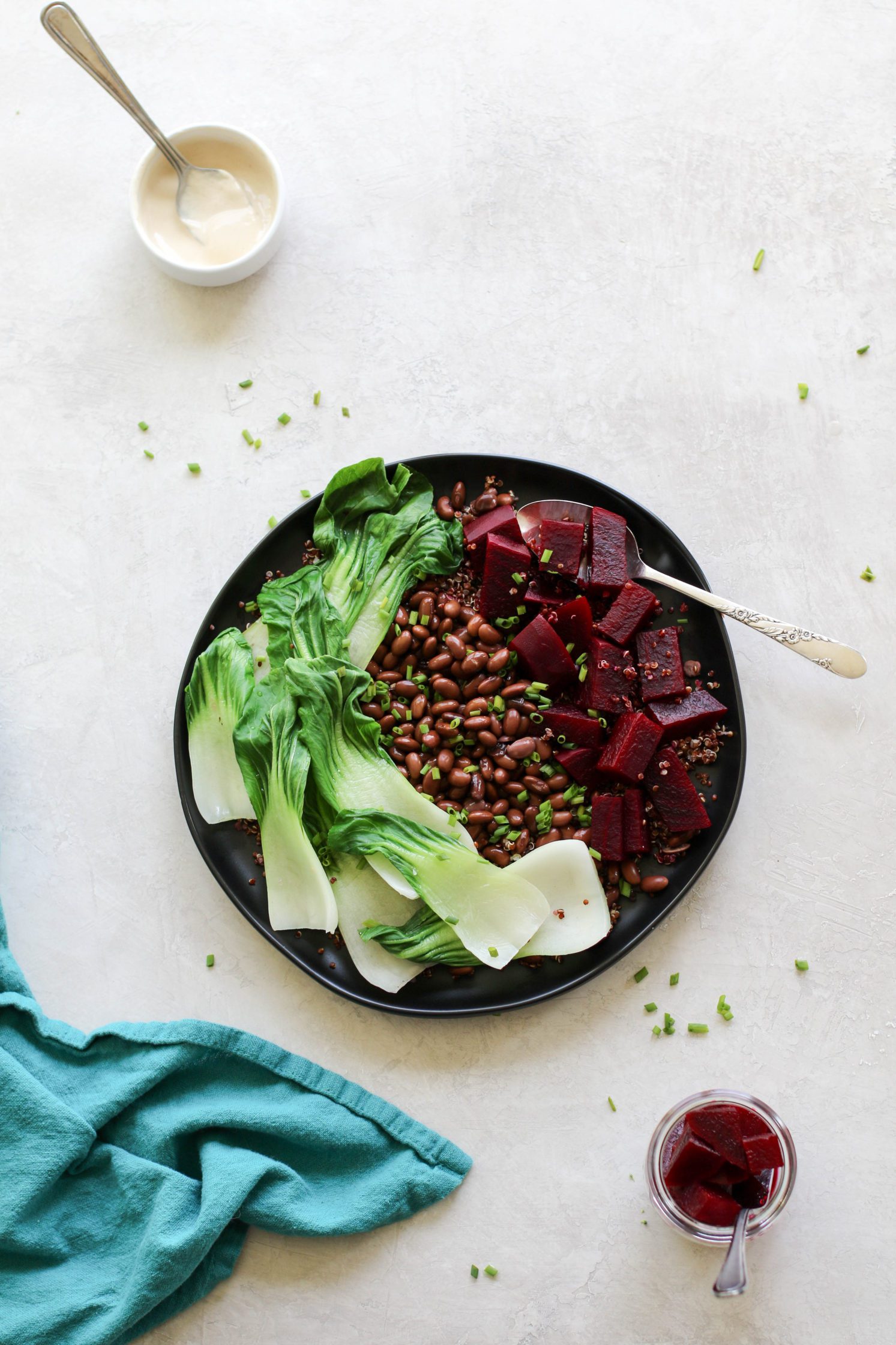 Enjoy this Black Soy Bean, Beet, & Bok Choy Bowl with Garlic Ginger Tahini Dressing whenever you craving a different kind of a bean bowl.
The mix is earthy, sweet, filling, and satisfying.
It's simple enough to throw together in under 30 minutes with unique flavors that make each bite matter!
I like to prepare all of the ingredients and dressing in advance to throw together for easy meals throughout the week.
A note on aesthetics– adding the beets will dye everything red, so if you'd prefer to maintain colors, steam and store the bok choy separately!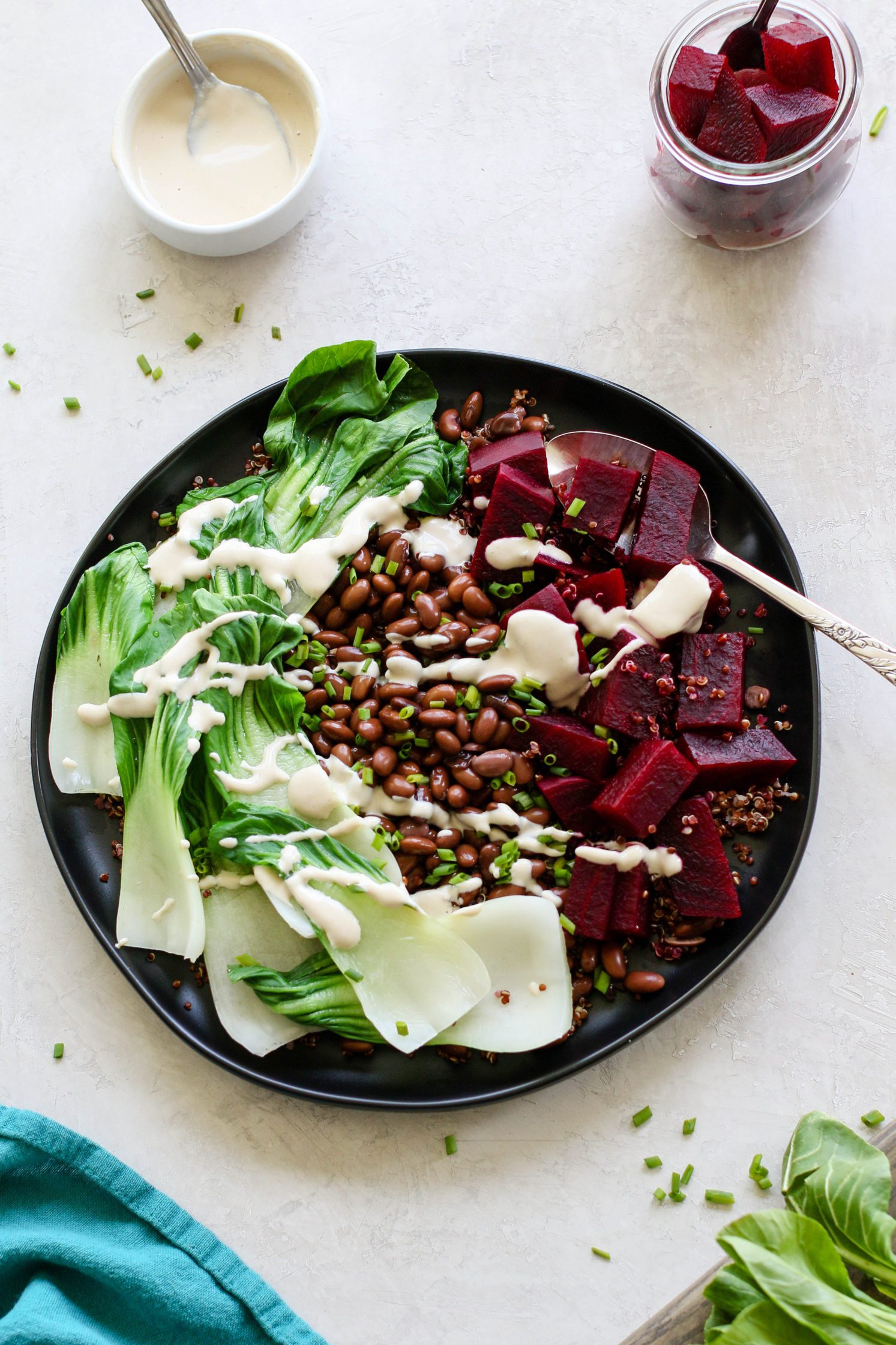 If you make this Black Soy Bean, Beet, & Bok Choy Bowl with Garlic Ginger Tahini Dressing, I want to hear about it. I'd love to see how your bowls turned out!
Be sure to leave me a comment, rating, and review so I can use your feedback to create more yums.
Give me a shout on Instagram and use #floraandvino to show me your creations.
Check out my Pinterest page to pin more recipes like this one to make later.
For more power bowl recipes, check out my Delicata Pesto Quinoa Power Bowl and Lentil & Winter Squash Power Bowl.
Love this post and want more? Go to my homepage and subscribe to get updates delivered right to your inbox!
XO Lauren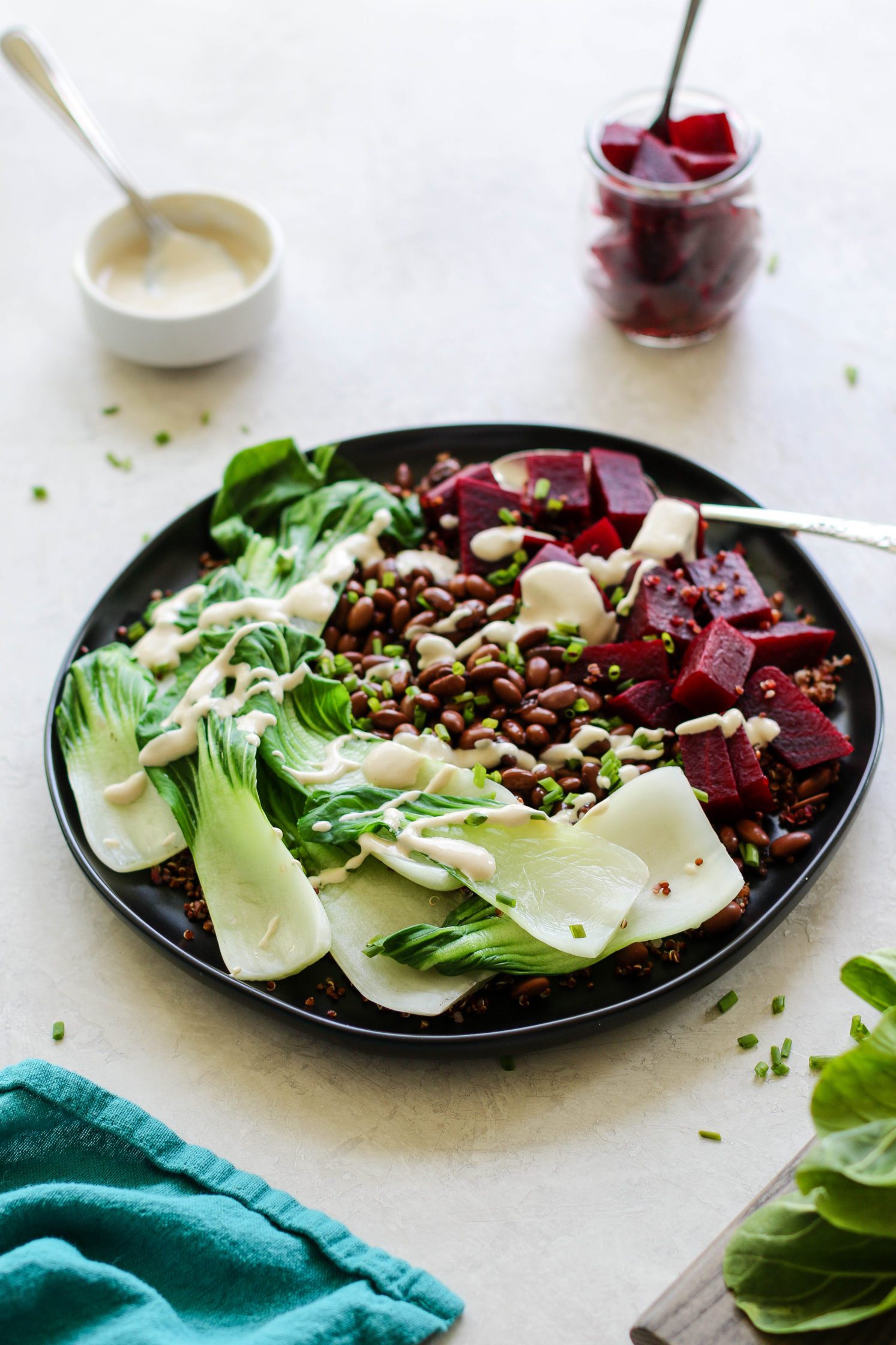 Print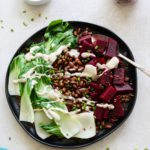 Black Soy Bean, Beet, & Bok Choy Bowl with Garlic Ginger Tahini Dressing
---
Author:

Total Time:

30 mins

Yield:

2-3 servings

Diet:

Vegan
Description
Easy power bowl with black soy beans, beets, and bok choy served over a bed of quinoa and drizzled with a creamy garlic ginger tahini.
---
Black Soy Bean Bowl
1

15 oz. can Eden Foods Black Soy Beans, drained and rinsed

1

bunch beets (

3

–

4

medium beets), scrubbed, peeled, and diced

2

heads baby bok choy

2

scallions, sliced

1 1/2 cup

red quinoa (or any color quinoa), cooked according to package instructions
Garlic Ginger Tahini Sauce
1/4 cup

filtered water + more for thinning out

1/4 cup

runny tahini

1/2 tsp

garlic powder

1/4 tsp

ginger powder

1 TBSP

apple cider vinegar

1 tsp

maple syrup (optional)
---
Instructions
Cook the quinoa in advance by following package directions. Refrigerate until ready for use.
Scrub, peel, and chop the beets into 1/2″ cubes.
Prepare the baby bok choy by slicing away the leaves from the hard center core and rinsing them under running water.
Heat a large saucepan with an inch of water and bring to a rolling boil. Once it's boiling, add the beets and bok choy to a steamer basket and steam them on the stovetop for 5-8 minutes, or until it's fork tender and vibrant green and red.
While the veggies are steaming, rinse and slice the scallion.
Drain and rinse the black soy beans and set them aside.
Make the garlic ginger dressing by adding all ingredients to a high-speed blender and processing until it's smooth and creamy. Add more filtered water as needed to reach desired consistency. (I like mine a bit thicker here!)
To assemble the bowls, divide the quinoa among bowls and top it with steamed baby bok choy and the beets, and black soy beans. Garnish the bowls with diced scallion and lots of garlic ginger tahini. Enjoy immediately!
Store the leftovers separately in the refrigerator for 3-5 days, though best when fresh. Garlic ginger tahini keeps in the fridge for up to one week.
Prep Time:

20 mins

Cook Time:

10 mins

Category:

Entree, Power Bowl

Method:

Stovetop

Cuisine:

Oil Free, Gluten Free, Vegan
This post is brought to you by Eden Foods, but all words and eats are my own. Thanks for supporting the sponsors that keep me hungry!
Disclosure: This post contains affiliate links, meaning I earn a commission if you use these links. I only recommend brands I love, trust, and can't keep quiet about!