Crispy Vegan & Gluten Free Graham Crackers with Chocolate SunButter Frosting. Enjoy as is or top with a 3-ingredient SunButter icing!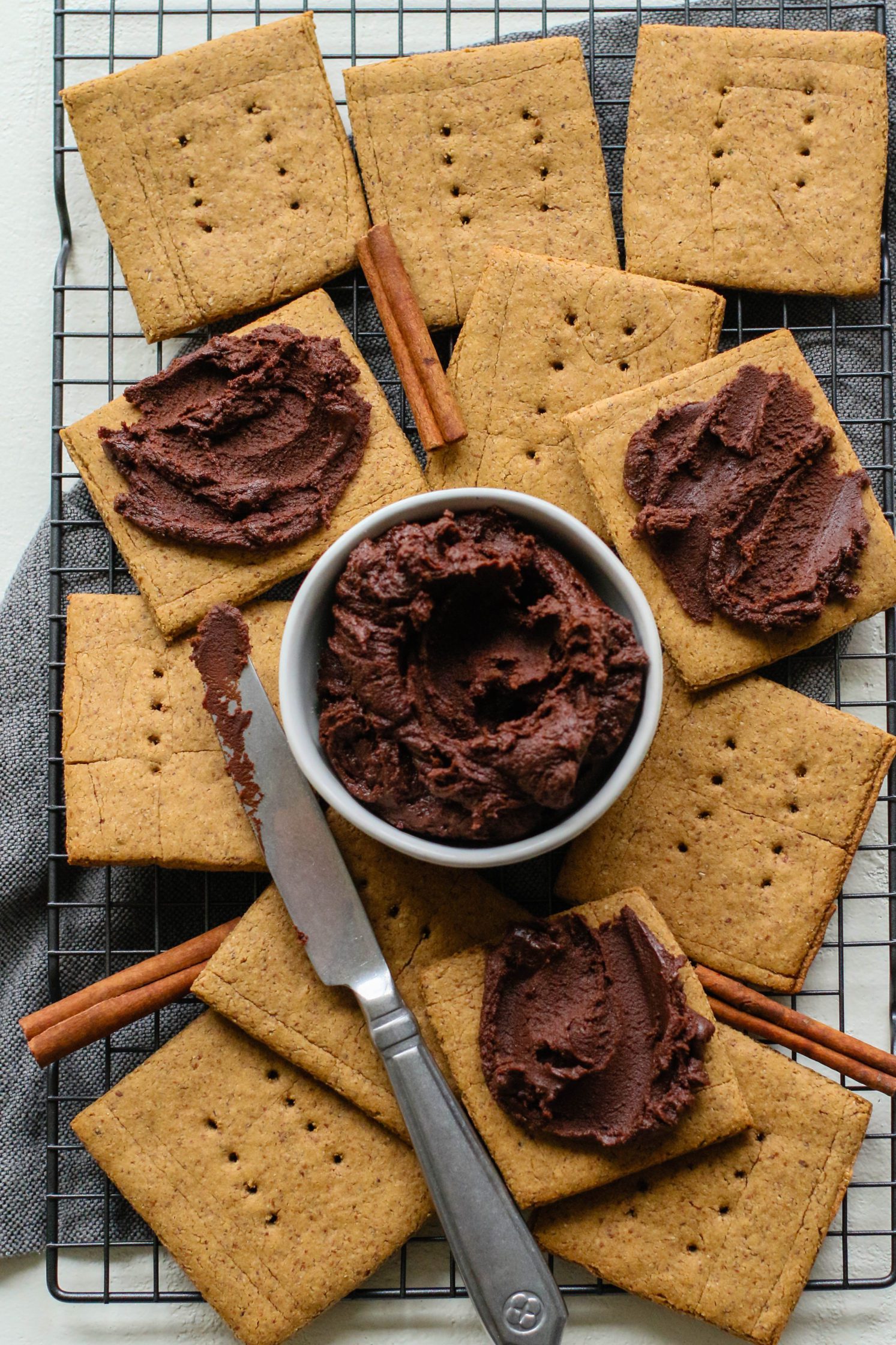 My favorite cake growing up was yellow with chocolate frosting.
Arguably the best part of the cake, pillowy yellow insides aside, was the homemade chocolate frosting that my mom made to top it.
It was rich, chocolately, and creamy, the kind of frosting you lick the mixers clean of before releasing them into sudsy water.
When we had extra, my mom spread thick layers of the stuff on cinnamon graham crackers for snacking.
If you've never had frosting on graham crackers, you're going to love this recipe.
If you have, in fact, had frosting on graham crackers, you're going to love this recipe, too, because it's made with simple whole foods ingredients.
These Vegan & Gluten Free Graham Crackers are made with less than 10 ingredients!
Enjoy them as is or top them with a decadent 3-ingredient Chocolate SunButter frosting.
Last night I made not one, not two, but THREE dozen PB Kiss Cookies for Dan's holiday party at work today.
I'm a bit cookie-d out.
So today I tackled the graham cracker instead.
And not just any graham cracker– the elusive oil free, gluten free, vegan, and refined sugar free graham cracker.
Initially, I had tons of questions about this whole cookie/cracker experiment, like:
How do you get them that thickness?
What's up with those littler holes for decoration?
How do you get them crispy and not soft?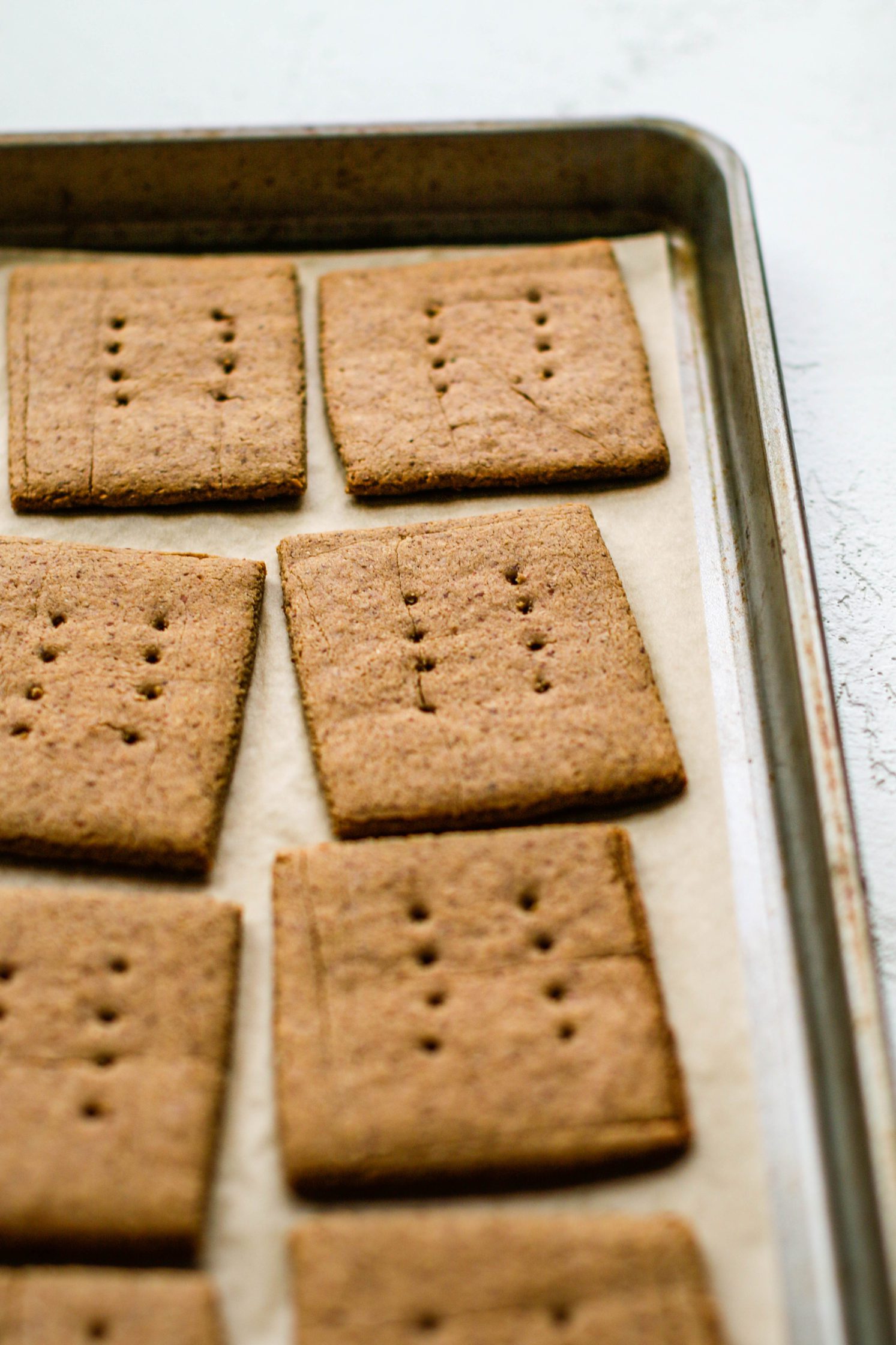 Remember teddy grahams???
Those were my jam back in the day.
I used to pour out a big handful of those little honey glazed guys and take them upstairs to my room, munching on bears absentmindedly as I studied and IM-ed with friends.
Sometimes when the bears disappeared I went back for more.
These graham crackers are kind of like that too.
Addicting.
We start with a gluten free batter made from almond and oat flour and lightly sweetened with a little maple syrup and coconut sugar.
Smooth SunButter acts as an oil replacement to make these graham crackers super moist.
I kept the graham crackers simple with a basic cinnamon flavor, but if you want to mix things up, try adding in your favorite spice mixture, like pumpkin pie spice, ginger, or nutmeg.
If you're avoiding nuts, try subbing in oat flour for the almond meal for varied results.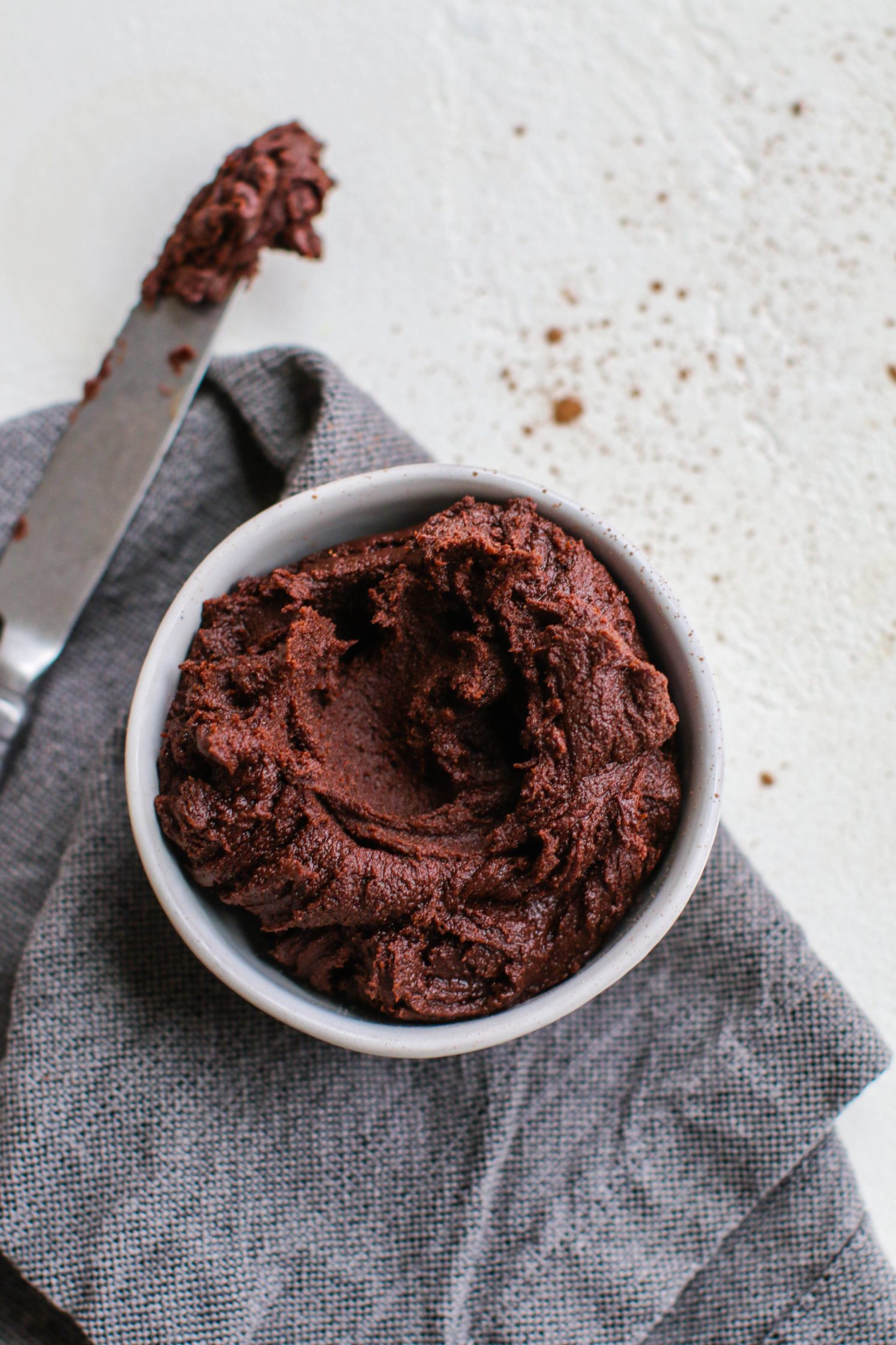 To answer your (my) questions, the secret to these graham crackers is a rolling pin, lots of parchment paper, and a pizza cutter.
I used a method of rolling out the ball between two sheets of parchment paper to achieve an even flat surface for cutting into shapes.
Try using a pizza cutter to cut into squares or rectangles, or get creative and use your favorite cookie cutter instead.
Using a toothpick, press holes into the graham cracker if you want to mimic the crackers of your childhood!
(As far as I can tell, this is just for looks. It looks cute but isn't necessary for great tasting grahams!)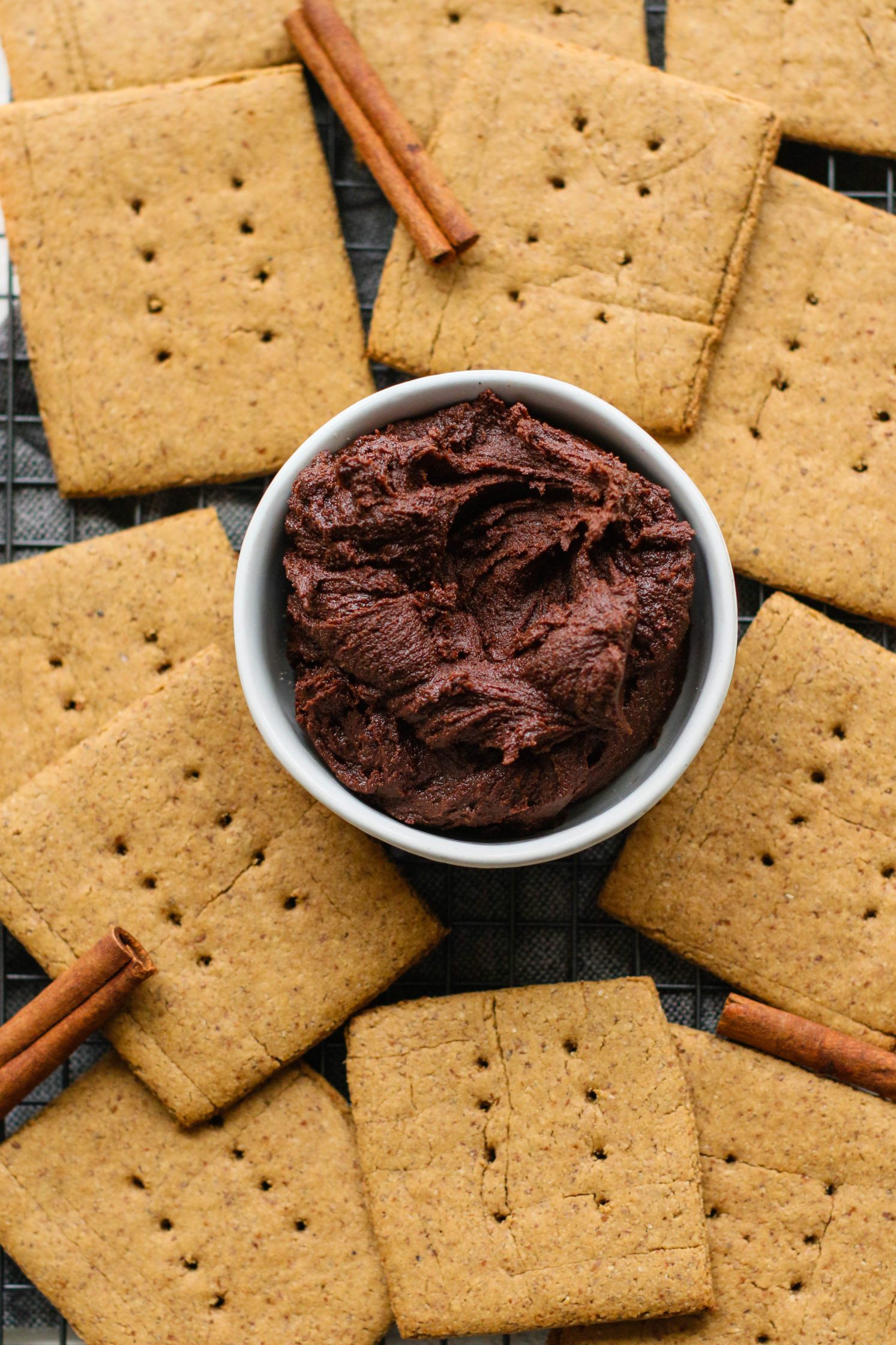 In case these homemade graham crackers and milk aren't enough for your sweet tooth, I whipped up this easy 3-ingredient Chocolate SunButter frosting as a nutritious decadent topper.
All you need to whip up the frosting is SunButter, maple syrup, and cacao powder.
That's it!
Mix everything together, taste, and add more maple syrup for sweetness, cacao for chocolate, and SunButter for smooth creaminess.
If you have extra frosting, try using this spread on cookies, toast, pancakes, oatmeal, or by the spoonful.
I love using SunButter in this recipe because it has a great neutral flavor that adds healthy fats and flavor to these crackers and frosting!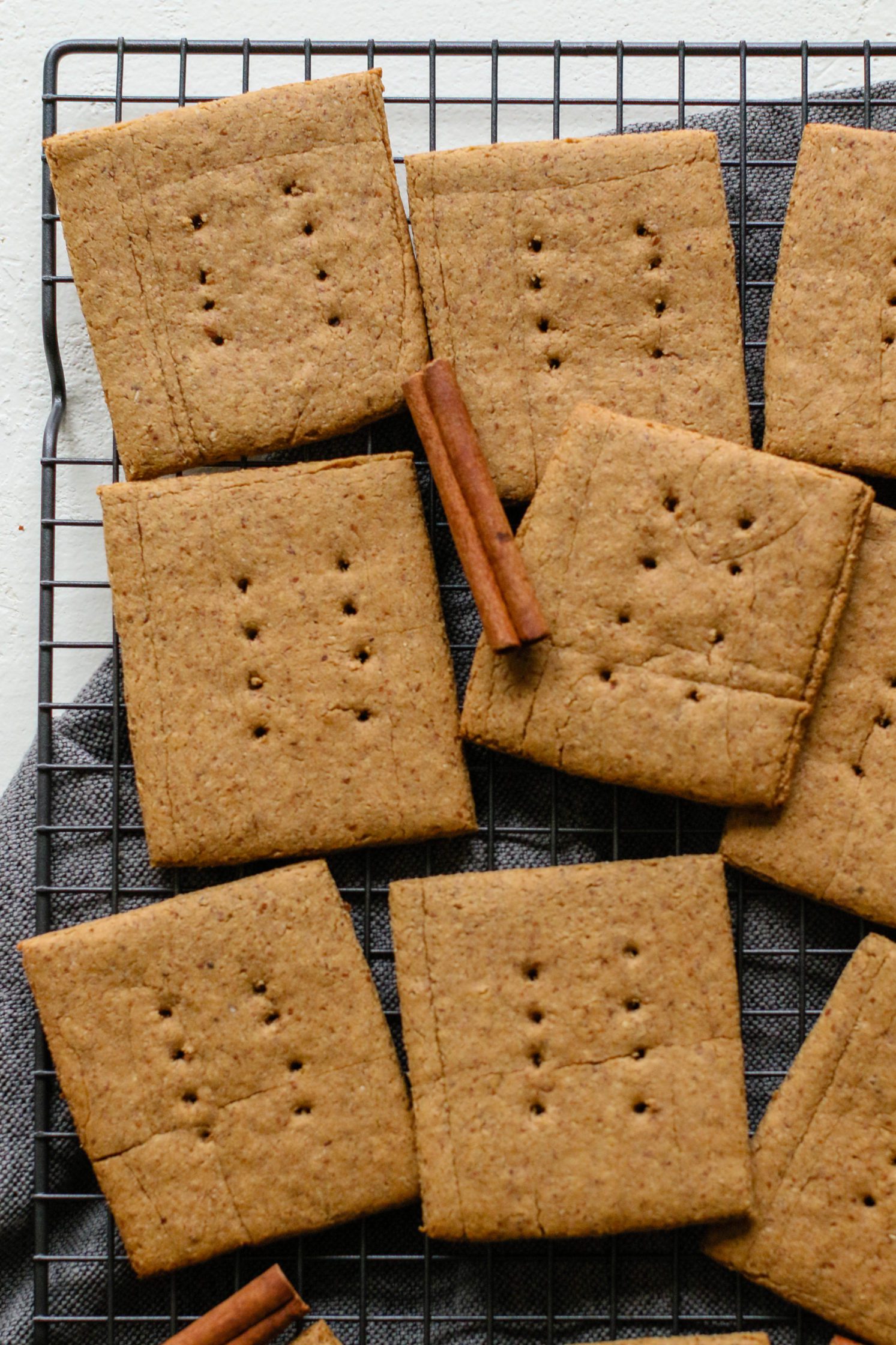 Enjoy these Vegan & Gluten Free Graham Crackers with Chocolate SunButter Frosting whenever you need a quirky cozy treat.
They're be the perfect unique and thoughtful DIY gift for the holiday or Valentine's Day.
You can mix and match the 3-ingredient SunButter frosting and Homemade Graham Crackers below, but I think they're best paired together for an adult spin on a childhood treat.
Try smashing them into a frosted graham cracker sandwich like my mom taught me!
Pro Tip: Store graham crackers and frosting separately so they don't get soggy and smash together before serving.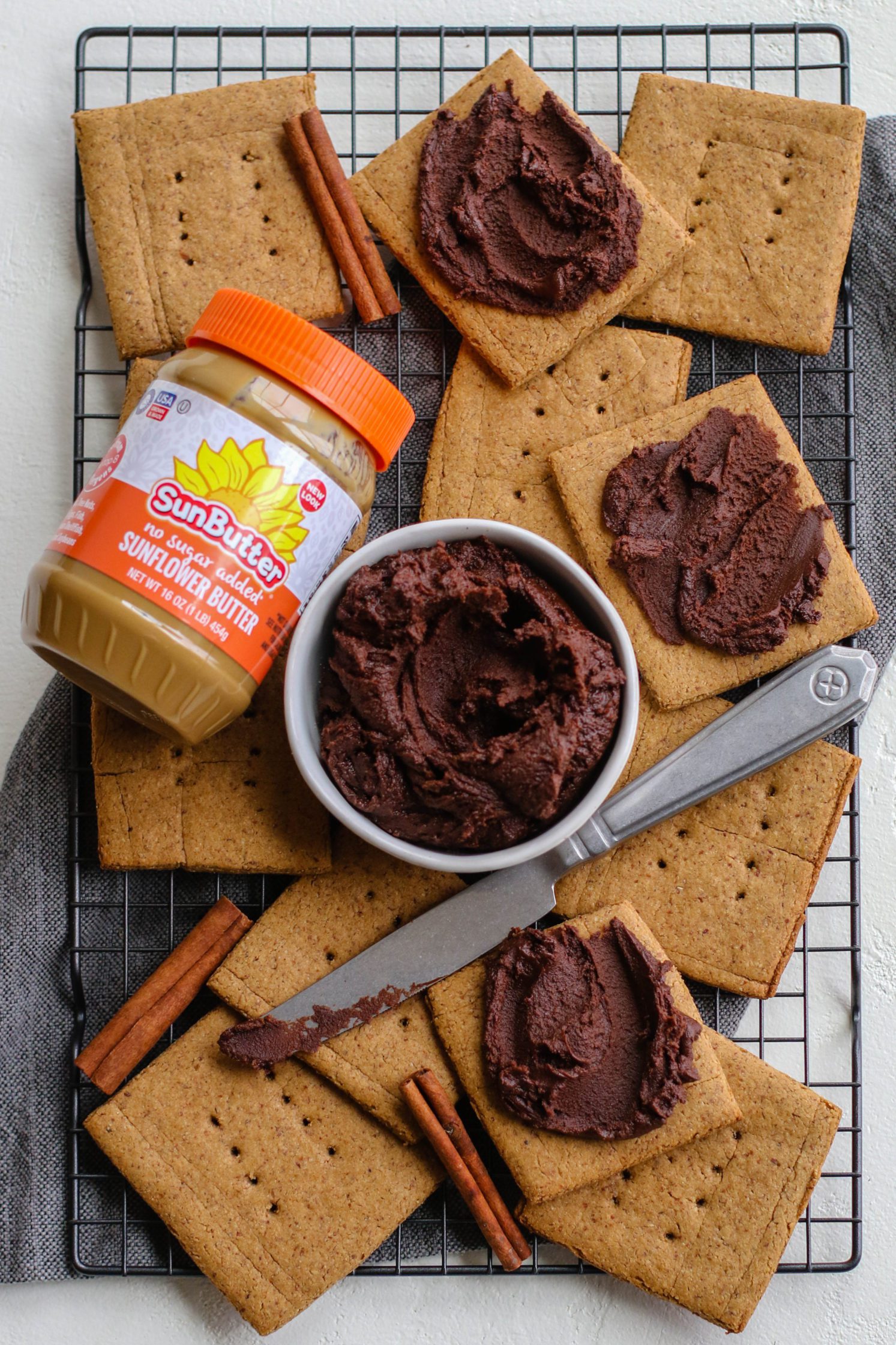 If you make this Vegan & Gluten Free Graham Crackers with Chocolate SunButter Frosting, let me know!
Be sure to leave me a comment, rating, and review so I can use your feedback to create more yums.
Give me a shout on Instagram and use #floraandvino to show me your creations.
Check out my Pinterest page to pin more recipes like this one to make later.
For more crispy snacking inspiration, check out my Oil-Free Chunky Tahini Granola and Pumpkin Spice Pecan Granola.
Love this post and want more? Go to my homepage and subscribe to get updates delivered right to your inbox!
XO Lauren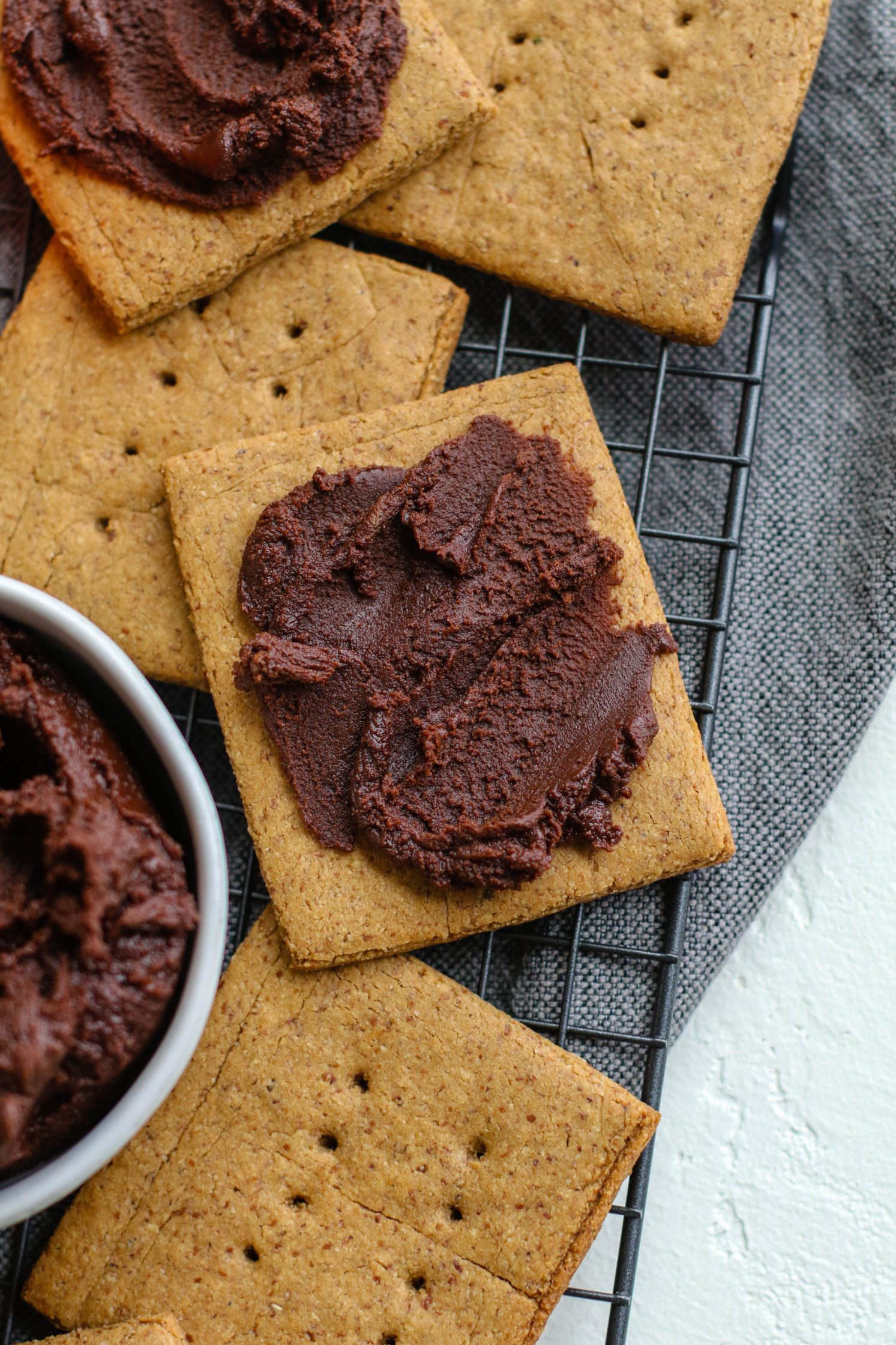 Print
Vegan & Gluten Free Graham Crackers with Chocolate SunButter Frosting
---
Author:

Total Time:

40 mins

Yield:

~16 crackers

Diet:

Vegan
Description
Crispy Vegan & Gluten Free Graham Crackers with Chocolate SunButter Frosting. Enjoy as is or top with a 3-ingredient SunButter icing!
---
Wet Ingredients
Dry Ingredients
1 1/4 cup

almond flour

1 cup

gluten-free oat flour

1 tsp

cinnamon

1/2 tsp

baking powder

1/8 teaspoon

nutmeg
Frosting
---
Instructions
Preheat the oven to 350°F and line a large baking sheet with parchment paper.
Add the dry ingredients to a large mixing bowl and toss everything to combine. Add in the wet ingredients and stir it well with a spoon until the dough is thick and well-mixed.
Form the dough into a large ball and place it on a parchment lined cutting board or flat surface. Place another piece of parchment paper on top of the ball and roll into a long rectangle with a rolling pin. Continue rolling until you have a surface about 1/8″ thick.
Remove the parchment paper on top and cut the crackers into the shapes of your choice using a cookie cutter or a pizza slicer/pastry slicer.
Place each piece onto the baking sheet, leaving 1/2-inch between each. Poke a few fork holes into each cracker. Repeat with the remaining dough. Poke holes in each cracker to resemble the original graham crackers, if desired!
Carefully transfer the graham crackers to the lined baking sheet. Bake the crackers for 12-15 minutes or until they're golden brown around the edges and underneath. Transfer the crackers to a cooling rack for 15 minutes.
Store the crackers in an airtight container for up to 2 weeks and freeze for longterm storage.
To make the SunButter frosting, add the SunButter, cacao powder, and maple syrup to a mixing bowl and whisk until thick and creamy. Serve the spread on homemade graham crackers.
Store leftover frosting in the refrigerator for 1-2 weeks.
Prep Time:

25 mins

Cook Time:

15 mins

Category:

Oil-Free, Gluten-Free, Vegan

Method:

Oven-Bake, Hand-Mix

Cuisine:

Dessert, Snack
This post is brought to you by SunButter, but all words and eats are my own. Thanks for supporting the sponsors that keep me hungry!