Vegan Zucchini Crust Pizza that's oil-free, gluten-free, and sugar-free. Add pizza sauce and your favorite toppings for plant-based pizza night!
How are you channel changing skills?
To be honest I've never been a big TV channel explorer.
I'm more of a "pick a show and binge-watch it then turn off the tube" kind of a consumer (like I did with The Handmaid's Tale last night into the wee hours of the night!)
Dan, however, is notorious for channel surfing at a rate that makes my head spin.
(You can't get too invested, folks, because it's gone in approximately 2.5 seconds.)
The other day, per usual, he was flipping YouTube TV channels and we ended up watching a reel called "Your Daily Dose of Satisfaction".
Curious, we continued to watch as the video skipped from clip to clip of action scenes.
Clay on a pottery wheel whirring, chopping veggies in clean cuts, paint filling a canvas with precise strokes.
"I guess watching these scenes is supposed to make us feel more satisfied," Dan said.
And I've got to say, I did get a sort of weird charge from watching tasks get completed on the big screen even though I wasn't the one doing the completing.
Well, here's your daily dose of satisfaction, and it's called Vegan Zucchini Crust Pizza.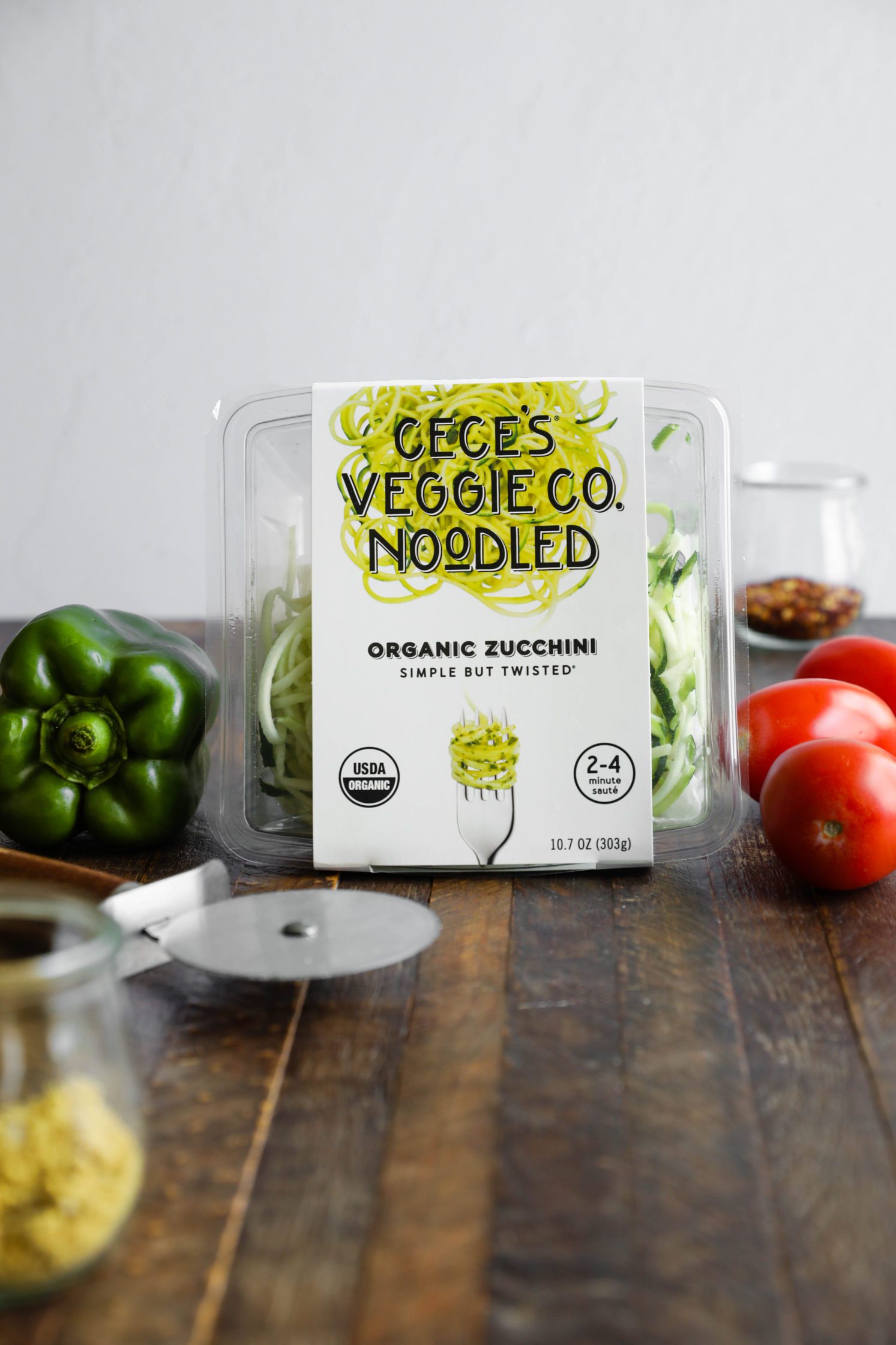 Bold Statement: Pizza is Better in the Summer.
But, hey, you know what else is super satisfying?
Ordering pizza at the pool for delivery.
Can we just agree that pizza ordered at the pool is *always* better?
I'm not sure if it's the actual pizza, the location, the good company, or just the fact that you're so darn tired after splashing around that makes each bite euphoric.
Jumping out of blue chlorinated water and sinking my teeth into warm pineapple pizza is absolutely on my highlight reel from childhood.
In adulthood (and today) I lounged around on my pool mat dreaming about a delivery of this Zucchini Crust Pizza (Vegan & Gluten-Free!) to my location poolside.
Extra olives, kay, thanks, bye.
What to do with Leftover Zucchini
It's zucchini season, folks, and I'm sure you've got a few hiding in your produce drawers.
No?
If the answer is no, then you've definitely have a container of Cece's Veggie Co. Organic Zucchini Spirals pushed to the back of your fridge shelves.
Put that leftover zucchini to good use in this Zucchini Crust Pizza!
You're going to love zucchini squash in this recipe because it melts into the crust, adding moisture and nourishment without any distinct *veggie* flavor!
Squash in any form will work for this recipe; noodles, chopped, spirals…all zucchinis are welcome.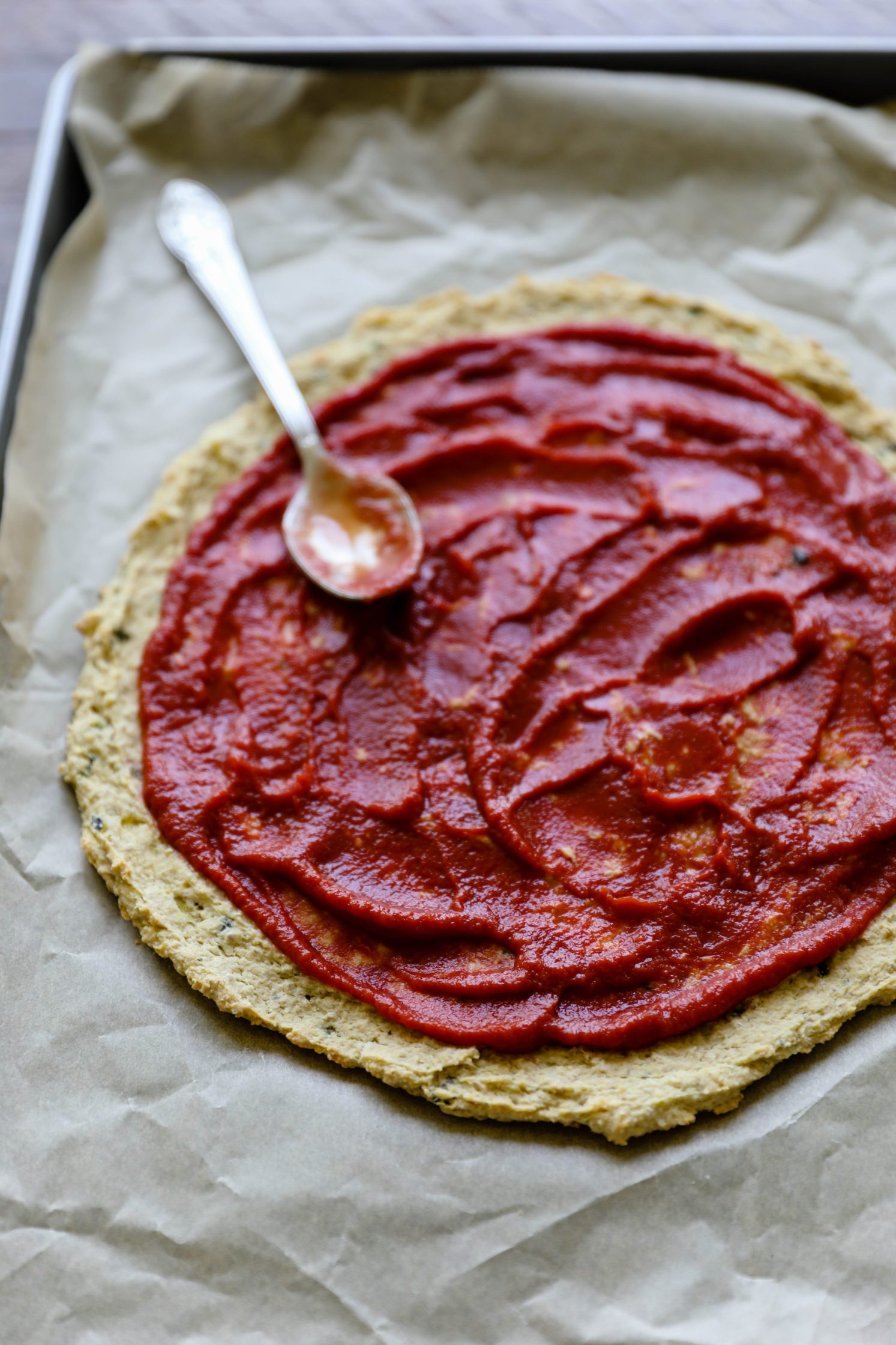 Turning your zucchini into pizza crust is easy!
The inspiration for this zucchini crust comes my other two favorite pizzas on the blog: Butternut Squash Pesto Pizza and Cauliflower Crust Pizza.
If you haven't tried these two pizza cousins, you should.
But, if you're stopping here first, zucchini crust is a great place to start!
The key to adding zucchini to this pizza crust is first pre-steaming and draining the squash.
Zucchini has a lot of moisture to it, so you want to make sure it enhances the crust instead of weighing it down!
Here's what you need to make it.
Then the rest of the base is simple and kind of magical.
We add oat flour, almond flour, chia seeds, tahini, lemon, and Italian seasonings that will make the dough smell like pizza before it's even in the oven.
The dough might seem too sticky, but after the bake time it firms up nicely into a perfect pizza pie.
You want to bake the dough to *almost* done to allow for more cook time after the toppings.
Be sure not to burn the crust before you get the chance to top it with your favorites!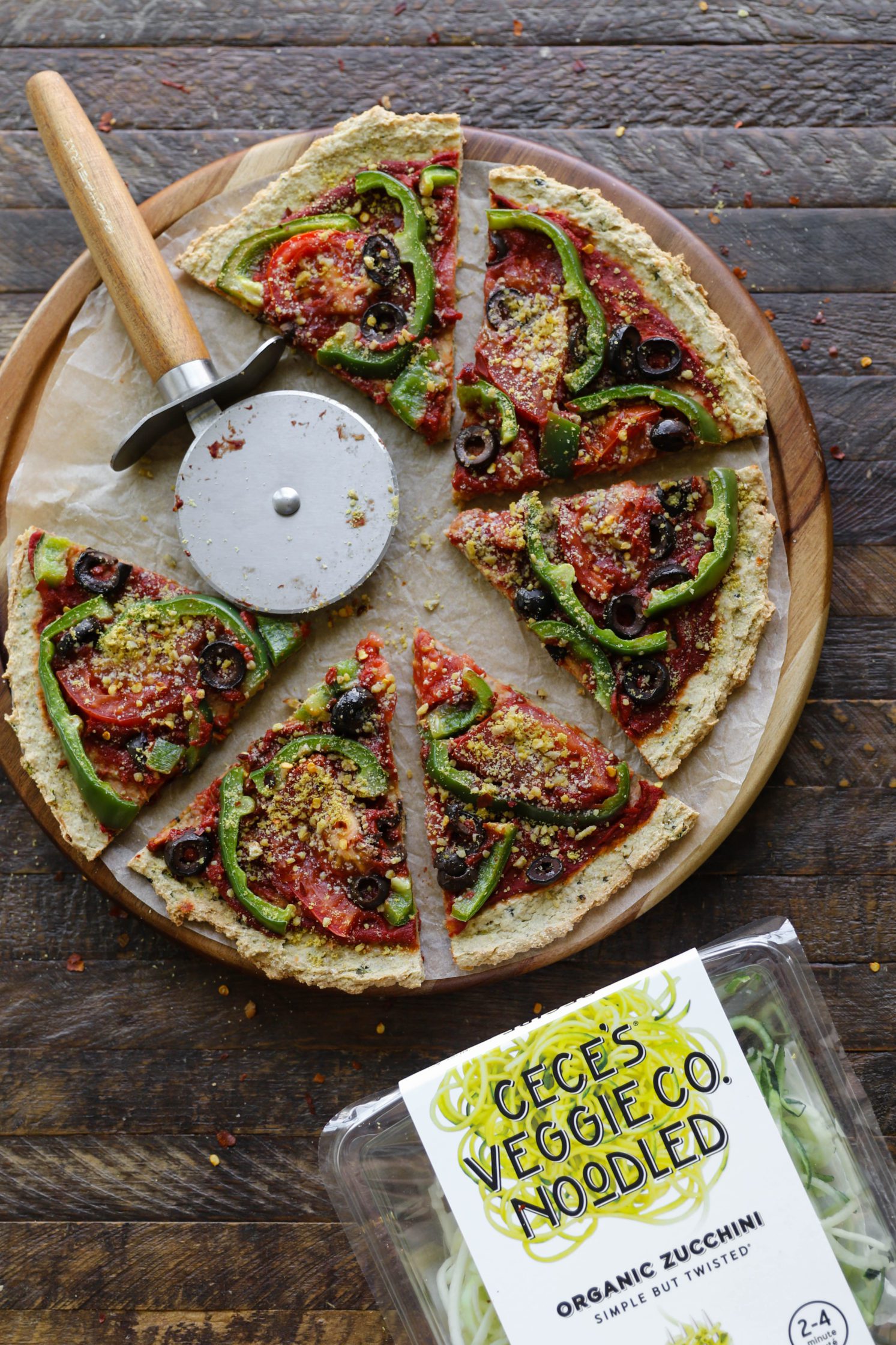 Toppings for Vegan Zucchini Crust Pizza
For toppings, I kept things classic and super seasonal with summer produce.
First, spoon on your favorite pizza sauce (homemade or sugar-free store-bought, preferred).
I'm not usually a green pepper lover, but I had one left in the fridge so I sliced it up and threw it on with black olives and fresh sliced tomato.
Add whatever toppings you want, keeping in mind that certain veggies will take longer to brown.
The Vegan Zucchini Crust Pizza is done when the veggies and warm and softened to your liking.
Remove your pizza pie from the oven and top it with plenty of vegan parmesan and red pepper flakes!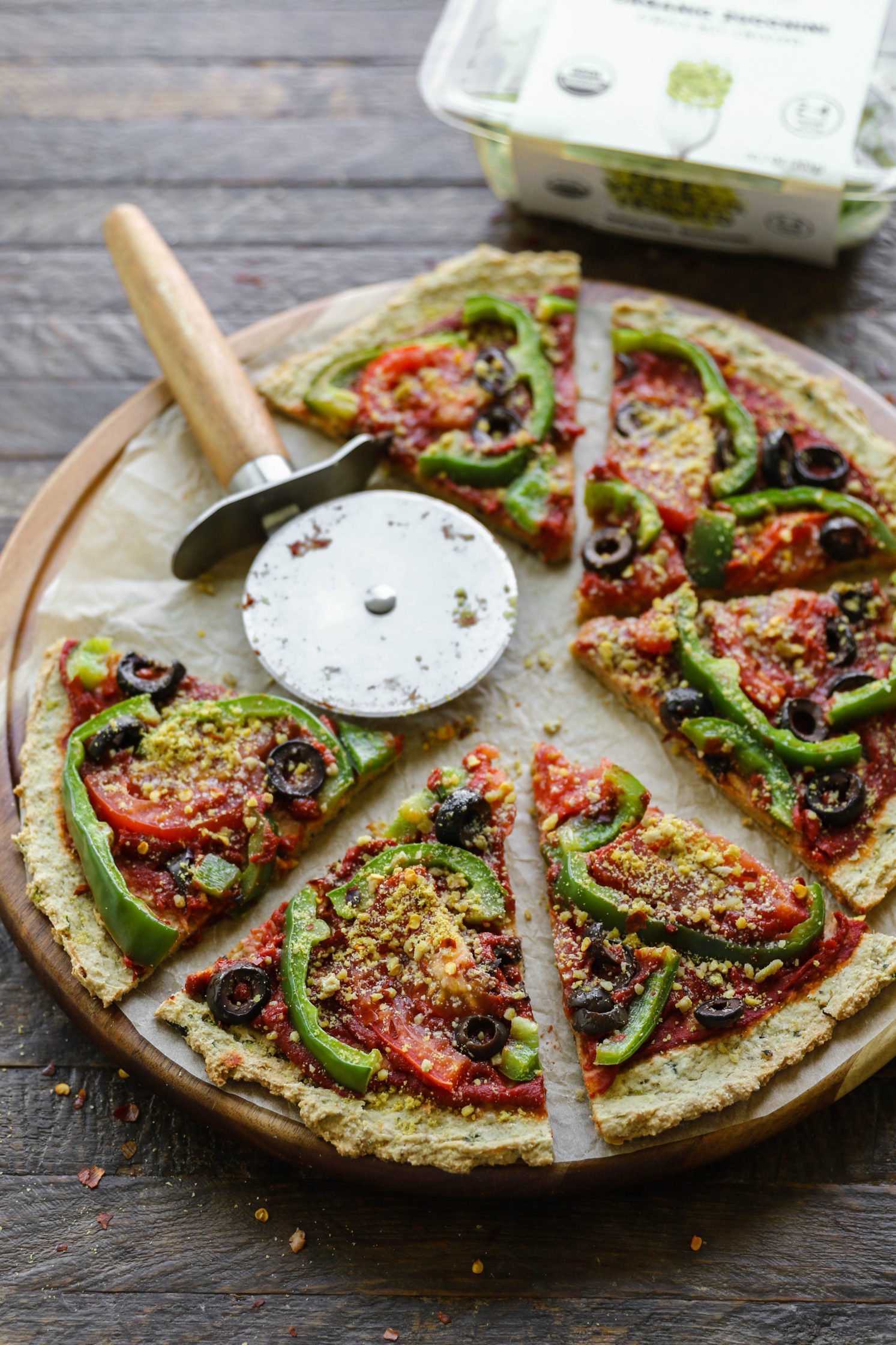 This Vegan Zucchini Crust Pizza is perfect for a healthier pizza night.
Enjoy with your family, friends, or yourself for a plant-based pizza party.
Experiment with this plant-based recipe for a Friday evening or weekend night dinner.
If you're looking for a shortcut, try pre-baking the zucchini crust in advance and then reheating with toppings before serving.
Enjoy!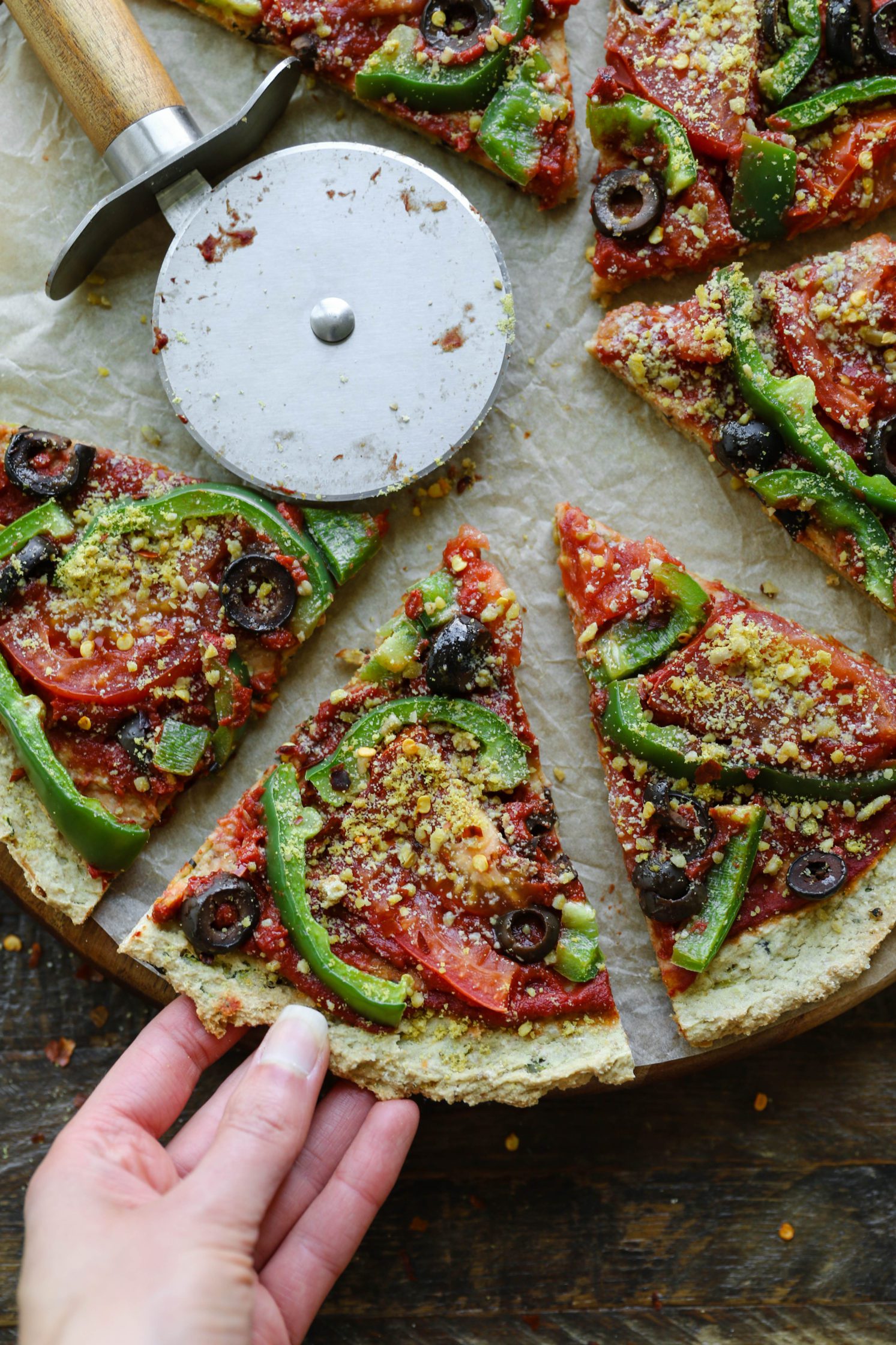 If you make this Vegan Zucchini Crust Pizza, let me know!
Be sure to leave me a comment, rating, and review so I can use your feedback to create more yums.
Give me a shout on Instagram and use #floraandvino to show me your creations.
Check out my Pinterest page to pin more recipes like this one to make later.
For more plant-based pizza recipes, check out my Butternut Squash Pesto Pizza, Cauliflower Crust Pizza with Arugula, Avocado, & Tahini, and Pizza Stuffed Portobello Mushrooms.
Love this post and want more? Go to my homepage and subscribe to get updates delivered right to your inbox!
XO Lauren
Print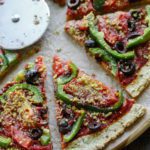 Zucchini Crust Pizza (Vegan & Gluten-Free!)
---
Author:

Total Time:

40 mins

Yield:

6-8 slices

Diet:

Vegan
Description
Vegan Zucchini Crust Pizza that's oil-free, gluten-free, and sugar-free. Add pizza sauce and your favorite toppings for plant-based pizza night!
---
1

package Cece's Veggie Co. Organic Zucchini Spirals (~

2 3/4 cup

chopped zucchini)

½ TBSP

white chia seeds

1½ TBSP

filtered water

½ TBSP

raw tahini

½ cup

gluten-free oat flour

¼ cup

almond flour

½ TBSP

lemon juice

½ tsp

garlic powder

¼ tsp

dried basil

1/4 tsp

dried oregano
pinch Himalayan sea salt
pinch red pepper flakes
tomato sauce

1

tomato, sliced

1/2

green bell pepper, sliced

½ cup

black olives, sliced
For serving
---
Instructions
Preheat the oven to 400°F and line a pizza pan with parchment paper.
Briefly steam the zucchini noodles on the stovetop for 2-3 minutes or until they're fork tender.
While the squash is steaming, prep a large bowl with white chia seeds and water and mix to combine. Set aside.
Drain the squash well, then add it to the chia seed bowl and lightly smash them to combine.
Add the raw tahini and lemon juice and mix everything again combine.
Add in the oat flour, almond flour, garlic powder, dried basil, oregano, Himalayan sea salt, and a pinch of red pepper flakes. Mix everything to combine. The dough should be thick but spreadable.
Spread the dough into a circle on the parchment paper using a rubber spatula, with a crust about ½″ thick.
Bake the crust for about 20-25 minutes or until it's lightly golden and set.
Remove the crust from the oven and spoon on pizza sauce and add any desired toppings.
Bake the pizza crust for an additional 10-12 minutes or until the veggies are lightly brown and softened. Serve the pizza with a pinch of red pepper flakes and vegan parmesan.
Store any leftover pizza in an airtight container in the refrigerator for 1-2 days.
Prep Time:

10 mins

Cook Time:

30 mins

Category:

Entree, Pizza

Method:

Oven-Bake

Cuisine:

Vegan, Gluten-Free, Oil-Free
This post is brought to you by Cece's Veggie Noodles Co., but all words and eats are my own. Thanks for supporting the sponsors that keep me hungry!